Take notes! Whenever you cook, keep a log, at least until your methods are instinctive. There are so many variables to master. You should be making notes on the meat, its grade, its weight, where you bought it, how you prepared it, what rubs and sauce you used, the cooker temperature, ambient air temp, the wood you used, when you added wood and how much, etc. When you are done, note what it tasted like and what needs improvement. Study the info. Put your cooking logs in a notebook. You learn a lot about the performance of your cooker and the cook when you keep a log of them.
Spotlight on our favorite products
GrillGrates Take Gas Grills To The Infrared Zone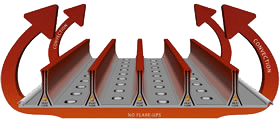 GrillGrates amplify heat, prevent flare-ups, make flipping foods easier, kill hotspots, flip over to make a fine griddle, and can be easily moved from one grill to another. Click here for more about what makes these grates so special.
– THIS IS NOT AN AD –
Click here to download a free printable PDF version of my cooking log.