YOU ARE HERE >> AmazingRibs » Ratings & Reviews » Ratings Reviews And Buying Guides » BBQ Tools Toys And Accessory Reviews » Gloves Cut-Resistant » Victorinox (Ansi 9) Saf.T.Gard Stainless Steel Mesh Glove Review
Victorinox (Ansi 9) Saf.T.Gard Stainless Steel Mesh Glove Review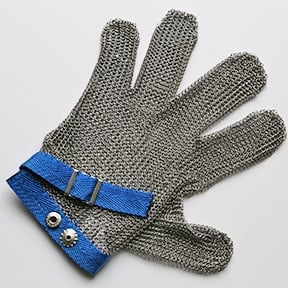 This cut resistant glove looks and feels like armor.
Victorinox (Ansi 9) Saf.T.Gard Stainless Steel Mesh Glove will conduct electricity and will not withstand the force of power driven blades, saws and tools. It can, however, make direct contact with food products and can be cleaned with chemicals commonly used for food processing equipment.
An ambidextrous glove, it can also be repaired and reconditioned by authorized service centers. For claims made within 5 days of purchase, Victorinox will replace the glove free of charge or refund the purchase price. This glove earned ANSI's highest level of cut and puncture protection (9). Available in XS, S, M, L and XL. Sold individually, not in pairs. Expensive.
Protection and Performance
Back-of-hand protection – No penetration
Cut protection in palm area – No penetration
Finger protection – No penetration
Puncture protection – No penetration
Durability – Extremely durable, and should last for years
Grip
Wet – Very good
Greasy – Slightly slippery, like wearing tire chains on your hand
Consistency – Can be a tiny bit slippery
Comfort/Fit
Overall comfort – Comfortable, if a bit like medieval armor (some people wear a cotton glove inside, while others suggest nitrile gloves over the outside)
Overall fit – Large, so order one size smaller than you normally would for a more snug fit
Dexterity – No loss of dexterity, but a tiny bit awkward until you get used to them (an inner cotton glove improves the feel
Published On: 9/27/2018 Last Modified: 4/27/2021
Rick Browne, Ph.B.

-

Rick Browne does product testing and recipes. A renowned TV cooking show host, photojournalist, and author of 16 barbecue books, he was the creator, host, and executive producer of public television's popular Barbecue America TV series, a cooking and travelogue highlighting the world's outdoor culinary landscape. It has aired on more than 230 stations.

Browne has [...]

---