YOU ARE HERE >> AmazingRibs » Ratings & Reviews » Ratings Reviews And Buying Guides » BBQ Tools Toys And Accessory Reviews » Gloves Heat-Resistant » Weber Premium Heat Resistant Gloves Review
Weber Premium Heat Resistant Gloves Review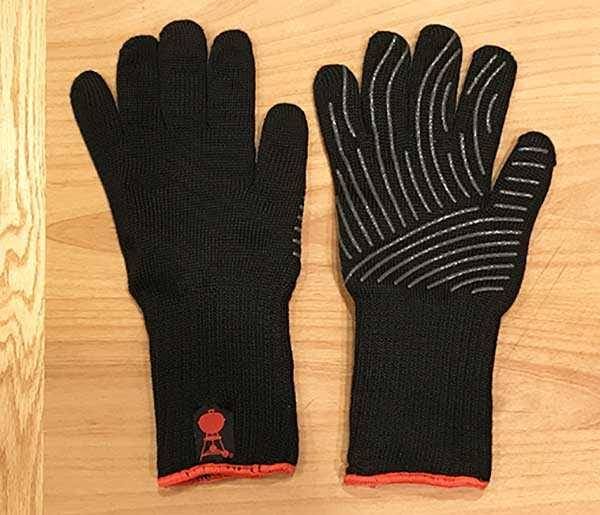 Weber offers quality heat resistant gloves in two sizes.
The fabric Weber Premium Heat Resistant Gloves are 13″ in length and come in two sizes, S/M and L/XL, which is helpful for those who have extra small or extra large hands.
They are made from 100% Aramid with silicone strips on the palm of the glove to aid in gripping hot cooking pans, pots and implements. The lining is 80% cotton and 20% polyester. While Weber declined to give me a heat safe temperature, one online customer claimed he has used them at temperatures as high as 600°F. As with the other gloves in this genre, these gloves cannot be used wet. However, they can be hand washed and air dried.
Heat resistance. 23 seconds
Dexterity. Took some effort to use tongs and a little more to pick up a small knife
Comfort. Comfortable
Published On: 5/17/2018 Last Modified: 3/5/2021
Rick Browne, Ph.B.

-

Rick Browne does product testing and recipes. A renowned TV cooking show host, photojournalist, and author of 16 barbecue books, he was the creator, host, and executive producer of public television's popular Barbecue America TV series, a cooking and travelogue highlighting the world's outdoor culinary landscape. It has aired on more than 230 stations.

Browne has [...]

---