Catalonia is the crown jewel in the Kingdom of Spain. The region's capital, Barcelona, is the driving force behind Spain's entire economy. Catalonia also enjoys one of the most diverse landscapes in the world. Situated between the pine-forested Pyrenees Mountains and the majestic Mediterranean Sea, it is full of incredible culinary riches. Catalans eat very well. In the countryside, you find meat and seafood paellas cooked over live fires, grilled pork sausages such as botifarra, and colorful escalivada, community feasts of various vegetables cooked on the smoldering embers of local grapevines. Catalonia is also the birthplace of groundbreaking restaurants like Ferran Adria's elBulli and Joan Roca's El Celler de Can Roca. In recent years, these temples of gastronomy have thrust Spanish cuisine onto the world stage as a culinary superpower.
No wonder Spain wants to prevent Catalan independence. Who in their right mind would let this food lover's paradise leave the country!? Of course, the region's continued political conflict is a little more complex than that. But at the heart of the conflict is the fact that many Catalans see their region—and themselves—as distinct from the rest of Spain. According to Daniel Olivella, a Catalan chef with restaurants in San Francisco, California, and Austin, Texas, and author of Catalan Food, "Catalans have our own language, traditions, and foodways." In fact, Spain's oldest cookbook, Sent Sovi, was actually written in the Catalan language in the 14th century by the top chefs of the day, who were Catalan. Many Catalans feel that Spain has exploited the Catalan corner of the world for long enough. They want independence once and for all. Independence from what? An oppressive government! In an attempt to unify the country as a whole, the Spanish government has been outlawing the Catalan language and culture on and off for centuries while simultaneously benefitting from the region's riches. Spain has a long history of oppressing—and even executing—the Catalan people to maintain power over them. It's true that in the past several decades, the government has allowed Catalonia some measure of administrative autonomy, but according to many Catalans, exploitation continues to this day. And they've had enough. Catalans are fighting, once again, for independence from Spain.
You can read all the sordid details of the political conflict elsewhere. Here, we prefer to focus on the positive, one of Catalonia's greatest gifts to the world: its incredible food! For instance, this region is home to a unique seasonal vegetable, the calcot, a type of green onion. Every spring, Catalans anticipate their native fresh calcots. According to chef Olivella, "Catalans look forward to calcots every year the same way people in eastern North America get excited about wild ramps." In Catalonia, the local food is celebrated by building fires with vine cuttings, charring the calcots over the fire, then dipping them in rich, peppery romesco sauce. The festival is known as a calcotada and includes many other foods such as fire-roasted spring lamb. Get a taste of this Catalan tradition by grilling spring onions or scallions with our recipe here.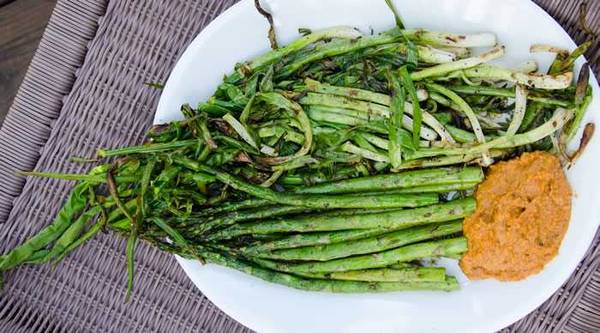 Catalonia is also famous for paella. Like their Valencian neighbors to the south, Catalans take great pride in cooking big pans of rice over live fires with various mixtures of local shellfish, chicken, rabbit, and game meats. The bottom layer of crispy rice, called the soccarat, is one of the most delicious parts of the dish. Learn more about the soccarat with our recipe and tips for Paella.
When you make these dishes, wash them down with some chilled vermouth, a popular Catalan drink, or with a tall flute of cava, Catalonia's budget-friendly sparkling wine. Better yet, try one of the region's many excellent red wines, such as La Scala Cabernet Sauvignon Gran Reserva from Jean Leon. Either way, eat well and raise a glass to Catalonia's esteemed food heritage!