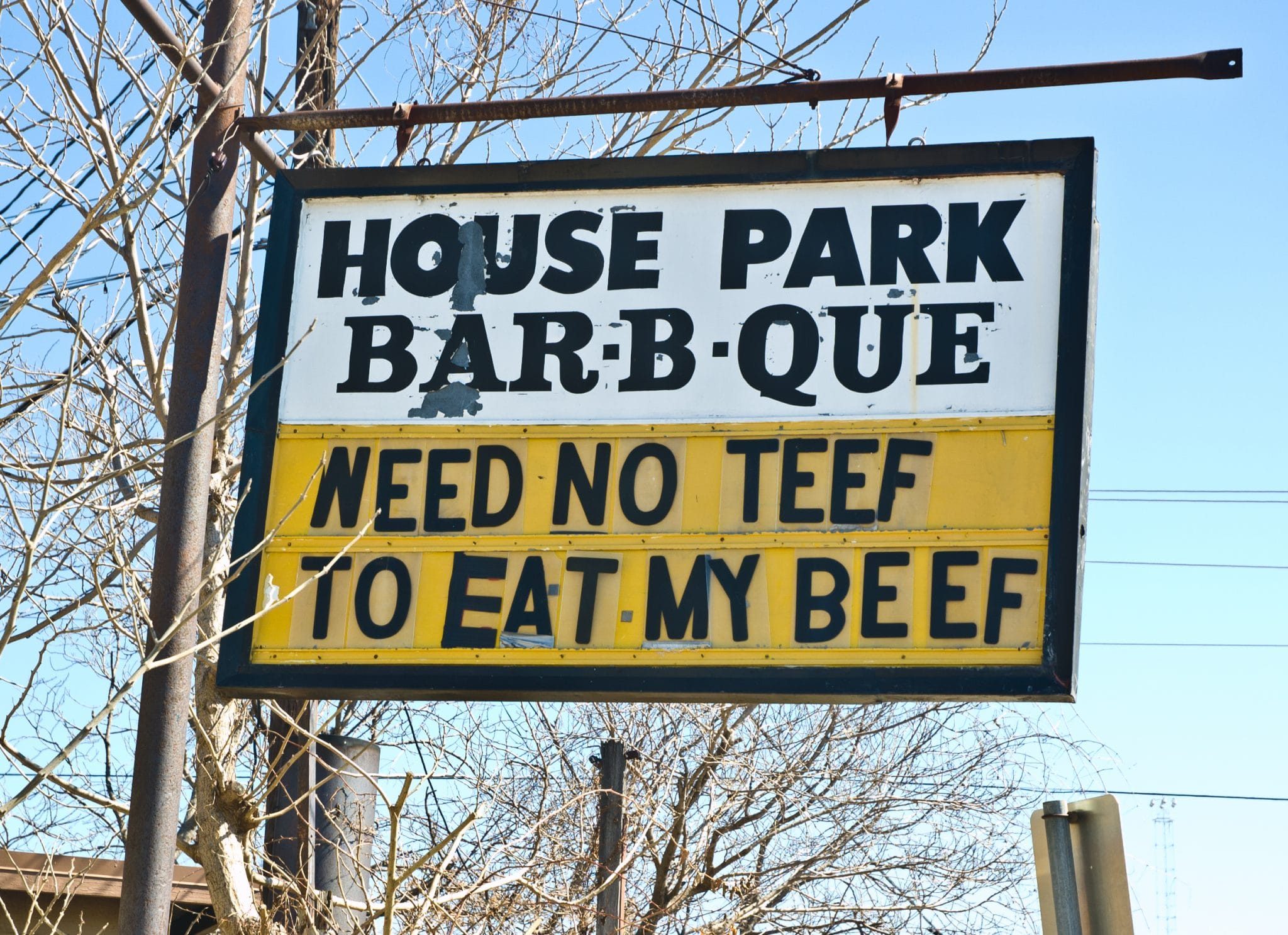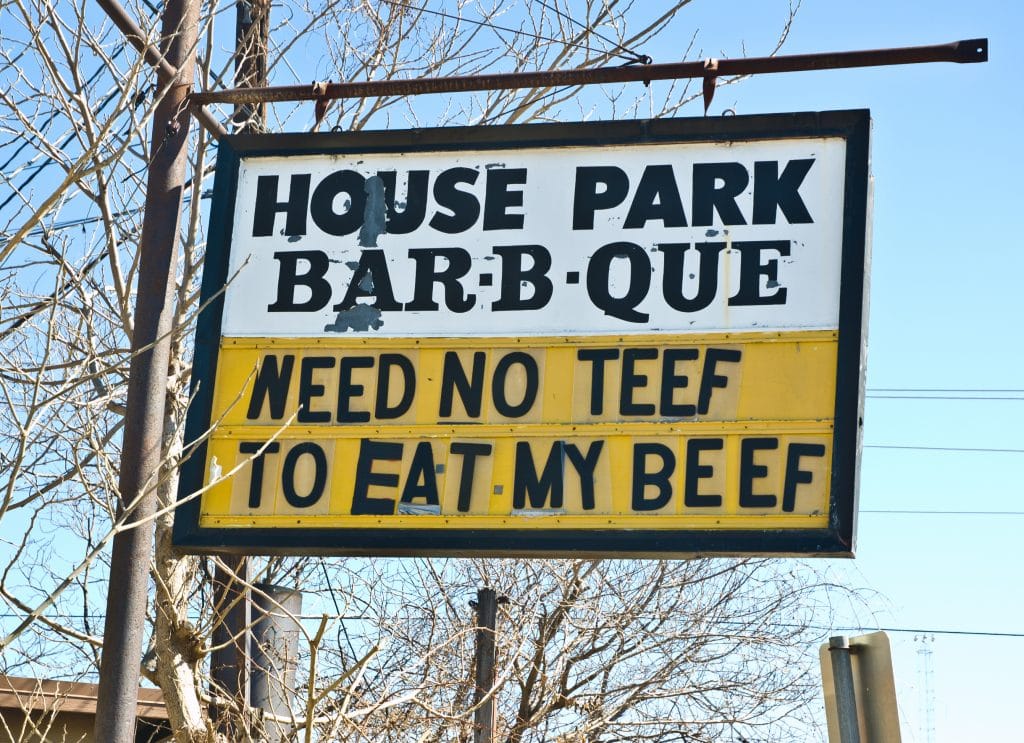 As we travel, we like to hit the local pitstops, tuck in a napkin, take a few pictures, and meet the pitmasters. In this section, still very much under construction, we plan to post our experiences and we invite you to do the same in the comments section below. Sooner or later we will set it up as a searchable database where you can rate the restaurants. This is a big expensive project, so forgive us if it takes a while. At this time we haven't even posted all our faves. We have a much more comprehensive list in our Pitmaster Club compiled by our knowledgable 16,000 users from around the world.
If you're looking for a place just around town or when you're on the road, there are a lot of handy resources to tip you off on where to go, and where not to go. I have included some of them below. You should also check out the popular food message boards. They usually have sections devoted to restaurant discussions. And they're often up to date on who got cited by the health board and who lost their chef.
A word about Yelp, the popular crowdsourced restaurant guide: we frequently read ignorant and uniformed reviews from people who clearly know nothing about food, especially barbecue, and others whose wording makes me suspect that the reviews are planted by employees, competitors, or disgruntled former employees. Worse, there are numerous complaints by restaurateurs that if they do not buy ads from Yelp, positive reviews will be hidden. Just Google "Yelp Complaints."
Here are some of our faves. If you stop in, tell them we sent you!
US Barbecue Pitstops
Alabama

Alaska

Arizona

Bobby D's BBQ, 119 Jerome Ave, Jerome, AZ 86331, (928) 634-6235
Rim Country BBQ and Wood-fired Pizza, 202 W Main St, Payson, AZ, Arizona 85541, (928) 472-2227, Owner: Robert Santoro

Arkansas

Whole Hog Cafe in Little Rock
McClard's Bar-B-Q, 505 Albert Pike, Hot Springs, Arkansas 71901, 501-623-9665, 866-622-5273
Jones Bar-B-Q Diner, (James Beard award winner) 219 West Louisiana St., Marianna, AR Owners: James and Betty Jones
Roadside BBQ, Proctor

California

Mo's, San Luis Obispo
Ribs & Rods, Sacramento
Everett and Jones, Oakland since 1973
Beachwood Barbecue, Seal Beach
Great American Barbecue, 2009 Hight St, Alameda CA 94501
BBQ Smokehouse, Sebastapol, Larry Vito, owner.
Salinas City BBQ, 700 West Market, Salinas, CA, Franz Ingram
Curly's BBQ, Seaside, CA, Hampar Kocek and his son, Selcuk.

Colorado

Smokin' Dave's BBQ & Brew, 820 Moraine Ave, Estes Park, CO 80517, (970) 577-7427

Connecticut

Delaware

District of Columbia

Florida

Wholly Smokes. 6803 N Armenia Ave, Tampa, 33604, 813-935-5879
Alligator Alley, 1321 E. Commercial Blvd, Fort Lauderdale, 954-771-2220, closed Tue, Chef Iggy, Carl Pissolo.
Georgia Pig, 1285 S. State Road 7, Davie, FL 33317, 954-587-4420
Jenkins Quality Bar-B-Que, 4 locations in Jacksonville
Tom Jenkins 1236 S Federal Hwy, Ft. Lauderdale, FL
Tom's Place, West Palm Beach, FL
Big John's Alabama Bar-B-Que in Tampa
Skebo's Kitchen, Club Lexx, 12001 NW 27th Ave.; 5 p.m.-5 a.m. daily; 786-443-7306.
Mama Lucy's All Pro Ribs, 2201 NW 119th St.; 1-8:30 p.m. Wednesday, noon-10 p.m. Thursday, noon-11:30 p.m. Friday, 1-11:30 p.m. Saturday, noon-7 p.m. Sunday; 305-687-8782.
Saint City Coffee Shop, 9302 NW 22nd Ave.; 8:30 a.m. until customers stop coming, daily; 305-693-3877.
House of Prayer Church & Restaurant, 2445 NW 62nd St.; 11:30 a.m.-9 p.m. Thursday, 11:30 a.m.-11 p.m. Friday-Saturday, 11:30 a.m.-9 p.m. Sunday; 305-691-5577.
VII Sports Club, 5994 NW 22nd Ave.; noon-midnight Friday-Saturday; 305-638-9616.
Bulldog BBQ
Big Momma's Smokehouse BBQ, Palm Beach, Boca Raton, others
Shorty's BBQ, multiple locations
Texas Hold 'Em BBQ, Fort Lauderdale

Georgia

Col. Poole's, East Elijay, GA, Hill of Pigs Col Oscar Poole Dougless GA has "Nat BBQ Championships"
Wall's, 515 E. York Lane, Savannah, GA. Between York St. and Oglethorpe Ave (Historic District) 912-232-9754.
Fatt Matt's Rib Shack, Atlanta, has live music
Barbecue Kitchen, College Park
Harold's Barbecue, Atlanta
Pig-N-Chik, Atlanta
The Swallow At The Hollow, Roswell
Williamson Brothers, Douglasville
Hudson's Hickory House, Douglasville
Fresh Air Bar-B-Que, Jackson and Macon

Hawaii

Idaho

Illinois

Indiana

Iowa

Hawgeyes BBQ, 1313 S.W. Ordnance Road. Ankeny, Iowa 50021, 515-963-4397. Mike Tucker.
Hickory Park BBQ, 1404 S. Duff, Ames, IA, 535-232-8940, 10:30-9, about 25 miles north of Des Moines.

Kansas

Joe's, Kansas City, Olathe, and Leawood

Kentucky

Check out the road trip by Rob Baas
Starnes in Paducah
Moonlight Diner
Smokey Pig in Bowling Green
The Smoke Shack in Scottsville

Louisiana

Maine

Maryland

The Red Line Grill, 6912 Fourth St. NW, 202-291-9464. Metro: Takoma stop.

Massachusetts

Michigan

Minnesota

Mississippi

The Shed in Ocean Springs, MS, near the coast, not far from Mobile, AL, owned by the Orrison family, is probably the coolest joint in the country and belongs on your bucket list.
Pig Out Inn, Natches. Est 1955
Memphis Barbecue Co., 709 Desoto Cove, Horn Lake, MS 38637. Just a few miles south of Memphis. 662.536.3763, Melissa Cookston and John Wheeler, owners

Missouri

Super Smokers, 601 Stockell Drive, Eureka MO, 636-938-9742, 11-8
Bill Arnold's Blues Hog Cafe, 116 E Main St, Perry, MO. 573-565-3040
Jack Stack's, 101 W 22nd St, KC, MO, 816-472-7427
KC Masterpiece
Smoki O's, Kansas City, Otis & Earlene Walker. Famous for snoot!
Pappy's, St. Louis Lonnie Ray's, Harrisburg, MO

Montana

Nebraska

Nevada

New Hampshire

New Jersey

New Mexico

Danny's Place, 902 South Canal, Carlsbad, NM 88220.

New York

Painted Pony in Lake Lucerne – has live rodeo twice per week
Hog Pit, NYC
Brooks, Cooperstown
Blue Smoke, NYC
Hill Country, NYC, an ode to Kreuz Market in TX, Elizabeth is executive chef
Hometown Bar-B-Que, Brooklyn
Dinosaur Bar-B-Que, NYC, Syracuse, Rochester

North Carolina

Skylight, Ayden NC, Pete Jones, owner. Only wood cooked whole hog, chopped, with slaw.
Ed Mitchell's
The Barbecue Joint in Durham NC
Bar BQ Center Drive-In, Lexington
The Pit, Raleigh
North Carolina Barbecue Society. They have a Barbecue Trail that includes most of the important places to see and taste including a map, address and phone, and background info. It's all here.

North Dakota

Ohio

Hot Sauce Williams, Cleveland

Oklahoma

Earl's, Oklahoma City, OK

Oregon

Pennsylvania

Jesse's Barbecue, Souderton
Grumpy's BBQ Roadhouse, Allentown

Puerto Rico

Rhode Island

South Carolina

South Dakota

Tennessee

Here's a fine article about BE Scott's in Lexington TN.
A&R Bar-B-Que, Memphis
The Bar-B-Q Shop, Memphis
Central BBQ, Memphis
Charley Vergos' Rendezvous, Memphis
Corky's Ribs & BBQ, multiple locations in Memphis and elsewhere in TN
Cozy Corner, Memphis
Germantown Commissary, Memphis
Interstate Bar-B-Que, Memphis
Neely's Bar-B-Que, Memphis
Payne's, Memphis
Tops Bar-B-Q, Memphis
City CafŽ, Memphis
Canale's Grocery, Eads, TN, In an old grocery store
Bozo's, Mason

Texas

Full Custom Gospel BBQ by the estimable Daniel Vaughn
Here's a link to The Texas BBQ Trail, a guide paid for the joints in Elgin, Lockhart, Luling, Taylor, and more
And while you're at it, why not hit the Texas Wine Trail
Burn's, Houston (Roy Burns, owner)
Willy Ray's, 145 Interstate 10 N, Beaumont, TX 77707 409.832.7770
Mikeska's Barbecue, 4225 Hwy. 59, El Campo, TX 77437, 979.543.8252 (tel.), 800.388.2552 (toll-free)
Drexler's
Goode Company on Kirby in Houston
Franklin BBQ in Austin. Loooonnnngg lines, worth the wait.
Vergies BBQ at 5535 Gessner Drive, Houston, TX 77041 (713) 466-6525.
Sonny Bryans, multiple locations in Dallas, but the original is a must.
Gonzales Food Market, 800-269-5342
Rudy's, multiple locations, my fave is in Round Rock
New Braunfels Smokehouse, 441 N. Guenther, New Braunfels, TX 78131, 800-537-6932
Vera's for BBQ cow's heads barbacoa de cabeza, 26th St. and Southmost Road, in Brownsville, TX., since 1955
Ja Kiva, Terlingua
Clem Mikeska's, Temple
Cap Ranch Gourmets, 2018 S. Broadway, Tyler, TX 75701, 903.592.3452 (tel.) 800.874.9321 (toll-free)
Snow's, Lexington
Utah

Vermont

Virginia

Virgin Islands

Washington

West Virginia

Hocutt's Carolina Barbecue, Moundsville

Wisconsin

Speed Queen, 1130 West Walnut Street, Milwaukee, WI, 203-237-6660
Maxie's, Milwaukee

Wyoming
Some other good resources
America's Best BBQ by Ardie A. Davis and Chef Paul Kirk
This wholly wonderful book is meant as a cookbook, as described in the subtitle "100 Recipes from America's Best Smokehouses, Pits, Shacks, Rib Joints, Roadhouses, and Restaurants". But it is much more. Davis and Kirk probably have visited more barbecue joints than anyone I know, and they know the good stuff from the bad. For this book they have picked some of the best barbecue restaurants, describe them, and share a recipe. Davis and Kirk are not professional photographers, but their snapshots do a fine job of conveying the ambiance of the restaurants, the personalities of the people, and the taste of the food. I have used it more than once as a reference when I hit the road, and they have never steered me wrong.
The narrative is folksy and personal. Here they are discussing pig snoot sandwiches: "Ardie hasn't made it through a whole snoot sandwich yet, even after downing a shot of Pig's Nose Scotch first. Paul downs them with gusto reminiscent of a New Yorker eating clams or oysters on the half shellArdie says they taste like bacon fat with barnyard rub. When he gets to the whiskers, he stops and orders a tenderloin sandwich or a cheeseburger." Yes, they offer a recipe that even Ardie will eat.
Click here to buy America's Best BBQ by Ardie A. Davis and Chef Paul Kirk
Spotlight on our favorite products
Big. Bold. Flavor.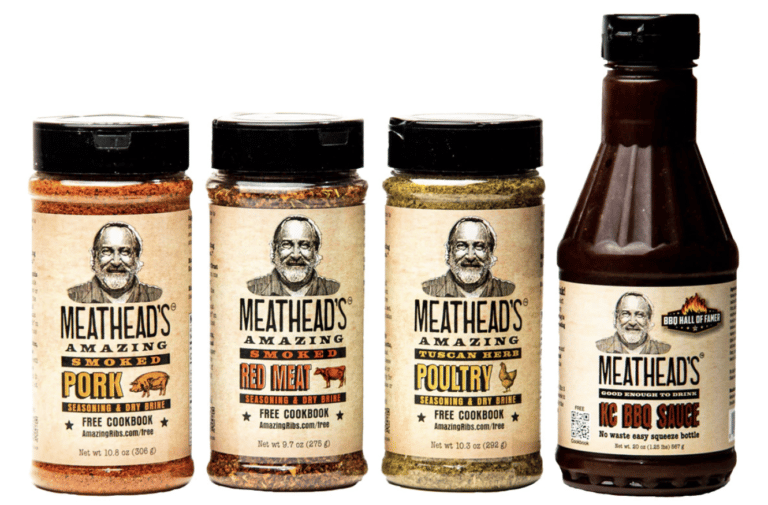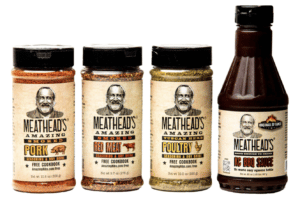 Introduce big, bold flavor to your BBQ and grilling creations thanks to the Meathead's Amazing line of pork, red meat, and poultry rubs as well as a KC-style BBQ sauce. Click here to read more and to purchase.
– THIS IS NOT AN AD –
Legends of Texas Barbecue Cookbook: Recipes and Recollections from the Pit Bosses by Robb Walsh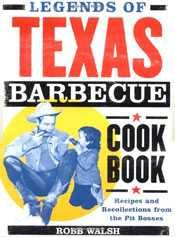 This book is a wonderful piece of scholarly research that is also a great read. Walsh has delved into the history and lore of Texas barbecue, it origins, its ingredients, its personalities, and its tall tales. He recommends the best places to eat when in the Lone Star State, what to eat, and provides recipes from pitmasters to help you replicate the real thing at home. Even the photos are fascinating.
A quote: "The majority of Texas barbecue joints now serve a little bit of everything. You'll always find some kind of beef offered, and usually German-style sausage along with Southern-style pork with barbecue sauce, Mexican tortillas, West Texas beans, and sides from all over the place. Not to mention banana pudding, coconut cake, and sweet potato pie. Some places try to maintain a degree of stylistic purity, but few succeed. That's why when you say "Texas barbecue," no one can ever be sure about what you are talking about… The best way to preserve our tradition is to constantly disagree about what Texas barbecue really is."
Click here to buy Legends of Texas Barbecue Cookbook: Recipes and Recollections from the Pit Bosses by Robb Walsh
Barbecue: A Texas Love Story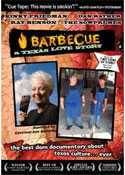 A 46 minute DVD narrated by the late former Governor Ann Richards and directed by Chris Elley. This clever 2005 documentary features some of the characters and culture of Texas barbecue including the Sowpremes (women who dress like hogs and root for barbecue), and Kinky Friedman (novelist, humorist, former candidate for governor, songwriter, and leader of the band Kinky Friedman and the Texas Jewboys). "Jesus loved barbecue. That's well known," asserts Friedman.