Chicago deserves to be listed among the great BBQ capitals alongside Kansas City, Memphis, and the rest
The capital of the Midwest is no Porky Come Lately. It has a long history that puts it among the upper echelon of 'cue capitals. Jim Shahin, the author of numerous barbecue articles in The Washington Post has written "Smoked meat aficionados generally acknowledge four barbecue capitals: Memphis, Kansas City, Texas, and North Carolina. Chicago is, at best, what you might call the fifth Beatle. Which is to say, a player that no one remembers."
Let's correct this.
Executive summary
If you don't want to watch the videos and read the whole article but you want the essence of Chicago Barbecue, here you go: It is rooted in the African American migrations from the Mississipi Delta to the Southside. Ribs, rib tips, and sausage have always been the most popular items. Sauce is sweet red, Kansas City style. They cooked in the closest thing to open pits in the ground that health laws would allow, the Chicago-built Aquarium Pit. It is a stainless box and the meat cooks and smokes about 2′ directly above hardwood embers. To reduce pollution, the cooking surface is surrounded by a glasslike enclosure with a funnel-shaped lid/hood attached to a chimney and smoke scrubber, making the whole aparatus look like an aquarium. That's the smoker at Lem's at the top of this page, and here's tips on the Aquarium Pit at Honey 1.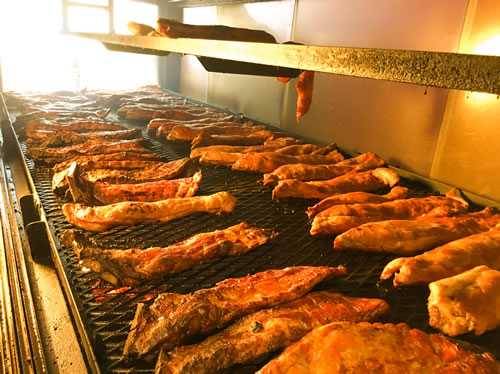 The Great Migration: The first wave
American Barbecue is a happy marriage of the smoked meat traditions brought to the new world by European explorers, the primitive cooking techniques of the Native Americans, and the discovery of tomatoes and hot peppers in Central and South America. It evolved under the watchful eyes of African American slaves and cooks, who took tough cuts of meat and found a way to coax them to yield delicacies.
Jean Baptiste Point DuSable is believed to have been the first settler of European descent when he opened a trading post on the south bank of the Chicago River near where it met Lake Michigan. He was black, probably French Canadian, and married a Potawatomi woman. Grilling, roasting, and rotisserie is an integral part of both cultures.
With the Underground Railroad prior to the Civil War, African Americans brought their cooking culture and settled in with the North what eventually became soul food.
After the Civil War there was a steady trickle of migration to northern cities in pursuit of jobs. It culminated in a wave called The Great Migration from 1910 to 1930 as an estimated two million blacks, many farm hands, tenant farmers, and sharecroppers from the Mississippi Delta, moved north to find work.
The Delta is where the Yazoo River system drains into the Mississippi River in Northeastern Mississippi and Eastern Arkansas just south of Memphis and north of Vicksburg. Many were displaced by mechanization, many by racism, and many by Jim Crow "separate but equal" laws. They brought with them barbecue as well as the blues and settled on the South and West sides of Chicago.
Chicago's African American population grew from about 4,000 in 1870 to about 15,000 in 1890, 40,000 in 1910, and 90,000 in 1920. Southside culture grew with a local black newspapers, radio, night clubs, merchants, and restaurants. Chicago Jazz flourished in the 1920s with night clubs featuring Southerners like King Oliver and Louis Armstrong (Struttin With Some Barbecue).
The Pullman Corporation on the Southside of Chicago became a major employer. By the mid 1920s, while train traveling was peaking, more than 20,000 African American men worked as Pullman porters and other train jobs, the largest category of labor for blacks in the US. They carried luggage, shined shoes, made beds, and made good money and tips while they saw the country. Many of their wives became domestic help. They became the first black middle class in the nation.
The Great Depression which started in 1929 killed many of their jobs, and almost half the black community was unemployed. Migration from the South slowed.
There were not many barbecue restaurants in Chicago that I could find until after WWII.
Sweet sauce and boiled meat
Eastern European immigrants flocked to the city after the Great Chicago Fire burned the heart of the city to the ground on October 8 and 9, 1871. They brought with them their culinary traditions, including a love of sausages and smoked meats.
While many worked in the construction trades, and others in the stockyards, others opened butcher shops. Their enclaves often butted up against the African American neighborhoods. No doubt they tasted Southern barbecue and sweet barbecue sauce and they loved it. African Americans cooked their meats low and slow with smoke. But in Poland, Czechoslovakia, and other Eastern European countries, ribs were often simmered in a pot for hours with cabbage, potatoes, onions, and caraway seeds making a hearty rich stew that was served in a bowl. So when they opened their Chicago restaurants, they boiled their ribs as they did back home, making them so soft and tender they fell off the bone. They then drenched them in sweet ketchup based sauce, saving hours and dollars. Alas, much of the meat's flavor went down the drain when they discarded the water.
To this day, boiled fall off the bone ribs drowning in sweet sauce is the popular standard for much of the population, but for many, that is changing.
The Second Great Migration: Delta blues and barbecue
WWII, which the US entered after Pearl Harbor was attacked on December 7, 1941, created millions of jobs building everything from tanks to munitions and uniforms. Chicago was a major aircraft and war goods manufacturing center. Between 1940 and 1960, there was a Second Great Migration with Chicago's black population grew from 278,000 to 813,000 and the Southside became known as the "Capital of Negro America".
Rib city
Chicago's reputation for barbecue is built on ribs as surely as the city was built on the wreckage of the Great Chicago Fire. Yes, there is plenty of chicken and beef barbecue in town, but there was a reason Carl Sandburg called the city "hog butcher for the world."
Chicago's notoriety for ribs was given a boost in 1974 when, in an episode of the Korean War sitcom, M.A.S.H., Dr. Hawkeye Pierce got so fed up with Army food that he called a restaurant named Adam's Ribs in Chicago and placed an order to be delivered to his mobile hospital in South Korea labeled as medical supplies. "I've eaten a river of liver and an ocean of fish! I've eaten so much fish, I'm ready to grow gills! I've eaten so much liver, I can only make love if I'm smothered in bacon and onions!" he ranted, and dialed Dearborn 5-7500. In real life there was no Adam's Ribs, although years later a restaurant renamed itself to take advantage of the fame of the story.
Then, in 1982, the Chicago Sun-TimesPulitzer Prize winning columnist, Mike Royko, bragged that he made the best ribs anywhere and launched the annual Royko Ribfest in Grant Park. One of the nation's first large barbecue competitions. For more on this historic event, see the details in the sidebar.
There are five distinct styles
Today there are five distinct styles of Chicago ribs. I call them Delta style, boilbecue, smokeless roast, digital, and fusion barbecue.
1) Delta style. A dozen or so pitmasters, mostly South Side African Americans, still cook in aquarium pits over wood. Ribs, rib tips, hot links, pulled pork, and chicken are their signature dishes, often served on top of slices of white bread, smushed into a cardboard boat, doused with a sweet-tart tomato-based sauce, and topped with fries. Many sell carryout only, pretty much like their antecedents did back home under the big shade tree in the Mississippi Delta. Among the remaining Delta-stylejoints are Lem's, founded in 1954, and Leon's, founded in 1940. My favorite is Honey 1 BBQ, opened in 2003.
2) Boilbecue. Boilbecue is based on the Eastern European tradition of boiling ribs, then drwoning them in sweet sauce and perhaps grilling or broiling them to caramelize the sauce. Boilbecue can be found in scores of restaurants and carryouts around town. Although the boiling makes the meat very tender, alas, much of the meat's flavor comes out in the water.
3) Smokeless roast. Restaurants like Twin Anchors Restaurant & Tavern, founded in 1932, and a favorite of Sinatra, pop their ribs in the oven to roast, then sauced them, and finished them on the grill. The Gale Street Inn opened in 1963 also became famous for sweet fall-off-the-bone ribs that are first steamed, then roasted, and then broiled. Incidentally, in researching this article we have never encountered an owner nastier and more surly than the one at Gale Street.
4) Modern. Since the year 2000, a dozen or so first rate restaurants on the Northside and in suburbs have opened, several gaining national renown, among them Smoque BBQ and Chicago q. They use gas fired pits supplemented with logs for flavor, and are fitted with digital thermostats and timers. The most popular are Souther Pride and Ole Hickory. Many of the old timers have upgraded to the digital smokers, among them: Russell's, in Elmwood Park, founded in 1930, and Carson's, an upscale chain launched in 1977, now with three locations. These pits, in the hands of pitmasters like Barry Sorkin of Smoque, turn out the Platonic ideal of Southern barbecue.
5) Fusion barbecue. While modern barbecue tends to stick to the classic Southern canon of ribs, pulled pork, beef brisket, burnt ends, and chicken, contemporary chefs, often classically trained, many influenced by Asian cuisines, have taken barbecue to exotic new places with creative spices, tomato-free sauces, unusual buns, and unexpected side dishes. Among them are bellyQ and Lillie's Q.
The Aquarium Pit
Southerners made barbecue by fire roasting their meats low and slow over pits dug in the dirt. Health regulations eventually forbade restaurants from cooking in holes in the ground, so above-ground brick and concrete block pits like the Texas "pulley pit" became the standard.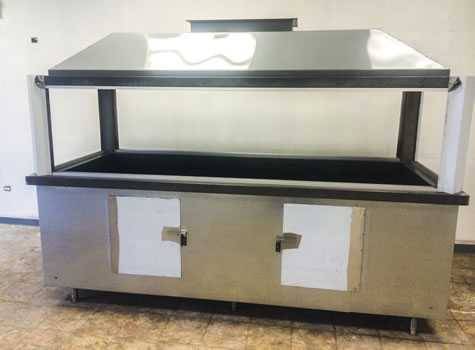 To prevent another Great Chicago Fire and to prevent smoke from filling the room, a unique variation on the concept called the "aquarium pit" evolved in Chicago. It is a large box of bricks wrapped in stainless steel, and the cooking grate is surrounded by thick tempered glass that connects to a lid, much like a hood for a kitchen stove, that funnels smoke to a chimney making the whole aparatus look like a giant aquarium with ribs swimming in them. They are still used in a dozen or so restaurants, mostly on the Southside and although a few can be found elsewhere (the one below is at Cozy Corner in Memphis), they remain emblematic of Chicago barbecue. There are doors at the bottom for throwing in logs, and all aquarium pitmasters control them with a garden hose they squirt through the doors. The doors also are used to control oxygen to the fires.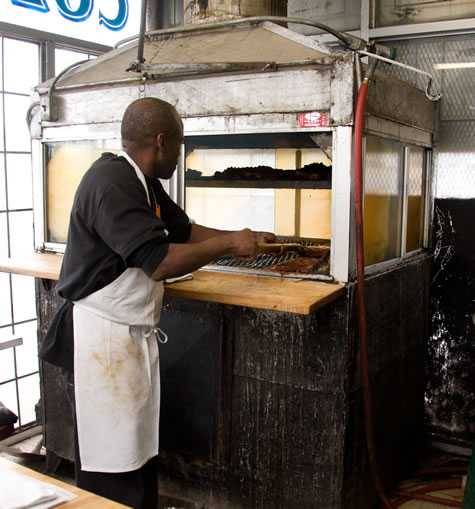 Originally made by Fulton Metal which closed in the 1950s, they are still made by Belvin J & F Sheet Metal, 675 N. Milwaukee Ave., Chicago, IL 60642, 312-666-5222. Above is one they built for Honey 1 BBQ. They have also been built since 1954 by Avenue Metal Co., 1640 W. Ogden, Chicago Illinois, 60612, 312-243-3483, Jim Brunetti. Below is one of the few outside Chicago in the wonderful Cozy Corner in Memphis, TN.
A chronology of important dates in Chicago barbecue history
Here is "A Barbecue History of Chicago" by James Beard Award Winner Michael Gebert featuring an interview with Meathead, among others. Gebert's "Sky Full of Bacon" is a wonderful, rich, repository of polished professional video storytelling centered on food.
1865. In 1865, immediately after the Civil War, the Union Stockyards became a central distribution point for shipping live animals. In 1880 Gustavus Swift introduced a new rail car design that was cooled by ice. Chicago became the central final feedlot, slaughterhouse, butchery, and meat packer for the nation, processing more meat than any city in the world, peaking in the 1920s.
Slowly the meat industry decentralized, with Kansas City and others competing with Chicago, and business on the Southside declined. The Yards closed at midnight on Friday, July 30, 1971 and were eventually demolished. The Union Stock Yard Gate remains and was designated a National Historic Landmark in 1981.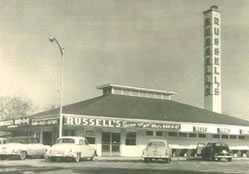 1930. Russell's, owned by white people in Elmwood Park since 1930, is still going strong.
1932. Twin Anchors Restaurant & Tavern on the Northside was a speakeasy during Prohibition, and a favorite of Sinatra when he was in town. They dry roast, smokeless. Also still going strong.
1940. The Original Leon's Bar-B-Que became popular during Chicago Fest on Navy Pier. Leon Finney was born in 1916 in Mississippi, and moved to Chicago in the late 1930s. In 1940, his Aunt was working as a cook in a Southside restaurant that was a front for a bookie joint. When police raided the place, the owner told his aunt that she could have the place for $700. She reached out to Finney who called his Dad, T. J. Huddleston, Sr., owner of several funeral homes back in Mississippi.
They turned the place into a barbecue joint and before long his secret sauce became famous. It is now bottled commercially and is for sale in the restaurants and a few groceries in Chicago. The three Leon's restaurants are best known for smoked spare ribs and rib tips.
1948. Calumet Fisheries has been making amazing smoked fish at this same location, and it is strictly take out. Watch this video from local restaurant review show, Check Please, on PBS.
1950. Leonard Chess founded Chess Records on the Southside and started recording Howlin' Wolf, Little Walter, Muddy Waters, Sunnyland Slim, and other Delta Blues icons. In 1951 Chess published "Rocket 88" by Jackie Brenston and his Delta Cats which topped Billboard's R&B chart and has been called the first rock & roll record.
Early 1950s. Argia B. Collins opens Argia B's Bar-B-Q at Forrestville and 47th St. He and his brothers open about 10 other storefronts eventually. They are all long gone. Argia died in 2003, but, according to his obit in the Chicago Tribune, "He also provided the fuel, quite literally, to the civil rights struggle of the 1960s, as his popular barbecue restaurant was a frequent source of free nourishment for a young Rev. Jesse Jackson and other organizers of Operation Breadbasket, a predecessor of Operation PUSH."
1951. George Stephen, Sr., frustrated by his inability to control the temperature in his backyard grill, had the welders at the Weber Brothers Metal Works where he worked, cut up a buoy that was to be used for Lake Michigan boating. The Weber Kettle was born. Among its innovations was a tight-fitting lid and much of the early marketing involved touting the merits of "covered barbecuing". Today it is by far the most popular backyard grill in the world with the basic unit still selling for under $100. They also operate three restaurants in the area where most of the food is cooked spectacularly on large Weber Kettles.
1954. Two brothers, Bruce and Myles Lemons from Indianola, MS, moved to the city in the 1940s and in 1954 they opened Lem's Bar-B-Q House on 59th and State St. Ribs, tips, and sausage were sold wrapped in newspaper. It is still a pilgrimage Southside destination for Delta style. Cash only.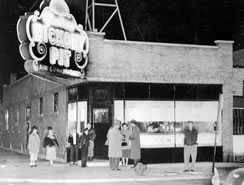 1955 Glass Dome Hickory Pit opened in 1955, I think, and closed in the 1990s. Anthony E. Beninato, Sr., the owner, died in 2011. Originally located at 2724 S. Union (shown above) it moved to two blocks west to a larger more ornate facility at 2801 S. Halsted St., a few blocks from Comiskey Park, home of the White Sox and it was a favorite of fans. It was also a popular hangout for men with klout in the lilly white neighborhood where Mayor Richard J. Daley, other machine pols, and many top mobsters lived. The Pit made the news on 12/8/1955 when Alex "Louie" Greenberg, 64, owner of the nearby Canadian Ace Brewing Co., was shot by two men as he and his wife entered their car after dinner. Tavern owners said that Greenberg's men had been employing tactics reminiscent of the Prohibition era beer wars, when Greenberg was schooled as a member of the Capone mob. Mrs. Greenberg said the attack was a stickup, but police doubt that robbery was the motive.
1957. Argia B. Collins, Sr,. introduces his Mumbo Bar-B-Q Sauce, a conventional tomato based sauce. It is still being made. In Washington, DC, a number of sweet-sour Asian influenced sauces generically named Mumbo Sauce are served in many Asian restaurants and chicken shacks. This student of history suspects the name came from a fan of Collins' original. Click here to read the history of Mumbo Sauce in Chicago and DC, and get a recipe for the DC icon.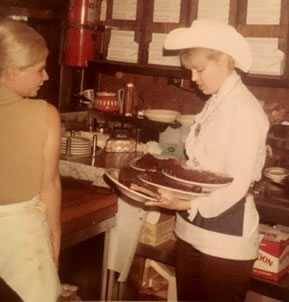 1958. Eddie's Real Barbecue Ribs (above) was owned by three brothers, Gil, Ray, and Eddie Schlesinger. It opened as The Open Pit Barbecue but changed its name after being threatened with a lawsuit by the Open Pit barbecue sauce company, according to Linda Poznansky, the daughter of one Gil. She said "Located across from the Logan Square El Station, it was a regular stop for commuters. Just for a slab of Eddie's barbecued ribs, many suburbanites made the trek to the city as well as celebrities who came to Chicago."
1960. Kraft BBQ Sauce introduced. It soon becomes the number one selling sauce in the nation. It has slipped a bit but still remains in the top 5. Kraft's Bullseye Brand is also in the top 5. Who's #1? Sweet Baby Ray, created in Chicago in 1985.
1963. Gale Street Inn opens.
1960s. According to internet reports, The Homestead opened in Blue Island around 119th and Vincenes. It was a small bar and ribs were smoked in a pit out back by the owners Joe and Josephine. "The smoke filled the air outside and the hickory fragrance could be smelled for blocks" said one fan. They expanded several times driven by demand, and eventually they sold the recipes to the House of Hughes on Cicero in Crestwood. HoH closed in 2011 or 2012.
1960. Smoky Joe's on South State Street was popular.
1973. Michael Robertson, owner of the Hickory Pit restaurant in downstate Decatur, IL, designed a pit that was more automated and eventually began manufacturing them. The company built 20,000 Southern Prides in Chicago before it moved to Alamo, TN.
1974. In November, MASH ran the famous Adam's Ribs episode discussed above.
1977. Carson's Ribs opened the first of six upscale locations and became very popular in the white community. The original downtown location is still popular and there are two others remaining in Deerfield and Milwaukee.
197?. Jimmy Cole, Cole's Family B.B.Q., Robbins, IL. Miss Blanche cooked on a block and steel charcoal pit built into the wall. It is closed.
1982. Royko Ribfest
In 1982 Pulitzer Prize winning Chicago Sun-Times columnist Mike Royko bragged that he made the best ribs anywhere and set in motion the annual Mike Royko Ribfest in the lakefront Grant Park. There were than 400 contestants the first year. The winner of the inaugural Royko Ribfest was an African American from Mississippi, Charlie Robinson, who parlayed his instant fame into the restaurant Robinson's No. 1 Ribs in the near western suburb of Oak Park, and a line of sauces and spices.
The event became an overnight sensation, and even a source of minor controversy. Almost from the outset vegetarians began pestering Royko for permission to enter non-meat ribs. The crotchety columnist wrote in that he had nothing personal against vegetarians, "In fact, I occasionally eat vegetables – a tiny onion in a martini or a stalk of celery in a Bloody Mary. Keeps me fit."
In 1986 he gave in and several vegetarians showed up that year. He tasted their faux ribs and wrote, "The texture was very much like a soft, chewable piece of rubber." He thought there were great possibilities for "gluten-on-a-stick barbecued ribs. There are many people who compulsively nibble on pencil erasers."
When the Sun-Times was purchased by Rupert Murdoch in 1984, an outraged Royko moved across the street to the arch-rival Chicago Tribune where he was syndicated in more than 600 newspapers.
The competition was limited to 500 contestants by the space available in Grant Park, and many applicants were turned away each year. Managing the event became a hassle, so in 1987 he wiggled out of the job. He explained why in a column. It seems he plotted to win the cookoff by raising his own hog, but one fateful night while walking him around the block, he was attacked by muggers. "With a roaring oink of rage, Prince was upon them, tusks flashing, hoofs flailing. One of them shrieked, 'killer pig!' and they fled in terror to a lifetime of porcine nightmares."
He asked "How can I turn this loyal, trusting, valiant creature into a a few slabs of barbecued ribs?" So he passed the tongs to others at the Tribune. Ribfest continued another three years, until 1990, when the Trib wiggled out of it, too.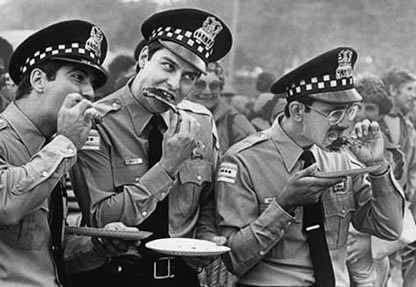 Royko continued to bedevil crooked politicians in his columns, defended the citizens of Chicago, and enjoyed ribs and cheap wine until he died suddenly of a brain aneurysm in 1997.
1983. Hecky Powell, a troubled black man with a history of transgressions turns his life around by bringing Southside-style Aquarium Pit BBQ to Evanston, a mostly white northern suburb, home of Northwestern University.
1985. In 1985 brothers Dave and Larry Raymond came in second among 700 teams in the Royko Ribfest. Their sauce was so good that Dave bottled it and started selling it wholesale from the trunk of his car. In 2001 the brand was bought by the large food processor, Ken's Foods. Now Sweet Baby Ray's is by far the most popular barbecue sauce in the nation with about 40% of the market, although it is no longer made in Chicago.
2006. Barry Sorkin, hated his desk job, and wanted to cook for a living, so he jumped in his car and tasted barbecue around the country. With several partners, he opened Smoque on the Northwest side. With his state of the art, gas fired wood assisted Southern Pride, he brought Texas brisket to Chicago in style, making it better than most joints in the Lone Star State. He also made his ribs, chicken, side dishes and deserts noteworthy. He was the first of the modern barbecue joints that now are springing up like mushrooms after a rain storm.
2014. Mariano's, a new upscale grocery chain opened huge stores all over the metropolitan area with restaurants woven right into the premises. There's an oyster bar in many, a pizza oven in most, and several have Southern Pride smokers that churn out some pretty good que for eating right there or carryout.
Chicago barbecue guide
Below is an incomplete list of barbecue restaurants and my attempt to categorize them. The local foodie message board, LTH Forum, is a very lively and active board and members know where all the best restaurants are, especially the little neighborhood joints. They also discuss other cities as well as cooking. I have hilighted some of my favorites in yellow. Alas, I have not tried them all yet.
Delta style
These Delta style joints still use the aquarium pit and carry on the old tradition of hardwood smoked meats. A number are carryout only. This is very traditional old fashioned open pit style cooking. Lem's, Uncle John's, Barbara Ann's are all within blocks of each other, all similar enough to be franchises.
I-57 Rib House, 6514 S. Western Ave., Chicago, IL 60636. 773-436-9000

Lem's Bar-B-Q House

, 311 E 75th St., Chicago, IL 60619.

773-994-2428

. See comments above.**

The Original Leon's Bar-B-Que, 4550 S. Archer Ave., Chicago, IL 60617. 773-247-4171. Founded in 1940, this is a new location with new owners, but they say the recipes are the same.
Mary's Bar-B-Q, 606 S. Pulaski (between Harrison St. & Ohio St.) Chicago, IL 60624. Mary & McKinley Jones from MS. arrived in 1960s. She was a pastry chef. Chris Jones is current pitmaster.
Ribs 'N Bibs, 5300 S. Dorchester Ave., (between 53rd St. & 54th St.), Chicago, IL 60615. In the Hyde Park neighborhood, home of the University of Chicago and President Obama. 773-493-0400.
Slab Bar-B-Que, 1918 E. 71st St., Chicago, IL, 773-966-5018, co-owned by James and Tonya Trice
Uncle John's Bar-B-Que, 17947 S Halsted St, Homewood, IL 60430, 708-960-4612, Gary Kennebrew
Uncle J's, 502 E. 47th St., 872-244-3852
Modern barbecue
Big Ed's BBQ. Fountain Square, 4030 Northpoint Blvd, Waukegan, IL 60085
Blackwood BBQ. Real BBQ in downtown Chicago.
Blowing Smoke BBQ. In the French Market. 131 North Clinton Street, Chicago, Illinois 60661 • 312-575-0306
Carsons, River North, 612 N. Wells, Chicago IL 60654, 312-280-9200. Carson's Deerfield, 200 N. Waukegan, Deerfield IL 60015, 847-374-8500. Dean Carson is the owner.
Chicago Culinary Kitchen,

773 N. Quentin Road Palatine, IL 60067,

info@ChicagoCulinaryKitchen.com

, 847-987-0369. Open only Sat and Sun. Greg & Kristina Gaardbo are very talented and creative with their Ole Hickory Pits.

This is currently my favorite in the entire metro area

. *****
Chicago q, 1160 N. Dearborn Street, Chicago, IL 60610. 312-642-1160. The most elegant of the city's barbecue restaurants with white table cloths, rich decor, more typical of an upscale steakhouse, beautiful bars, all in a refurbished old brick house in the popular Rush Street area. Chef Art Smith is familiar to anyone who watches cooking shows on TV. He made his name as Oprah's personal chef and went on to run several fine restaurants. ***
Cigars & Stripes, 6715 Ogden Ave., Berwyn, IL 60402. 708-484-1043. Ronnie Lottz is a former professional wrestler from Memphis with a big steel offset pit out back. His signature dishes are wings and rib tips.
Dickey's, a Dallas franchise founded in 1941 has three suburban Chicago locations.
Fat Willy's, 2416 West Schubert Avenue, Chicago, IL. 773-782-1800.
Flat & Point, 3524 W. Fullerton, Chicago, IL. 773-904-7152
The Full Slab, 8340 S. Stony Island Ave., 312-620-7522, Sam Gilbert
Green Street Smoked Meats, 112 N. Green Street, Chicago, IL 60607. 312-754-0431
Hickory River Smokehouse, 2130 Bloomingdale Rd., Glendale Heights, IL 60139. 630-529-1227. A small chain (franchise?) with a dozen or so locations around the nation.

Honky Tonk Barbeque

, 1213 W. 18th St., Chicago,

312-226-7427

. Willie Wagner, owner, and an all round cool guy Good food, funky vibe with fun garage sale paintings on the walls, lots of tats on the staff, great music, too. **

Lexington Betty Smoke House, 756 E. 111th St., Pullman, IL, 773-309-8240

Lillie's Q

, inside District Brew Yards, 417 N. Ashland Avenue, Chicago,

773-772-5500

. Chef Charlie McKenna. Modern upscale BBQ cooked on charcoal pits. This is a menu that blends creative ideas with classic styles. Several very good sauces. Smoked tri-tip is a highlight. Oysters with NC sauce. Killer Brunswick stew. Great ribs, the best in town.****
Mel's Craft BBQ, 24 Main St., Park Ridge, IL 68868, 224-985-3461. Mel Thillens.
Milt's BBQ for The Perplexed makes kosher BBQ, so don't ask for pork. 3411 North Broadway Street, Chicago, IL 60657. Lakeview neighborhood. 773-661-6384
Moontime Smokin' Que, 88 Railroad St., Unit A, Crystal Lake, 779-994-7119; Heather and Joe Cummings cook with wood only.
Nine One One, 2734 W. 111th St., 773-238-9111, Cortez Trotter
Others
Gale Street Inn, 4914 N Milwaukee Ave, Chicago, IL 60630. 773-725-1300. Surly owner.

Calumet Fisheries

, 3259 E. 95th Street Chicago, IL

60617 773-933-9855

. Founded in 1948. 2010 James Beard Foundation America's Classics Award winner. Remember when the Blues Brothers jumped the draw bridge? Right in front of the restaurant. Smoked catfish, chubs, eel, heads & collar, salmon, sturgeon, trout, whitefish, herring. Also fried shrimp, calamari, more. Amazing old fashioned outdoor smokehouse. Carryout only.

The Original Just Turkey Restaurant, 1746 W 127th St, Calumet Park, IL (I-57 & 127th)

Sun Wah Barbecue

. This James Beard American Classic Award winner does Chinese barbecue right. Click the link to see my pix and my review.

Weber Grill Restaurants

, Downtown Chicago, 539 N. State Street Chicago IL 60654

312-467-9696

. Lombard, 2331 Fountain Square, Lombard IL 60148

630-953-8880

. Schaumburg, 1010 N. Meacham Rd., Schaumburg IL 60173,

847-413-0800

. Also a location in Indianapolis.
There are also many Chinese BBQ restaurants in Chinatown and scattered around the city as well as famous steakhouses.
---
Famous Dave remembers Old School Chicago Barbecue
By "Famous Dave" Anderson
Although I grew up on the Westside of Chicago, my Dad knew where all the storefront barbecue joints were on the south and west side. I still remember Lem's, Sprag's, Leon's, Robinson's, Farmer Brown's, Barbara Ann's, Uncle John's, and the Rib Palace. These black owned storefront barbecue joints all used real wood burning pits. Their homemade sauces were generally thin, which made it easy to mop and slather. Some of the more well known, so-called Chicago rib joints like Twin Anchors, Gale Street Inn, and Carson — my Dad said he would never go there because these places sold "citified ribs" or ribs that were boiled, broiled, or baked. Being from the south, he always said, "if there ain't no wood, it ain't no good!" Ribs were never supposed to be "stewed in water like chicken" he would tell me.
Ribs Brought Home In Dad's Lunch Bucket
My Dad was an electrician who worked on some of the big buildings downtown, which is how he found out where the best barbecue was in town. When it came time for lunch, his black co-workers always sent someone out to bring back real pit smoked ribs. My Dad loved his barbecue and it wasn't too long before he was bringing these ribs home in his lunch bucket!
My Dad also knew where to find all the black rib cookers that were set up on empty parking lots on the Southside with their old battered 55 gallon drum smokers filled with smoldering slabs of oak or hickory wood. These old pitmasters would show up late some Friday night and smoke all through the night, carefully tendering their pits until their ribs, rib tips, and hot links were ready.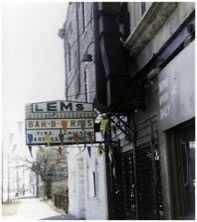 To this day, I still remember these old timers sitting on tattered lawn type folding chairs next to their pit and the smoky aromas. Mmmm. These were the legendary slow pit smoked slabs of whole spareribs that they lovingly slathered with their homemade secret barbeque sauces just like the old time pitmasters used to smoke way down in the Deep South. Once you bought your ribs, these old guys would wrap your ribs in anything they had handy but it didn't matter, all you could think of getting these ribs back home and eating them. Many times, the ribs never made it home — I don't know how many stripped clean rib bones got thrown out of my car windows. One thing for sure is no dog ever found enough on my discarded bones to even bother with them!
Going Out To Eat Was a Special Occasion
My parents watched every dime and penny to make ends meet and they made sure we always had good home-cooked meals on the family's dinner table. Eating out in our family was a rare and special occasion that only the big old canning fruit jar could bring. Every once and awhile, my parents would get out the big old canning fruit jar that was hidden in the pantry and we would gather around the family's kitchen table and count the pennies. We always squealed when we would find a big huge silver dollar in the pennies because it meant we had enough money to go out to eat at a "real" restaurant. Today, I now know that my parent's sacrificed to hide that shiny silver dollar in the pennies. But whenever we found that silver dollar, I got excited because I knew where we were going: RIBS! Years later, I often thought about this and then I realized how different our family was from all the other families on the block because when their parents took their kids out to eat it was for burgers and pizza. On the rare occasion my Dad took us out to eat it was for barbecued ribs. That's how I knew our family was different!
Eddy's Ribs In Logan Square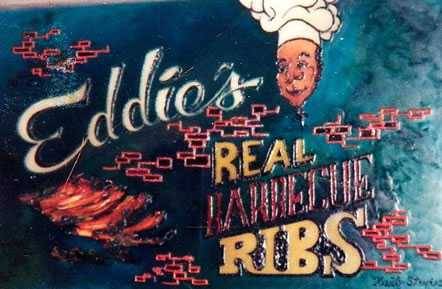 Back around in the 60's, one of my family's favorite barbeque restaurants was a place called Eddy's Real Pit Bar-BQ, located on a side street across from the Logan Street "L" Train Station. This was the only real pit barbecue joints owned by white folks that had a sit-down dinning room. I remember, once we got about a block away from Eddie's, my Dad would roll down the car windows and you could smell the heavenly wood smoke coming out of a big tall smoke stack that towered over the two story building. I used to get so excited that I couldn't wait for my Dad to park the family's Buick station wagon and I would practically tumble out of the car to run up to the restaurant's window.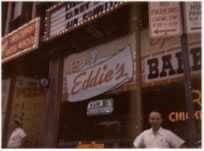 Eddie's had a smoker full of spareribs right in the front window with a sign that boasted "We sell over 7 tons of ribs every month!" I remember how the flames underneath the ribs would dance up and flicker around them. My Mom practically had to drag me away from the window. Once we entered the restaurant, I remember the pitmaster would pull slabs out of the smoker with a big fork and place the smoky slabs on a big heavy wooden butcher block where he would quickly hack the ribs apart with a big butcher's meat cleaver. I can still hear the heavy "chomp, chomp, chomp" and it makes my mouth water even now.
Sprags Bar-BQ, West Side of Chicago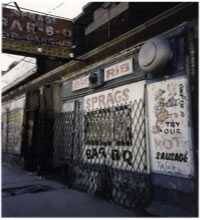 One of my Dad's favorite barbeque joints on the west side of Chicago was called Sprags Bar-BQ. From time-to-time, I can remember my Dad coming home late from work with a brown paper grocery bag full of newspaper bundles, and I knew immediately what he had in the bag because the smoky aromas spread quickly throughout the house. There was nothing fancy about these huge slabs of spare ribs but they were tasty! The spare ribs had a fiery bite to them and you could tell they came right out of the smoker and were immediately wrapped in pages of yesterday's old Chicago Tribune. Nobody ever thought anything of getting poisoned from wrapping ribs in old newspapers back then. These spare ribs from Sprags were my first taste of real hot ribs. To this day, I haven't been able to figure out what these old timers basted their ribs with although I suspect it was a sop of vinegar and a secret mix ground up hot peppers and a few other spices.
My Dad never brought us along to Sprags and I never knew why until years later when I was old enough to drive. Although my Dad was reluctant at first to tell me where Sprags was located, he did eventually tell me and gave me a stern warning to be careful! Once I found the place, I understood. On a dark street corner of Lake St. and Kedzie on the Westside of Chicago, Sprags Bar-BQ was located almost under the L train tracks and you knew this place was the real deal. It had a Chicago style "aquarium type" smoker in the front window and when you walked through the well worn door that was flanked by folding iron gates. You found yourself in a smoke-filled tight entryway with plain walls on two sides and a big bullet proof window for the third wall. Just walking in the front door, I had to stop and fill my lungs with that heavenly aroma of smoky slabs of ribs smoldering in the pit. It seemed like cloud of lazy smoke just hovered in a layer several feet above your head.
Then I had to yell out my order and shove my money through the inches thick, bulletproof window and then they shoved the ribs through a sliding tray. Just standing there, waiting for my ribs, I wondered what possessed me to risk my life other than the fact I couldn't wait to get my lips on those mouthwatering, smoky barbecued ribs! I don't know why, but I guess there's truth to the old saying, "The best barbecue is sometimes found in a building that's about to be condemned!"
Dave's Passion for Chicago's Old School BBQ & Jump Blues
Growing up in Chicago, you learn at an early age to appreciate the Blues. Sweet Home Chicago, The Windy City, is home of the Blues (although Memphis probably disagrees). Chicago has its own style of jump blues that just sort of gets you boppin' your head, shakin' your booty, and stompin' your feet. Some of my favorite blues joints are Kingston Mines, Buddy Guy's Legends, Blue Chicago, the old Checkerboard Lounge, Rosa's, and B.L.U.E.S. There ain't too much better than listening to some Butt-Rockin' Blues while you're eating some heavenly smoky barbecue with the sauce running down to your elbows.
Today, there are a lot of up and coming trendy barbecue joints in Chicago, which I think do an awesome job, but some of my Old School favorite Chicago Rib Joints are Lem's, I-57 Rib House, Hecky's, Uncle John's, and The Rib Palace, storefront barbeques run by on-site owners who passionately still smoke up their 'que the old way. Don't expect hospitality, service, or respect. You're there for one reason only: Old school Chicago barbecue!
Leon's Bar-B-Que Sauce
According to his 2008 obituary in the Chicago Tribune "Leon Finney Sr. was a generous man, but there was one thing he never shared: the recipe for the secret tangy-sweet barbecue sauce that helped him create a successful chain of South Side restaurants."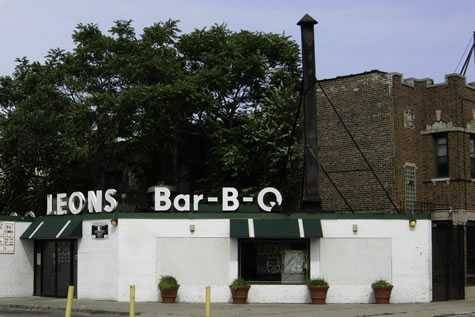 Most sauces in those days were thin and primarily oils, perhaps lard, with vinegar, and spices, perhaps a little ketchup and hot pepper. Charlie Robinson, owner of Robinson's Ribs, was quoted in an interview as saying "Sauce is a key item, there's no question about it. We use a tomato-based sauce in the Midwest, but down South they kinda use a vinegar-based sauce and that just don't fly here in the Midwest."
In 1982, the Chicago Tribune tried to reverse engineer his sauce. This recipe is based on one the one they published. The Trib was one of only a handful of newspapers that had their own test kitchen, under the supervision of food editor Ruth Ellen Church. It called for baby back ribs, but it is more likely that Leon was cooking cheaper spare ribs and rib tips.
It also called for just plain "seasoned salt" as if there was only one way to season salt. But in Chicago at that time, one of the hot spots was Lawry's The Prime Rib. It opened in 1974 in the McCormick Mansion on the Magnificent Mile, and it is known for its prime ribs, elegance, silver tableside carts, and of course, their signature Lawry's Seasoned Salt. Newspapers were very careful to not sound like they were promoting brands in those days (how quaint) so the never mentioned the brand in the recipe, but I'm guessing most everyone knew what they meant.
Ingredients
4 slabs pork baby back ribs, 4 to 6 pounds total
Lawry's Seasoned Salt
1/2 cup plus 1 tablespoon cider vinegar
2 tablespoons cornstarch
1 cup ketchup
1/2 cup packed dark brown sugar
2 tablespoons plus 2 teaspoons Worcestershire sauce
2 teaspoons steak sauce
1/2 teaspoon seasoned salt
1/2 teaspoon hickory smoked salt
1/2 teaspoon hot pepper sauce
Method
1) Sprinkle seasoned salt on both sides of the ribs and refrigerate several hours or overnight.
2) In a medium sized non-reactive saucepan, mix the cornstarch with the vinegar and whisk vigorously until thoroughly dissolved. Mix in the rest of the ingredients, turn the heat to medium low and simmer, uncovered, for 30 minutes. Taste and adjust the components as you wish