We appreciate that many of our readers, especially diabetics, feel the need to reduce sugar in your diets so we try to keep the sugar down when possible. When we add sugar it is because we believe it is important. It mixes with the juices on the surface and caramelizes making special unique flavors.
In the case of spice blends and rubs, sugar is in recipes for more than flavor enhancement, it helps form the crust (called bark), an important part of the texture of the surface of many types of meat and veggies, especially ribs and smoke-roasted pork.
Let's look at Meathead's Memphis Dust, our most popular all-purpose rub. There are only about 2 tablespoons of rub on a large slab of ribs. Of that about 1 tablespoon is sugar. Some of it falls and drips off during cooking. If you eat half a slab, you're eating about 1 teaspoon of sugar. The glycemic load (GL) is about 3. Compare that with a slice of white bread with a GL of 10.
Spotlight on our favorite products
Is This Superb Charcoal Grill A Kamado Killer?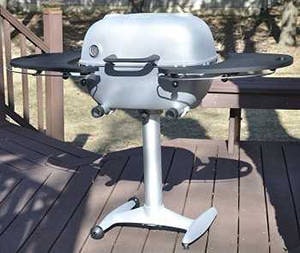 The PK-360, with 360 square inches of cooking space, this rust-free, cast aluminum charcoal grill is durable and easy to use. It is beautifully designed, completely portable, and much easier to set up for 2-zone cooking than any round kamado. Click here to read our detailed review of the PK 360 and get a special AmazingRibs.com price!
– THIS IS NOT AN AD –
When it comes to barbecue sauce, classic red Kansas City-style sauce is quite sweet. It has a lot more sugar than the rub. Switch to a East Carolina sauce which is mostly vinegar (sounds harsh but it works really well on fatty meats), or Lexington sauce which is similar but softened somewhat with apple juice.
If that is still too much for you, just use only rub and skip the sauce or make the recipes without the sugars. They're mighty good that way. The flavors are great. Or you can take a look at some of the zero-sugar sauces on the market including the ones from Lillie's Q.