Although there are several distinctly different regional styles of BBQ sauce in the US, the thick red stuff is what most of us reach for when our spouse says "pick up some barbecue sauce, willya?"
If you are no longer living with your parents, you really should have a house sauce made without preservatives, additives, stabilizers, and emulsifiers, so that when your guests ask "what brand of sauce is that?" you can plunk a hand labeled bottle on the table. When they beg you for the recipe, you can then tell them "It's a secret" and mumble the old saw that ends in "and then I'd have to kill you."
Although the original KC sauces were probably vinegary, hot, and not sweet, similar to Arthur Bryant's Original Barbeque Sauce (the photo above is a 5 gallon/18.9 liter jug of sauce that has been aging in the window of the great restaurant for decades), since the 1970s, the prototype has been KC Masterpiece — tomato based, and sweet. The style has spread coast to coast and nowadays, when you say "barbecue sauce", although there remain many regional and creative styles, most people think of the KC style.
The best have multiple sources of sweetness (brown sugar, molasses, honey, and onion — which gets sweet when it is cooked); multiple sources of tartness (vinegar, lemon juice, hot sauce, and steak sauce); multiple sources of heat (American chili powder, black pepper, mustard, and hot sauce); and it gets layers of flavor from all the above as well as ketchup, Worcestershire, garlic, and salt. Most Kansas City sauces are brass bands with multiple layers of flavors, sweets, and heats. Because they are thick and tomatoey, they sit on top of the meat, not penetrating very far. For this reason you don't want to use too much. Just one or two layers, max. Let the meat shine through. Don't drown it in sauce.
That's the idea behind my recipe. It's not KC Masterpiece, but it is a KC Classic.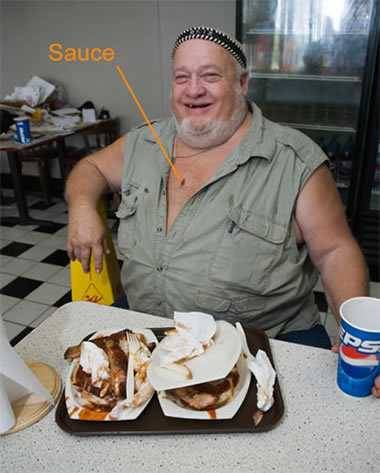 A sauce of some substance
Mike was driving home to LA from a business trip to Kansas City. In Arizona he sees an elderly man walking on the side of the road. He stops and asks if he would like a ride.
With a silent nod of thanks, the elder got into the car.
Spotlight on our favorite products
The Undisputed Champion!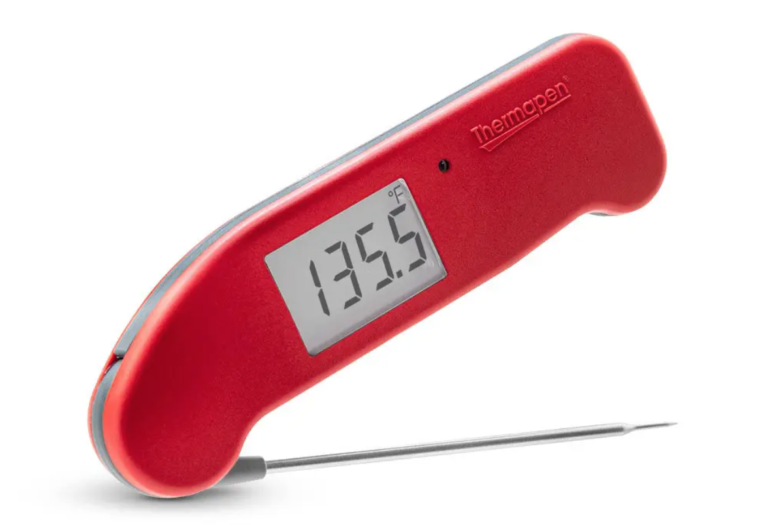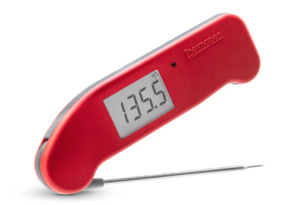 ThermoWorks' Thermapen ONE provides an accurate reading in one second or less. The ONE also includes features that are common on high-end instruments: automatic backlight, rotating display, and water resistant seals. Don't accept cheap substitutes.
Click here to read our comprehensive Platinum Medal review
– THIS IS NOT AN AD –
Driving on, Mike tries in vain to make a bit of small talk with the man. The old man just sat silently, looking intently at everything he saw, studying every little detail, until he noticed a brown bag on the seat next to Mike.
"What in bag?" asked the old man.
Mike looked down at the brown bag and said, "It's a bottle of barbecue sauce from Arthur Bryant's. I got it for my wife."
The old timer was silent for another moment or two. Then speaking with quiet wisdom, he said:
"Good trade…"
ENDTEXT
Try this authentic Kansas City-style BBQ sauce recipe and you'll never use the bottled stuff again.
Serve with: a local Kansas City beer.
---
---
Makes:
---
Takes:
---
Notes:
Optional. If you are cooking indoors, or if your meat does not have a lot of smoke flavor, or if you just want more smoke flavor, you can add 1/3 cup of liquid smoke to this recipe.
About the vinegar. I like my sauce tart. Trust me, although it may taste tart from the bottle, it is perfect on meat. If you are not big on vinegar, cut it in half.
About the honey. The recipe above is to my taste but I have found that most people like it better if I add another 1/2 cup of honey for a total of 3/4 cups.
About the steak sauce. There are many different brands and they all have different flavor profiles, but what we want here is the meaty depth of savoriness that they call umami, so use whatever you have on hand.
About the hot sauce. A simple sauce like Tabasco is all you need. I like the chipotle flavored version.
About the oil. You may use butter or bacon fat for a bit more flavor, but keep in mind, they can get rancid with time, and they will likely shorten shelf life to about 1 week. Use a bottled vegetable oil and it can keep months.
About the salt.
Remember, kosher salt is half the concentration of table salt so if you use table salt, use half as much. Click here to read more about salt and how it works.
Secret optional ingredient. Add 2 tablespoons of tamarind paste. This exotic ingredient isn't really that exotic. It shows up on the ingredient lists of a lot of great BBQ sauces. It has a sweet citrusy flavor and really amps up a sauce. If you can't find it in an Indian or Asian grocery, it is available online. Click the link and order it from Amazon.
Metric conversion:
These recipes were created in US Customary measurements and the conversion to metric is being done by calculations. They should be accurate, but it is possible there could be an error. If you find one, please let us know in the comments at the bottom of the page
Method
Prep. In a small bowl, mix the American chili powder, black pepper, and salt. In a large bowl, mix the ketchup, mustard, vinegar, Worcestershire, lemon juice, steak sauce, molasses, honey, hot sauce, and brown sugar. Mix them, but you don't have to mix thoroughly.

Finely chop the onion and crush or mince the garlic cloves.

Cook. Over medium heat, warm the oil in a large saucepan. Add the onions and sauté until limp and translucent, about 5 minutes. Crush the garlic, add it, and cook for another minute. Add the dry spices and stir for about 2 minutes to extract their oil-soluble flavors. Add the wet ingredients. Simmer over medium heat for 15 minutes with the lid off to thicken it a bit.

Taste and adjust. Add more of anything that you want a little bit at a time. It may taste a bit vinegary at first, but that will be less obvious when you use it on meat. I recommend you run with my recipe the first time and then you can make it your own. Strain it if you don't want the chunks of onion and garlic. I like leaving them in, they give the sauce a home-made texture.

Serve. You can use this sauce immediately as you would any other BBQ sauce, but I think it's better when aged overnight. You can store it into clean bottles in the refrigerator for a month or two.
---