As the days turn longer, warmer, and more humid there's nothing more refreshing than an authentic Mojito.
When it comes to summer refreshers, the best one in my book is the rum-based minty Mojito. No other drink offers a clean, fresh balance of sweet and sour with a nice finish of citrus. Once you've had a good Mojito all other cocktails fade into insignificance. They are almost addictive. On the other hand, once you have had a good Mojito you cannot tolerate bad or rudimentary ones.
My first experience with the authentic Mojitos was 20 years ago on my first visit to Miami for a business conference. It was love at first taste. Since that time, I have tried on numerous occasions to recreate that first experience but with no luck. I've ordered Mojitos all over the country, from Seattle to New York City, but none have come close to the ones I had in Miami. Every year as the days rolled into summer the memory of those Mojitos tantalized me. Although I was still traveling for business, Florida was not on the list of destinations. I could not wait any longer. If I was not going to get an opportunity to take myself to Miami, I decided to bring Miami to me.
Every year at our neighborhood block party, I buy out all the limes and mint from our local market and make Mojitos all day long for all comers. My friends and neighbors call me the "Mojito Maestro." I have worked hard to perfect my recipe. A good mojito is not fast or easy. It is hard work, but it's totally worth it once you perfect the technique (and know a few secrets). If you follow these instructions, you will become a Mojito Maestro yourself.
Recreate the best summer cocktail of all times.
---
---
Makes:
12 ounce cocktail
---
Takes:
Equipment
1 cocktail muddler

1 knife
---
Ingredients
1.5

limes

3

sprigs

fresh mint

4

tablespoons

simple syrup

10

ounces

sparkling water (Perrier)
Notes:
The secret to a true "Miami" Mojitos is simple syrup. One mistake most bars north of Miami commit is using granular sugar instead of simple syrup. Do not use granular sugar. It does not dissolve completely in cold water and often forms a sugary sludge at the bottom of the glass. 
Metric conversion:
These recipes were created in US Customary measurements and the conversion to metric is being done by calculations. They should be accurate, but it is possible there could be an error. If you find one, please let us know in the comments at the bottom of the page
Method
Cut the lines into 8th segments.

Put the 12 lime segments into a heavy-walled glass. It helps if the glass has a narrower bottom to help concentrate the force of the muddling. I use one glass to mix and muddle and then pour the result into the serving glass.

Remove the leaves from two to three sprigs of mint (Approximately 6 to 8 leaves) and add them to the glass.

Add 4-5 tablespoons of simple syrup to the glass. By adding the simple syrup at this point you will create a hypertonic solution as you muddle that will extract more flavor from the limes and mint.

Muddle the mint, limes and syrup until all the items are throughly mashed. The more pressure you apply to the mixture the more juice, flavor and essential oils you will release from the mint and limes.

When you are done a 12-ounce glass should be nearly half full of juice and simple syrup. Pour the contents into the serving glass.

Add ice and 1.5 to 2 ounces of white rum.

Top the glass off with sparkling water. Stir the cocktail to mix all the ingredients. I like to use a chopstick and bring some bits of the mint up near the top. Enjoy.

One unique quality of a Mojito that makes it stand out from all the others is that the drink actually tastes better the longer you drink. This is because the mint and syrup concentrate at the bottom as the ice melts.
---
Nutrition per Serving
Serving:
12
oz
|
Calories:
247
kcal
|
Carbohydrates:
70
g
|
Protein:
1
g
|
Fat:
0.2
g
|
Saturated Fat:
0.03
g
|
Polyunsaturated Fat:
0.1
g
|
Monounsaturated Fat:
0.02
g
|
Sodium:
109
mg
|
Potassium:
176
mg
|
Fiber:
3
g
|
Sugar:
60
g
|
Vitamin A:
178
IU
|
Vitamin C:
30
mg
|
Calcium:
65
mg
|
Iron:
4
mg
Picking Limes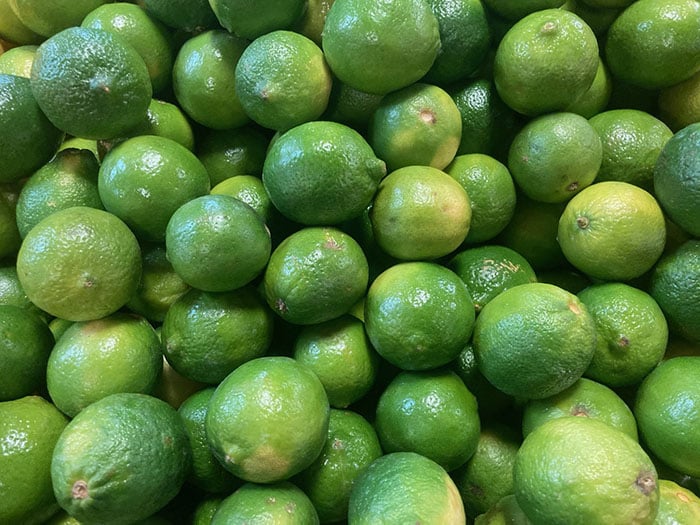 You may think that limes are all the same but I discovered that they are not all created equal. I use limes for many dishes and over the years I noticed that some limes have less juice than others, often by half. But how can you tell which are the limes that have more juice? It's actually quite simple, once you know the secret.
Next time you find yourself at the farm stand in your local market, stop and study the limes in the bin. In most cases, the limes will fall into two categories: bumpy and smooth.
Pick through the limes until you find one with a hard, bumpy skin. Then, look for one that looks plump and smooth, almost like a water balloon. When you squeeze the bumpy one it will probably be hard and unyielding, indicating that the lime was picked before it reached maximum ripeness. The smooth lime will be easier to squeeze and will feel like it's full of juice. I conducted this experiment with dozens of limes and it always ended with the same result: the smooth lime contain almost twice the amount of juice than the bumpy one.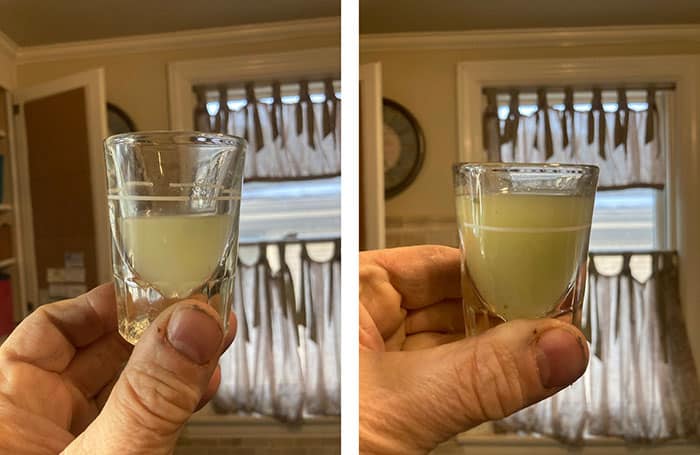 The same relationship is true for lemons too.