Lynx 30″ Freestanding All-Sear Grill and Rotisserie is a luxurious stainless steel gas grill with two proprietary 23,000 BTU ProSear-2 infrared burners. As one would expect from Lynx, or from any grill in this price range, it is beautiful to see, touch and work with. Attention to detail and craftsmanship are stunning. With 546 square inches of primary cook surface, it's big for a two burner grill. But Lynx ProSear burners are unlike any others we've seen. They cover a lot of firebox territory and put out serious heat.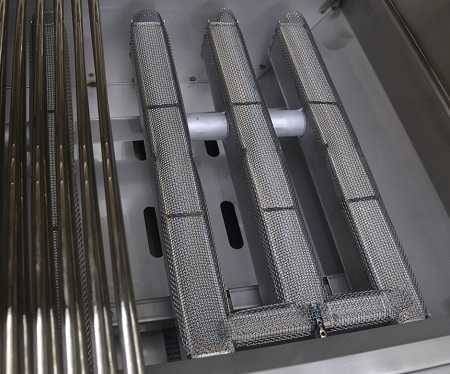 These burners, shaped like pitchforks, consist of three long ceramic infrared fingers that spread from left to right and stretch from front to back. They each function like three burners on one controller. Many IR ceramic burners are large rectangular blocks with a steel mesh cover that protects the burner from grease and drippings by incinerating them on contact. ProSear's array of long, thin ceramics employs the same protective steel mesh, but improves on the design by presenting a smaller target for drippings, which either burn up or fall between the IR fingers to the bottom of the firebox. That means fewer flare ups and less worry about cleaning gunk off the ceramic. Furthermore, heat is distributed much more evenly across the entire firebox.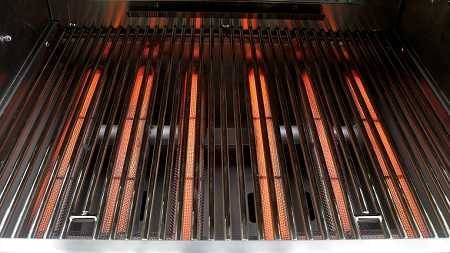 ProSear burners feature variable temperature control with a range of about 485° to 650°. Desirable low range target temps are 225 for low and slow and 325 for roasting, so 485°is an awkward threshold. Of course a low temp indirect zone can be created by shutting off one of the ProSear burners, and the IR backburner for the rotisserie system is excellent for roasting. On the up side, ProSears shift gears quickly from low to high and at "Max" temp they sear steaks beautifully. Furthermore the infrared heat allows foods to retain moisture much better than dry convection heat.
Still, it would be nice if Lynx could expand the low range. It is a black eye on an otherwise pretty picture. In fact we struggled with the decision of whether to give All-Sear an AmazingRibs.com Silver or Gold Medal because of this issue. Ultimately the many pluses of this grill far outweigh the single minus. Lynx 30″ All-Sear is a pleasure to use. You don't get a chance to see one of the beauties every day. Check it out:
Fit and finish are impeccable. Quality in design, construction and craftsmanship are evident inside and out. The seamless welded, heavy 304 stainless steel hood opens effortlessly with internal spring assist to expose two thick stainless steel rod cooking grates with ProSear burners blanketing the firebox below. A fixed temp 14,000 BTU ceramic IR burner on the back wall is included along with a rotisserie spit and three speed removable motor. A small removable wood chip trough running below the backburner is meant to provide a whiff of smoke when using the rotisserie. It does not function without the backburner on. The rotisserie may be set in two locations, one toward the back for small roasts and another toward the middle to accommodate large roasts. The motor easily slides in and out of position with no tools required to move or remove for storage. A warming rack above the backburner swings up and out of the way to make room.
One halogen hood light delivers ample illumination after dark, as do the blue LEDs above each control knob. All control knobs have a solid feel with no wiggle and no loose play in the valve stems. Hot surface electric ignition for the ProSear burners operates by pushing each control knob in until the ignitor rod at the burner valve glows red hot, then turning the knob to the "Lite" position and holding it there until all three ceramic fingers ignite. Hot surface ignition is said to be less susceptible to environmental conditions, such as excessive moisture, that can cause other ignition systems to fail. All electricity is AC – no batteries. The grill must be connected to a standard residential electrical outlet.
The wide, slide out grease tray below the control panel is precision fit and pulls out smoothly. A drain hole in the front right corner of the tray is a nice feature for letting out water after a rainy night. Those wide grease trays are a pain to empty when filled with water.
Two side shelves fold down for storage. Two front doors to the enclosed cart have a solid feel and shut tight, held closed by magnets. Inside, each door has condiment/storage shelves running along the bottom.
As mentioned, when cooking low and slow at 225° or roasting at 325°, one must either use the rotisserie or a 2-zone setup as the ProSear burners will not go down to those temp ranges. In either scenario, the cold ProSear burners must be protected because when they are turned off, the steel mesh can't burn up drippings. Gravity will guide the goo right onto the ceramic burners. Not good. Thankfully, Lynx includes an enameled drip pan that is sized perfectly for use with the rotisserie or to cover the indirect side in a 2-zone setup.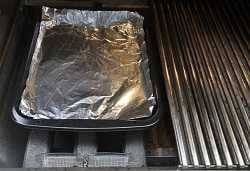 For 2-zone, the empty pan is light enough to set right on top of the cold indirect burner, enabling use of the entire cooking grate surface, (shown right with aluminum foil liner before putting the cooking grate back in place). But if you want to fill it with water, Lynx warns the additional weight could damage the burner. When filled with water, the pan should go on top of the stainless steel cooking grate.
We began our tests with seasoning and calibration. Our bread test, toasting a layer of bread spread across the cook surface to show heat patterns, indicated the grill was hot on the left and right sides. However when we grilled a flight of chicken wings, also spread across the entire cook surface, we experienced even heat with no pronounced hot spots. We then tried a parchment paper test, which showed some concentration of heat directly above the ceramic fingers, but no massive hot spots on each side. Finally we tried grilling a layer of zucchini.
As with the parchment paper test, the zucchini revealed slight concentrations of heat above the ceramic, but nothing we consider unacceptable. Unusual test results from an unusual burner design.
Of course the proof is in the Queing. We had no difficulty holding 225° indirect for a pork butt slow cooked over the full water pan, which we set on the primary cooking grate. ProSear also performed with flying colors for reverse sear steaks on a 2-zone setup: cooked low at 225° on the indirect side with the empty drip pan resting on the cold burner under the primary grate, then seared at WARP 10 on the hot direct side to finish. Cranked to "Max", ProSear produced a deliciously even brown crust on the steak surface. To test the protective mesh we sizzled a bunch of 20% fat ground chuck burgers at high heat. Although there were moderate flare ups, the burners were not overwhelmed by grease and the mesh did not require cleaning. Pork loin on the rotisserie also came off without a hitch. All meats were very moist and juicy.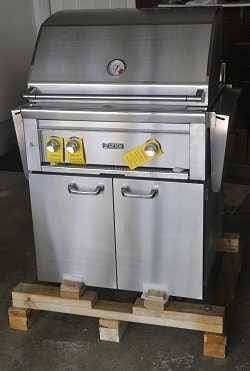 When speaking with manufacturers, we ask a lot of questions. One question is, "What are the weaknesses of your product?" Without hesitation Lynx replied, 'It's heavy!" And brother is it ever – 350 pounds of top quality 304 stainless steel. And this is one of their smaller grills! All-Sear came almost fully assembled. All we had to do was lift it off the pallet, do some minor assembly and push it up a ramp onto the deck. But the dang thing was so heavy; we decided to take Lynx up on their offer to send out a white glove crew to set it up. This service typically costs $150 to $300 depending on the type of installation.
Cooking on All-Sear is a little different. We'd like to see the low temperature range extended, but it was easy to work around and we loved all other aspects of our experience with this fine machine. Our 30″ model is also available with Lynx signature cast brass burners or a hybrid version with one brass and one ProSear. We'd be very curious to compare ProSear to Lynx' cast brass.
Limited Lifetime Warranty on the body, burners and grates, five years on the warming rack, spit rod, manifold and gas valves, and two years on everything else. This pertains only to defective parts and does not include labor, or shipping and handling. For one year, Lynx covers everything: parts, shipping and labor.