Oklahoma Joe's Bronco Drum Smoker. Oklahoma Joe's first-ever Upright Drum Smoker brings to the market a package full of features you won't find on many smokers at this price. My Pit Barrel Cooker sells for a slightly higher MSRP and lacks many of the extras that set this drum smoker apart from the competition. Oklahoma Joe's describes their drum smoker as versatile, and it is just that.
Upright drum smokers
Popularity of upright barrel smokers, aka Ugly Drum Smokers, has been on the upswing. Having cooked on an upright barrel smoker for over six years, I appreciate the small footprint, ease of use, and unique grill-like flavors characteristic of this design. Not long ago Ugly Drum Smokers were a Do-It-Yourself item. Then kits became available and we now have new upcoming companies manufacturing their versions of "Not So Ugly Drum Smokers." Oklahoma Joe's produced a variety of smokers for decades, but no upright barrels until the Bronco.
The Bronco bonus
Starting right off the top, the Bronco has a hinged lid with a gasket. This gasket enables thermometer cables to pass under the lid without getting pinched, giving pitmasters the opportunity to utilize one or more of the many digital thermometers available. One standard side shelf with the option of adding another sure makes it nice when carrying 15 pounds of meat to the smoker. The cooking grate can hold up to two 8 pound pork butts, and thanks to a hanging system, you can hang up to 9 racks of ribs using three Meat Hangers and Food Hooks. A Lift Out Tool is also supplied to handle hot Food Hooks. The exhaust and intake are indexed so you can easily dial in your settings. Inside, the smoker is equipped with an Ash Pan, Charcoal Basket and Heat Diffuser plate. A front mounted Temp Gauge provides approximate smoker temps at a glance, although we always recommend using a reliable digital thermometer and you should read why A drainage cap on the bottom provides an outlet for liquid and debris when cleaning the inside. Oklahoma Joe's Wagon Wheels also make it easy to move this smoker on almost any terrain. Finally, the Bronco Grilling Guide gives easy to follow instructions on the Smoker's Features, Smoker Maintenance, Smoking and Slow Cooking, Charcoal Grilling, and much more.
Pulled pork
The first test cook was a 9 pound pork butt, and it was a resounding success. Look at that bark!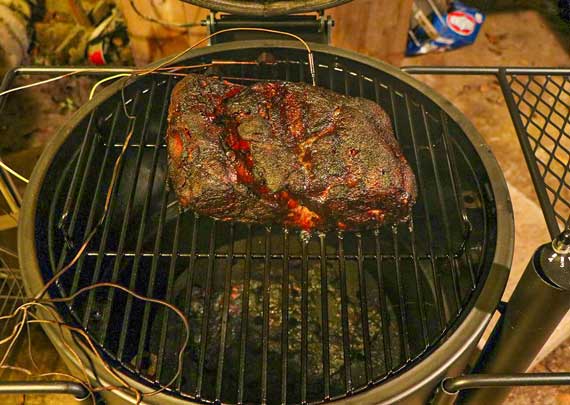 Clean bone.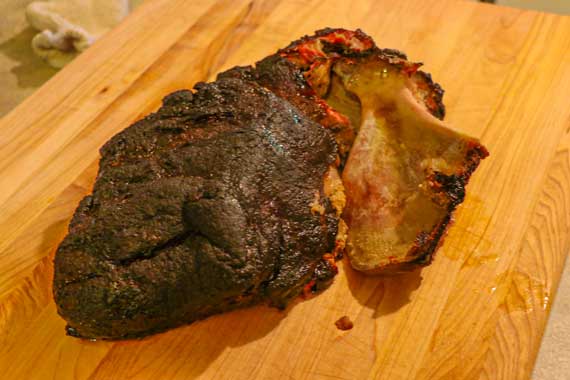 Solid smoke ring.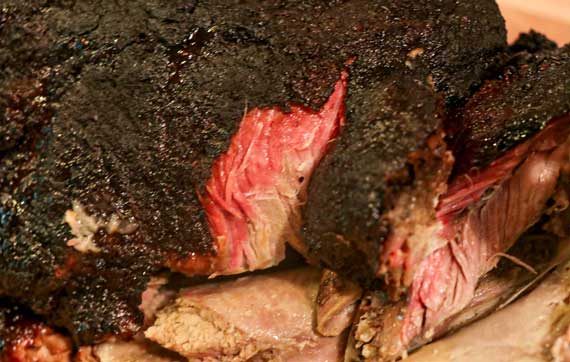 And a nice little money muscle.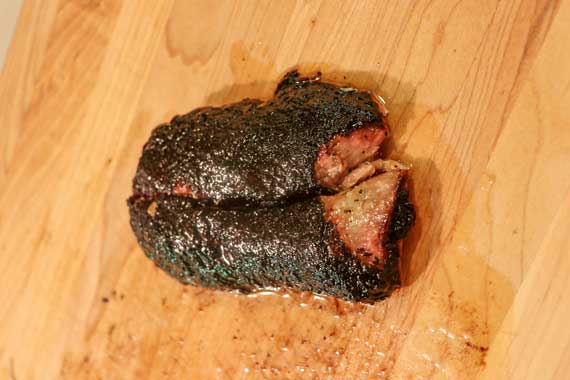 Coworkers kept complimenting the smoke flavor. Wondering how it's done? Click here for Meathead's Best Pulled Pork BBQ Recipe Ever.
Brisket
Until I read the Bronco's Grilling Guide, I wasn't sure if the Food Hangers could support the weight of a brisket. But the set-up turned out to be pretty sweet: the Food Hanger brackets are indexed, which allows you to set the position of the Hanger, and the indexing prevents the Food Hanger from swaying. First, the briskets were hung for 5.5 hours, then transferred to the grate for another 7 hours or so. Total cook time was just over 12.5 hours.
Excellent results. Check out that smoke ring. Slurp!
To bone up on brisket technique, click here for Meathead's Smoked Beef Brisket Recipe.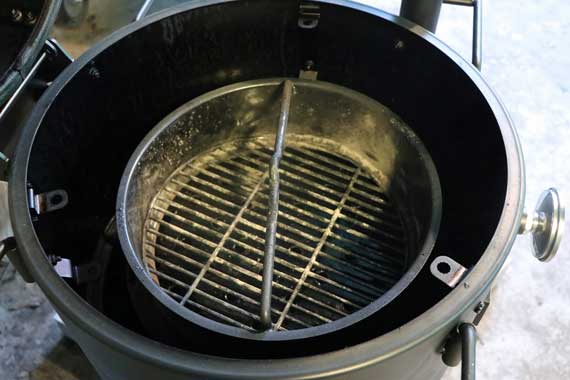 This smoker can grill!
Smoking was a success. Time to see if Bronco can grill! Grilling instructions can be found on page 16 of the Grilling Guide, and setting up the Bronco for grilling couldn't be simpler. Just flip the Heat Diffuser and place the Charcoal Basket on top of it. This brings the Charcoal Basket high enough for grilling.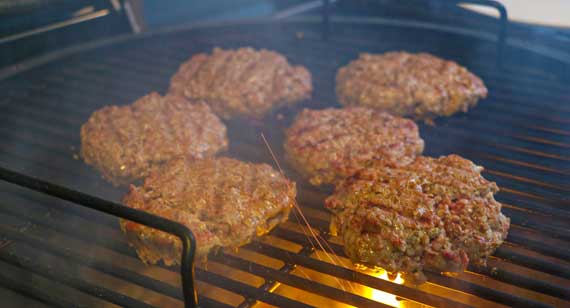 With the grill set up, I whipped up 6 tasty burgers in no time.
Tired of the same old hamburgers? Click here for a patty party and explore our delicious burger recipes.
Hanging chicken
Onto the chicken test. Hanging chicken in an upright barrel smoker cooks it to perfection due to what we call "Stationary Rotisserie Cooking." The bird hangs without moving, while the heat and smoke swirl around it. This results in delicious, juicy meat with crispy skin. Meathead's Sweet Georgia Brown Smoked Chicken is my go to preparation.
Dislikes
Pork butt, brisket, burgers, and chicken? Is there anything this cooker can't do? Well, nobody's perfect but my dislikes here are minor so I'll get them out the way. The dial thermometer lags behind the actual temp, which is not uncommon for dial thermometers on any grill or smoker. Also, the barrel leaks from the Air Intake Cap, and I've seen reports on the internet of leakage from the sides where the two barrel sections connect. Nonetheless, no one has reported any adverse effects with respect to temperature control. A little spilled milk never hurt anybody.
Likes
Geez, where do I start? A $299 barrel smoker with hinged lid, gasket, side shelf, wheels, capacity to hang up to 9 racks of ribs, grilling capabilities, adjustable intake and exhaust, and charcoal basket that can hold up to 12 hours worth of charcoal while running low and slow? What's not to love? Accessories are also available, including a cover, extra shelf, and a unique Triple Grate that allows you to hang meat and cook an array of food, such as chicken legs, seafood, and vegetables simultaneously. Try beating that with a rubber hose!
Packaging and assembly
The Bronco comes with a Product Guide that's clear and easy to follow, making assembly simple. Two tools and twelve steps later, the Bronco is ready to be seasoned. Parts are well packaged, and the unit we tested was free from shipping damage.
Conclusion
Prior to receiving the Bronco Drum Smoker, I informed Oklahoma Joe's that I would be donating the smoker to the local fire department across the street after testing was complete. Once I cooked on it, however, I regretted my decision. For a second, I even considered telling Oklahoma Joe's that the tires went flat and I would just have to keep the smoker. I soon realized they would more than likely just send new wheels, so I followed through with my promise, somewhat reluctantly, and donated the Bronco to our local firefighters.
Warranty
Limited 2 year warranty on perforation, manufacturing, and material defects; applicable in the United States and Canada only.
We thank Oklahoma Joe's for providing the Bronco for testing.
Date Reviewed: 07/10/2019