The most striking cookers in the world may be Komodo Kamado. Their new gigantic Big Bad 32 incher is stunning to see, touch and use. Weighing in at over a half ton crated with 128 lbs. of 304 stainless steel, it arrives fully assembled, but you'll need help opening this up and getting it into position.
The first thing you notice is how well built this zaftig sweetheart is. From the serious 304 stainless steel spring assisted hinge assembly for the easy-open lid (shown below), to the fingertip release latch, to the beautifully inlaid tiles. The casters are large enough to roll this beast across bumpy brick pavers. The cooking grates and charcoal basket are thick 3/8″ 304 stainless rods, and the upper grate is hinged so you can add more charcoal without removing the food.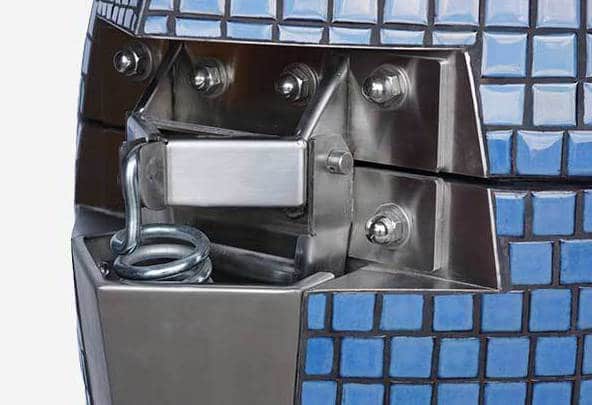 The air inflow damper at the bottom is a rotating dial, and the entire assembly slides out easily if you want to allow max airflow. The upper damper looks like a helmet, and you turn it on a screw to lift it and allow hot air and smoke out. This is fairly precise and it keeps rain out, but it is pretty easy to lose track of how many spins you've given it. Airflow can also be managed with a digital controller like a BBQ Guru and it comes with a port designed for them. There is a hole drilled in the dome for a dial thermometer, and a port on the side at grate level for digital probe cables. Although the Tel-Tru bi-metal dial thermometer that comes with it is pretty close to accurate at low temps, it is way off at high temps. This is one of the few cookers I've used where the dome thermometer is anywhere close to accurate. As usual we recommend you get a good digital grill thermometer.
One of the most unique features of KK's Big Bad 32 is the ability to be set up for 2-zone cooking, an essential technique that allows cooking on direct hot heat and indirect moderate heat simultaneously. This enables cooks to slide foods back and forth from cool to hot zones for crisping skin and reverse sear steaks. Komodo Kamado offers a variety of deflectors and multi-level cooking grates to effectively create different temp zones, (see below).

Most Kamado aficionados concede the best way to create different heat zones in round cookers is by moving foods closer to or further from the coal. This is typically accomplished using a variety of accessories that can be costly and awkward to use. Click here to read more about Kamado and Ceramic Grills and Smokers. One useful device that is a match made in heaven for any kamado is the BBQ Dragon, a well-made, battery operated, clip on, variable speed fan that can convert a charcoal bed from quiet gray to rip roaring red hot in a matter of minutes. Very good for switching gears from low and slow to searing hot.
KKs have mounts for rotisseries, can be fitted with side tables, and there is a pizza stone available, too. The 32″ model has three racks, an upper, middle, and lower, and the lower can be positioned right on top of the coals for max heat searing. It can even be fitted with a gas igniter. And if this 32 inch model isn't big and bad enough for you, KK offers a 42 incher shown below.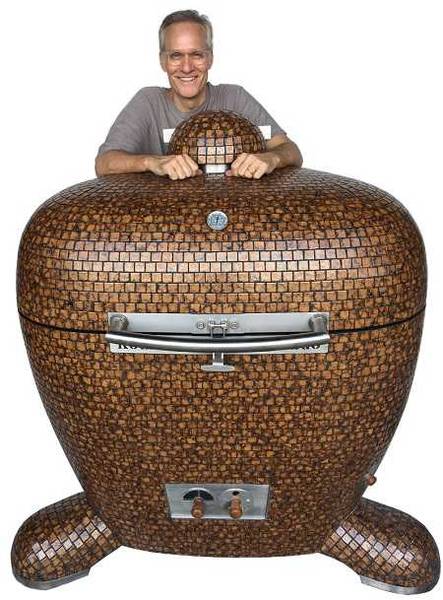 The 2″ thick sandwich of two refractory materials is like concrete. One might be concerned that the tiles will need extra maintenance. Apparently they are not held in with a normal grout. The manufacturer claims it is elastomeric so it expands and contracts with heat and it is said to be UV resistant so it does not require any maintenance. If you knock a tile loose, the manufacturer ships the unit with a repair kit.
You can start the coals by simply dumping them in the coal basket and lighting them with a Weber parafin block from below or some bunched up newspaper. Many owners use small torches to fire up in a hurry. Or you can use a chimney, which makes it easy to measure the amount of coal.
Managing temp is relatively easy once you get the hang of it. The manufacturer recommends that you always fill the charcoal basket, even if you are cooking at a low temp, and control the temp with the air vents. It will take a little practice to learn what settings get you where you want to go, especially since the first hour is spent getting those thick walls loaded with heat. When you give 'er all she's got, Scotty, she can easily surpass 700°F.
Once you hit a target temp, man, she is rock solid with all that mass holding that heat and radiating it back slowly. Surprisingly, it is very responsive to the slightest increase in oxygen supply, a tweak to the vent openings, top or bottom, and within minutes the temp starts to climb. It is a bit less responsive to shutting down oxygen supply because of all that thermal mass, but it does choke down nicely.
This is a top choice for low and slow smoke roasting and for large cuts of meat, but it is not our first choice for recipes that call for moving from indirect to direct because removing the deflector plate when food is on is a bit of a hassle.
Our posted MSRP is for the standard model with square tiles pictured at the top of this page. Lifetime warranty on everything. The Komodo Kamado website has a lively message board with tips on technique.