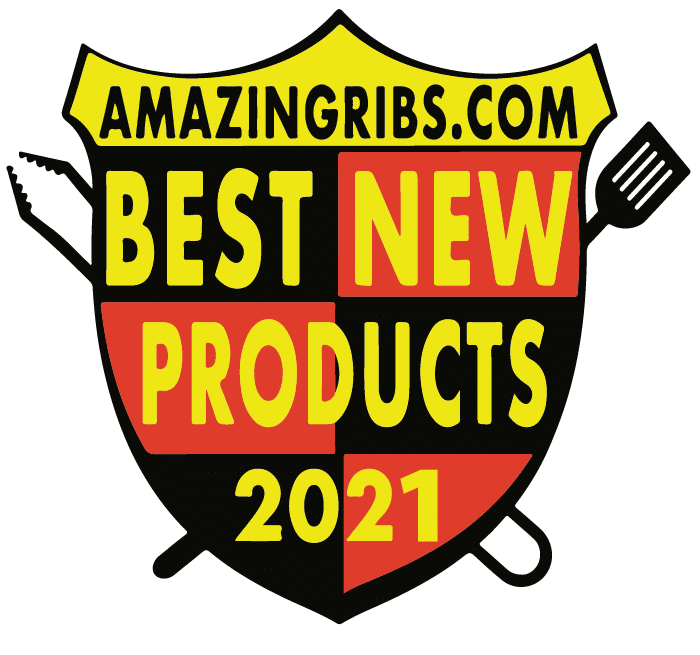 Kalamazoo Outdoor Gourmet is at it again. Just when we thought we'd seen everything in the world of kamados, Kalamazoo unveils their striking Shokunin Kamado Grill. Shokunin, Japanese for "master" or "artisan", has a rectangular 18 inch x 24 inch primary cook surface and an extended, deep firebox. It weighs 290 pounds and is 32.12 inches wide x 29.25 inches deep x 48.25 inches high.
We've long been fans of oval kamados like Primo and Komodo Kamado because their elongated, oval cook surface can create a hot direct zone on one side and moderate indirect zone on the other, making them better suited to 2-zone set-ups than traditional round kamados. Click here for our Buying Guide To Kamados.
Most kamados place a charcoal grate at the bottom and have ways of moving the cooking surface closer to or further from the fire to create different heat profiles for different purposes. Shokunin's cooking grates are always on top, and instead, the fire can be moved up or down.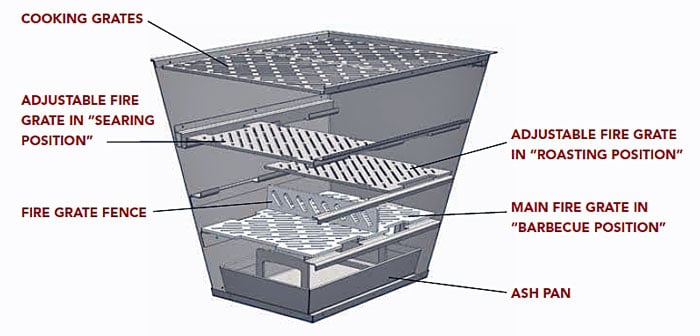 Place the charcoal fire in the low position for smoking, middle for roasting and high for searing. The middle position is said to have roughly the same distance from the main cook surface as most kamado charcoal grates. A large "Main Fire Grate" covers the entire bottom, two "Adjustable Fire Grates" are half grates that can be positioned together or independently at the roasting or searing positions.
Like what you're reading? Click here to get Smoke Signals, our free monthly email that tells you about new articles, recipes, product reviews, science, myth-busting, and more. Be Amazing!
Shokunin anatomy
The straightforward design allows for incredibly diverse setups despite its simplicity. Here is a breakdown of the elements.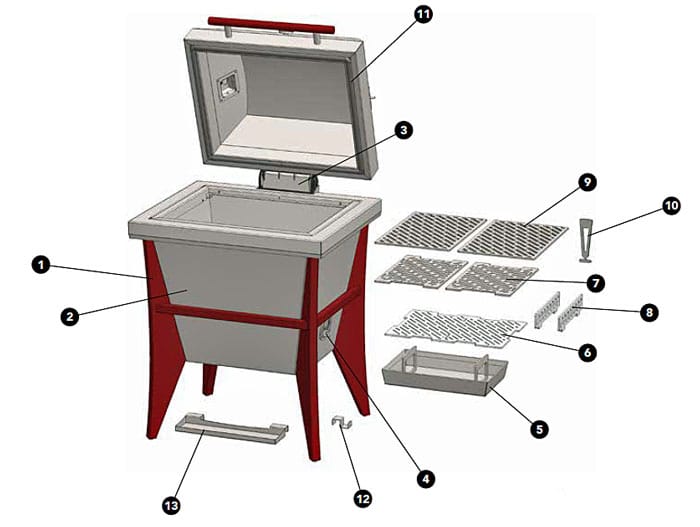 IPE WOOD FRAME: Ipe wood is popular for grills since it is naturally flame resistant. Shokunin is available in two finishes: natural ipe, or treated with Penofin oil.

INSULATED STAINLESS STEEL BODY: The lid and body are composed of two inch thick glass fiber insulation sandwiched between two layers of stainless steel.

LID LIFT ASSIST: A spring pack and pivot mechanism assists with lifting the lid, which weighs more than 70 pounds.

AIR CONTROL VENTS: There are four air control vents on the Shokunin. Two air intake vents on the lower body of the grill below the fire, and two air exhaust vents on the lid that correspond to the intake vents below. The dampers are adjusted to control the intensity of the fire and heat. The unique cross flow ventilation system can be used to draw heat and smoke laterally across the food when cooking with an offset fire.

ASH PAN: sits at the bottom inside the body of the grill. Lift it out by the large handles on each side.

MAIN FIRE GRATE: occupies the lowest fire grate position. It is primarily used for cooking "low and slow" at lower temperatures. It can be left in position even when using the adjustable fire grates above it.

ADJUSTABLE FIRE GRATES: can be used in two different positions above the main fire grate. The lower of these two positions is the "middle" fire position. This height is meant for roasting at medium temperatures. The higher of the two positions is meant for searing and high-temperature grilling. This position places the fire in closest proximity to the food. The adjustable fire grates can both be placed at the same level inside the grill, or each can be placed at a different heights. They can also be used to hold a water pan or ceramic (cordierite) heat diffuser above a fire that has been built on the main fire grate below.

FIRE GRATE FENCES: These small fences drop into slots in the fire grates to hold charcoal to one side.

COOKING GRATES: The two heavy stainless steel cooking grates are one quarter inch thick and 12 inches wide by 18 inches deep for 432 square inches of cooking area combined.

GRATE LIFTING TOOL: for flipping up or removing the grates.

LID GASKET: creates an air-tight seal.

OPTIONAL TOWEL HOOK: Clips to any of the ipe wood rails.

OPTIONAL TOOL TRAY: also clips to the ipe wood frame rails to keep tongs, turners, meat thermometers and other tools handy while cooking.
Multi-zone design
This overhead view looks straight down Shokunin's throat. The left and right cooking grates are flipped up. The left fire grate is also flipped up to show the full size main fire grate down low in barbecue position. The right fire grate is in the middle roasting position. From this angle, you can clearly see the breadth of Shokunin's adjustability and cooking possibilities.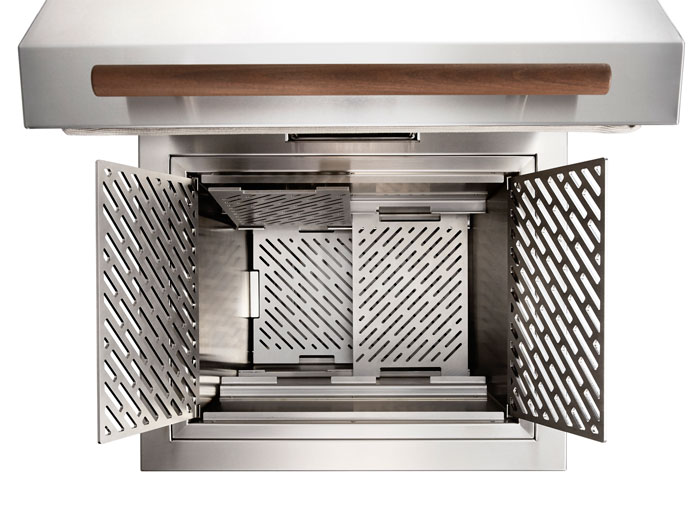 There are intake dampers on the bottom of each side beneath the main fire grate with corresponding exhaust dampers directly above in the lid.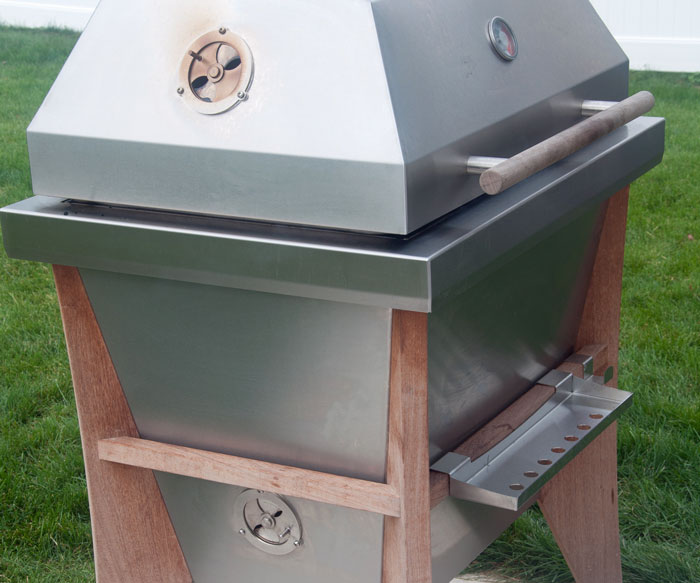 The dampers have an attractive and effective radial design.
The rectangular body and cook surface with two sets of complementary intake and exhaust dampers is reminiscent of Portable Kitchen Charcoal Grills, which we have tested and found excellent at multi-zone cooking. Click here to learn the importance of 2 zone cooking.
Up your game: Join our Pitmaster Club. Try it out for free for 30 days. No credit card is needed. No spam. Join now and Be Amazing!
Stainless not ceramic
Kalamazoo rejected the idea of creating a ceramic kamado for two reasons: 1) they wanted Shokunin to blend seamlessly with their entire stainless steel outdoor kitchen catalog, and 2) design and fabrication of high quality stainless steel products is their forte. The lid and body are top grade one quarter inch thick 304 stainless steel. Marine grade stainless models are also available. Read more about stainless steel here. Shokunin is double walled with two inch thick, glass fiber insulation sandwiched between welded stainless steel. Note how the cooking grates flip up for easy access to the fire.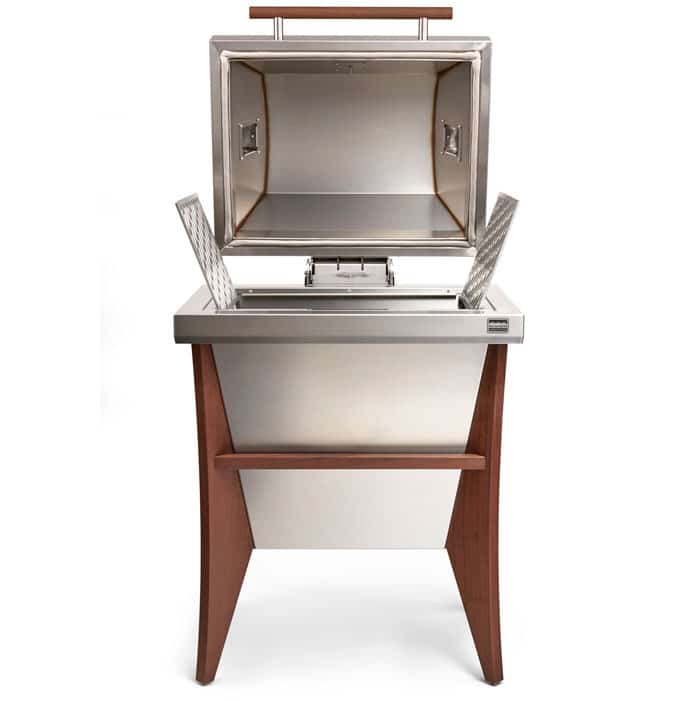 Let's get ShoCookin'
Kalamazoo provides useful and detailed instruction for a variety of setups, including low and slow barbecue, mid temperature roasting, and high temperature searing. Here is a snippet from the instruction manual "For Barbecue (225° to 300°)."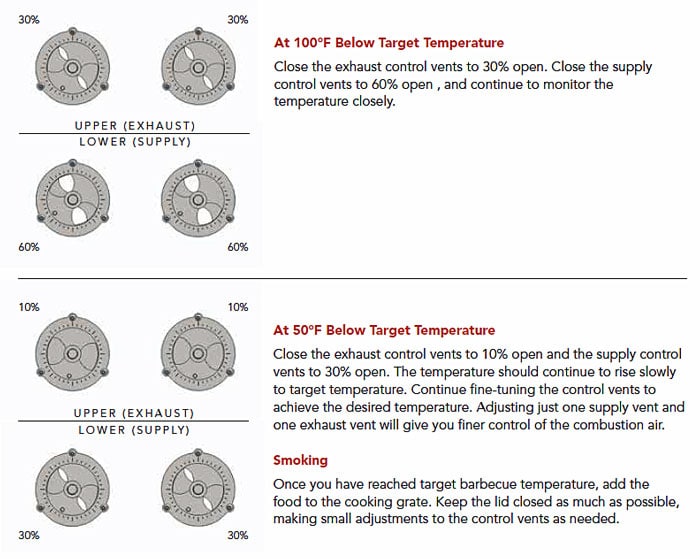 But get ready for a Kalamazooglian roller coaster ride. Shokunin's possibilities can be mind boggling. The instructions above work fine, but we also got good barbecue results using a cross flow ventilation setup with the right lower intake and left upper exhaust slightly open and the other dampers shut. Kinda like an offset smoker.
Like what you're reading? Click here to get Smoke Signals, our free monthly email that tells you about new articles, recipes, product reviews, science, myth-busting, and more. Be Amazing!
Here's a modest amount of charcoal on the main fire grate down low.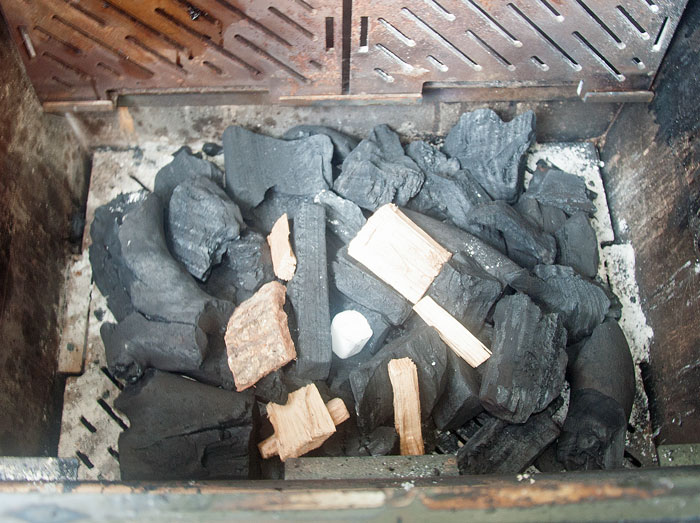 Tightly sealed, heavily insulated kamados are known to produce a humid cooking environment resulting in moist foods. This characteristic seemed pronounced with Shokunin. Whenever we opened the lid, we were greeted with a head-swirling cloud of moisture laden smoke. Even without a water pan.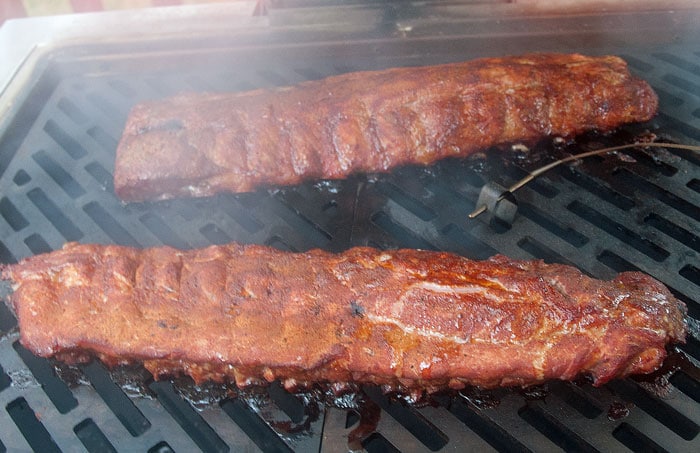 Hungry for more ribs recipes, tips, and techniques? Click here to download our ebook "Amazing Ribs Made Easy" $3.99 on Amazon (free Kindle app runs on all computers and devices). Or, get this book and others FREE as a member of the AmazingRibs.com Pitmaster Club. Click here to join.
Here's a 2 zone setup in the middle roasting position using the fire grate fence to isolate charcoal on the right.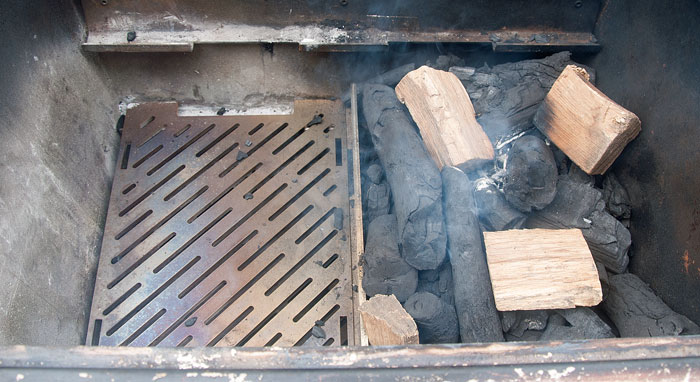 And chicken on the left cooking grate.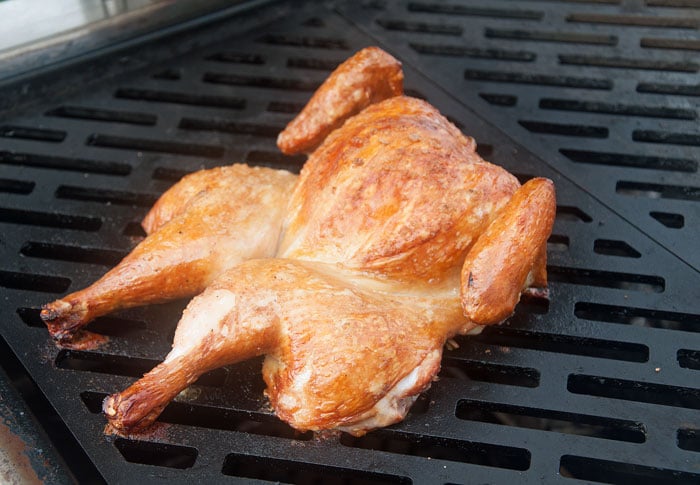 Itchin' for new chicken recipes? Click here.
Wanna crank the heat on one side? Add a searing fire in the upper position and use the main charcoal grate in the lower position.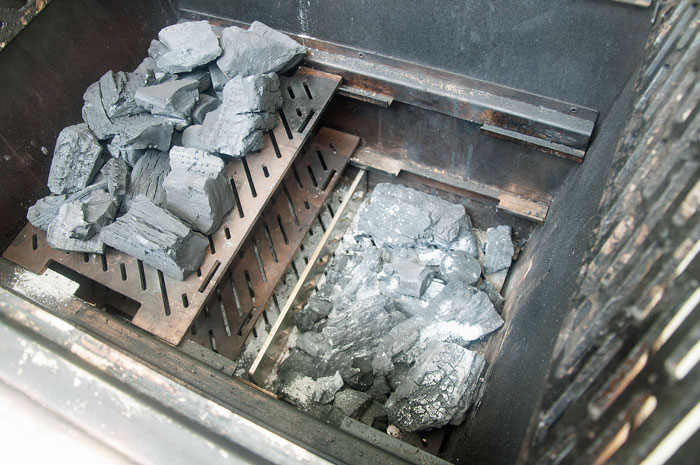 We couldn't resist exploring Shokunin's 2 zone separation. Lid up, with a hot fire on the left fire grate in the upper position and no fuel on the right side, the 2 zones were clearly defined with our bread test.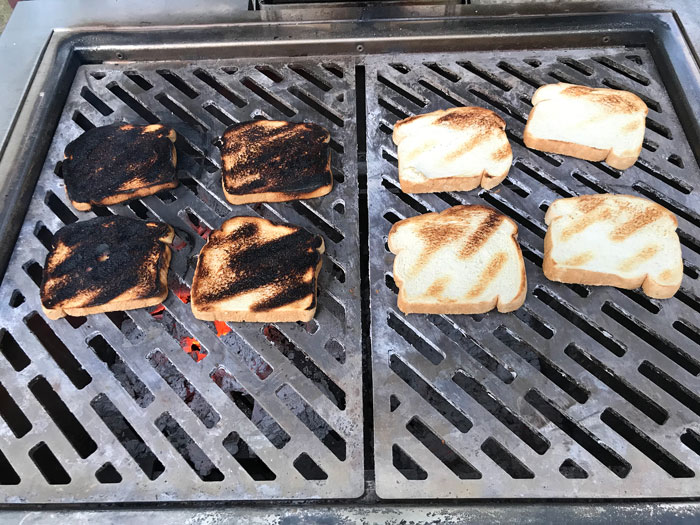 So we had to try our favorite steak technique: Reverse Sear. Reverse Sear slowly cooks steaks over low heat until the internal meat temp gradually reaches about 115°F, then quickly sears the exterior over raging high heat to create a delicious, evenly brown exterior and perfectly pink interior. Learn all about the Reverse Sear by clicking here.
With the same set up used for our bread test, the right cooking grate was moderate enough to slowly bring up the internal temp on our one and a half inch thick rib eye steak.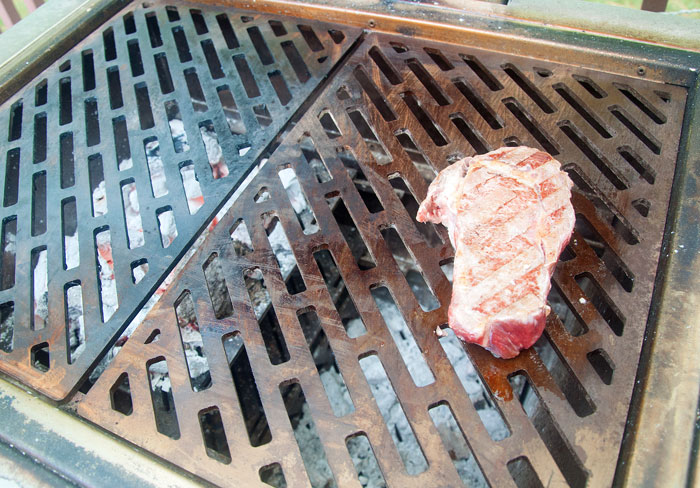 And the left side was screaming hot enough to sear effectively and create a delicious brown crust across the entire meat surface.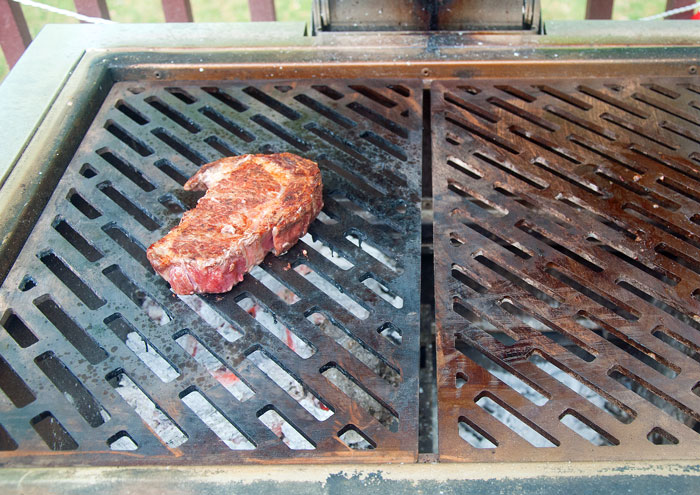 Voila! Bumper to bumper pink juiciness inside and an even brown sear on the outside.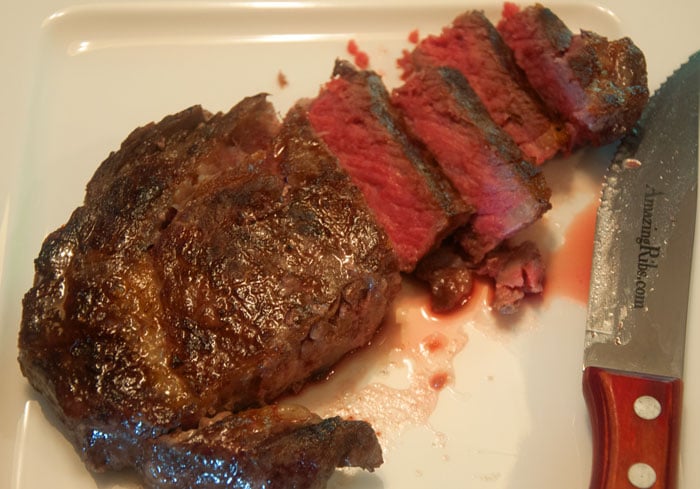 Seal of Shokunin
An insulation strip seals the lid across the cook surface and cushions the wire of your digital temperature probes to prevent kinks. We always use accurate digital thermometers to monitor both cooking and internal meat temperature. Click here to learn why.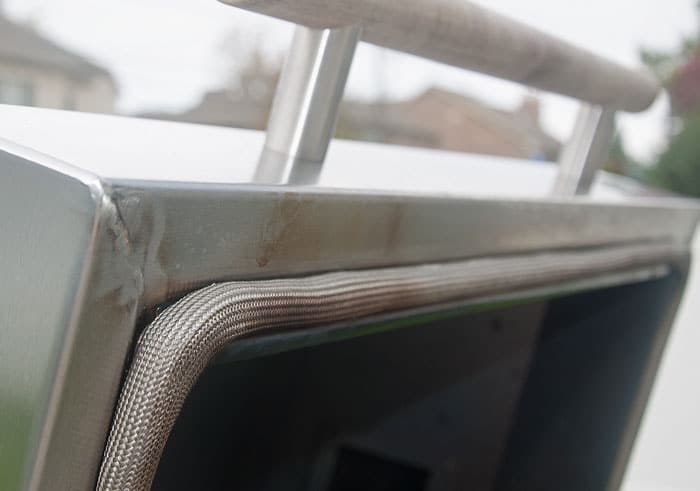 We typically recommend cleaning out charcoal and wood ash after cooking because it can absorb moisture which leads to corrosion. Kalamazoo feels it's OK to wait and just clear it out after approximately every sixth cook. Good news because it's a loooong way down to the bottom to lift out the heavy, stainless steel ash pan.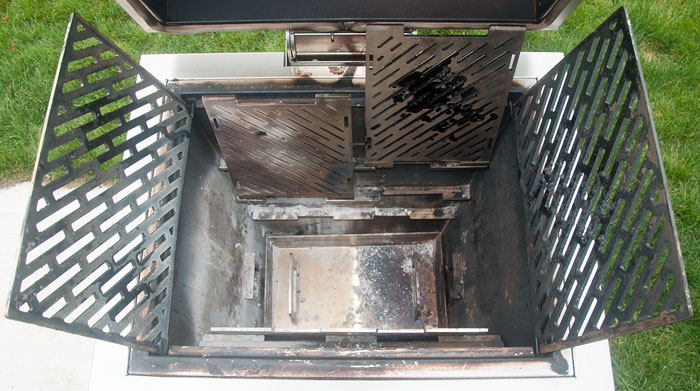 Beautiful
Kalamazoo is known for superb fit and finish. By now you may have noticed Shokunin's beautiful woodwork.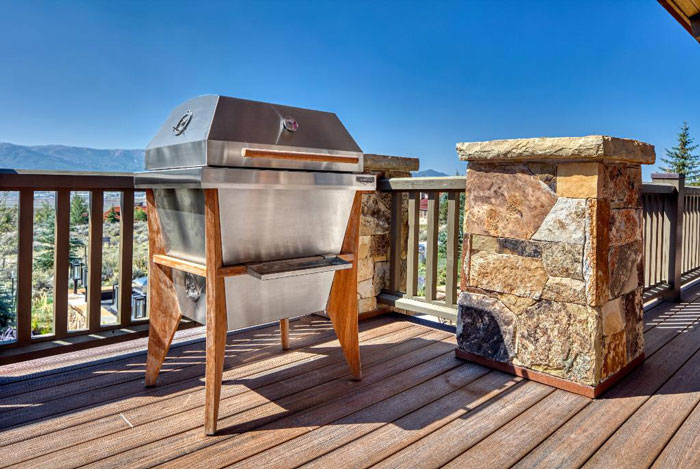 Ipe wood, also known as Brazilian walnut, looks great and is extremely durable and flame resistant. The frame is available in two finishes: natural ipe, or treated with Penofin oil.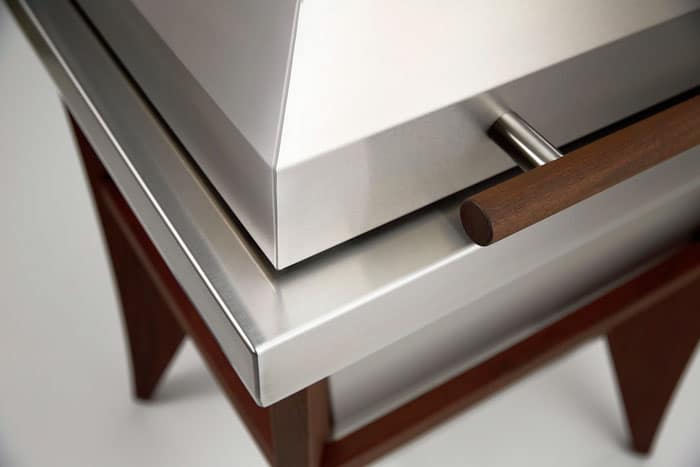 Check out those seamless welds, a Kalamazoo signature.
Conclusion
The extended, deep lower body accommodates placement of the charcoal fire grates at three levels and the split grates can burn independently at different levels on each side. Cross ventilation with the pairs of intake and exhaust dampers, coupled with Shokunin's rectangular cook surface provides kaleidoscopic cooking possibilities that are as striking as its statuesque appearance. Construction and craftsmanship are stellar.
Many marvel at Kalamazoo's high prices and wonder if their products are really worth all that dough. At 6,500 bucks, Shokunin is actually their least expensive cooker. Eat your hearts out folks. I can't afford them either, but for those who want the best of the best and don't blink at the price…..*sigh*, what can we say? Shokunin is spectacular. We have no choice but to give up our top award, the AmazingRibs.com Platinum Medal.
Warranty
FULL TWO YEAR WARRANTY
For two years from the date of original installation, this warranty covers all parts and labor to repair or replace any part of the product that proves to be defective in materials or workmanship.
LIMITED 25 YEAR WARRANTY
For twenty-five years from the date of original installation, Kalamazoo Outdoor Gourmet will repair or replace the following parts if they prove to be defective in materials or workmanship: the cooking grates, and the fabricated stainless steel sheet metal structure of the product. This warranty excludes discoloration and surface corrosion, and it excludes labor.
Shokunin is also available in 316L marine-grade stainless steel for increased corrosion resistance in coastal environments. The cost of the Marine-Grade Shokunin is $8,795.
We thank Kalamazoo for providing a Shokunin for our tests.