This is the coolest new grill I've seen in a long time. Although it can cook anything, it's unique design makes it the ultimate lean mean steak machine. Keen observers will note that I have recently downgraded my rating from Gold to Silver because, the more I use it, the more I recognize some minor drawbacks.
Still, it is by far my favorite grill for steaks and chops under 1″ thick, and it is by far my favorite small portable tailgater.
Strengths. It cooks only with large hockey puck sized pellets or 2-3″ chunks of hardwood. It gets steakhouse hot (700°F) in 5 minutes. It will produce a 1″ thick ribeye with edge to edge even color and an all over mahogany crust. Cleanup is zero bother, and it is so lightweight, it goes anywhere. It may be the best ever gee-whiz camping grill, tailgate grill, or balcony grill ever.
Cook-Air is only 12″ tall and 17 pounds, a portable powerhouse with a round 13″ cooking grate, large enough for three good sized steaks. And it costs under $200.
The combustion chamber is about the width of a quart of whiskey and 1/3 the height. Just toss in a wad of paper and light it or use the firestarter sticks they give you (cardboard permeated with steraine, an extract of animal fat). When it catches, give it 30 seconds, and turn the fan to 1. Put the wood into the combustion chamber, and crank the fan to 3. Within a minute or two, the wood is totally ignited. Turn it to 5, and within 5 minutes, the grill hits well above 700°F. And if you put the max amount of wood in there and give it 7 to 10 minutes, the deflector plate between the flame and food is almost 1000°F in the center (edges seem to be about 200°F lower). Them's steakhouse temps! In a hurry.
If you've been fighting the fajita wars with thin skirt steaks (as have I), ending up with well done meat by the time the outside has any color, Cook-Air is your solution. I crank it to 5 and leave the lid off for cooking thin meats so the heat is focused on one side only. And because it cooks so fast, very little moisture weight is lost, although I have seen some shrinkage from proteins contracting under the high heat. For 1″ thick steaks, I cook with the fan on 3 or 4 so the exterior doesn't burn while waiting for the interior to come up to temp, and I turn them every minute or two. For thicker steaks, I put the lid on for a few minutes to reflect heat down. One of the great advantages of the system is the thin wire grate that allows the entire surface to brown. For thick cuts of meat, you probably will need to add more wood after about 15 minutes, depending on the fan setting.
Because this baby gets so hot, things cook fast. You will need to stand by your grill, as Tammy Wynette once sang, and a fast digital meat thermometer like the Thermapen is an absolute must.
Surprisingly, it does not give food an overly smoky BBQ flavor because the wood is so thoroughly consumed by the fire. The manual wants you to do the smoking at the end, but I prefer to do it at the beginning to prevent the meat from overcooking while smoking.
The only assembly is two screws that attach the lid handle. It comes with a power cord and adapter, a 12 volt cigarette lighter adapter, tongs, a wire brush for cleaning, and a nice supply of compressed sawdust wood pucks for perhaps 10 cooks.
Cook-Air is so efficient there is very little ash left when you are done (see picture below after two cooking sessions). To clean it, you just turn the fan on low, wipe the surface with the brush they supply, turn it upside down, shake, and wipe with a damp cloth. It is made with 304 stainless steel, so there is not going to be any rust.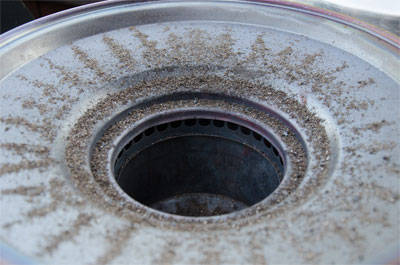 The manufacturer says you must burn their wood pucks, ordered from Canada, or untreated and unfinished hardwood from any source you can find. The pucks are made from compressed sawdust. I've been using oak from a recent flooring job in my house. I have had good luck with Mojo-Bricks. They are also sawdust compressed into chunks, a bit more tightly than the Cook-Air pucks. Best of all, Mojo-Bricks come in a variety of wood flavors. Cook-Air says you cannot burn softwoods like pine or charcoal or wood pellets. Softwoods are full of resins that make noxious gases and you never want to use them on any grill or smoker. So I tried some Kingsford Competition Charcoal (the brown bag, not the regular blue bag). I chose the Competition because it produces less ash. It burned well and cooked well, but there was a distinct solvent smell, far more ash than when cooking with hardwood, and ash can block the air holes, and the meat had a solvent taste. I plan to test lump charcoal next.
Weaknesses. The manufacturer wants you to remove as much external fat as possible, and pat dry the surface before cooking to prevent flareups. I can attest that this is good advice. The manufacturer recommends putting on the lid to smoke the meat, but I do not recommend using the lid for long. It deposits thick gray soot on the surface. You cannot turn the fan off or turn it to 1 or 2 either. Same problem. I now cook at only 3 and above.
Beware. When the meat is done, you want to leave the fire burning and the fan on low until the fuel is used up and the grease is totally burned off. This doesn't take long, but if you forget, as I have done, the fan will run all night. When it is cool, you can put the power cable, handle, and brush under the lid, put on the heavy duty black vinyl waterproof cover, cinch the drawstring tight, and the handle on the vinyl makes it easy to carry around. Also, you don't want to leave it sitting around without the vinyl cover if it rains. Water can easily get into the works and damage the mechanisms.
Although there are 5 speeds, high speed is the best, putting out the least soot. I now use it only for red meats. It deposits too much smoke on chicken and fish for my taste. This noted, the Cook-Air is by far the best way to finish sous vide cooked meats of any color. And I never turn it below 3 because the smoke is too black. I use the lid only for about a minute or two because that can overcook it and oversmoke it. I turn the meat every minute or three to prevent it from burning and shrinking. But once you get the hang of it, you will have amazing smoky steaks. If you have a sous-vide machine, cook the meat to about 115°F in the water bath, and then sear it on 5 on the Cook-Air. Incredible tenderness and flavor.