The KUDU Grill is a 29″ diameter steel fire bowl on four legs with two "elevation" bars attached to the sides. The company switched from powder coating to a nano-ceramic coating which they believe is superior. It comes with a 19″ diameter expanded metal cooking grate and a 16″ diameter 2.8″ deep cast iron pan. The cooking grate is 115 square inches and the cast iron pan is 82 square inches for a total of 197 square inches of cooking surface. Both the grate and pan attach to the elevation bars and may be raised, lowered or swung away from the fire to expose foods to higher or lower cooking temperatures (see below).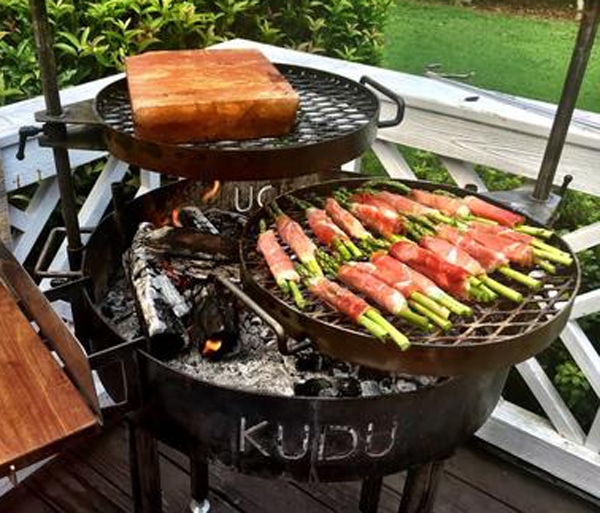 The legs are removable so you can use the KUDU as a traditional, ground level fire bowl. Drop the grate and pan into the legless bowl, unscrew the elevation bars, and the KUDU also becomes portable for camping and tailgating.
Inspired by South African "Braais," or barbecues where people gather round the fire, KUDU refers to its fun, open-air, fire bowl as "South African TV"  (see below). If you're interested in this type of cooking, click here to read How to Grill With Wood and Master Campfire Cooking.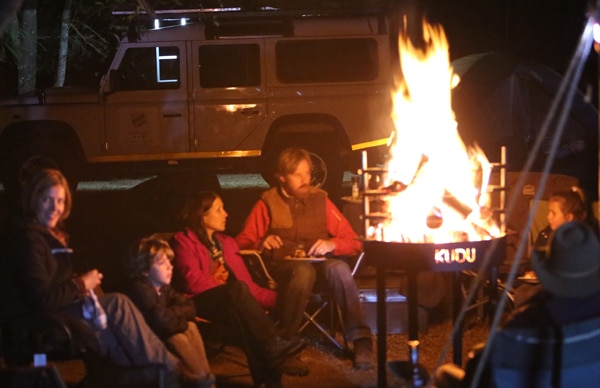 Some chefs, like Atlanta's award winning chef Kevin Gillespie (shown below), love to stand behind the KUDU podium while grilling and serving guests.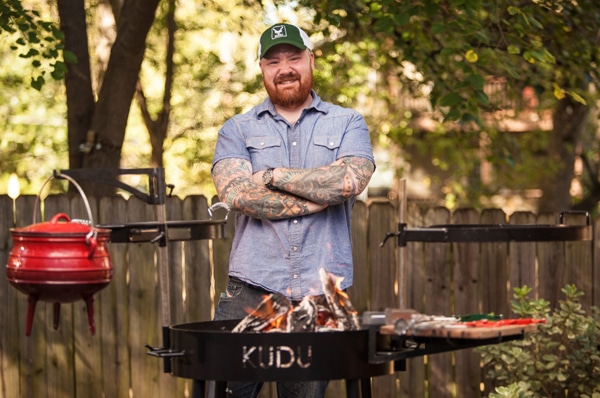 The adjustable position cooking surfaces provide some temperature control for this brazier style cooker.
On the downside, ambient weather conditions such as wind and rain make it more difficult to control temperature on the KUDU. And where do juicy, greasy drippings go when you swing that cooking grate away from the fire? Hopefully not your deck. If you're not cooking in the bush, protect your decking or pavers by placing KUDU on a large grill mat. When cooking on a deck or patio, Kudu recommends not swinging the grill grate outside of the base and just raising it higher up on the elevation bars.
Whether kept indoors or outdoors with a cover and/or an optional lid (see below), KUDU will require some extra care to ward off rust. The Owner's Manual cautions, "it is very important that you continually season your grill after each use by applying a food based cooking oil. Simply take a small towel and gently apply oil to your KUDU. Over time, this practice will season the grill components just like your grandmother's favorite cast iron pan." Anyone who uses cast iron pans knows how quickly they rust without proper maintenance. If you keep KUDU outdoors, a cover makes a wise investment.
Here's the optional "Smoker Lid" which is very useful for any foods that need to cook for longer duration over moderate heat. When done cooking, place the lid over the hot coals to extinguish the fire and save the fuel for next time.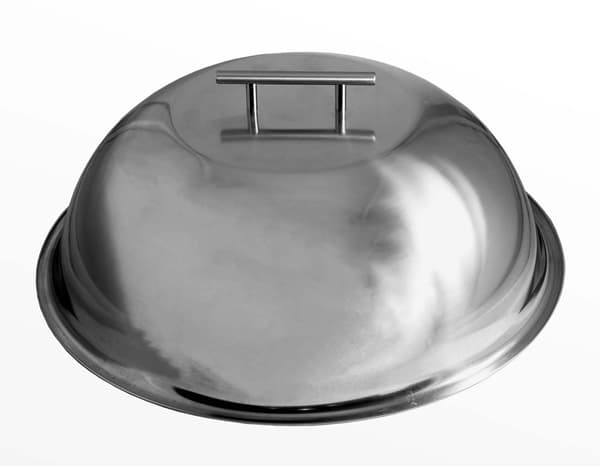 Additional grates, pans, side shelf, tools and merchandise are also available.
Though Kudu has some unique attributes, such as the removable legs that bring it up to cooking height, the general concept of integrating movable cooking surfaces with a fire bowl is hardly anything new. The original MSRP of $700 has dropped to $500, good news for buyers, but keep in mind optional items like the Smoker Lid will drive up the final cost. Be that as it may, Kudu has a number of enthusiastic fans.
This souped-up brazier comes with a five year warranty on fire pan burn-through, the elevation bars, leg assembly, grill rack, and pan insert, and a two year warranty on all remaining parts.