Primitive cookery: Wood, fire, food. That's all you need. No knobs, no dials. Yes, I know that most of this website is devoted to the best tools for taming fire, but some of the best food I've ever eaten was cooked over a campfire. Ask my wife about the grocery store porterhouse steak in Allegany State Park in NY 30 years ago.
There is one overriding reason to go back to your stone age roots and connect with your inner caveman: The aroma. It is unlike any other. Memo to all the scientists seeking a human pheromone: It has been right under your nose since the beginning of time.
Bring a plate of wood grilled salmon to the table and you'll have to help your guests back into their chairs. Grilling on wood makes marinades, brines, spice blends, rubs, and sauces a waste of time and money.
You can grill with wood over a campfire, over a firepit, or even on a charcoal grill. But it is tricky and takes practice. And, because it requires total involvement and all the senses, it is also the most fun you can have cooking and entertaining. Ever seen people pull up lawn chairs, encircle the gas grill, roast marshmallows, and sing Kumbaya? Didn't think so.
Campfire and firepit cooking
If you are building a campfire in your back yard, you should check with your fire department, there may be an ordinance against it, and check with your neighbors. Some people, especially asthmatics, have trouble breathing when there is a lot of smoke next door.
Simple campfire. Try to place your fire behind a windbreak such as a building a hill or a stand of trees, but don't start a campfire under a roof. Find a spot away from buildings, tents, shrubs, and overhanging branches. Clear a circle down to dirt at least a foot wider than the fire will be. Better still, dig a hole 6 to 12″ deep to contain the coals and to give you dirt to smother them when you are done. It's a good idea to encircle the fire with big stones, bricks, cinder blocks, or something on which you can place the cooking grate. Digging holes and surrounding your fire with rocks reflects heat into the fire, and they keep you and your guests warm. But wet rocks from the banks of creeks or under water can be waterlogged, and when they heat up, they can explode. If you can, make one side higher than the other so part of the grate is further from the coals to moderate temperature but be careful your meatballs and hotdogs don't roll into the fire. Leave one side open so you can reach under the grate with a rake or shovel to rearrange the logs and embers when needed.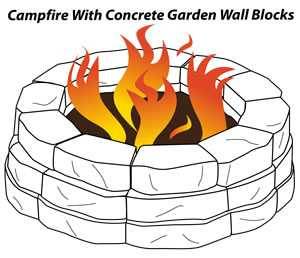 Permanent campfire. You can build a permanent campfire in your back yard quickly and cheaply with bricks, cinderblocks, flat slate, or, like the one shown here, concrete garden wall blocks. You can then buy a cooking grate
to go over the top.
Dakota firepit. A simple wilderness method that you can use even on windy days is the "Dakota" firepit. You simply dig two holes about 1′ wide, 1′ deep, and about 1′ apart. Then you connect the two bottoms with an underground tunnel. Start your firewood burning in one hole and as it burns down, push the coals into the other hole. Use a flat rock or green sticks to cover the second hole, and you can cook on it with pots and pans, with a rotisserie, or on the sticks.