Char-Griller is well known for its affordable and ubiquitous barrel shaped charcoal grills and smokers. Grillin' Pro takes that charcoal barrel body, cuts a few vent holes in the bottom and adds gas burners and a grease removal system to make an unusual looking gas grill with double smoke stacks.
Powerful Burners
We were intrigued by Grillin' Pro's three, high powered 13,600 BTU stainless steel burners and curious to see if they could provide the searing power that most gas grills lack.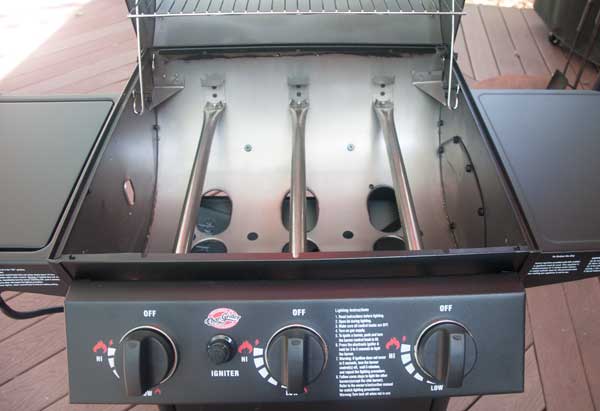 A single battery powered ignitor lights all three burners. There is no crossover, so the ignitor must be pressed to light each burner separately.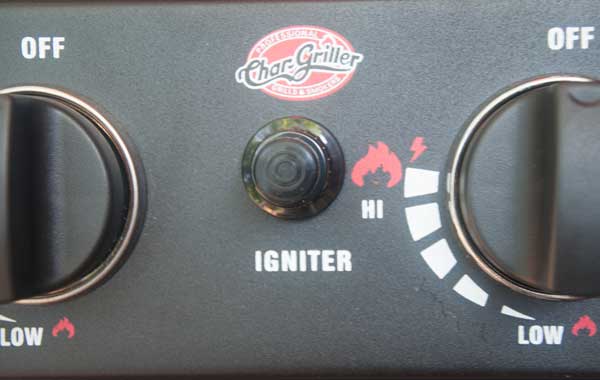 Coated steel "flame shields" (heat diffusers) protect the burners from greasy drippings and help disperse heat.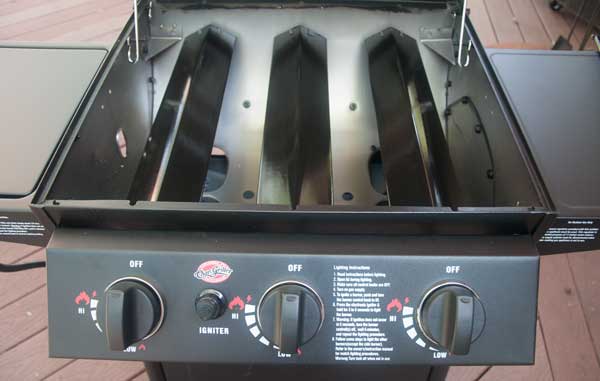 The cook surface consists of three lightweight, coated, cast iron grates.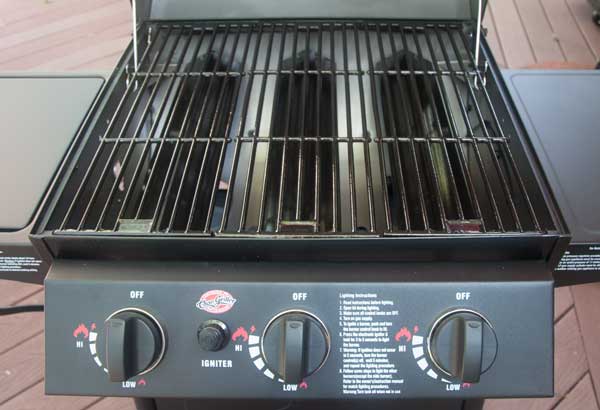 Temperature Tests
With all three burners set to low, our digital probes registered the following temps: left burner 595°F, middle 610°F, and right 588°F. That's pretty hot and an encouraging sign for this inexpensive grill because most gassers–even more expensive ones–can't hit 600°F even with all the burners on high. Our excitement was growing to test Grillin' Pro's searing capability.
Oh, and a NEWS FLASH: As with other gas grills, you can ignore the cave era "heat estimator" (don't make me call it a thermometer) screwed into the hood on this grill. If you want an accurate temperature reading, use only accurate digital thermometers. Here's a comparison to prove the point. In the temp test above, with all burners on low, Grillin' Pro's hood thermometer read 540°F. That was about 50° lower than the real cooking temp at grate level. Accurate cooking temps are vital to your success at the grill. You will never achieve backyard domination without knowing your true cooking temperature and internal meat temperatures. Up your BBQ game overnight with digital thermometers. We have plenty of recommended models in our buying guide and searchable thermometer database here.
AmazingRibs.com recipes call for cooking target temps of 225°F for low and slow recipes like ribs, 325°F for moderate temperature roasting, and Warp 10 – cranked all the way up for searing burgers and steaks. A digital thermometer will help you get accurate temps, but all grills have hot spots. Our bread test below revealed that heat in this grill was concentrated at the center and was cooler in the front than in the back.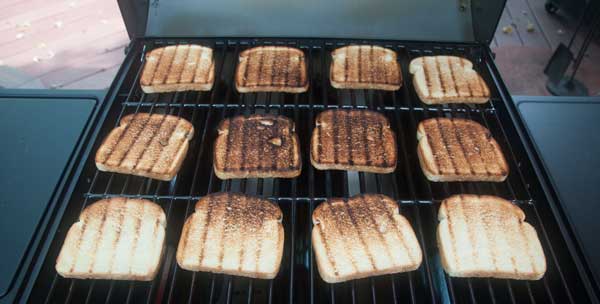 2-Zone Set Up
Setting low and moderate temps on gas grills is typically accomplished with 2-zone cooking. You create two temperature zones by shutting off some burners to make a moderate, indirect cooking zone, while other burners are left on to make a hot, direct cooking zone. Getting lower temperature zones with Grillin' Pro was a little tougher than other gas BBQ grills because the burners are hot even on the low setting. We tried to make an indirect zone in the center by shutting off the middle burner and setting the others on low. The result was: left burner 490°F, middle 420°F and right 490°F. Too hot for smoking or roasting. Next, we dialed the left burner to low and turned the other two off. That gave us: left burner 400°F, middle 270°F, right 250°F and was close enough for going low and slow on the right side, or indirect zone. Read all about it by clicking here.
A whole chicken was the first item on our test menu. For roasting temps of 325°F, we had to use a water pan at the center cook surface. With the middle burner off and the left and right burners set low, we tested the possibility of cooking on the tuckaway warming rack which hovered just a couple inches above the water pan with the grill lid shut.
Our digital probe clipped to the center warming rack measured 390°F. Not bad, but placing a grate right on the water pan gave us a cooking temp of 365°F, which was closer to our 325°F target and better for crisping skin without overcooking the meat. We had to remove the warming rack for this set up to make head room for our whole chicken. Unlike some warming racks that pop out, this one was fastened to the grill with four bolts that needed to be unscrewed. No big deal, really. And the results were pretty darn good. Check out our crispy, juicy bird below.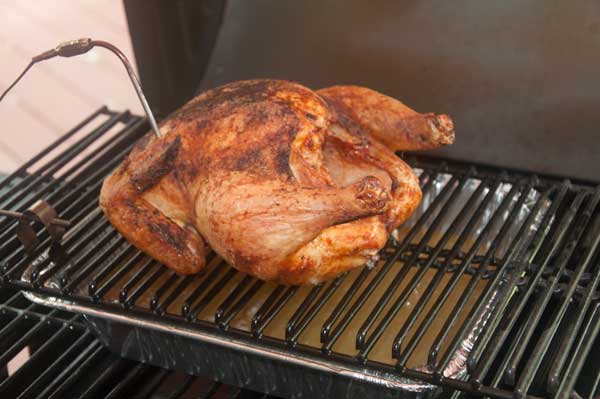 Want to roast a bird like that on your grill? Click here for some mighty delicious Chicken Recipes
Hamburgers
For the burger test, we goosed all three burners up to medium and sizzled a dozen patties. As our bread test indicated, the center cook surface was hot with temps dropping slightly in the front and sides. The burgers below were flipped after four minutes. After another four minutes, we removed the middle patties and gave the rest a few minutes more to fully cook. The results were tasty and didn't require constantly moving burgers around the grill to avoid drastic hot spots.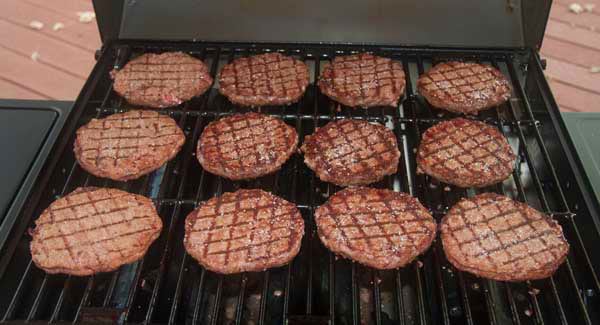 Reverse Seared Steak
Here's the test we were waiting for! To do any kind of serious searing, meat needs to be exposed to direct, high temperature heat, i.e.infrared heat from intense flame. Click here for our article about The Thermodynamics of Cooking and How Different Cooking Methods Work. The main burners on most gas grills just don't have that kind of power. But Grillin' Pro was in the upper 500°F range even with all burners on low, so we were itching to crank it all the way up. With all burners on high, we measured the following temps: left burner 900°F, middle 850°F, and right 840°F! A couple thick, prime sirloins gave us the chance to test both the low and high temp performance of Grillin' Pro by using the reverse sear method, where you start with low heat (225°F) to gently cook the interior then finish with a high heat (Warp 10) to produce a deliciously seared and browned crust with complex flavors caused by the Maillard reaction and caramelization. Click here to learn about it: Brown is Beautiful or Why We Love GBD, Bark, Crust, Caramelization and the Maillard Reaction. And click here to learn more about reverse sear: Cooking Temps: When to Cook Hot & Fast, When To Cook Low & Slow, And When To Do Both (Reverse Sear)
With the left burner set low and the other two burners off, we slowly cooked our sirloins for about 40 minutes at 225°F until the internal meat temperature came up to 110°F.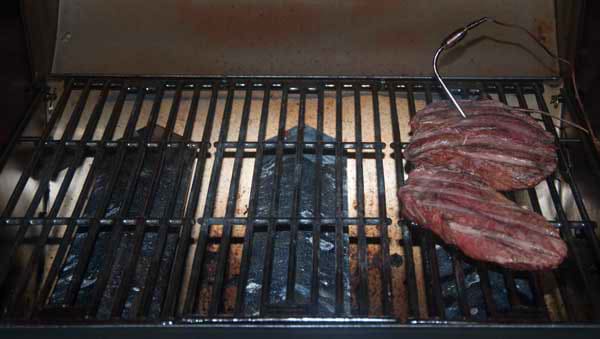 We then set the steaks aside and turned the control knobs all the way up to high. Within about 10 minutes, the grill surface was at a fiery 850°F. We seared our sirloins at the center grate to an internal temp of about 130°F. The result was pink juicy meat with a beautiful brown finish. WOW! A gas grill for under $200 that outperforms many higher priced models. That's something we don't see often at AmazingRibs.com.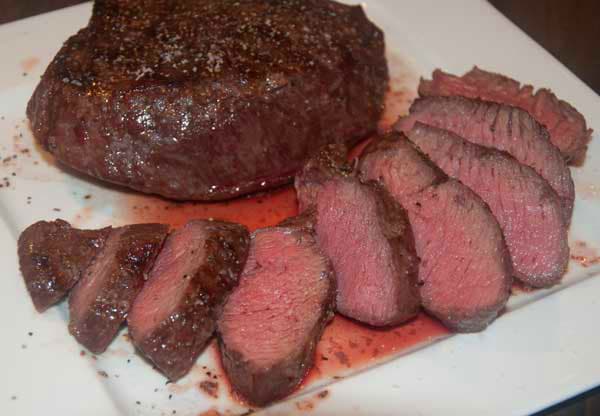 But our blazing excitement was extinguished by an emphatic warning on page 30 of the Grillin' Pro manual, which states in capital letters, "NEVER EXCEED 450°F BECAUSE THIS WILL DAMAGE THE FINISH AND CONTRIBUTE TO RUST." Sad face. C'mon: high heat is what we want for great searing! So we questioned Char-Griller about this. It seemed odd for a manufacturer to make a unique, low cost gas grill that sears better than most of the competition, then tell buyers not to use the attractive high temperature capability. After some deliberation, they decided to drop the 450 degree rule and issued the following statement.
Official Statement From Char-Griller Regarding Grillin' Pro Temperature Range
"The language in the user manual instructing consumers not to exceed 450ºF will be removed in future iterations of the user manual. The grill is safe to use at any temperature the grill achieves, and this product is intended to have a versatile temperature range. It should be noted that running any grill at high temperature versus a low temperature will increase the wear on the product. We offer a 1 year parts warranty on this product to ensure nothing is defective out of the box or in the first year. In addition we offer a 5 year burner warranty and a 5 year rust warranty on the body of the product."
A Few More Features
Grillin' Pro includes a 12,000 BTU side burner on the left and a side shelf with tool hooks on the right. The four legged cart has a lower storage shelf where the LP tank is placed. A front panel conceals the LP tank. The tank valve and slide out grease tray are only accessible from the back of the cart (below).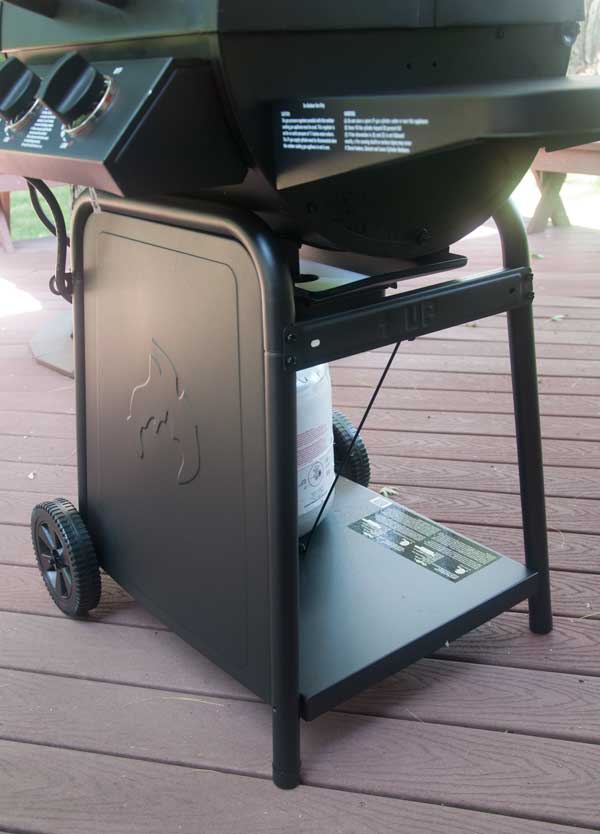 Assembly wasn't bad. Grillin' Pro has a good number of parts, but the instructions were easy enough to follow and, although the parts were obviously cheap and lightweight (as expected for a grill at this price), they fit together easily.
Packaging was decent, except the hardware packet was ripped open (below).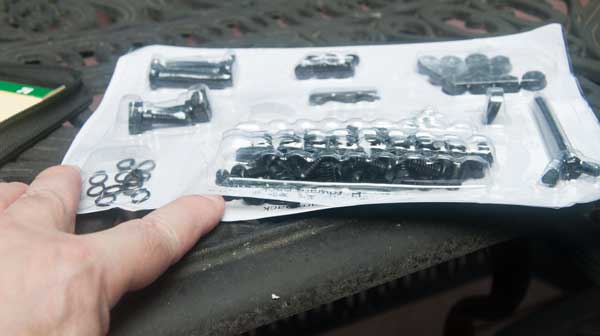 The only parts that fell out were washers (below).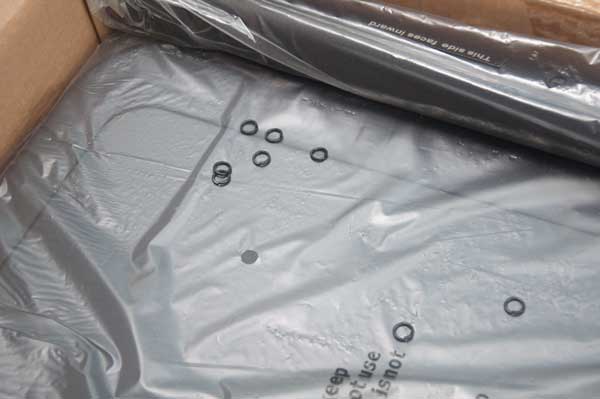 Some escaped from the box in shipping and we ended up running out of washers. Eager to begin tests, we completed assembly minus a few washers. Again, no big deal.
Conclusion
Low cost gas grills are the instrument of choice for most residential outdoor cooks, so we're always on the lookout for models that deliver a lot of bang for the buck. They are rare because you usually get what you pay for. And apart from their Akorn Kamado, we have not been fans of Char-Griller products. However, Grillin' Pro's exceptional performance for a gas grill in this low price range was a welcome surprise. You can work around the extra effort needed to set up low and moderate cooking zones. And you won't need to do a thing to enjoy Grillin' Pro's pure power. Shoppers with realistic expectations looking for a gas grill in this price range would do well to consider Grillin' Pro. It's not built to last, but it will out sear any comparably priced gasser we know of.
Warranty
The grill body (lid and bottom half) and stainless steel burners are warrantied for five years. All remaining parts have a one year warranty.
We thank Char-Griller for providing a Grillin' Pro for our tests.