The Hestan Outdoor GMBR36-LP is the best gas grill I have ever worked on. Period. And I have cooked on dozens of gassers. There is so much right about this innovative design I struggle to find something to criticize (but I found a few nits to pick).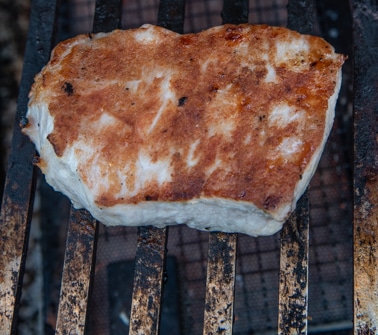 A big reason for my admiration is because it can produce a perfect all over dark mahogany sear on a steak equal to my charcoal grills and even a deep amber sear on a pork chop or piece of fish. But I am also very impressed with the engineering design, the workmanship, the functionality, and the durability of the grill, built entirely in Anaheim, CA. Watch this video for an up close tour.
Hestan makes high end luxury priced gas grills costing up to $12,099 depending on size and configuration. They make several models starting with grill "heads" that can be built into outdoor kitchen counters or mounted on one of two freestanding cart designs on wheels. The heads are made from high quality 304 stainless steel and come with cooking surfaces that are 21" deep and your choice of 30" wide with 2 burners, 36" wide with 3 burners, or 42" wide with 4 burners. They make two types of burners, infrared ceramic sear burners, and 321 stainless steel "trellis" burner tubes. The trellis burners are rated at 25,000 BTU each. Their awesome ceramic infrared sear burners are also rated at 25,000 BTU. You can order the grill with all sear burners, all trellis burners, or mixed, which comes with 1 sear and the remainder trellis, which is the model I tested. They also come with an infrared rotisserie burner. All models can be ordered as either natural gas or liquid propane. There is also a high altitude kit.
The unit they sent me to test, similar to the one shown in the picture above and in the video, is 36" wide with one sear burner, two trellis burners, a rotisserie, a side burner attachment with two burners, and one side shelf, all mounted on their 304 stainless steel "GCD36 Tower Cart". The grill has an MSRP $5,949, the cart is $1,300, and the side burner is $1,499 for a total of $8,748. Hestan grills are available from retailers and they might charge $200 to 400 for assembly. Or you can do it yourself, but it is complicated. I'm fairly handy but I was very glad I did not have to assemble the demo they sent. Just uncrating it was a project. Hestan says most retailers do not charge for shipping but my guess is that if you are a good distance away that may not hold up.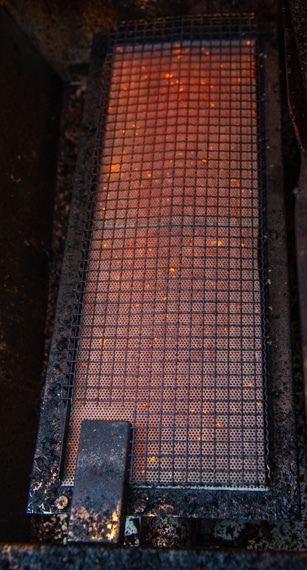 The design includes a number of clever innovations and improvements over normal grills. The sear burner is magical. It is a honeycomb of ceramic that is self cleaning so there is no cover or diffuser over the burner. Things that drip onto it incinerate and disappear. The sear burner is the best I have ever encountered, far better than tubes that other manufacturers call sear burners. Temp can be dialed up or down so it can both sear and cook more gently. It is large enough for four large steaks or 6 medium sized steaks. Temperature above the sear burner was too high for my thermometers to measure but air temp is irrelevant when evaluating a sear burner. Infrared radiant heat is what you are buying and there is plenty of IR from this baby. One look at the browned surface of the pork chop above will show you that.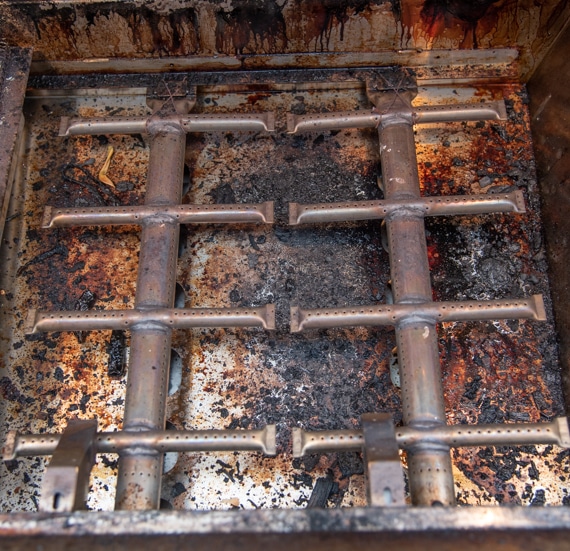 A trellis burner is a straight stainless steel tube with four tubes that cross it at a right angle. Each has an air shutter that allows you to change the gas/air mix if needed for altitude adjustment, converting from LP to NG or NG to LP, or if it gets out of whack for some reason. The trellis burners easily lift out so you can clean them or replace them with sear burners if you wish.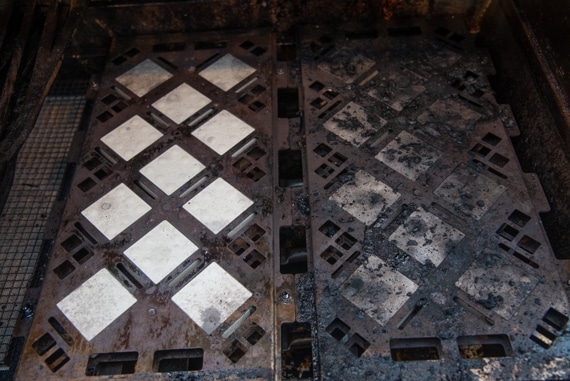 The trellis burners are protected from drips and their heat is distributed fairly evenly by a novel heat diffuser that they call a "radiant tray", a checkerboard of 2" ceramic tiles held in by a stainless steel frame. When they get dirty you can just flip them over and the burners will clean them for you. With just the two right burners on high, the temperature 1" above the cooking surface can surpass 500°F.
Notice also the small gap between the diffusers. This gap is a hot spot as you can see from the bread test below. The middle strip of bread is placed over the gap between diffusers. I have combatted it by simply placing a strip of steel over the gap. For our standard bread test to check for hot spots, the burners were on medium. Notice that the bread at the rear is slightly darker.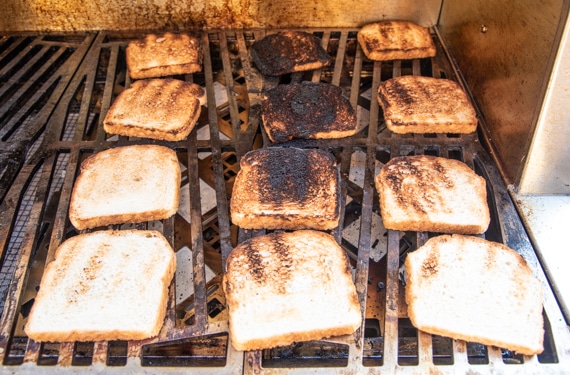 As expected, toast over the sear burner darkened rapidly and showed the rear to be hotter than the front.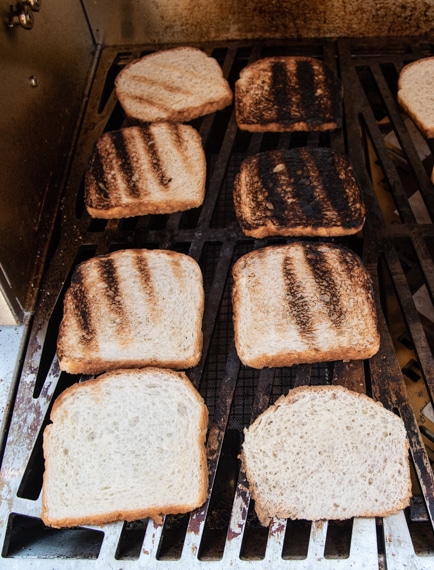 One of my favorite features is the rotisserie. It is located directly overhead, not on the rear as in most other grills. There is a grate that can be placed below the burner and it can be raised or lowered. Because the burner is overhead it can act as a broiler and this opens up a number of cooking techniques. I found it especially useful for melting cheese toppings. The rotisserie motor and gears are completely hidden within the double walls of the hood so you don't need to go looking for it when it is time to take a chicken for a spin. Just insert one end of the rotisserie spear into the drive and place the other on two steel wheels, press a button, and away you go. Hestan says it can handle up to 50 pounds. The rotisserie has a clever safety feature. A thermocouple sensor maintains the flow of gas as long as there is a flame. If a gust of wind blows out the flame, the gas flow is stopped. A gas water heater at home works the same way.
There are LEDs on a strip above the knobs for night cooking, and two 20 watt halogen lights under the hood that do a fine job of illuminating the cooking surface at night. They turn on automatically when you lift the hood. Lifting the hood is a dream, it takes only one finger and it is counterbalanced perfectly so it will remain partially open in any position you want. This is nice because there are times when I want to bleed off some of the hot air under the hood, but not all of it. You can crack open the hood and it will stay where you put it. The cart is stainless steel and it has two cabinet doors with serious adjustable heavy duty hinges. You can order a cart with one door and two drawers and in a variety of powder coated colors.
The ignition is called a hot surface ignition that works with a glow plug. It fires up soon after you push and turn the knob. On some other grills you have to hold in the knob until ignition, but on the Hestan, just push and turn it. A delay circuit keeps the glow plug on for 8 seconds to ensure the burners have ignited. This is a nice safety feature. The ignition system, the lighting, and the rotisserie all require electricity, so you need to plug it in. If you count on your grill during power outages after storms, you will need matches.
Other features I love are the unusual 5/16" thick 3/8" wide laser cut stainless steel cooking grates. They get very hot, hold heat, and sear beautifully, but the gaps are wide enough to allow smoke to reach the food. They are double sided so you can simply flip them over to carbonize gunk. But they still get greasy and they are hard to clean completely with just heat and a brush. Periodically, a food safe cleaning fluid is a good idea. The warming rack below the rotisserie burner is also heavy duty, adjustable height, and can hang tight against the back wall when not in use.
Here's another nifty feature I have seen only occasionally: the LP tank sits on a shelf that is on a ballbearing slide like a file cabinet drawer. This makes it easy to move the tank out for removal. There is storage space in the cabinet but water does encroach if you don't cover it, so you don't want to store pellets in there. The drip tray below the burners and above the storage cabinet slides out easily from the front, another feature I like.
The side shelves are well built and capable of holding a heavy pot. They fold down. The unit also came with a stainless steel tube for wood chips to deliver passive smoke, and Hestan includes an enamel drip pan that fits between the diffusers and the grates. Side burners are available as an option, and the unit I have has two side burners, one rated at 20,000 BTU and one at 10,000. They sit in a sunken well designed to catch overflow if a pot boils over, but it can fill with water if you don't cover the grill, and I often do not cover my grills because they are too hot when I am done cooking, and after a big dinner with wine and friends, I forget. There is a drain hole for the well but it is in the front and my deck slants slightly to the rear so the water never makes it to the drain. The stainless steel lid for the side burners has four rubber feet. I removed them so the cover sat tighter on the body and now much less water gets in. If the side burner blows out, it attempts to reignite itself. Another nice safety feature. Hestan also offers an optional heavy-duty vinyl cover with a carbon-fiber look to it.
As is common, the warranty language is confusing and complicated. There is a lifetime warranty on the grill body, grates, and burners. Some other parts, like the diffusers, have a 5 year warranty, and others a one year warranty.
If you can afford a grill in this price range, my ideal configuration would be the 42" with 4 burners, two of them sear burners, rotisserie, side burner, two side shelves, with the Tower Cart fitted with two drawers. Make sure to include it in your will because it will probably outlast you.
We thank Hestan for providing a test model for this review.