The Monument Clearview 4-Burner is a low cost, stainless steel gas grill, loaded with extras to entice price conscious shoppers. A window cut into the hood is meant to provide a view of what's cooking without lifting the lid, hence the name "Clearview". However, there are no interior lights for nighttime use and our window became obscured by grease and smoke pretty quick. Monument recommends warming up the grill then cleaning the inside window with cider vinegar, which worked better than Windex, but failed to restore the clear view. We suspect one needs to clean the window early and often to maintain visibility.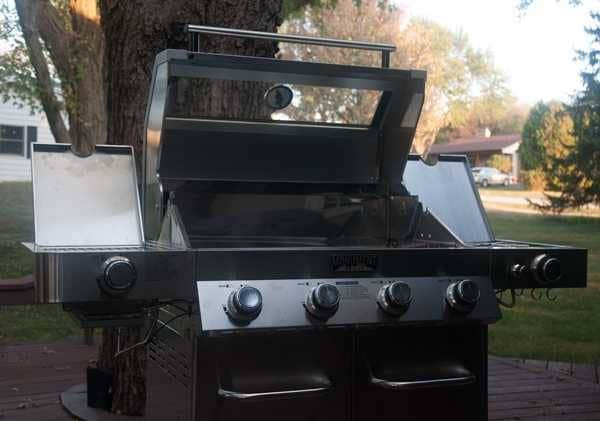 Hot Spot
Many inexpensive gassers struggle to reach searing temps, but Clearview can produce high, though uneven temperatures. With the four main burners cranked up all the way, the center rear hit 800°F with heat dropping dramatically at the front and sides (see burgers below).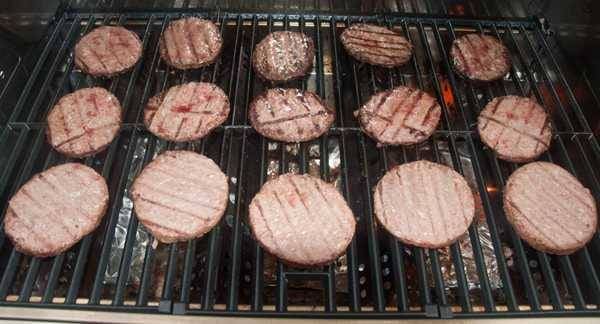 When doing full capacity, high temp grilling, you will need to move food around to share the heat. Obviously hot spots are not ideal, but they are not uncommon with gas grills in this low price range. At least Monument's hot spot at the back gives you some real sizzle power.
Moderate Temperature Cooking
Dialing the control knobs back a couple notches and cooking for a longer duration helps even out the cook surface temps and eliminate hot spots. Compare the even browning on the chicken wings below with the uneven browning on the burgers above.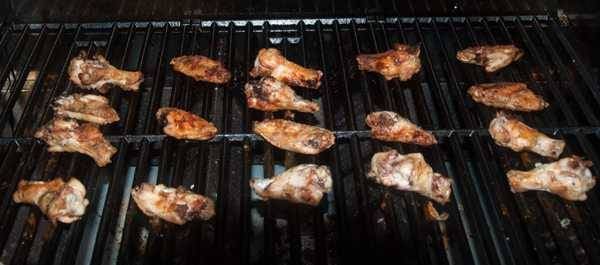 2-zone deluxe with a sear burner
And if you want more firepower, Clearview includes an infrared, ceramic sear burner mounted on the left side shelf. This variable temp burner had a range of 580°F to 950°F on a fall day with ambient temp of about 60°F.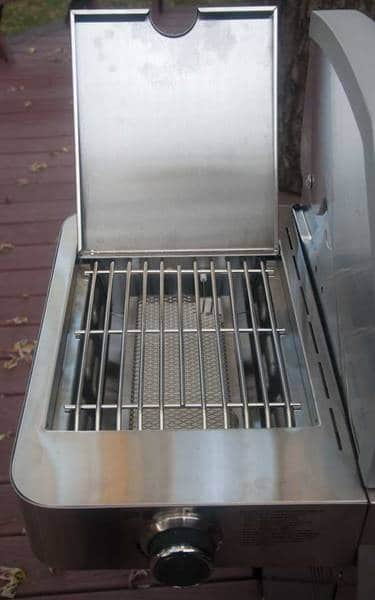 Few freestanding gas grills have an external infrared sear burner. Most sear burners are located under the grill hood along with the main burners. By separating the sear burner from the main burners, Clearview provides two distinct cooking zones. Roast and slow cook on the main burners while simultaneously super-searing on the infrared burner. Click here to learn more about 2-zone, direct/indirect cooking.
This is an excellent set up for reverse searing steaks. Reverse sear starts with low heat to gently cook the meat's interior, then finishes with high heat to sear the meat surface. We slowly cooked a couple thick strip steaks over low, indirect heat on the main burners to about 115°F internal temp (see below).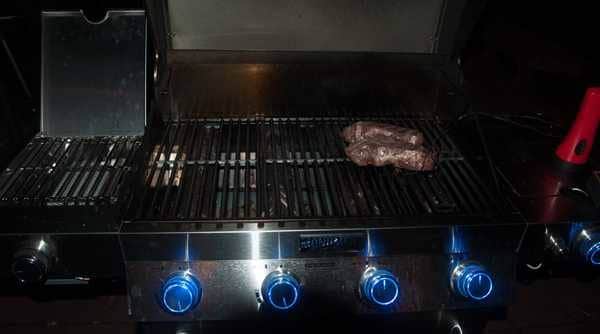 Then quickly seared them on the hot, ceramic burner, creating a delicious, evenly browned exterior while keeping the inside pink and juicy from edge to edge.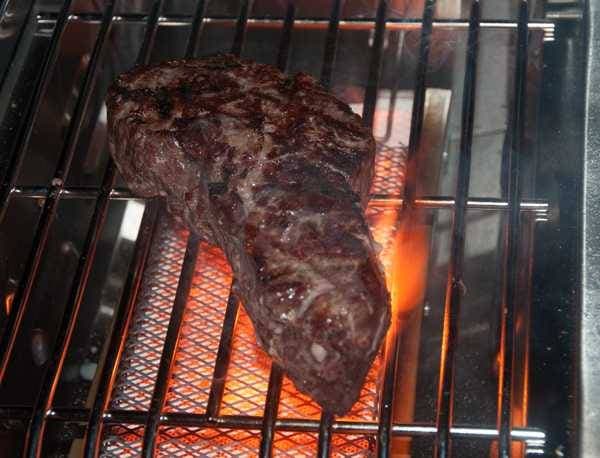 Click here to learn about reverse sear.
LED control knobs
Another Clearview extra is LED illuminated control knobs, a popular feature on many gas grills in all price ranges. They look cool and come in handy after dark. During assembly, the four main LED control knobs easily popped onto the burner valve stems, but the two side shelf LED knobs were nearly impossible to put together. Each of the side shelf LED dial assemblies had very short mounting screws. All parts had to line up absolutely perfectly for threads on the too-short screws to catch and hold. Monument customer service knew of this problem. After some discussion, we suggested that longer screws would work better and our Monument rep agreed. Returning from the hardware store with longer screws, we finally got both knobs on only to discover the LED on the sear burner dial didn't work. Back to customer service. They sent a replacement immediately, but the problem remained, and we still had no light on the sear burner knob, and no solution from Monument.
UPDATE: We reviewed this model in 2018. It appears the problem with the warming rack described below was subsequently corrected.
Likewise, the warming rack was about an inch too long and wouldn't fit into the housing (see below).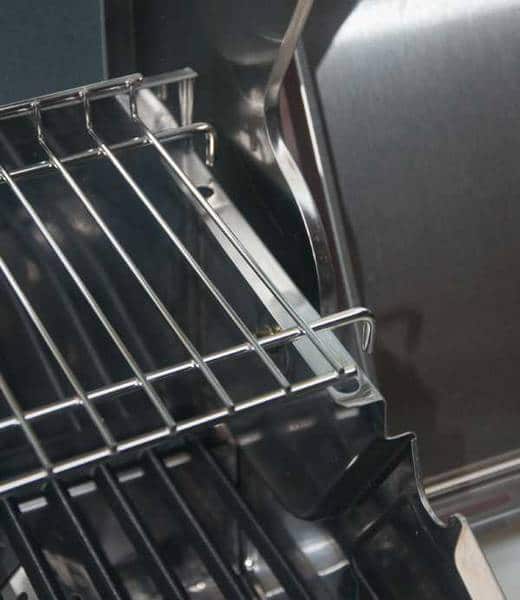 Another call to customer service quickly produced delivery of a replacement rack. Unfortunately, it was the exact same, wrong rack. We often waited on hold over ten minutes before being connected. The reps we spoke with clearly tried to help, but didn't resolve our issues.
More extras with a side burner
A side burner is located on the right side shelf along with a single, battery powered ignitor for all six burners (the four main burners, the sear burner and the side burner). Four S-shaped tool hooks hang from holes in the side shelf. These hooks easily fall out of their slots, so one must take care when hanging tools or removing a grill cover. A USB port located under the right side shelf if for Monument's optional USB Light. The double door cart has four locking casters and a slide-out grease tray that funnels drippings into a small, removable grease pan. Another slide-out grease tray is located under the IR sear burner. Packaging was good, with all parts secured in a heavy, reinforced cardboard box.
Building the monument
Making a better gas BBQ grill in the $300 to $375 range for big box retailers like Home Depot is Monument's goal. Although the lightweight construction seems similar to low cost NexGrill and other comparatively priced brands, Monument claims their quality and designs are slightly better. For example, "We use a technology called wet rolled steel. Oil is added to the process of rolling the steel. This gives a darker finish but importantly, more corrosion resistance than their (NexGrill) stainless". Only time will tell. Monument's warranty is the same as NexGrill; 8 years on the stainless steel burners and 1 year on everything else.
The problems we experienced with the warming rack, LED dial, and customer service wait times need to be addressed. Be that as it may, we like Clearview's, relatively powerful performance, external sear burner, and low price. Clearview receives our AmazingRibs.com Best Value Bronze Medal although we have some reservations and hope Monument takes care of their shortcomings. We're keeping an eye on this brand and wish them good luck at achieving their big box BBQ dreams.
Monument provided a Clearview for our tests.