Since the 1980s Genesis has been one of the most popular grills in the USA, appearing in backyards coast to BBQ coast. The Genesis II E-310 3-Burner Gas Grill features Weber's new GS4 grilling system, consisting of their Infiniti Ignition with an impressive ten year warranty, tapered-quadrangle shaped burners to replace tube burners, stainless steel flavorizer bars and a new grease management system located under the center of the cast aluminum fire box. A slide out tray funnels gunk into a disposable aluminum pan for easy clean up. Grates are porcelain enameled cast iron.
Weber rolled out the Genesis II line in 2017. We were among many disappointed. But an all new, much improved line of Genesis II came out in 2019. We're calling the new models Genesis II 2.0. A member of our Pitmaster Club had a good question, "How do I know I'm getting the revised Genesis II?" An obvious sign is sear burners. The previous Genesis II line didn't have any models with sear burner. Model numbers 315, 3225, 335 and 435 are new for 2019. Lastly, per Weber, serial numbers on the 2019 models start with AE or GU.
We tested the Genesis II E-335 which is the same as this model, but includes a few nice additional features like an enclosed cart and sear burner. Click here for our detailed review. Many gas grills cannot effectively produce intense searing temps and need additional sear burners to get that truly mouth watering steakhouse sizzle. Though we found the Genesis II 13,000 BTU stainless steel main burners had an exceptional temperature range capable of reaching 680°F, the additional 9,000 BTU sear burner on the E-335 goosed temps over 800°F and left no doubt about the searing performance..
iGrill3 Digital Thermometer
Our main complaint for just about every grill is the obligatory, built-in heat estimator in the hood. These 19th century gauges placed up high in the lid can be off by 50 to 100 degrees from the actual cooking temp. Since we cook down on the grates, it's always better to use a modern, digital thermometer and position a temperature probe at the cooking surface. Click here to learn about the importance of digital thermometers.
With their acquisition of iGrill Digital Thermometers, Weber is addressing this issue. Genesis II is "iGrill3 Ready" with a mounting place on the right side shelf for an optional iGrill 3 digital thermometer. It comes with two temperature probes and has inputs for two more. Download Weber's free, user friendly app to monitor temperature(s), set timers and alarms, check LP tank level and more.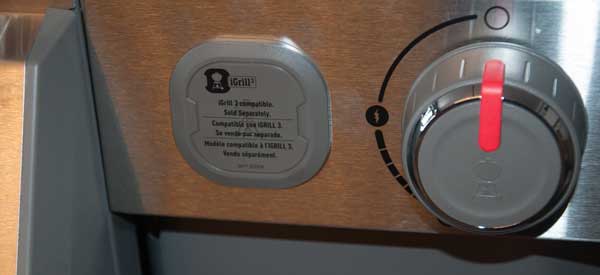 This Bluetooth device enables you to clip a digital probe on the grate to dial up the correct cooking temp, and poke another one in your food to monitor internal meat temp. We tested the iGrill3 readings with our Gold Medal Award Winning Fireboard Digital Thermometer and they were spot on. The convenience of an accurate, built-in digital thermometer is well worth the additional expense, particularly if you don't already have a digital thermometer. Check out iGrill3 on Amazon. Here's a brief video from Weber about iGrill3 installation and use.
E-310 has an open cart with left and right side shelves an LP tank concealer on the right. Tool hooks are built-into the side shelves and the LP models also include Weber's "Precision Fuel Gauge" which measures the LP tank weight and shows your approximate fuel level. There are two locking casters on the left and two large fixed wheels on the right.
Natural gas models are available, but no conversion kits, so decide before you buy. The Genesis II lineup is available in three and four burner configurations, for liquid propane or natural gas, with or without side burners and sear burners, and your choice of an open or enclosed cart. Below is the Genesis II E-410 4-Burner Natural Gas version.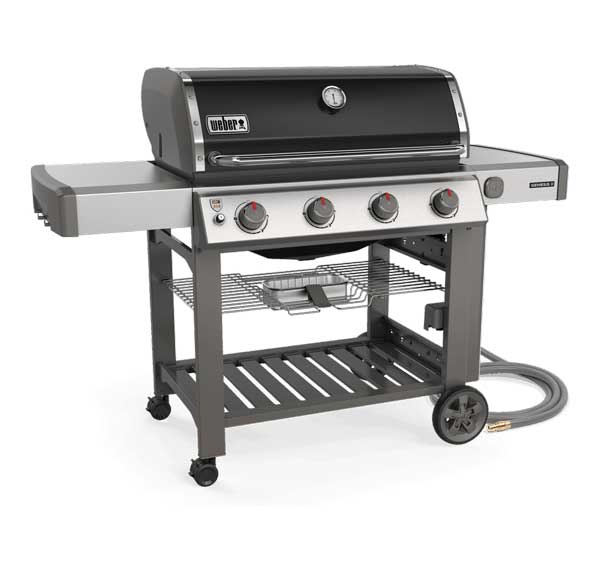 Genesis II has a bumper to bumper 10 year limited warranty on all parts.