The 2019 Weber Genesis II E-335 three burner with sear burner, side burner and an enclosed cart is one nice gas grill! This is the latest iteration of Weber's popular Genesis grill. In 2017, Weber rolled out two revised versions of Genesis, changing the names to Genesis II and Genesis II LX. We were among the many disappointed, particularly in the higher priced LX models. The whole situation seemed like a rare stumble for one of our favorite brands. Weber fans may now breathe a sigh of relief as Genesis returns in fine form with a second try. We're calling it Genesis II 2.0.
Thankfully, Weber reinstated models with sear burners. One of the questionable decisions made with the previous Genesis II was the complete elimination of sear burners. Many gas grills cannot effectively produce intense searing temps and need additional sear burners to get that truly mouth watering steakhouse sizzle. Though we found the 13,000 BTU stainless steel main burners on our E-335 had an exceptional temperature range, the additional 9,000 BTU sear burner goosed temps over 800°F and left no doubt about the searing performance.
A member of our Pitmaster Club had a good question, "How do I know I'm getting the revised Genesis II?" An obvious sign is sear burners. The previous Genesis II line didn't have any models with a sear burner. Model numbers 315, 335 and 435 are new for 2019. Lastly, per Weber, serial numbers on the 2019 models start with AE or GU.
GS4 Grilling System
Genesis II features Weber's GS4 grilling system. GS4 consists of Infinity Ignition, tapered-quadrangle shaped burners, and a redesigned grease removal system.
Weber claims Infinity Ignition is more robust and consistent than their older ignition systems, and they back it up with a ten year warranty. It has a single, battery powered ignitor with no crossover.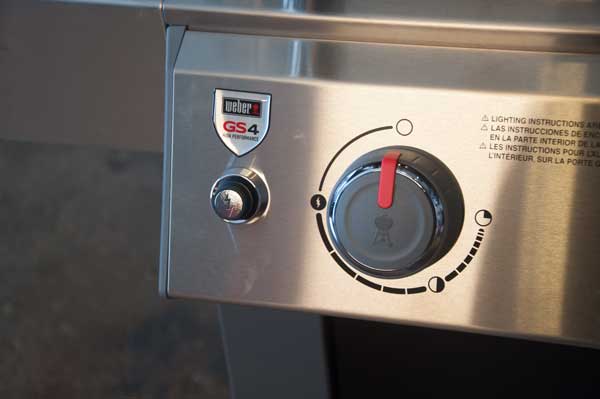 Crossover enables one lit burner to ignite other burners. Without crossover, the ignitor must be pressed to fire up each, individual burner. A small inconvenience, but Infinity performed flawlessly throughout our tests. The GS4 burners are meant to improve heat distribution. Note the unusual rectangular shape below.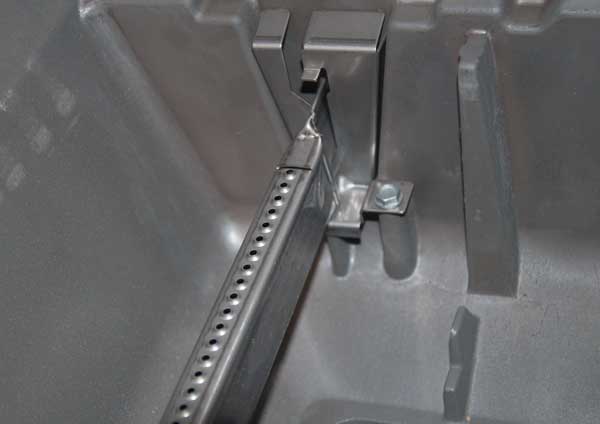 Our E-335 sear burner is shown below, located between the middle and right burner in the cast aluminum firebox. The rust-proof aluminum housing has great thermal conductivity for holding and distributing heat.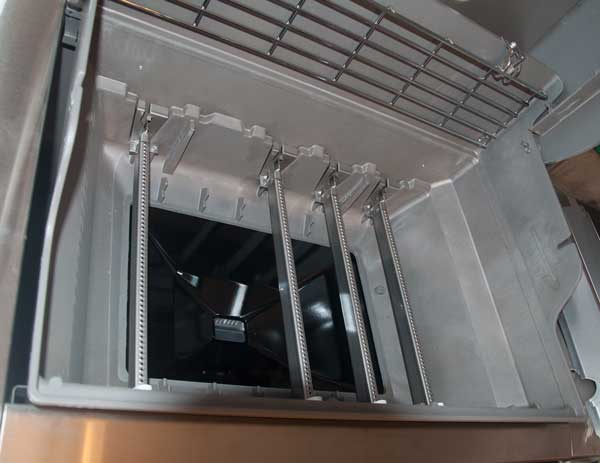 Under the center of the cast aluminum fire box is the grease management system: a black, slide out tray that funnels gunk into a disposable aluminum pan for easy clean up.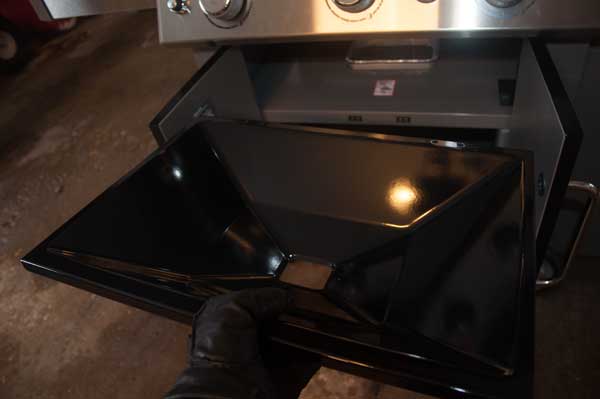 The disposable pan is set into a shelf in the cart. The system is the same on open cart models that have no doors.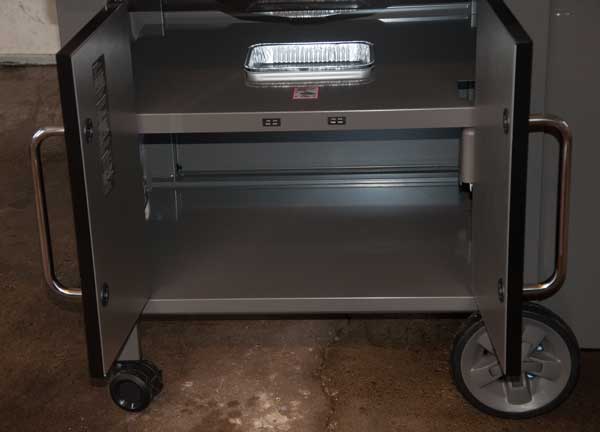 All Genesis II 2.0 models are now equipped with long-lasting, stainless steel flavorizer bars that sizzle drippings and shield burners. In the past, less durable porcelain enameled bars were standard and stainless steel bars were reserved for higher priced models. That's a nice upgrade for GII 2.0! Note the notches on the sides of each bar which provide a visual confirmation that the burners beneath are indeed lit.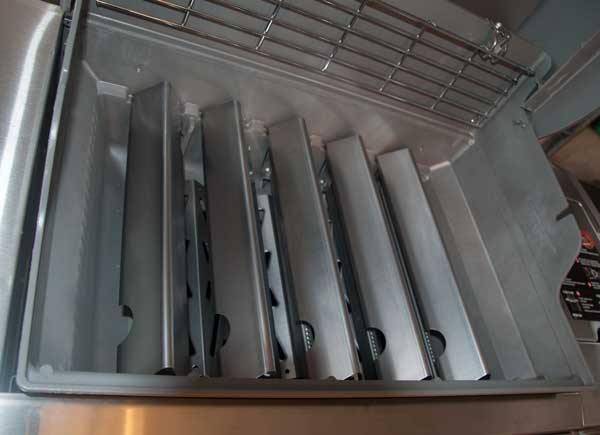 You gotta love the warming rack.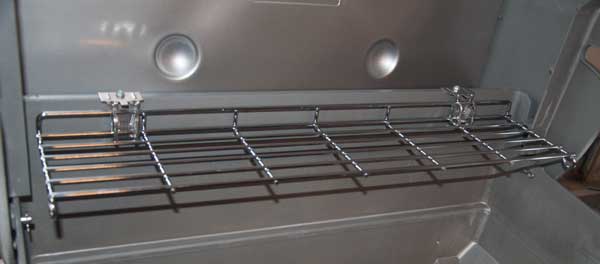 It quickly drops down and out of the way for rotisserie use or when you want clear access to the entire cook surface.
Most Genesis II models come with two sided, coated cast iron cooking grates with a flat side (below left) which creates thick sear marks and a thin side (below right) which Weber believes is "ideal for food such as shrimp and fish."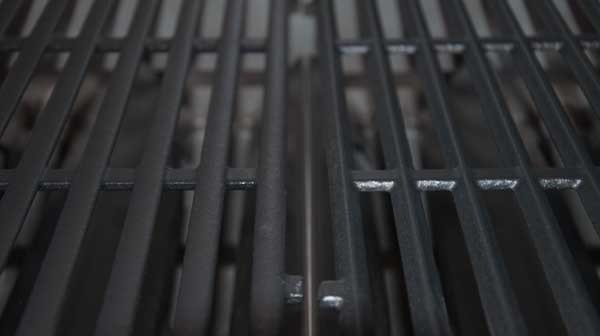 We're not fans of cast iron grates because they overpower foods with intense conductive heat at the point of contact, creating those alternating bands of dark brown and pale tan known as sear marks. If it's flavor you want (which you do), the ultimate goal is an even sear across the entire surface of the meat, which transforms dull, tan meat to a delicious flavorful crust thanks to the magical Maillard reaction. More Maillard = more flavor.
Gas grill manufacturers often rely on cast iron conduction to amplify heat from low powered burners and at least add some brown sear marks to food surfaces. Click here for more info on conduction, convection and radiant cooking. We clocked temps on our Genesis II at 680°F with all three main burners on high, and 820°F with the sear burner cranked. That's steakhouse sear power that doesn't need cast iron. Some of the premium priced GII models come with stainless steel rod grates, which we prefer. The stainless steel rods allow the radiant gas flames to develop a tasty brown crust over the entire meat surface. Click here to learn about grill grate designs.
Cooking temperature was fairly even with the back and center running slightly hotter as shown in our bread test below.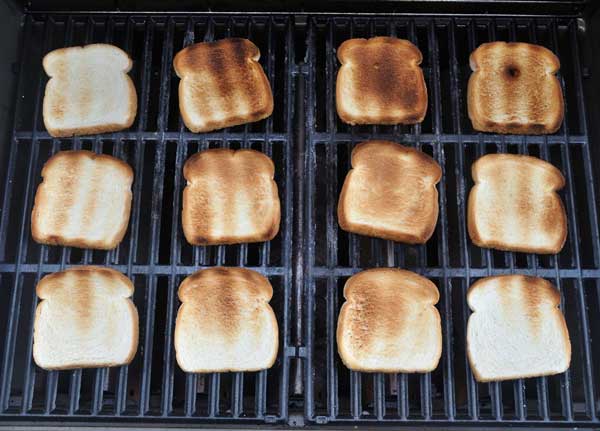 Let the grilling begin
A whole chicken was first on our test menu. You want to cook whole birds evenly at moderate temperatures to slowly crisp the skin. With all burners on low, the temp range of around 400°F was a bit too hot for slow roasting a chicken, so we changed course and went for a 2-zone setup, following Weber's instructions to turn off the middle burner and leave the left and right burners on Low. Then we placed the chicken in the middle in the indirect heat zone. Click here to learn more about the essential technique of 2-zone cooking.
To monitor the cooking temperature, we never rely on thermometers built into the grill hood as they are notoriously inaccurate. Instead, we placed our digital thermometer in the middle area where it registered a cooking temp of 295°F. The sweet spot for roasting chicken is 325°F. At that temperature, poultry cooks gently and thoroughly while developing delicious brown skin. Cook too low and you risk dry meat and rubbery skin; too high and you may have to snatch the bird off the grill to prevent burning the outside before it is properly cooked inside. We dialed up to 325°F by goosing the left and right burners almost to "Medium" on the control knobs and were rewarded with a crisp and juicy bird.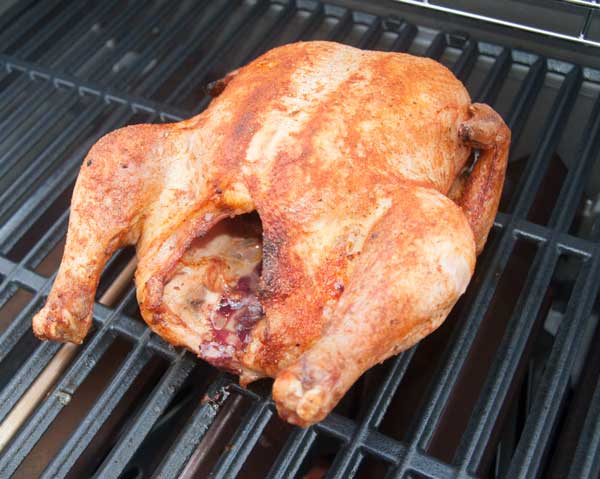 Setting up 2-zone cooking on Genesis II was remarkably easy and didn't require use of a water pan to moderate the temp as some gassers do. What's the difference between a water pan and drip pan? Good question. Click here to find out.
Sear Time!
The next test was a couple one and a half inch thick strip steaks. While Genesis II 2.0 main burners get mighty hot, models with additional sear burners like our E-335 blast past 800°F into steak house temps. You can sear foods like thin steaks, shrimp and veggies hot and fast. But if you want a thick steak with delicious, brown crust on the outside and a pink, juicy center, reverse sear is the way to go. With reverse sear, aka sear in the rear, you can make better than steakhouse steaks at home. The process is simple. Start cooking thick steaks low and slow at 225°F until the internal meat temp gradually reaches about 110°F, then crank the heat to the max and quickly sear the exterior.
Once again, we used a 2-zone setup. By leaving the middle and right burners off, we were able to dial up 225°F on our right, indirect side with the left burner set between "Medium" and "High." Time for a glass of wine while our steaks slowly reached the target temp. At 110°F internal meat temp we removed the strip steaks and cranked all four burners. After five minutes we returned the steaks to our blazing hot grill, flipping early and often while checking meat temp with our digital, instant read thermometer. When they hit about 130°F, we whisked them indoors to the cutting board. The result was a sizzled delicacy with bumper to bumper pink goodness inside. Click here for the recipe.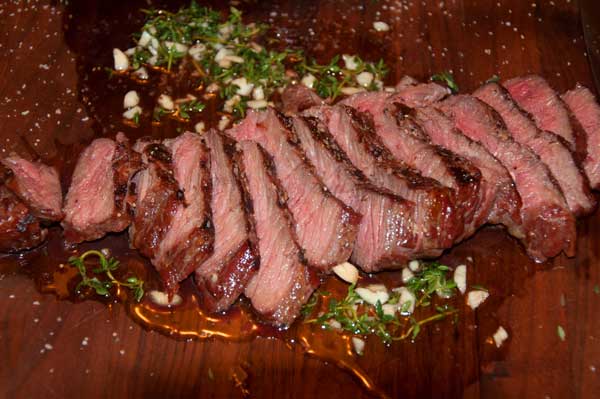 The steak above was prepared with a board sauce of olive oil with fresh garlic and thyme. Board sauces are an easy way to add flair and flavor. Click here to learn more.
iGrill3 Digital Thermometer
Our main complaint for just about every grill is the obligatory, built-in heat estimator in the hood. These 19th century gauges placed up high in the lid can be off by 50 to 100 degrees from the actual cooking temp. Since we cook down on the grates, it's always better to use a modern, digital thermometer and position a temperature probe at the cooking surface. Click here to learn about the importance of digital thermometers.
With their acquisition of iGrill Digital Thermometers, Weber is addressing this issue. Genesis II is "iGrill3 Ready" with a mounting place on the right side shelf for an optional iGrill 3 digital thermometer. It comes with two temperature probes and has inputs for two more. Download Weber's free, user friendly app to monitor cooking and internal meat temperatures, and set timers and alarms.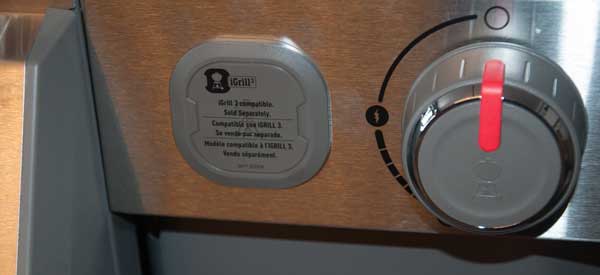 This Bluetooth device enables you to clip a digital probe on the grate to dial up the correct cooking temp, and poke another one in your food to monitor internal meat temp. We tested the iGrill3 readings with our Gold Medal Award Winning Fireboard Digital Thermometer and they were spot on. The convenience of an accurate, built-in digital thermometer is well worth the additional expense, particularly if you don't already have a digital thermometer. Check out iGrill3 on Amazon. Here's a brief video from Weber about iGrill3 installation and use.
Packaging and assembly
Packaging was excellent with all parts secured to prevent shipping damage. Weber's thoughtful design and quality construction were evident throughout assembly. We noted how parts were grouped and packed together in a logical way that mirrored the step by step instructions.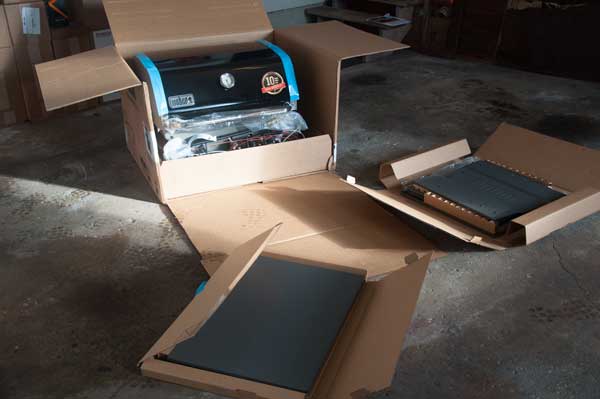 Conclusion
Genesis is back. It's easy to use, easy to clean, versatile, durable and backed by Weber's excellent customer support. The basic models with an open cart and no sear burner work fine, but we highly recommend spending the extra money for models with a sear burner, and if you don't already own a digital thermometer, the iGrill3 is a must have item. Keep in mind that Weber products are built to last, so you'll get many years of enjoyment from those useful extras.
The 2019 Genesis II lineup is available in three and four burner configurations, for liquid propane or natural gas, with or without side burners and sear burners, and your choice of an open or enclosed cart. Below is the Genesis II E-425 4-Burner Natural Gas version.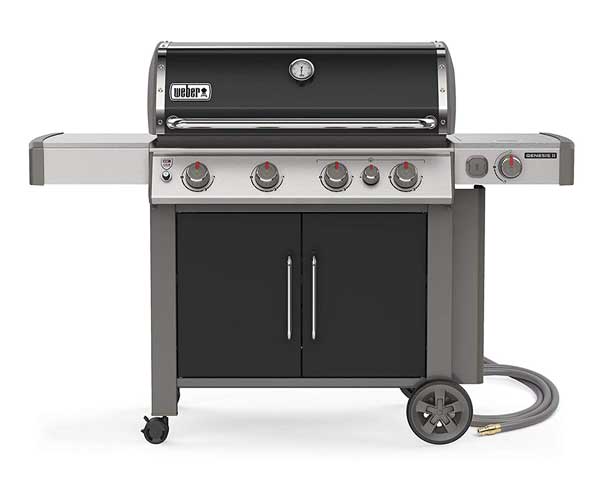 The left and right side shelves have integrated tool hooks and LP models have Weber's Fuel Gauge, which estimates gas tank level by weight. All models are available in black. Certain models are offered with stainless steel hoods and color choices of copper, crimson or smoke.
Genesis II has a bumper to bumper 10 year limited warranty on all parts.
We thank Weber for providing a Genesis II E-335 for our tests.