Weber Performer Deluxe 22″ Charcoal Grill Review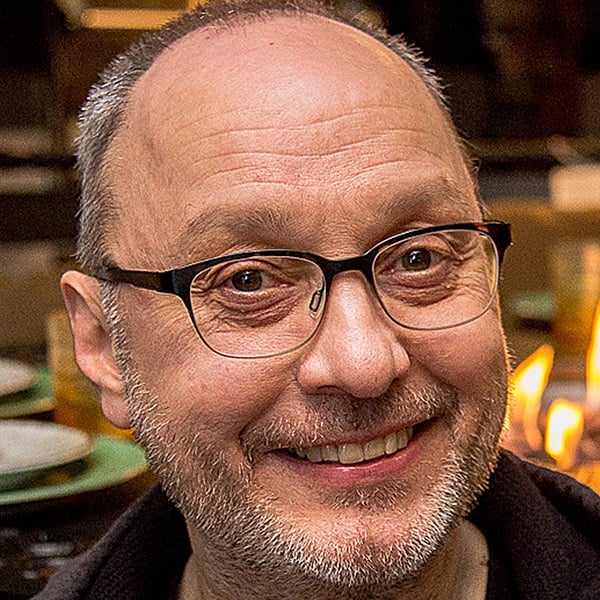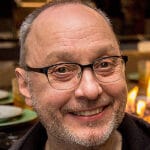 By: Max Good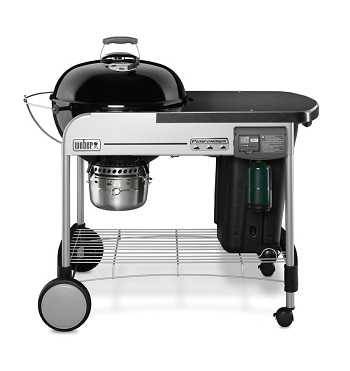 Weber's Performer Deluxe 22″ Charcoal Grill is a feature rich version of the basic Original Kettle 22″ on a cart. The new 2015 Performers come standard with Weber's Gourmet BBQ Cooking System which had been available only as an option. The system consists of Weber's plated steel 22.5″ grate with hinged sides for replenishing coal and a removable round center grate that let's grillers insert optional cook surfaces like a Wok, Griddle or Pizza Stone. A removable curved warming rack is also available.
The cart has two large wheels, two locking casters and a large work surface with built-in tool hooks and a removable LCD cook timer. It also has Weber's Touch-N-Go gas ignition that lets you light charcoal with a small burner under the coal grate, fueled from a one pound propane tank. A charcoal storage bin is located under the work surface. The new Performer Deluxe comes with two char-baskets to hold and easily move charcoal under the grate to create hot direct and cooler indirect zones. Another new feature is the redesigned nylon lid handle that adds a protective heat shield between your fingers and the lid. Check out these new features in the video below.
A tuck away lid holder cradles the lid off to the side while you tend the feast. Performers have an enclosed receptacle attached to the bottom to capture and hold ash so it cannot blow around. It comes off quickly for easy disposal of ash. Although the name changed from Performer Platinum 22.5″ to Performer Deluxe 22″, Weber specs declare the grate is still 22.5″ diameter with the same 363 square inch capacity. The obligatory lid thermometer is thrown in to sweeten the deal, but these antique heat indicators are inaccurate. Do yourself a favor and pick up a digital thermometer. You'll see an immediate improvement in your grilling.
Weber BBQ Kettles enjoy evergreen popularity from one generation to the next because they are durable and you can cook just about anything you want on them. Pile up coal on one side to sear steaks or set up 2-zone roasting, Build a nice even bed of coal for general cooking. Add a Slow 'N Sear and make great smoked ribs and brisket. Another useful accessory is the Smoke EZ Grill Conversion Kit, which not only turns your kettle into a smoker, but increases capacity as well. The tight seal between the lid and body makes the dampers very effective and provides excellent heat control.
Available in Black, Copper, Crimson or Green.
Let's debunk a myth: The parabolic shape of the Weber Kettle is not a more efficient heat reflector than other shapes. By far the vast majority of the heat is radiated directly from the surface of the glowing coals with some more reflected from the sides. Very little heat is being reflected off the curved bottom of the bowl. There is a solid barrier in the way: The bed of coals. Any heat that hits the bottom of the kettle just bounces back into the coal pile. So the parabolic shape of the kettle is no more efficient than a square box.
Weber offers their kettles in a variety of sizes and colors.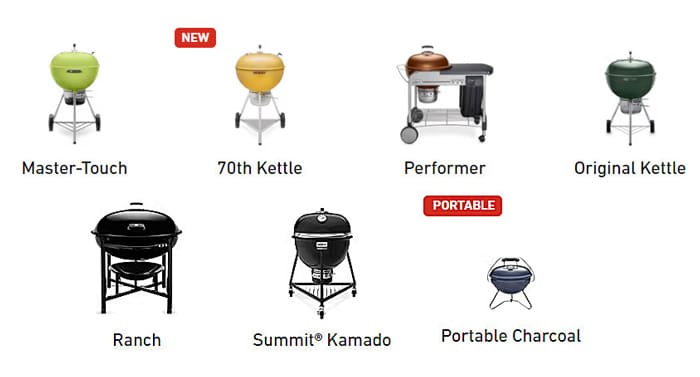 Model:

Performer Deluxe 22" Charcoal Grill, Formerly Performer Platinum 22.5"

Item Price:

$ 549.00

Where to buy (buying from this supplier supports this website):

Made in USA:

yes

Review Method:

Cooked On It
We have hands-on experience testing this product. We have also gathered info from the manufacturer, owners and other reliable sources.

Primary Function:

Grill

Fuel:

Charcoal

Primary Capacity:

363 square inches
Published On: 2/2/2015 Last Modified: 10/24/2022
Max Good - Max Good, AmazingRibs.com's Vice President of Product Reviews & Keeper of the Flame, is the man in charge of finding the best products for the AmazingRibs.com Equipment Reviews section. Max bottles his own barbecue sauce recipes and now sells them around the country.

---