Quality and attention to detail are the cornerstones of these coolers.
In the market for a quality high-end cooler? The Kong 50-quart cooler is a great option.
A relatively new player in the cooler field, Elkhart Products only began making and distributing Kong rotomolded coolers in early summer 2017. Elkhart, one of America's largest custom rotational molding companies has over 30 years' experience manufacturing custom and on-the-shelf plastic water and holding tanks and other molded products. Like the Cabela's cooler we reviewed here, when the lid closes you hear a noticeable hiss as the interior is pressurized.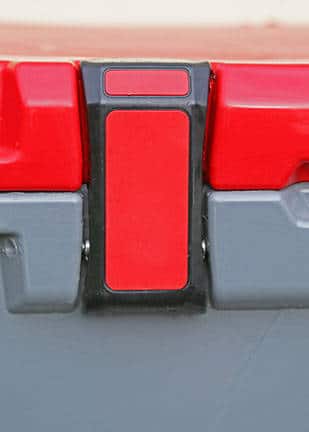 These coolers feature multiple tie-down points, multiple rotomolded pass-throughs, a clever system of multiple watertight compartments separated by dividers which double as cutting boards, molded lock eyelets,and a dual breather, rapid drain system. They are BPA free and include multiple holes for locking.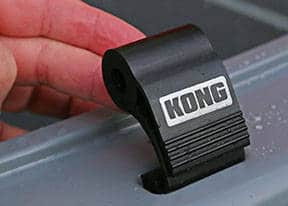 The Kong is available in four color schemes, and are IGBC (Interagency Grizzly Bear Committee) certified against destruction by grizzly bears.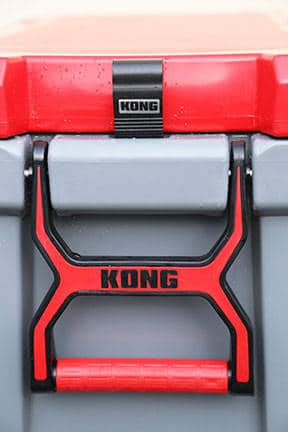 Test Details:
Ice retention. Ice lasted for 12.5 days.
Heat retention. Ham temperature dropped to 145˚F in 4 hrs.
Leakage/Dropped Damage. Did not leak when turned over on its side or top, or dropped from pickup truck, with only light abrasions on two corners and one side.
Hinges, latches and lid. Features top down pressure applying latches, and the lid is comfortable and safe to either sit or stand on.
Drain efficiency and speed. :50 seconds, with no water remaining. Drain plug has no attaching lanyard and could be misplaced.
Handles. Rigid, padded molded Bearpaw™ handles fold out of the way.
Dimensions. 30.5"L x 17.2"W x 17"H
Weight. 32 lbs.
Extras. "Krush Guards" (rubber devices to prevent a dropped lid from smashing fingers). Cooler can be divided into three compartments. When placed against a wall, the Kong lid still can open to 45˚ without moving the base.
Cost. Approx. $269.
Warranty. Limited lifetime warranty.