"There Is No Such Thing as Too Much Barbecue" is a wonderful, poetic ode, a short essay, by Jason Sheehan. It was broadcast by National Public Radio's All Things Considered on Memorial Day, May 29, 2006 as part of their "This I Believe" series. You can read it or listen to it by clicking here.
Below are the best barbecue websites and best barbecue forums, message boards, discussion groups, and mailing lists. Click here to see links to the barbecue associations, clubs, and competitions.
Of course, this is alphabetic, and since people have been known to copy and paste my pages, I need to include AmazingRibs.com in my list. Some guy named Meathead writes mostly about the science of barbecue, grilling, and outdoor cooking, but there's a lot of good info about food, ingredients, and techniques. Even has some vegetable recipes.
Spotlight on our favorite products
Our Favorite Backyard Smoker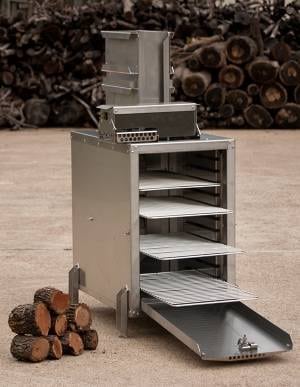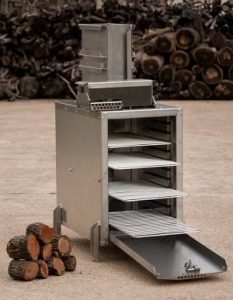 The amazing Karubecue is the most innovative smoker in the world. At its crux is a patented firebox that burns logs above the cooking chamber and sucks heat and extremely clean blue smoke into the thermostat-controlled oven. Click here for our review of this superb smoker.
– THIS IS NOT AN AD –
Best Barbecue Forums, Message Boards, Discussion Groups, and Mailing Lists
There are a number of places on the internet where you can go to get answers to your questions. These forums are discussion groups that are chock-full of recipes, tips, and solutions to problems. You can graze 'til you're gorged.
Of course we think our Pitmaster Club's forum "The Pit" is the best! We are the only one that pays our moderators, and we charge $23.95 per year to join, so, although there are often lively debates, conversation is incredibly civilized and friendly. The pit contains many one hour videocast Pitmaster Seminars featuring interviews with the world's top pitmasters there, and we add a new one every month. There is also a weekly 30 minute audio Pitcast with news from the world of barbecue. The forum has discussions of the world's best BBQ restaurants, recipes, techniques, grills, smokers, accessories, competition barbecue, drinks, a place to sell or trade. Your 24 hour connection to barbecue and the barbecue community.
Here are some others:
Radio, podcasts, videocasts
The BBQ Central Show with Greg Rempe. Every Tuesday at 9 p.m. Eastern, for two hours, the immensely entertaining and opinionated Rempe interviews pitmasters and authors at length in the internet. There is a heavy slant to the competition world. Somehow he manages to squeeze out of them real secrets and tips. Because he is not on a normal "terrestrial" radio station he can spend real time with his guests and cover a topic in depth. If you listen to him you can be ready to compete. You can hear him live, and at the same time participate in his chat room, on the Outdoor Cooking Channel or you can listen to his archives on iTunes, Roku, and by clicking the link above.
The Outdoor Cooking Channel. Similar to a TV channel, the Outdoor Cooking Channel features live broadcasts and reruns of programs created about our favorite topic. There's Rempe's BBQ Central Show (above); GrateTV with Bill West and Jack Waiboer; Cooking Everything Outdoors Show with Gary House; Cooking With Butt Rub featuring "Bad Byron" Chism; Backyard BBQ and Grilling with Kevin Bevington; Grill Girl with Robyn Lindars; The Smokin Guitar Player with Fred Bernardo; BBQ Superstars with Darryl Mast; Celebrity Grill with JM; Cooking Up A Story from Rebecca & Fred Gerendasy; Championship BBQ with Dennis Stewart; and The Deck Chef with Kent Whitaker. The broadcasts are also available on Roku.
CowboyCook. Jeff Tracy is dedicated to the Western Lifestyle and has a weekly radio show syndicated on may stations. Click the link to listen in. You might even stumble across a chat with Meathead.