Here is the best way to get nicely chopped onion bits called "diced onion":
1) With a really sharp knife, cut the onion in half "Pole to pole" slicing through the stem and root. Chop off the stem end but leave the root end on to hold it together. There will be fewer tears with a sharp knife. If you cry easily when cutting onions, swim goggles will look goofy but put an end to the tears! Peel the dried outer layer off. You can save it for throwing in the pot with meat trimmings for making stock. Sometimes there is a slippery membrane between layers, and if this doesn't come off with the outer layer, get rid of it so your hand doesn't slip while chopping.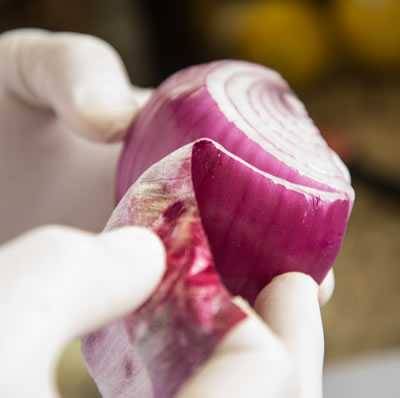 2) Place the sliced center on a cutting board with the stem end towards your palm. Hold the knife on its side and slide the knife through it parallel to the board almost to the root but not through it. Do it again and again, making even slices. Now cut downward from top to the board making slices about the same thickness.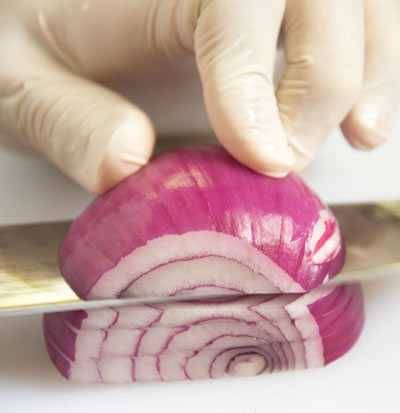 3) Working your way in from the sides, make nice even slices all the way to, but not through the root.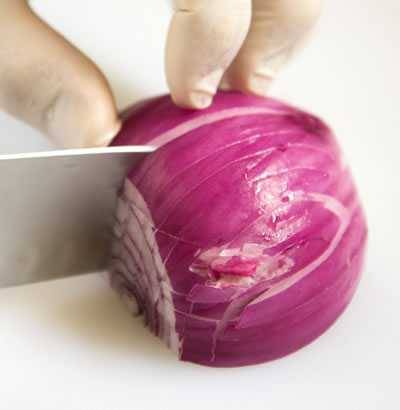 4) Slice downward from the flat end creating nice even dices. Hold the onion in place with your fingernails, but curl your fingers inward so they are never in danger of being cut.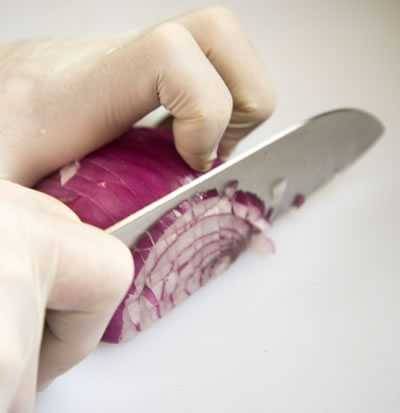 5) Work your way back until you get to the stub attached to the root.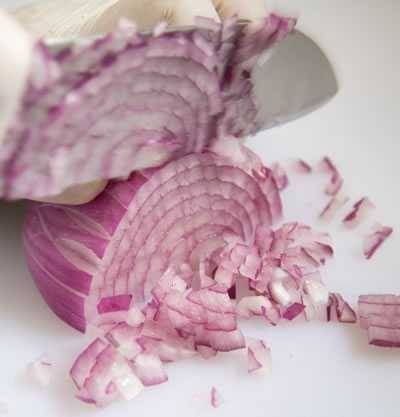 6) When you get near the root, you'll have a stub of unchopped onion. Remove the root, and dice up that last slice.
7) Voila: Perfectly even diced onion bits. Here's a good tutorial on knife skills with links to more references.