Pizza, bread, pie, cakes, cookies. They all start with flour (well, there are a few exceptions). You can make flour from many grains, seeds, beans, and even roots. The most common flour is made from wheat, but there is also rye, rice, corn, buckwheat, chickpeas, potatoes, and even hemp seed!
Sometimes oils must first be extracted, the outer husks removed, the inner germs separated, and then the the grains/seeds/whatever are dried and smashed in a process called milling. Sometimes they are bleached. Because flour contains oils that can go rancid, flours should not be stored at room temp for longer than four months. Some people store it in the fridge, but that is not necessary. It should be stored in an airtight container. It attracts a small pest called the pantry moth.
I strongly recommend that you use a digital scale to measure flour. There can be a lot of air in flour and a cup or other volumetric measure can vary significantly depending on how the flour is ground and how tightly packed the cup is. But when it comes to weight, a pound is a pound the world around.
Wheat flour is the type we use most often for pizza, breads, and pie crusts. It is a powder that is high in carbohydrates, protein (called gluten), amino acids, oil, vitamins, and minerals. There are different types of wheat flours in the size of grains and the percentage of protein.
The texture and crumb (the interior of the loaf or cake as opposed to the crust) is heavily reliant on the percentage of protein. Low protein flours are usually lighter and softer.
Whole Wheat Flour. Made from the whole kernel with the bran, endosperm, and germ. It is tan in color and about 14% protein.
Bread Flour. A bleached white flour about 13%.
All Purpose Flour (APF). A bleached white powder made from the endosperm of the wheat. There is no urgent need to stock any other flour than APF. Pizza fanatics have become a bit weird about their flour choices, matching them to oven temps, using bread flour at lower temps, APF for medium temps, and 00 (double ought) for higher temps. I find that all purpose flour (APF) works fine, no extra inventory necessary. About 12% protein.
Pastry Flour. About 9% protein.
Cake Flour. A bleached white flour, this has the lowest gluten content of wheat flours so it is used for light products like sponge cake. About 8%.
Gluten Free Flour. A blend of non-wheat starches such as rice flour, tapioca starch, and potato starch.
About yeast, baking soda, and baking powder
Yeast, baking powder, and baking soda are all leaveners, which means they burp a lot. The make carbon dioxide gas (CO2) when you make or bake batters and doughs. The gases help the dough or batter rise and creates air bubbles making the final product puffier, lighter, and airier.
Yeast is alive and ferments the sugars, and takes hours. Baking soda and baking powder are chemical leaveners. That means they react with liquids and form CO2 fairly quickly. Click here for more about the science of yeasts.
Baking soda is the common name for sodium bicarbonate (aka bicarbonate of soda) and when it is mixed with an acid like buttermilk, sour cream, yogurt, vinegar, or lemon juice, it makes CO2 and the reaction happens pretty quickly. Baking soda also improves browning and weakens gluten bonds so cookies will spread out.
Baking powder also has sodium bicarbonate but it has something else, a powdered acid, usually cream of tartar, which is a byproduct of winemaking (that's what's in the crystals stuck to the cork). To activate, all it needs is a water based liquid like water or milk. No acid needed. Most baking powder is labeled "double-acting." It starts belching as soon as the water hits it, and the second act is when it is heated in the oven.
Because the acidity of a recipe can vary significantly, you often need both baking powder and baking soda to get the right texture and flavor. You have to be careful: they can be quite bitter if you use too much. And baking soda can neutralize the zing that comes from buttermilk. Here's where baking recipe developers earn their keep, figuring out how much of each to use.
Kitchen scales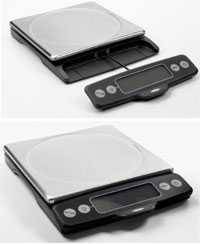 I don't know how I lived without a good, accurate digital kitchen scale for so many years. It is so important. Look at salt for example. 1 cup of table salt has almost twice as much salinity as a cup of Morton's kosher salt because Morton's kosher salt has more air space between the grains. But a pound of all salts contain exactly the same amount of sodium chloride. Without a scale, making a brine requires a calculator.
Flour and sugar have the same problem. Packed flour or loose flour. Big diff. Ever try to measure a tablespoon of honey? Did you get it all into the bowl or leave a lot of it on the spoon?
My favorite scale is the OXO Good Grips Stainless Food Scale with Pull-Out Display.
It can weight accurately up to 11 pounds as well as fractions of an ounce. Push a button and it converts to metric. Put the bowl on the scale and push a button and it zeros out so the bowl's weight is not included. The top comes off for easy cleaning. It will change your life.