We rarely review big commercial smokers like Ole Hickory's EL-EDX that are used in barbecue restaurants. Although we occasionally get phone calls to order our "Amazing Ribs" for takeout, we're not a restaurant and couldn't effectively run high volume professional machines through the rigorous testing regimen we perform on residential grills and smokers. There'd be too much leftover brisket! Plus if Ole Hickory had planted one of these 2,600 pound behemoths on our backyard deck, the deck would collapse.
Nonetheless, when they invited us to the 2021 Windy City Smokeout in Chicago to see their popular EL-EDX Commercial Smokers in action, how could we say no? This highly anticipated event took place not too far from our backyard. After the cloistered, pandemic winter of 2020, event-starved Chicagoans turned out en masse on a beautiful Friday in July.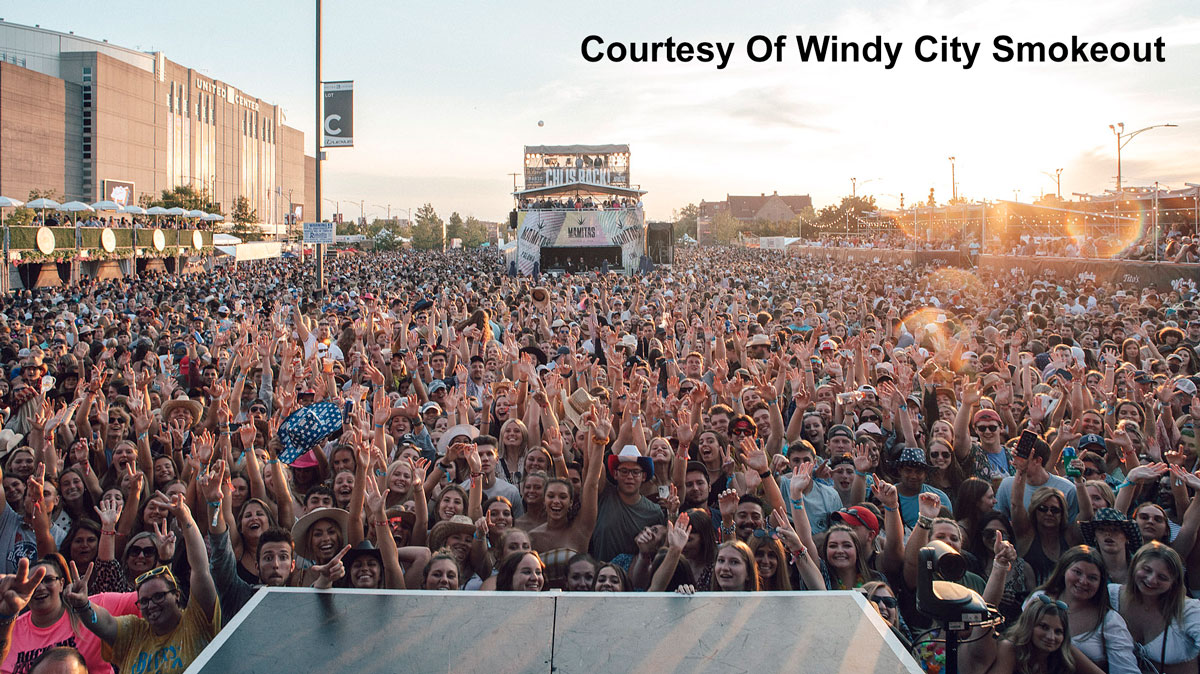 As did luminaries like Rodney Scott, who was just elected to The Barbecue Hall Of Fame along with our own Meathead.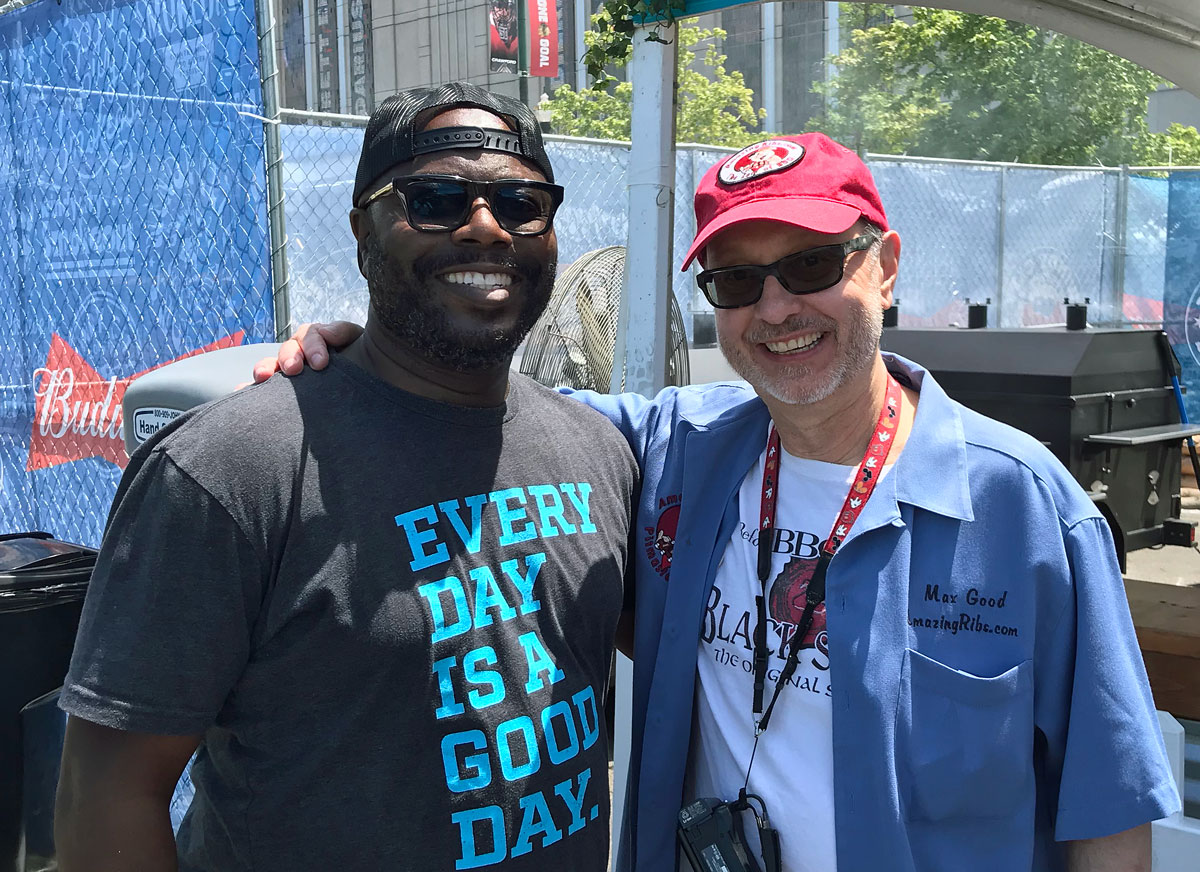 Ole Hickory arranged for our tour of their EL-EDX Smokers behind the booth at Chicago's Bub City BBQ.
Smokin'!
Big commercial smokers like the EL-EDX are made for the high output needs of restaurants and caterers. They must be efficient, effective, dependable and capable of cranking out lots and lots of food. The EL-EDX has twelve 18 inch x 48 inch stainless steel racks for 72 square feet of cook surface said to accommodate 40 briskets, 80 Boston butts, 168 half chickens, 72 whole chickens, 105 racks of ribs or 32 turkeys. The interior is 12-gauge steel with welded seams. The exterior is 22 gauge stainless steel lined with mineral wool insulation rated at 1,200°F. The whole unit is built around a tubular steel frame.
The insulated firebox holds up to two fireplace logs for smoke flavor.
Like what you're reading? Click here to get Smoke Signals, our free monthly email that tells you about new articles, recipes, product reviews, science, myth-busting, and more. Be Amazing!
And it cooks with a 65,000 BTU gas burner with electronic ignition.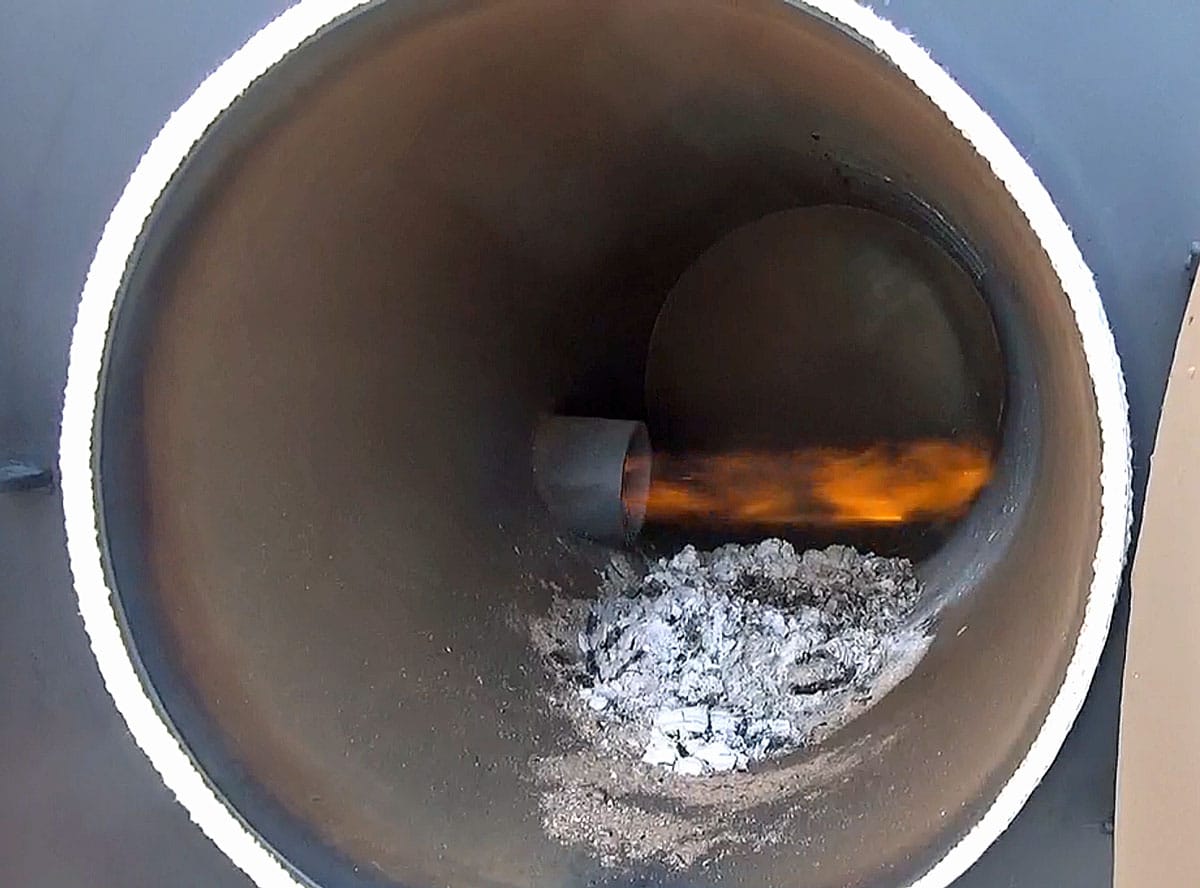 All the wood in the image above was reduced to ash and the unit was being used as a warming oven. It can run on propane or natural gas. Barbecue competitions don't allow gas smokers so Ole Hickory offers an optional "competition switch" to shut off gas and cook exclusively with charcoal and wood to comply with the rules. Click here to learn all about cooking on wood, charcoal and gas.
A two-inch brass ball valve drain on the underside empties grease from all that fatty meat.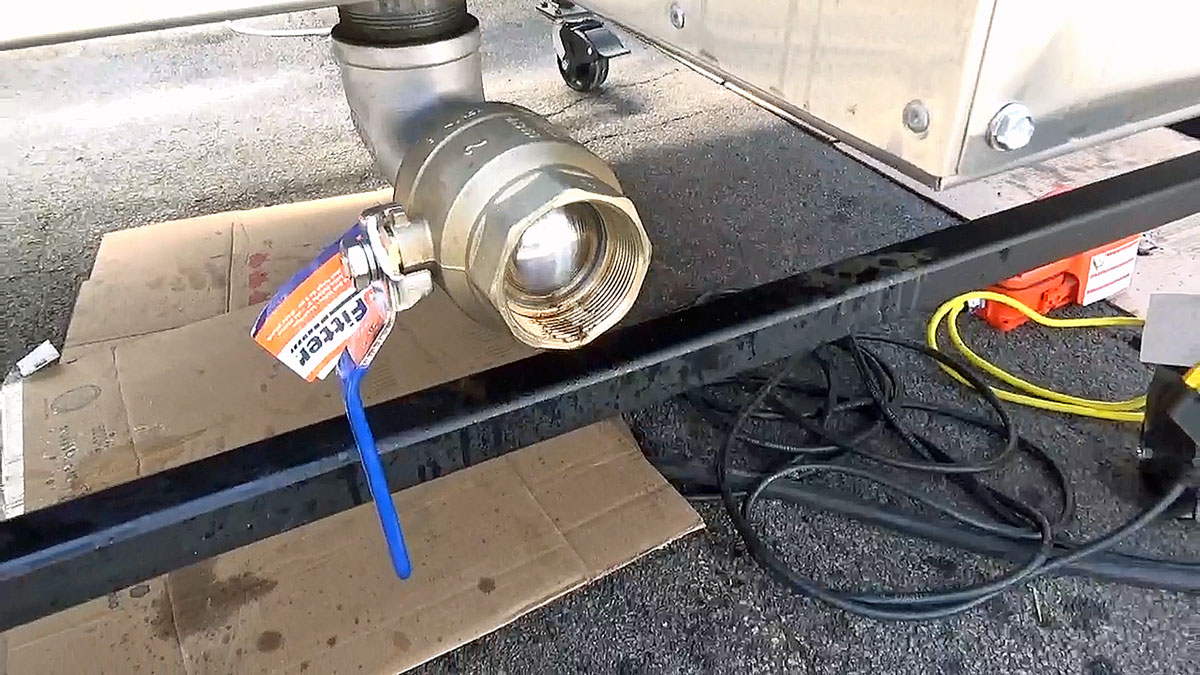 This big boy rests on a heavy welded frame with large casters. It can also be ordered trailer mounted.
Rotisserie/carousel design
A rotisserie or carousel moves the cooking racks slowly around like a Ferris wheel. The constant movement within the smokebox from bottom to front to top to back ensures foods don't dwell in one section and promotes even cooking. The circular movement also allows meats to self-baste as BBQ drippings from the top fall on the racks below. A one quarter horsepower motor propels the entire chain driven system.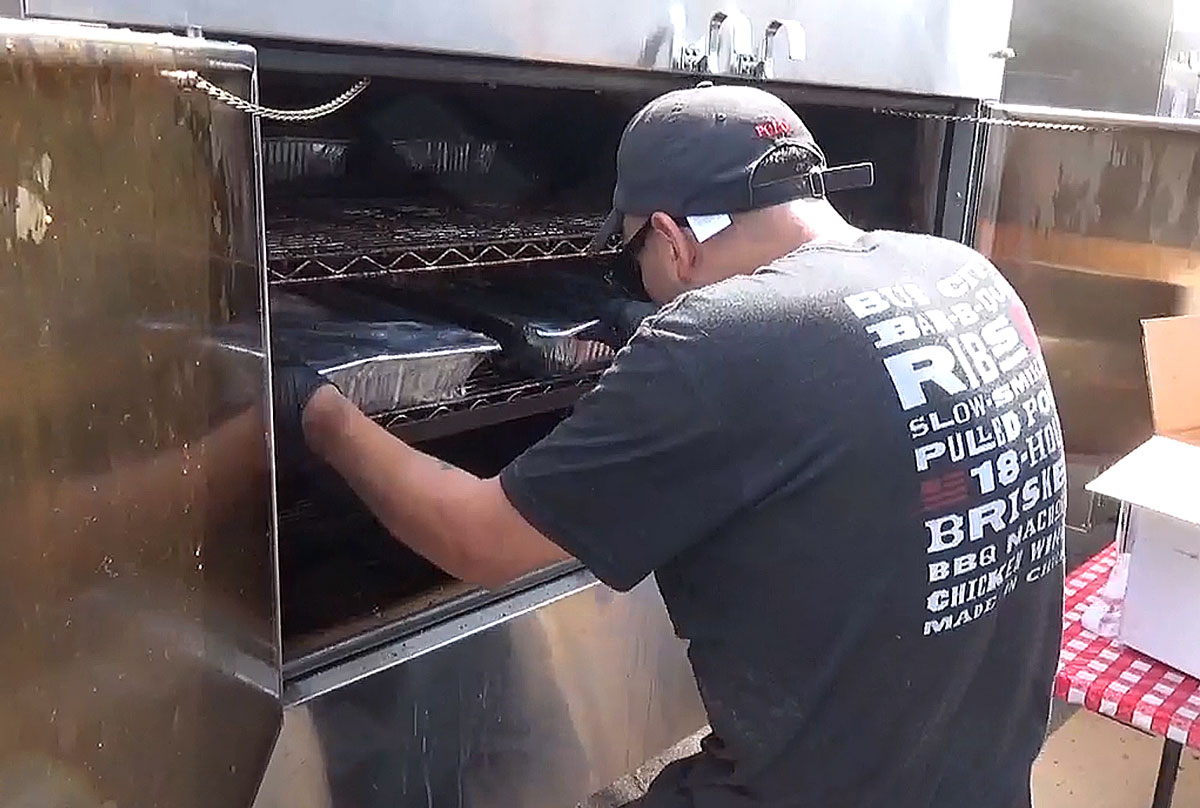 When the doors open, the motor stops. The cook can advance the racks as needed with a foot pedal, a standard feature.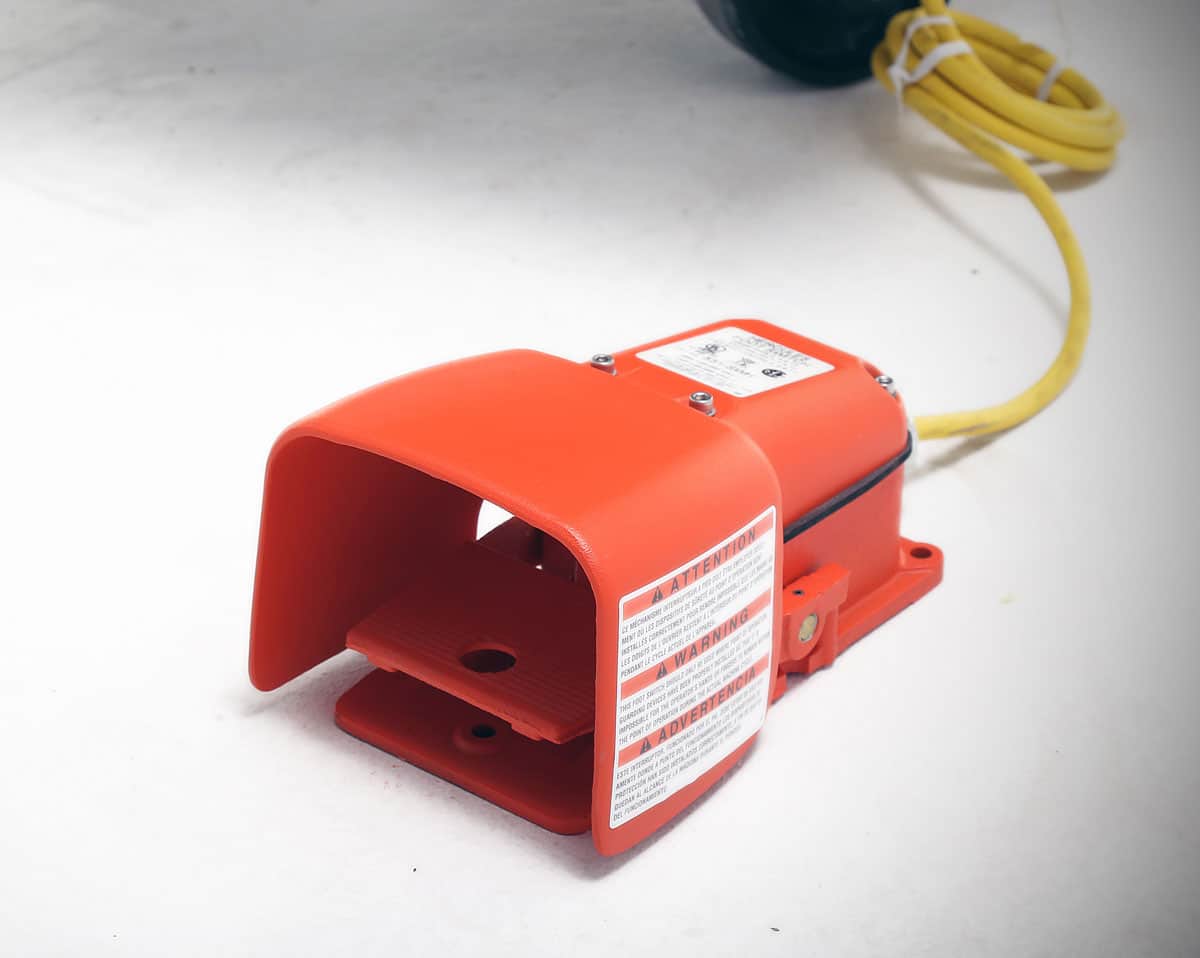 Step on it daddio!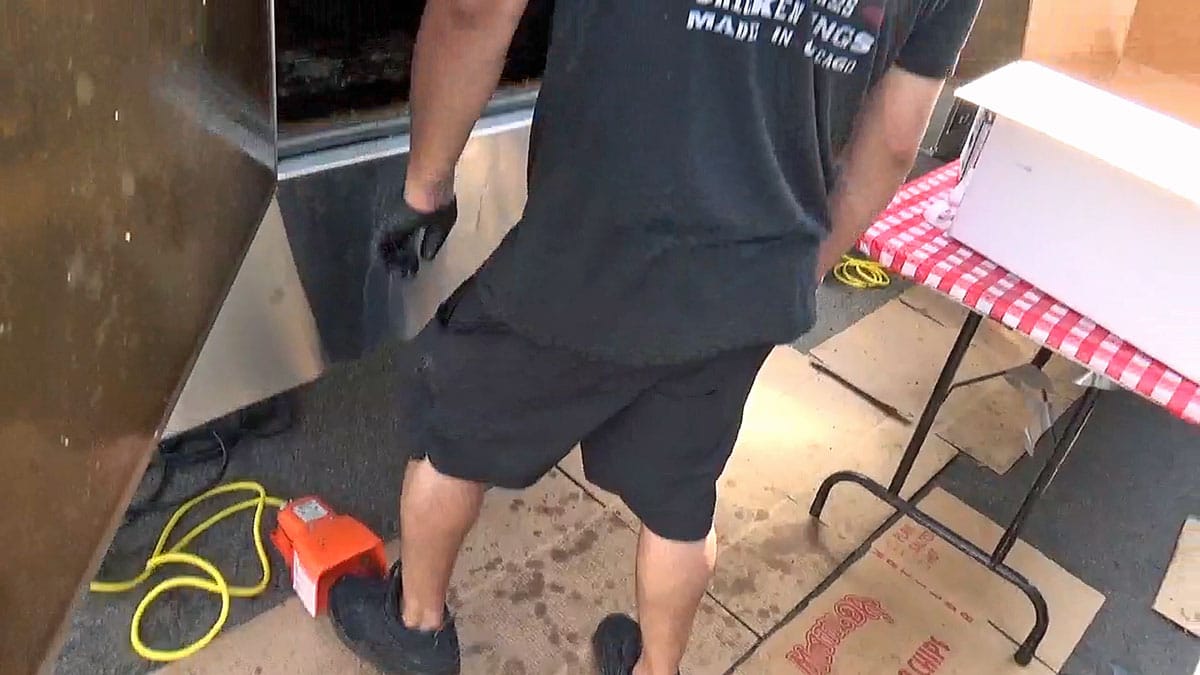 Hungry for more ribs recipes, tips, and techniques? Click here to download our ebook "Amazing Ribs Made Easy" $3.99 on Amazon (free Kindle app runs on all computers and devices). Or, get this book and others FREE as a member of the AmazingRibs.com Pitmaster Club. Click here to join.
Ole Hickory also makes models with fixed, slide out racks as opposed to the carousel style. We're told there's much debate about the superiority of one over the other. Seems the choice is a personal preference and often based on the cook's history. Folks that started out with fixed racks often prefer to stick with them.
Either way, two convection fans in the upper back constantly circulate heat and smoke.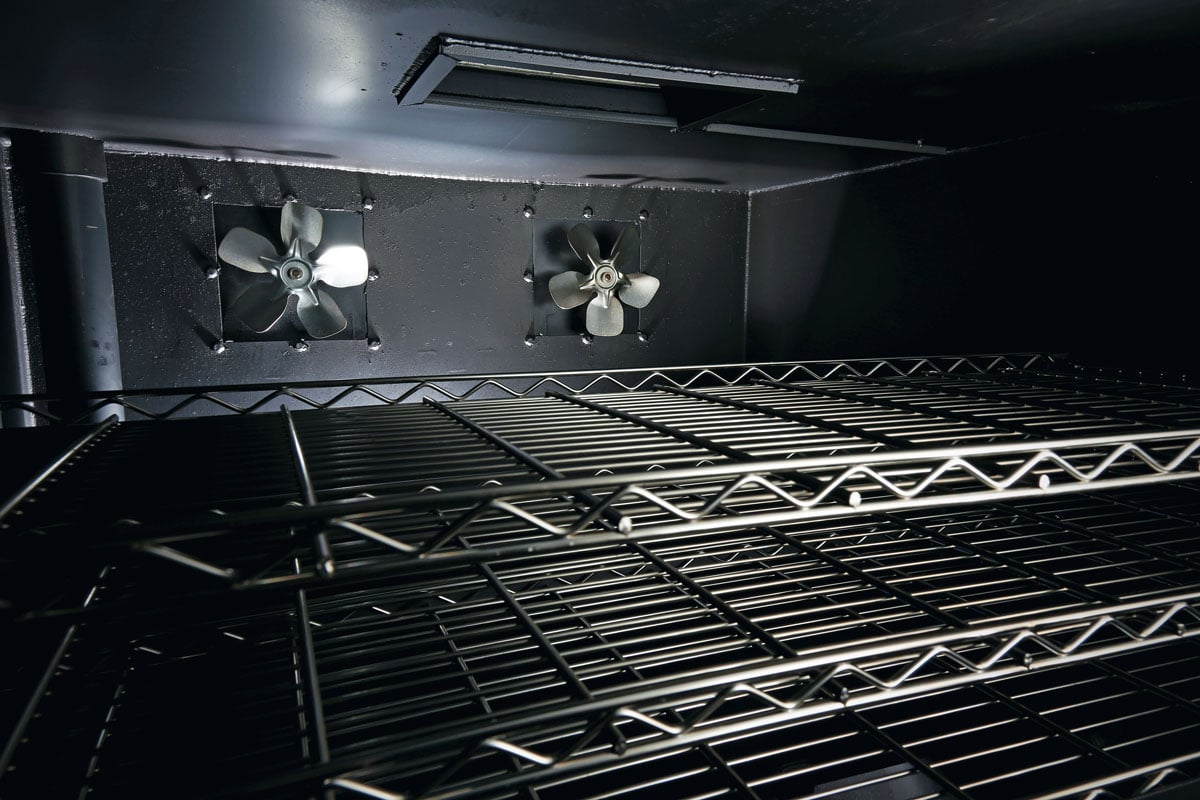 And a four-inch diameter flue serves as a heat and smoke exhaust.
Control Panel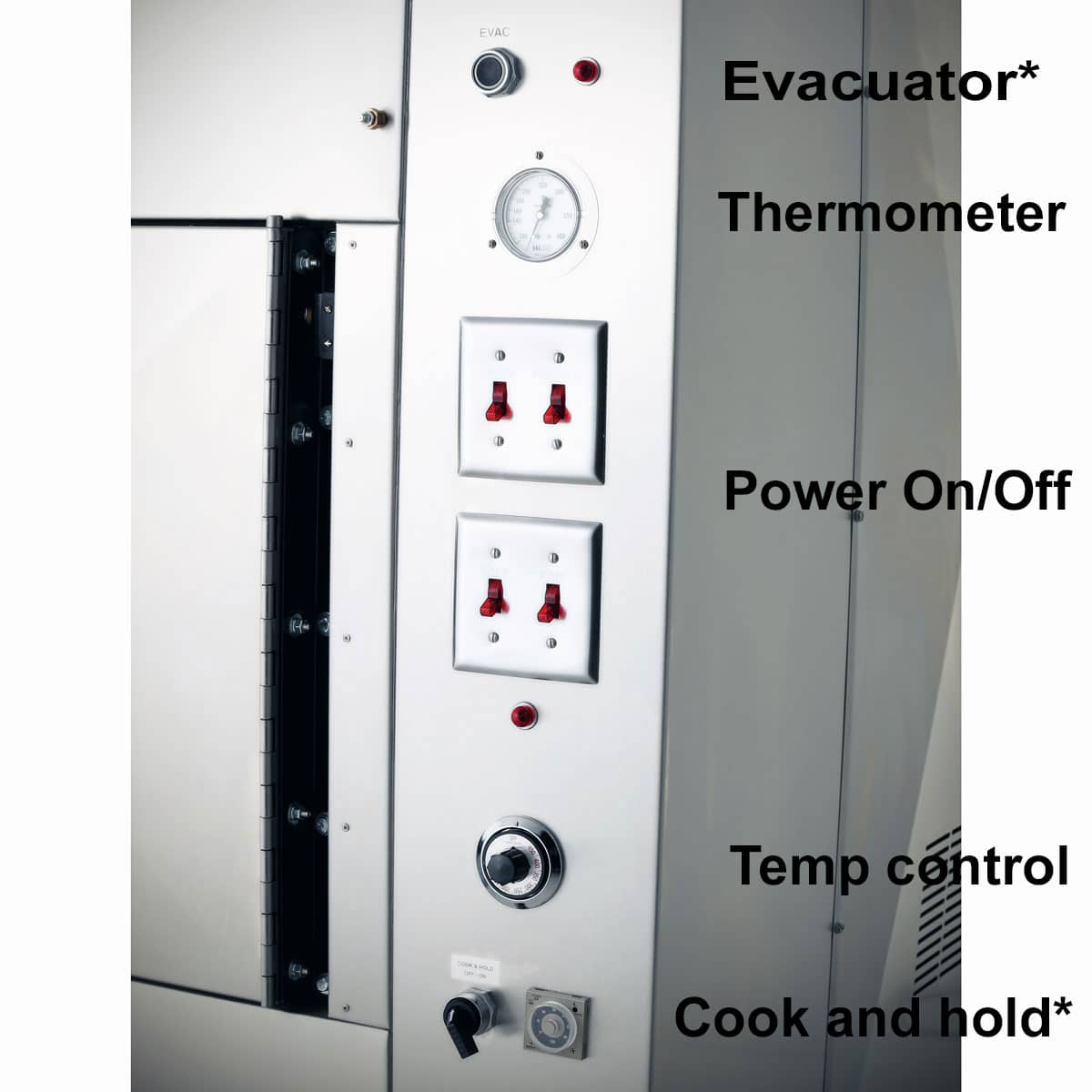 Standard features on the control panel include:
Thermometer.
Four Power On/Off switches – Main Power, Burner Ignitor, Rotisserie Motor and Fan Motor.
Temperature control dial.
*Optional features include the Evacuator, which prevents smoke from billowing into the room when the doors are opened, and Cook and Hold, which allows the operator to set a cooking time and automatically drop the smoker down to a moderate holding temperature.
Conclusion
Ole Hickory has been around since 1974. They are well known, well regarded and very popular among commercial pitmasters. We interviewed some Ole Hickory owners at the Smokeout and they unanimously sang the praises of their smoker's performance and the company's customer care. If one picture is worth a thousand words, these beautiful butts speak volumes.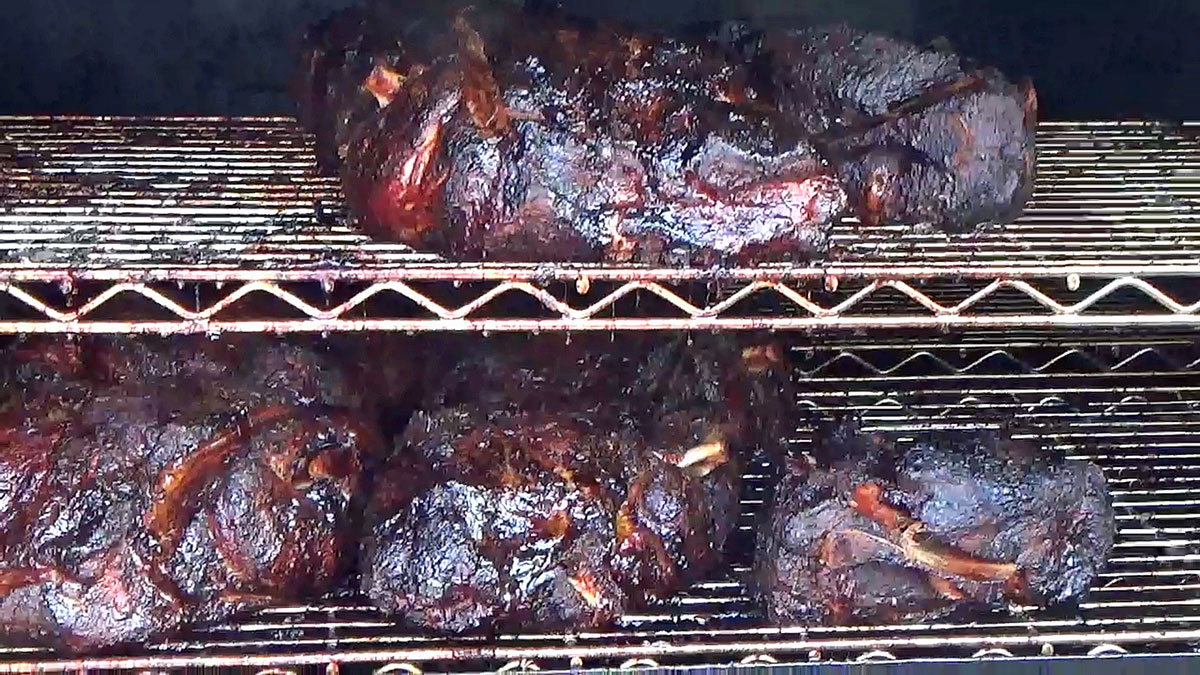 Restaurateurs looking for a professional smoker of this size will likely consider Ole Hickory's EL-EDX, or one of their many other professional models. They offer a variety and, believe it or not, this one is not their biggest. They also make smaller models for competitions and for residential use. Click here for our brief review of their Ace BP residential smoker.
Warranty
Warranty is 12 months for parts and labor. Although Ole Hickory has tech support, they work with buyers to identify local service technicians who can quickly arrive on site to correct any problems that cannot be addressed over the phone. Often these are the same people who service the customers' other equipment such as refrigerators.