The Man Behind The World's Leading BBQ And Grilling Resource To Join 42 Esteemed Legends
We are thrilled to announce that our founder and "barbecue whisperer and hedonism evangelist," Meathead, will be inducted into the Barbecue Hall of Fame on Saturday, September 18 during the 2021 American Royal World Series of Barbecue at the Kansas Speedway in Kansas City. Joining Meathead in the 2021 class of inductees will be restaurateurs Ollie Gates of Gates Bar-B-Q in Kansas City, Arthur Bryant of Arthur Bryant's Barbeque in Kansas City, Rodney Scott of Rodney Scott's BBQ in Charleston, SC, and Lyttle Bridges Cabiness of Bridges BBQ in Shelby, NC. Bryant and Cabiness are both deceased.
According to the American Royal Association which oversees the Hall of Fame, barbecue's top honor "recognizes the significant contributions to the advancement of barbecue. It serves to promote and encourage the growth and public support of barbecue by providing official and public recognition honoring individuals, living or dead, who by extraordinary achievement and service, have made outstanding and significant contributions to barbecue as a hobby, sport, and/or culinary experience."
Spotlight on our favorite products
GrillGrates Take Gas Grills To The Infrared Zone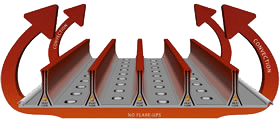 GrillGrates amplify heat, prevent flare-ups, make flipping foods easier, kill hotspots, flip over to make a fine griddle, and can be easily moved from one grill to another. Click here for more about what makes these grates so special.
– THIS IS NOT AN AD –
Since 2005, Meathead has reached millions of people with authoritative barbecue and grilling information through AmazingRibs.com, making it by far the most popular barbecue and grilling resource. His book, "Meathead, The Science of Great Barbecue and Grilling" made the New York Times Best Seller List and it was called one of the 100 best cookbooks ever written by Southern Living magazine.
Meathead learned to grill from his father, a food technologist, and would often work the grill at the family restaurant, the Oleander, in Sarasota, FL. At the University of Florida in Gainesville he learned on an in-ground cinder block pit at YT Parkers BBQ. When he heard the news about the Barbecue Hall of Fame he said, "Now maybe I can get the trolls on Wikipedia to accept my edits." He added, "I am indebted to my team who have helped spread the gospel of barbecue with both wit and wisdom. Thank you also to our readers and especially the 17,000 members of our Pitmaster Club. We love you."