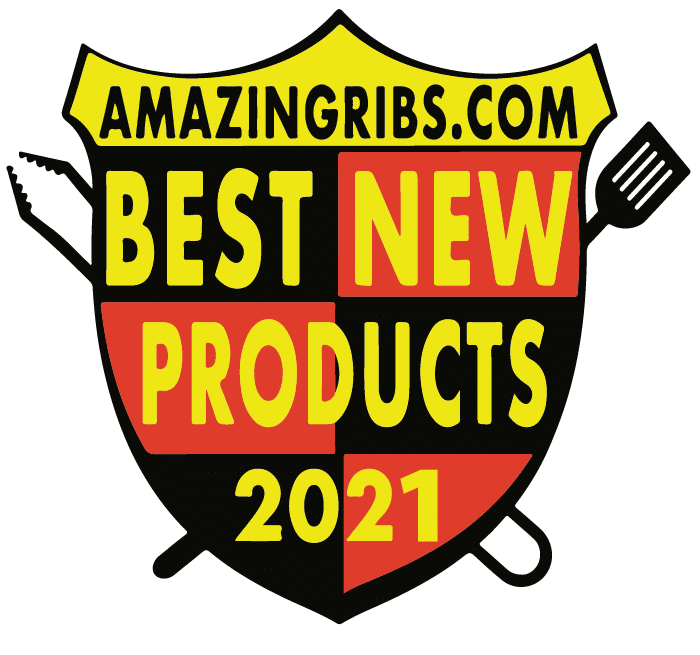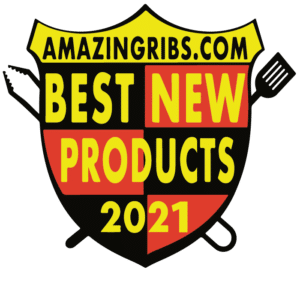 The Portable Kitchen cast aluminum tour continues with their new version of the PKGO Portable Charcoal Grill, now upgraded to the PKGO Camp and Tailgate Grilling System. It follows the elegant design and heavy, rust-proof cast aluminum construction of their full size PK360 which received our top Platinum Medal rating.
Self described as "small but mighty" the new PKGO comes in two versions.
PKGO HIBACHI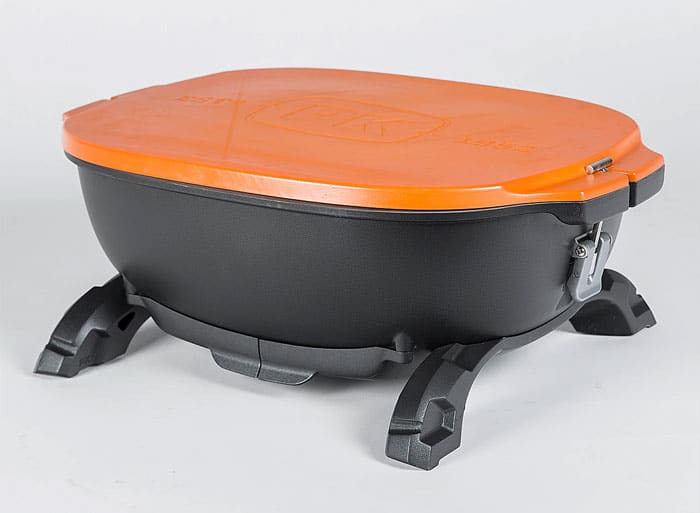 A straightforward little sear machine. Pop off the hibachi's bright orange lid, fill 'er up with charcoal and start sizzling.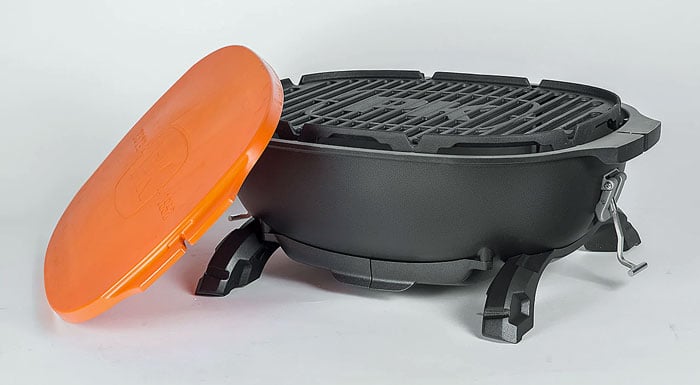 Two "Air Intake Doors" swing open or shut to control air flow and feed oxygen to the fire.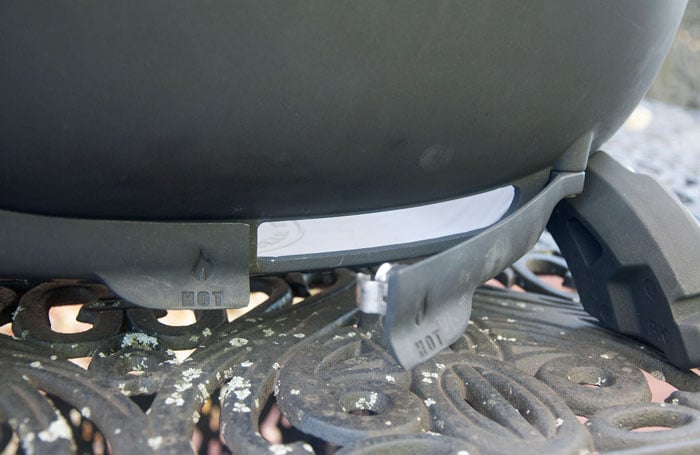 Hibachis are great for grilling burgers, thin steaks, veggies – anything that cooks hot and fast like this thin flank steak.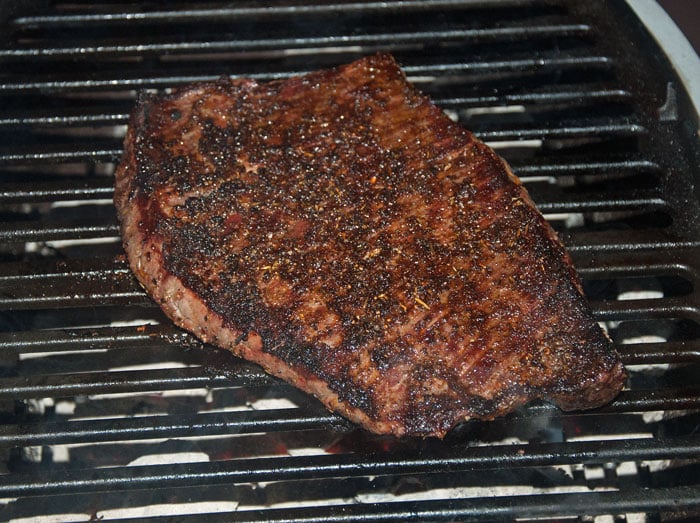 But you have to be careful not to burn things like sausage and chicken that do better over moderate heat for a longer duration. That's when a lid comes in handy. And that's just one good reason to upgrade to the PKGO with FLIPKIT.
Hungry for more ribs recipes, tips, and techniques? Click here to download our ebook "Amazing Ribs Made Easy" $3.99 on Amazon (free Kindle app runs on all computers and devices). Or, get this book and others FREE as a member of the AmazingRibs.com Pitmaster Club. Click here to join.
PKGO with FLIPKIT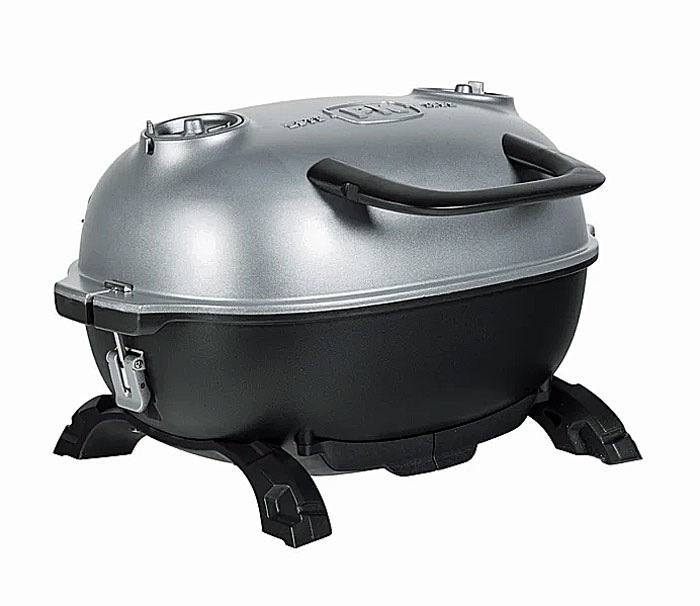 Voila – a different lid! The PKGO with FLIPKIT is unique in the world of portable charcoal grills, not only because the signature PK rectangular design and venting system enables it to easily be set up for 2-zone cooking, but the FLIPKIT can also be split apart and used as two hibachis.
2-zone portable charcoal grill
Most portable charcoal grills have limited air control and are best suited for direct grilling on their small cooking grates. No big deal for tailgating and camping when you don't aspire to do complex menus anyway. But PKGO with FLIPKIT can sear with the best of them as well as roast larger hunks of meat when set up for 2-zones with a hot direct zone and moderate indirect zone.
This graphic illustrates the two different setups: 1) an even charcoal bed across the bottom with lower and upper dampers open for a hot, direct fire across the entire cook surface, and 2) charcoal piled to one side with alternate lower and upper dampers open for 2-zone cooking and a milder, cross current of heat to the indirect zone.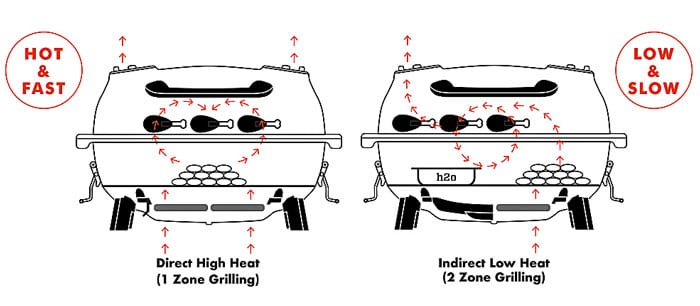 PK suggests using a small piece of wood for better 2-zone separation.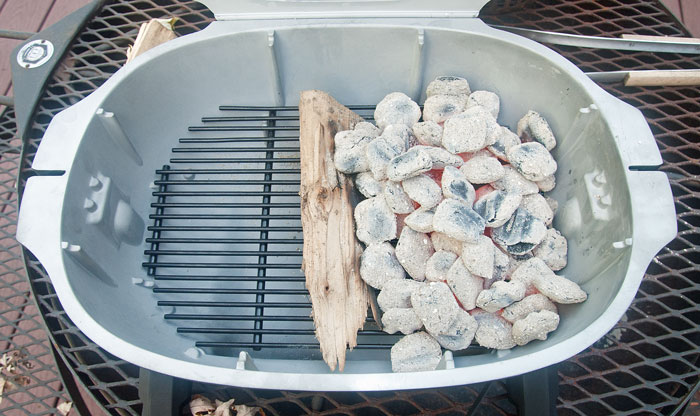 With 2-zones you can avoid charred chicken and exploding hot dogs by slowly cooking over the moderate, indirect zone, then finishing foods off over the hot, direct zone for a crispy, brown finish.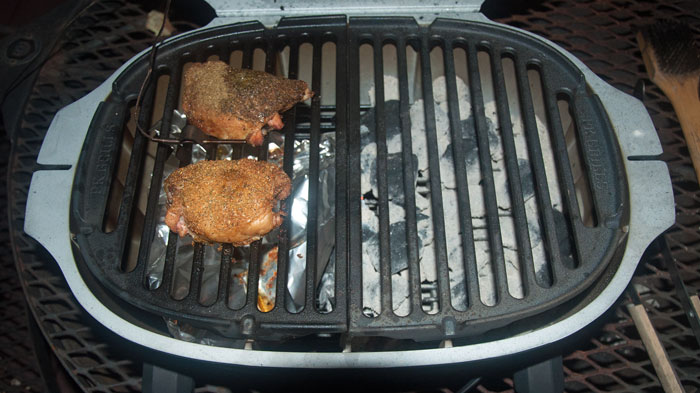 Click here to learn more about the importance of 2-zone cooking for all your grills, large or small, gas or charcoal.
For low and moderate temperature roasting, it's important to know the actual cooking temperature under the lid. Few portable charcoal grills include a built-in thermometer and PKGO is no exception. That's just as well because lid thermometers are almost always highly inaccurate. What PK gives you instead is a neat little covered port in the rear left corner of the cast aluminum lid for threading in a digital temperature probe.
We slid our accurate digital temperature probe through the port, clipped it to the cooking grate on the indirect side, then adjusted the air intake and exhaust dampers to give us a moderate cooking temperature of about 350°F for grilling chicken.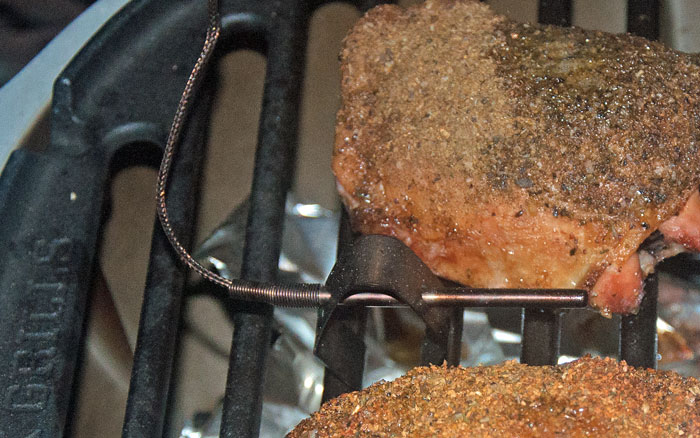 Click here to learn why accurate, digital thermometers are the most important tool in your arsenal.
While exploring PKGO's lowest temperature range, we discovered it likes to settle down in the neighborhood of 300°F on the indirect side. Although low and slow smoking of something like a small pork butt at lower temps should be possible, PK concedes this miniature cooker is better suited to shorter cooks, not overnight smoking sessions.
Like what you're reading? Click here to get Smoke Signals, our free monthly email that tells you about new articles, recipes, product reviews, science, myth-busting, and more. Be Amazing!
Steak Steak Steak!
Next it was time for the ultimate 2-zone test: Reverse Seared Steak! If you love to grill one and a half inch plus thick steaks, you've likely experienced the common conundrum of trying to sear the meat surface just right without overcooking or undercooking the inside. With reverse sear, you gently bring the meat up to about 115°F over indirect heat, then quickly sear the snot out of it to create an even brown crust on the surface. Click here to learn why brown is beautiful and criss-crossed sear marks are overrated. The result is a beautiful mahogany finish with bumper to bumper pink goodness inside.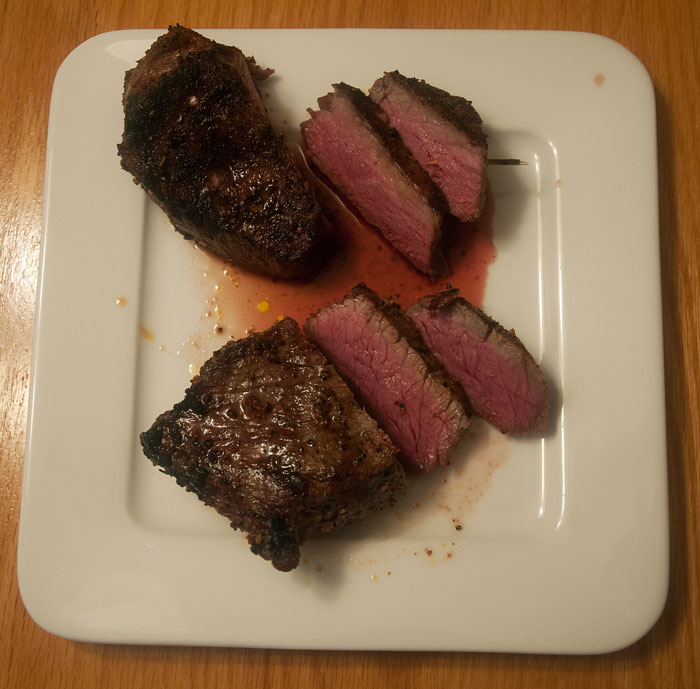 PKGO is ideal for this technique. Love steak but not familiar with reverse sear? Click here immediately to learn all about it.
"Dualing" hibachis with FLIPKIT
The upside of small portable grills is their portability, but the downside is, well….they're small. PKGO's main cooking grate is about 200 square inches. But with FLIPKIT, in addition to the thick, cast aluminum lid, you also get an extra two piece cast iron grate, base and charcoal grate which transform one PKGO with FLIPKIT into two PKGO Hibachis.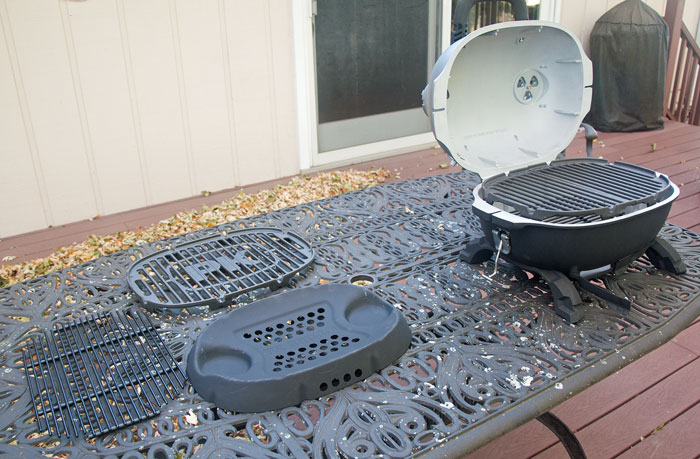 PK's "DURA-HINGE" is a clever design that allows the lid to lift off the bottom without tools.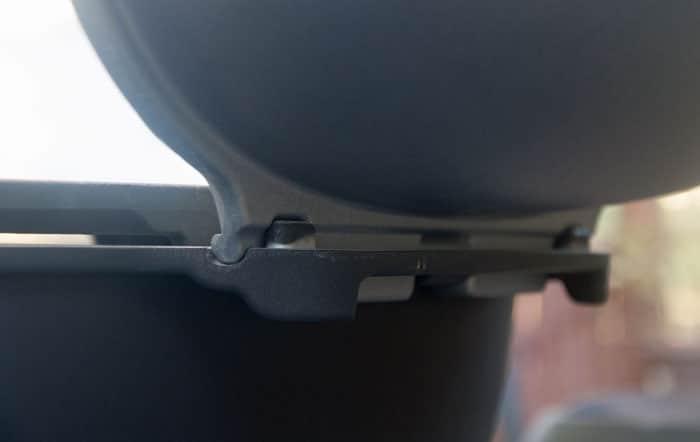 Pop off the lid, flip it over into the extra base, and install the additional charcoal grate and cooking grate.
Twins! You just doubled your grilling capacity.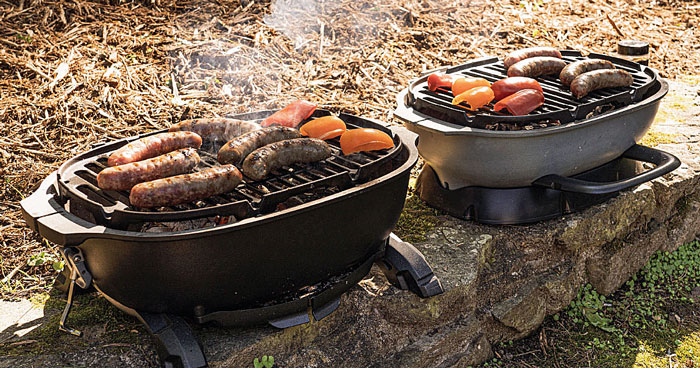 The heavy, coated cast iron cooking grates are reversible so you can place the cook surface a little closer or further from the fire, but the difference is only six tenths of an inch. We questioned the efficacy of this feature and PK replied, "Perhaps, but inches mattered when we were designing as much functionality as we have into this compact grill. We recommend using the higher setting when doing longer cooks where you want just a bit more separation from the heat and using the lower setting when cooking hot and fast over the coals."
Both PKGO models are travel ready with dual side cam locking lids.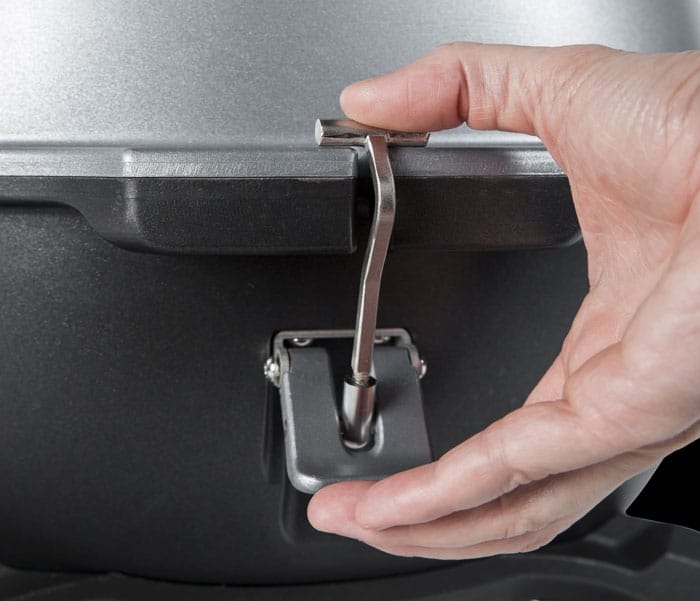 The manual advises, "Never use the lid handle to carry PKGO like a suitcase. The handle was not designed to support the weight of the PKGO and its contents." Instead, use the handles on each side.
There is no ash pan or tray. To remove ash just dump it out.
Up your game: Join our Pitmaster Club. Try it out for free for 30 days. No credit card is needed. No spam. Join now and Be Amazing!
Packaging and assembly
Packaging was excellent and assembly consisted of little more than screwing on the lid handle. The rest of this modular design just popped together with no tools needed. Quality design and construction were evident throughout the assembly process.
Conclusion
Beautiful, elegant, clever, effective, and versatile, yet a little pricey for a small, portable charcoal grill. Nonetheless, with PKGO, you get what you pay for, and that means top quality. With the FLIPKIT, Portable Kitchen adds another gem to their slowly growing catalog of unique, high quality charcoal burners. We say, "Go Man Go", to PKGO and award it our top, Platinum Medal. Our posted price below is for the PKGO with FLIPKIT. The PKGO Hibachi is a hundred bucks less.
Warranty
Twenty years on the cast aluminum lid and bowl. Three years on the plastic parts. One year on the cooking and charcoal grates. Two years on everything else.