Dads love good tools and good food. We scoured our hundreds of barbecue and grill product reviews for the best of both. All of them are award winners. Remember: our reviews and ratings are unbiased because we don't sell anything (other than memberships in our Pitmaster Club), and our advertising is sold by third parties. So we are free to be brutally honest.
Click the links to read our full reviews. Or just scan the list for our top Father's Day BBQ and grilling gifts in a range of prices—from less than $20 for a pair of heavy-duty, heat-resistant grill gloves all the way up to a $325 griddle cooking system and the $727 Ultimate BBQ Road Trip! Don't just go buy him another tie this year. Give Dad something he really wants, and help make his barbecue dreams come true.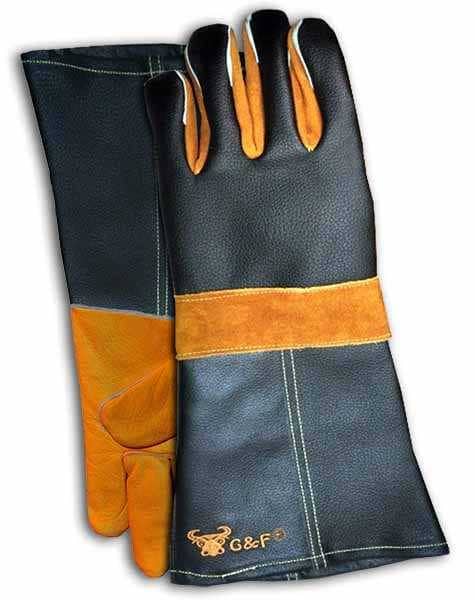 If your Dad is using oven mitts at the grill, give the man an upgrade. These suede welders gloves are heat resistant enough to handle hot grill grates and flexible enough to handle tongs. The extra long sleeves will even let Pops reach deep into the firebox to move hot logs around without burning his arm hair.
Click here to check prices and order on Amazon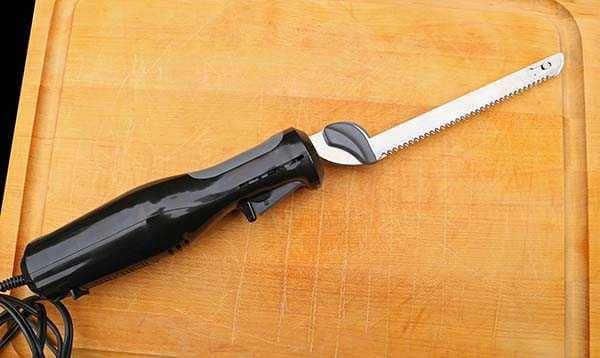 Psst. Here's a secret: Do you know how competition BBQ teams get those perfectly even slices of brisket? Many use electric knives. Get Dad in on the pro action with this simple, functional knife from Black & Decker. It won our Gold Medal Award and makes it easy-peasy to cut brisket, ribs, bread, and even the Thanksgiving turkey. Plus, it costs less than $20.
Click here to check prices and order on Amazon

Help Dad be even more AMAZING! The AmazingRibs.com Pitmaster Club is a real barbecue community that's more than 17,000 members strong. It's a place for Dad to learn, make friends, and have fun. As a member, he will have access to exclusive recipes, insider info, an engaging community, monthly virtual happy hours, a sneak peek at Meathead's next book, free monthly giveaways, product discounts, and so much more! Read about all the benefits of membership here. Then click the big red button that says "Click To Give The Gift Of Membership!"
Click here to get Dad into the Pitmaster Club

Unless you have a SuperDad with thermodynamic superpowers, he needs a reliable digital thermometer. There is simply no other way to tell whether chicken and other foods have been cooked to safe internal temperatures. Among easy-to-use, hand-hand, rapid-read thermometers, the lightning fast ThermoPop by ThermoWorks is one of our favorites. Best of all, it costs less than 30 bucks.
Click here to buy at ThermoWorks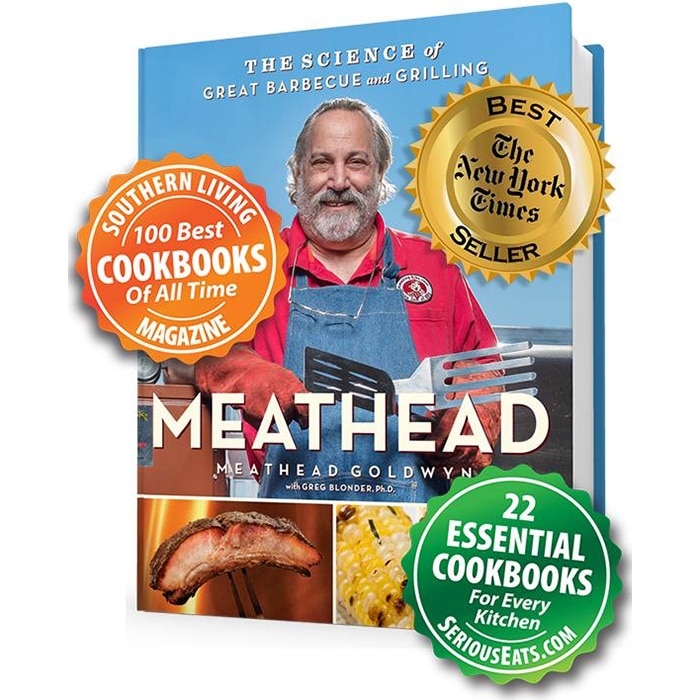 Southern Living magazine named it one of the 100 Best Cookbooks Of All Time. With 400 pages and more than 400 photographs plus color illustrations, there is new material and new recipes not on this website, and the book is organized so that you can sit down in an easy chair and read it from start to finish. The first half of the book emphasizes concepts, science, technique, tips, and tools. The second half includes 118 recipes demonstrating the concepts. This one simple book can help Dad become a better pitmaster or grillmaster, which benefits the whole family with better meals!
Click here to give Dad Meathead's acclaimed cookbook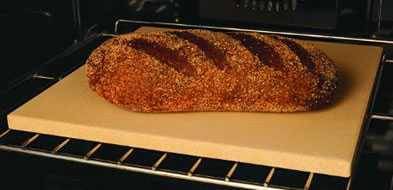 With a baking stone on the grill, Dad can churn out restaurant quality pizzas from the backyard (and breads in the home oven!). There are lots of options, but we're partial to this Pizzacraft stone. It measures a generous 15" square for nice big pizzas and breads, it's thermal shock resistant to prevent cracking, and it's made of 100% all-natural materials approved by the FDA for food safety.
Click here to check prices and buy on Amazon

Weber's Smokey Mountain "bullet" is among the most popular smokers out there. But it can present Dad with a couple challenges. First and foremost is getting a good, airtight seal on the lid to help maintain a steady temperature in the cooker. Second is where to put the lid when he's checking the food or slathering it with sauce. This hinge and gasket kit solves both problems, making it a cinch to open, close, and tightly seal the lid. It will even give Dad a free hand for holding a cold beverage or high-fiving the fam at the next barbecue.
Click here to check prices and buy on Amazon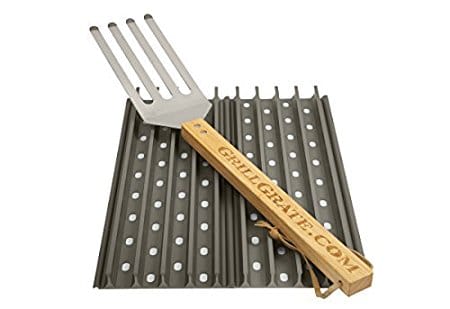 Grillgrates (Prices vary depending on style and size)
GrillGrates are an amazing invention featuring reversible interlocking panels that increase the grill surface temperature, reduce flare-ups, and deliver perfect sears. GrillGrates also come in a variety of shapes and sizes so that you can customize them according to the size of your gas, charcoal, or pellet grill.
Click here to buy at check prices and purchase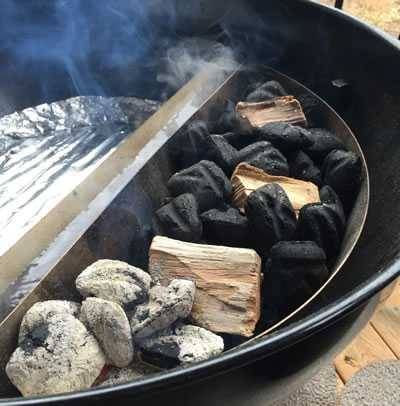 Among the many awesome add-ons available for your kettle grill, Slow 'N Sear is one of our favorites. It allows you to create true 2-zone cooking inside of your kettle, doubling its functionality. If Dad wants a smoker but already has a kettle grill, this little add-on will allow him to smoke and grill at a fraction of the cost.
Click here to buy at SnS Grills

Tech savvy Dads will love the FireBoard2. This digital thermometer system can record everything he is cooking with up to six temperature probes at once. It is cloud connected so he can watch the temperatures rise from his mobile device, and it logs data, so he can track and tweak cooking times and temperatures on the fly based on specific preferences. The free companion app lets him name and date each cooking session and enter notes on the cook. Even the temperature probes can be named (point or flat for example) or they can be hidden, and the device shows the min/max temperature for each probe. Dad can set an alarm to be notified when any of the probes hits its target temp, and the FireBoard can even send him a text or email. Genius. FireBoard 2 is an evolution of the original FireBoard FBX11 (read our review here). It functions the same but the display on the new model provides a much better picture of the cooking process. There are four views available for Dad: temperature displayed in LARGE numbers; a single-channel graph of temp vs. time; a similar graph but with the other channels' temps shown along the top of the display; and a display of the six channels, each in its own pane. Dad can easily jump from one display to another as his needs change.
Click here to buy at Fireboard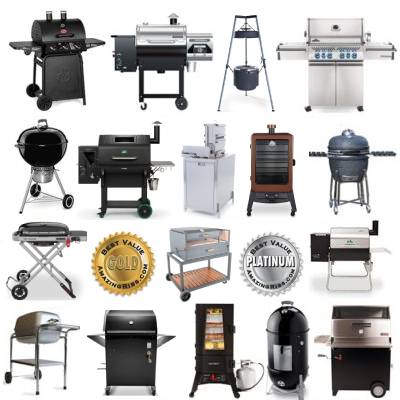 Imagine the look on dad's face when he receives the ultimate Father's Day gift — a new smoker or grill! To help you pick the right one, we've compiled an elite list of top rated AmazingRibs.com Platinum and Gold Medal winners, all of which can be delivered directly to dad's door!
Choose the perfect grill for Dad here.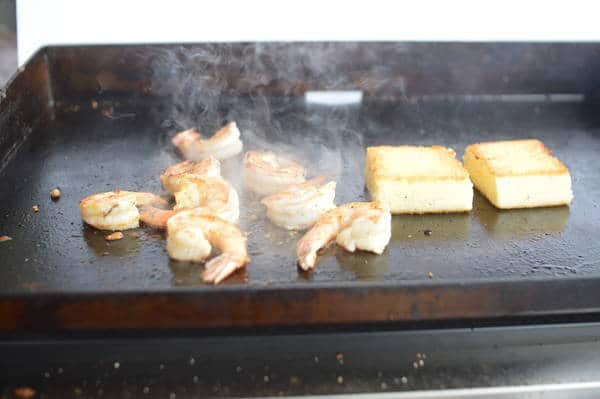 Most Dads make a mean breakfast. Give him the tools to turn out breakfast for a crowd with the Blackstone Griddle Cooking System. This baby aint just for bacon and pancakes, either. The flat, cast-iron surface gets rip-roaring hot so he can cook everything from steaks and fajitas to fish and vegetables. There are no grill grates, so nothing will fall through the cracks. The Blackstone Griddle comes in various sizes from 17″ to 36″ so it can fit on the patio and be portable enough to take camping and tailgating.
Click here to buy at Blackstone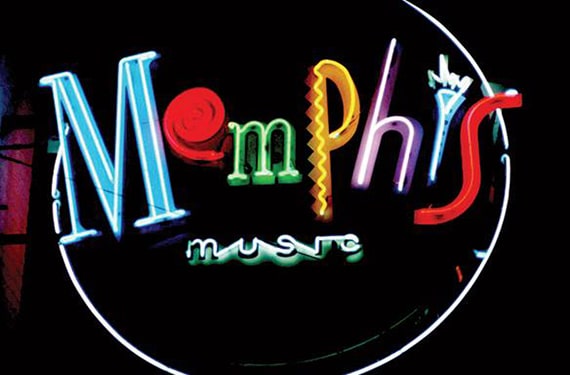 For the true BBQ lover, nothing beats going straight to the pork BBQ capital of the world, Memphis. Send Dad to the AmazingRibs.com Meat Up In Memphis event and he'll thank you for years to come. This event was originally scheduled for August 2021, but due to COVID concerns, we have rescheduled it for March 2022. Now Dad can join us! Click the link below to read all about the kickoff dinner at the famed Rendezvous BBQ joint, Mark Lambert's whole hog demonstration, the Duroc pork lunch and whole hog dinner, a Taste of Memphis event featuring the city's best BBQ restaurants, the party at Silky O'Sullivan's, and so much more. Everything starts at the historic Peabody Hotel, just steps away from famous Beale Street!
Click here to give Dad the ultimate BBQ road trip: The AmazingRibs.com Meat Up In Memphis