At the time of this writing, the new Char-Broil Cruise Gas Grill wasn't available yet. However, we were treated to a compelling pre-launch presentation and based on what we've seen so far, it sure looks promising. Stay tuned. We'll do a detailed review when the new models roll out in spring 2022. Meanwhile, we felt Cruise was worthy of a Sneak Peek Review.
Char-Broil bills their forthcoming thermostatically controlled Cruise Gas Grill as, "the next generation of gas grilling…. the first gas grill that can set and maintain a cooking temperature from start to finish." With a sticker price of $699, if it does what they claim then Cruise will be the first viable thermostatically controlled gas grill for residential use that we've seen. That's a big "IF!"
Up your game: Join our Pitmaster Club. Try it out for free for 30 days. No credit card needed. No spam. Join now and Be Amazing!
So what is a thermostatically controlled, residential gas grill? It's what we at AmazingRibs.com have been dreaming of for years – an affordable backyard gas grill that can be set to specific cooking temperatures just like your indoor gas oven. Thermostatically controlled kitchen ovens have been available for decades and outdoor cooks are getting accustomed to a set it and forget barbecue experience thanks to the growth of pellet grills. Many manufacturers are trying but so far, only a few models have made it out of the concept phase and into consumers' hands. And to-date, every one of them has been a dud. Nonetheless, we remain hopeful. Could we finally have a winner? At least on paper, or in this case the photos below, Cruise looks different.
Control panel
Instead of HIGH, MEDIUM, and LOW control knobs for each burner, Cruise has one, digital control knob to select your desired cooking temp which displays on the control panel screen. Press the knob in for ignition.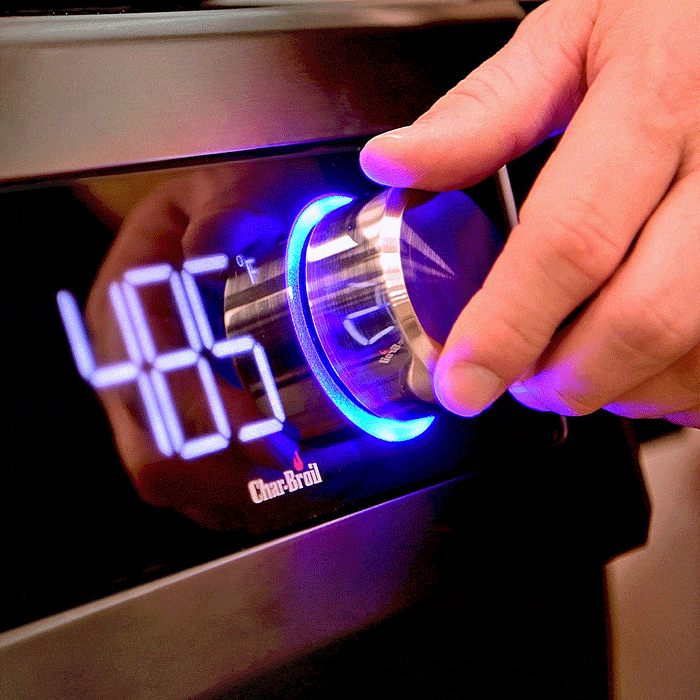 The set temperature range is 350°F to 700°F. You can choose to display temps as Fahrenheit or Centigrade. Cruise has a "MAX Heat" setting that goes higher than 700°F, but can't be set to a specific temp. It's what we call WARP 10 – cranked all the way up for super searing. The "MAX" temp range is affected by ambient conditions and as such, will go higher on a hot sunny day than a cold winter day.
A built-in flame sensor turns the grill off if it does not ignite within a certain time or if at any point during cooking the flame goes out. This is a nice safety feature.
Equally appealing is the fact that Cruise has an Auto-Clean function similar to the one found with a kitchen oven. It sets the grill to maximum heat, burns off gunk, then shuts down automatically when finished. Afterward, you just remove the ash residue.
A built-in timer is included, though surprisingly there is no integrated meat probe. Currently, Cruise has no Wi-Fi capability either, hence no smartphone app.
Like what you're reading? Click here to get Smoke Signals, our free monthly email that tells you about new articles, recipes, product reviews, science, myth-busting, and more. Be Amazing!
Cruise burners
Cruise has only two burners which function differently than burners on other gas grills.
A. Primary burner. A low-powered, 6,000 BTU burner that runs under the center of the cooking surface from right to left. It stays lit after firing Cruise up to maintain a constant low temperature.
B. Secondary burner. A high-powered, 20,000 BTU, oval-shaped burner. The control system switches the secondary burner on and off as needed to maintain your set temperature.
The grill also features a thermostat (C) that monitors actual cooking temperature from these two burners and sends data to the control system.
Amplifire Cooking System formerly TRU-Infrared
One of Char-Broil's most notable innovations is their TRU-Infrared cooking system, which was just renamed "Amplifire." It consists of a radiant emitter plate that runs under the entire cooking surface above the burners. The plate amplifies heat for effective searing while eliminating hot spots and flare-ups.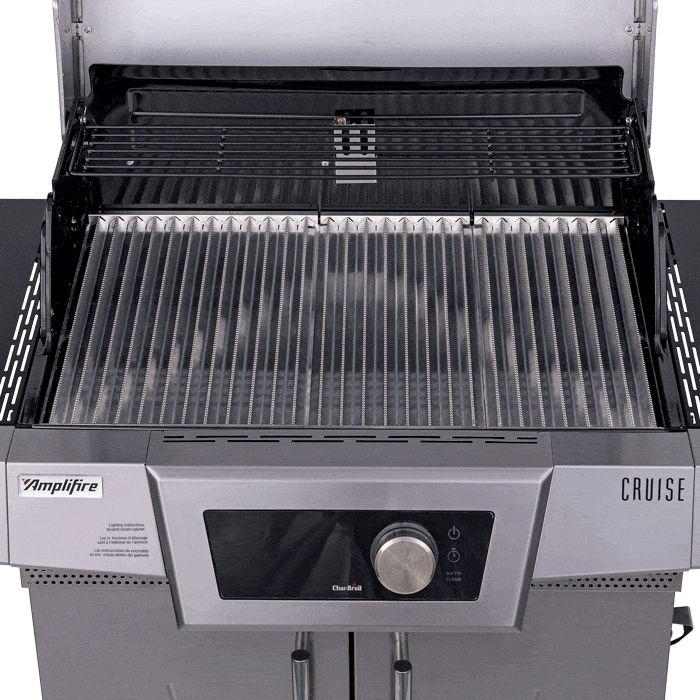 Coated cast iron cooking grates fit snugly on top of the plate and burners.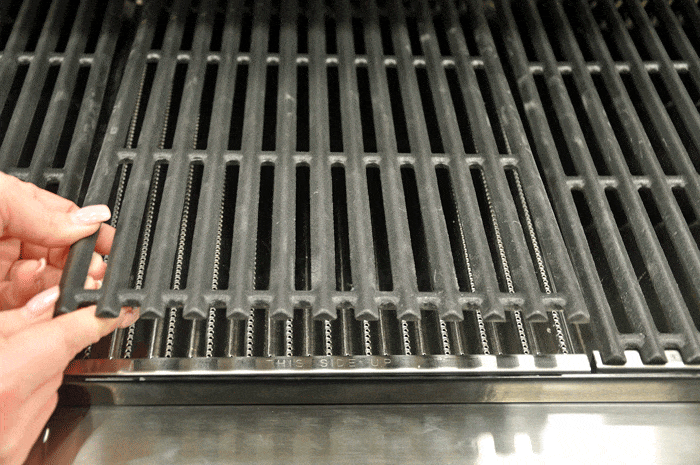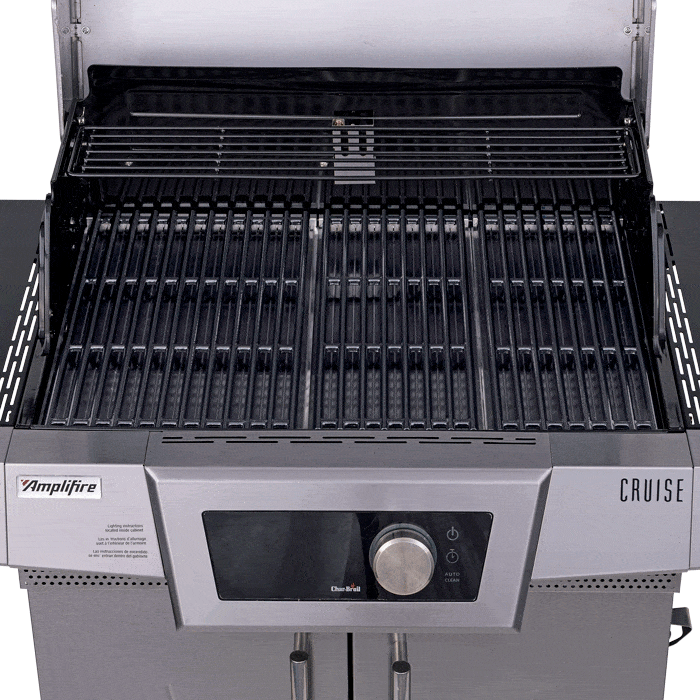 Amplifire also reduces convection heat which dries foods out. Click here to learn about the different kinds of heat: conduction, convection and radiation.
Char-Broil states their Amplifire lines provide a very forgiving cooking experience by producing moist juicy meats over even heat, with no flare-ups to burn foods when you're not looking. We tested some older, TRU-Infrared models and found the system works as advertised. Amplifire may provide an additional asset when roasting on Cruise in the low 350°F range. We expect the emitter plate may even out and distribute heat from the low-powered primary burner and high-powered secondary burner. It could also reduce temp fluctuations from the secondary burner as it switches on and off. We'll see.
Get a sneak peak at Meathead's next book. He shares chapters with members of our Pitmaster Club as he finishes them. Click here for a free 30 day trial. No credit card needed. No spam. Click here to Be Amazing!
Otherwise, aside from the hood window and bottle opener under the right shelf, the rest of Cruise is pretty standard with no additional bells and whistles.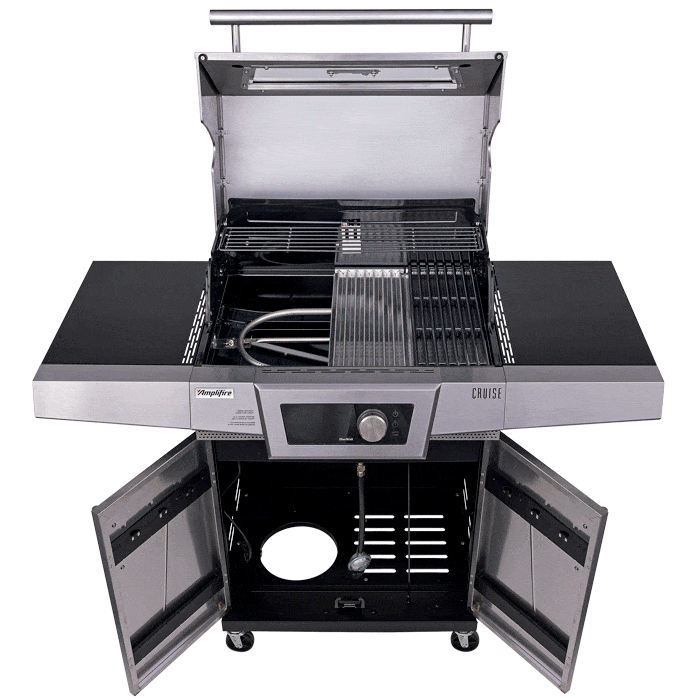 Conclusion
Our hopes for a thermostatically controlled residential gas grill have been shattered before. We're rooting for Char-Broil on this one, but the proof will be in its ability to actually perform as advertised. We're eager to get our hands on the first production models scheduled to roll out in spring 2022.
Warranty
Char-Broil's limited warranty covers:
The burners for 10 years.
The grates, emitters, firebox, and lid for three years.
Everything else for one year.