Char-Broil's SmartChef TRU-Infrared 3-Burner Gas Grill attempts to merge their unique Infrared burner system and SmartChef Technology. SmartChef is meant to monitor this 3-burner via the control panel on the left side shelf (below, note integrated meat probe) and an app on a smart phone via WiFi, (below). The app is available for iOS and Android devices.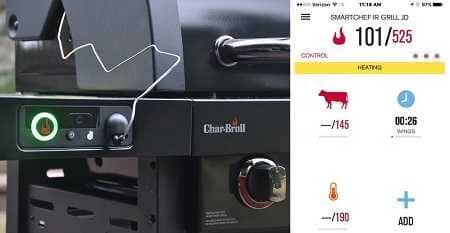 It can be operated either in control mode or manual mode. While testing performance in control mode, we were under the impression this SmartChef gasser aimed to let owners set exact cooking temperature just like with an indoor kitchen range. Many manufacturers have tried, and are still trying, to create an affordable, thermostatically controlled gas grill. Had Char-Broil done so it would have been groundbreaking. However, we were mistaken. Char-Broil corrects us, "It's important to stress this is not an automated grill or a set it and forget it. Consumers do still need to be present during the cook process for safety purposes".
In manual mode one has to dial up temps the old fashioned way by spinning the control knobs. In either case, the grill must be plugged into a standard outlet for full operation. The three 8,500 BTU stainless steel tube burners cannot function without power. When the burners are ignited, red LEDs light up on the control knobs (below) and three small circles on the app in the upper right screen turn red as well. The 13,000 BTU side burner on the right side shelf is independent from SmartChef, does not need power to operate and cannot be controlled or monitored. There is a single battery operated igniter for all main burners and the side burner. All other electronics are powered from an outlet.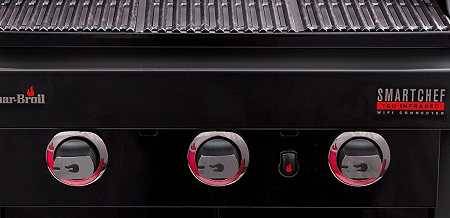 In either control or manual mode, Smart Chef enables owners to monitor cooking temps from a sensor located at the back of the firebox just above the cooking grate, and food temps from an integrated meat probe that plugs into the control box. This grill comes with one meat probe and there is an input for a second, optional probe. LP gas tank levels and burner on/off status are also monitored. You receive alerts when your grill is ready for grilling, cool enough to cover and if your grill experiences any significant temperature changes. You may set reminders to check or flip foods at specified intervals with the built-in timers. One can easily become spoiled by having all of this useful information at your fingertips.
Control Mode
From your smart phone, control mode intends to allow you to set cooking temps from 350°F to 700°F or use Char-Broil's limited library of guided recipes that set cooking temps, send alerts to flip foods, and report progress. A sensor at the back of the grill sends cooking temperature readings to a master valve controller inside the cart. Color coded wires run from it to each of the three burners. The controller tells a plunger mechanism on each burner valve to open or close in order to maintain the set cooking temp. You cannot shut off or adjust one burner to be different from the others. All three burners are controlled to maintain the same temperature and cannot be operated independently. Therefore you cannot do 2-zone set ups that create a direct and indirect heat zone in control mode. Click here to learn more about the essential technique of 2-zone outdoor cooking.
Our digital test thermometers spread across the cook surface showed the temp range in manual mode was 350°F with all main burners on low and 700°F with all on high. Switching to control mode, the app defaults to 350°F. We were shocked to see 350° on the app and 500°F on our test thermometers. That's a big discrepancy so we ran the tests again and got the same results. Char-Broil had no explanation for us. In both tests, when we raised the temp on the app from 350°F to 500°F there was very little change, and when we cranked the app to 700°F the temp successfully rose to that set point. So in control mode one is limited to high temp, hot and fast cooking. When cooking hot, particularly searing, the cook times are short, sometimes a matter of minutes, and it is a very good idea to stand by the grill diligently to prevent overcooking. This greatly diminishes the value of using control mode. Click here to learn more about cooking temp selection from low and slow to hot and fast. Furthermore, we questioned how some of the Char-Broil guided recipes could work given the narrow, high temp range.
We decided to test programmed recipes for spatchcocked chicken and hamburgers. First the chicken. The SmartChef guided recipe automatically set the cooking temp to 450°F. Pretty hot for chicken and our tests indicated the actual control mode temp would be about 500°F. Ours was not to reason why so we proceeded. The app alerted us that our grill was pre-heated and ready to go. On went the chicken. After ten minutes, SmartChef alerted us it was time to flip the birds and we were not surprised to see the burned meat below.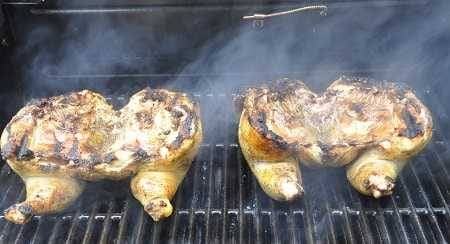 10 minutes later, another SmartChef alert told us it was time to flip again. Predictably, it was not a pretty sight (below).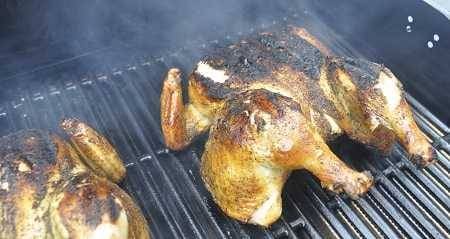 After wiping away the tears, we switched to manual mode. Trying to salvage our burned birds we set up 2-zones and finished them off on the left indirect zone. The SmartChef app monitored our internal meat temp via the integrated meat probe. Click here to learn the correct way to do spatchcocked chicken.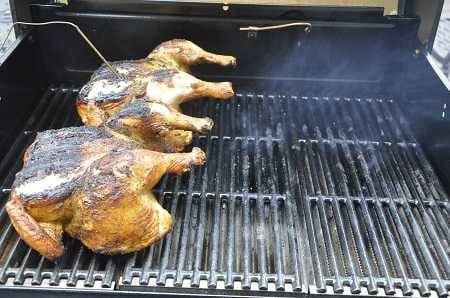 Next came hamburgers. The guided recipe asks users to select meat thickness for burgers and steak. We used pre-formed 1/3 lb burgers that were 1/2 inch thick. SmartChef set the temp for 500°F and away we went. The recipe called for a twenty minute cook time, flipping every 5 minutes. After ten minutes and one programmed flip, the burgers internal temp was already overdone at 185°F. To spare those poor patties the chicken's fate we pulled them off. On the up side, note how even the cook surface was. All twelve burger were cooked the same left to right and front to back. You don't have to shuffle foods around on Char-Broil's TRU-Infrared system to work around hot and cool spots.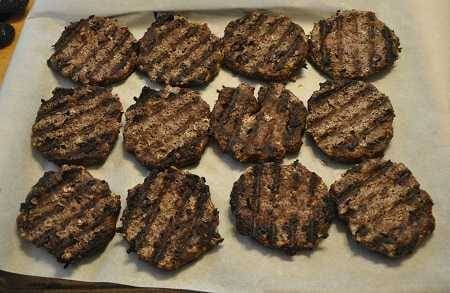 Char-Broil's TRU-Infrared
TRU-Infrared uses traditional tube burners covered by small heat tents with coated cast iron cooking grates that rest directly on stainless steel radiant plates that cover the entire cook surface, (below). The radiant plates create a very even heat profile and are capable of providing high searing temps in spite of the low powered 8,500 BTU burners. An added benefit is fuel savings. The 8,500 BTU burners minimize fuel consumption.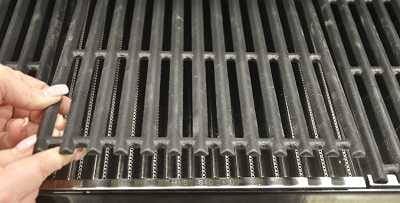 With no direct exposure to flames, TRU-Infrared eliminates flare ups and reduces dry convection heat. The result is a very forgiving grill that produces juicy meats. Char-Broil uses this basic burner system design on several models. We like their Commercial Gas Grill line. The 3-Burner Commercial Grill is very much like this model without SmartChef at half the price.
Manual Mode
Manual mode is the only mode for me with this grill. You can easily set up 2-zones for low and slow ribs at 225°F, and even though we like to do chicken at 325°F, the low temp threshold of 350°F works just fine for chicken parts. You may want to do 2-zone with whole birds. When you're cooking hot and fast for steaks, burgers and shrimp, TRU-Infrared delivers a 700° sear. Although we're very disappointed in the thermostatic control of this SmartChef grill, the timer and all the monitoring functions described above are still an asset when used in manual mode.
SmartChef
Char-Broil has been working on SmartChef for some time in a partnership with DADO Labs. DADO Labs created a smart-connected appliance platform that focuses on the culinary space. Some Char-Broil electric smokers have integrated SmartChef technology with success, although many owners gripe about connection problems. We experienced connection interruptions too, but ultimately came to accept it as part of the territory in this brave new world of WiFi barbecue. Connection problems can be caused by a variety of repairable factors. An antiquated router, large distance between your router and WiFi cooker, or dense construction between both points can be the culprits. There are various solutions. We found an inexpensive WiFi booster did the trick (see illustration below).

If your router is far away or obstructed by a couple brick walls, a WiFi booster placed close to your outdoor cooking area will provide a better signal. If possible, one may also try moving the cooker closer to the router location. In any case be sure the WiFi control panel faces the direction of the router. Click here to check out the NetGear WiFi Booster we snagged On Amazon.
Growing Pains
While the SmartChef TRU-Infrared Grill has many useful features, we mistakenly hoped it was intended to be an affordable, thermostatically controlled gas grill. As the performance, durability, and price of electronic components continue to get better, we wonder what's the hold up? We've had thermostatically controlled indoor gas ovens for decades. I have come to believe, if it was doable, it would be done. Low cost gas grills are the outdoor cooker of choice in the USA and who wouldn't want a set it and forget it model?  Whoever brings this idea across the finish line first could strike gold. Obviously it takes more than a few tweaks to the design of an indoor gas oven or grill manufacturers would already have temperature controlled gassers on showroom floors. It will happen one day. Perhaps Char-Broil brought us a step closer.
Warranty is ten years for the stainless steel burners, three years on the firebox, lid, cooking grates and emitters (radiant plates) and one year on everything else.
We thank Char-Broil for providing a test unit for this review.