Until Ooni, if you wanted an authentic restaurant-grade pizza you had to pay thousands for an installation. Then, in 2012, Ooni pretty much invented the lightweight modestly priced but awesome backyard pizza oven. Since then they have improved their designs and there are many imitators.
Ooni has introduced a series of steadily improving pizza ovens culminating in the remarkable Ooni Karu for about $800. It can bake a 16-inch pie in less than 2 minutes as you can see in real-time in the video below, and yes, that means the sausage is cooked through, the cheese is bubbling, and there are the desirable leopard spots on the underside. Here's a video of how to make a pizza with the Ooni Karu 16:
Up your game: Join our Pitmaster Club. Try it out for free for 30 days. No credit card is needed. No spam. Join now and Be Amazing!
It burns either 5-inch log splits or charcoal, and with an optional $100 attachment, it can burn propane. I got a Karu up to 900°F in 30 minutes on a frigid 7°F day with propane.
There's a chimney at the front to help pull the smoke and heat across the top of the pie and a glass front door to retain heat. It has folding legs and good looks. There's a thermometer under the stone, and unlike its competitors from Gozney, the stone can be removed for cleaning.
Like what you're reading? Click here to get Smoke Signals, our free monthly email that tells you about new articles, recipes, product reviews, science, myth-busting, and more. Be Amazing!
There's an optional cover that doubles as a carrying case for portability. I never bother to use it and Karu remains rain and snowproof. Just remember to put the plug in the chimney and take it out when you preheat.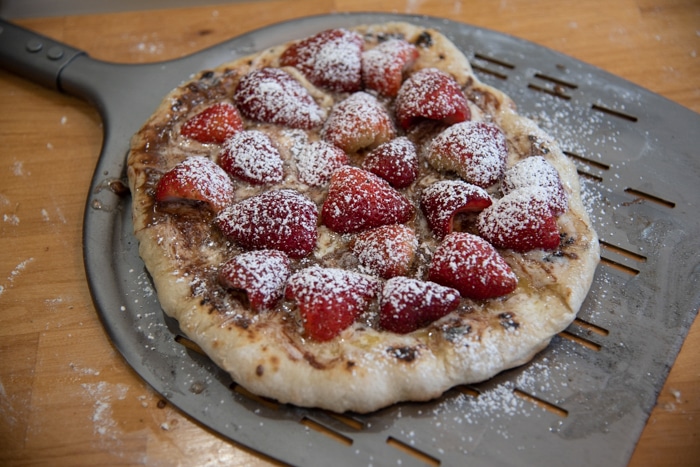 You'll need a pizza peel (Ooni sells a nice metal one that is more slippery than wood) and, although there is a thermometer, I like having an Infrared gun thermometer. I also bought an adapter so I can run it off a 1-pound propane tank rather than a 20-gallon tank, perfect for picnics, beach parties, and tailgaters.
Because it is essentially a broiler, you can cook steaks and other foods on it in a pan. You don't want steak juices and fat on the porous stone. But that is a nice feature, you can remove and clean the stone if it gets cheese or sauce on it. You can't do that on many other devices, notably the Gozney units.
Get a sneak peak at Meathead's next book. He shares chapters with members of our Pitmaster Club as he finishes them. Click here for a free 30 day trial. No credit card needed. No spam. Click here to Be Amazing!
My only complaint is that it is easy to slide the pie into the flame if you are not careful. It would be nice if they put a small flange in front of the flame as they have done with the less expensive Koda.
Although this design has all the bells and whistles, I prefer the 16-inch Ooni Koda for only $600 or the 14-inch Koda for $400. They don't have or need a door or chimney because they burn only gas. So they are simpler, lighter weight, and lower profile. I see no need to burn wood or charcoal. Maintaining temperature is trickier with these fuels, and in 2 minutes they don't impact the flavor.
Warranty
All Ooni products come with a one-year warranty as standard. If you've ordered an oven or gas burner, you can extend it to a three-year warranty by registering it on Ooni's website.
We thank Ooni for providing a Karu 16 for our tests.