The Ooni Koda is a superb 21 pound portable pizza oven capable of making restaurant quality pies in 2 to 3 minutes.
In 2018, I gave top marks to the propane fired version of the Ooni 3 portable pizza oven, and in 2017 I gave poor marks to the pellet fired version. In 2019, Ooni one-upped itself with the propane fired Ooni Koda.
They have completely redesigned it from the ground up so that it requires no assembly: it is ready to cook right out of the box after connecting to a propane tank and a 15 minute burn-in. Mine heated the cordierite pizza stone on the oven floor to about 800°F in about 20 minutes. Alas, this oven cannot be used indoors.
The Koda has a wider burner than its predecessor so that the overhead flame covers the entire pizza. The older Ooni 3 has a narrow jet that shot down the middle. The Koda also has a simpler ignition and temperature control dial. They removed the unnecessary chimney that was a vestige of the pellet burner, threw away the unnecessary front door, and made it look a whole lot better with insulated gray powder coated carbon steel and a stainless steel undercarriage, making the entire oven look a bit like a tortoise shell.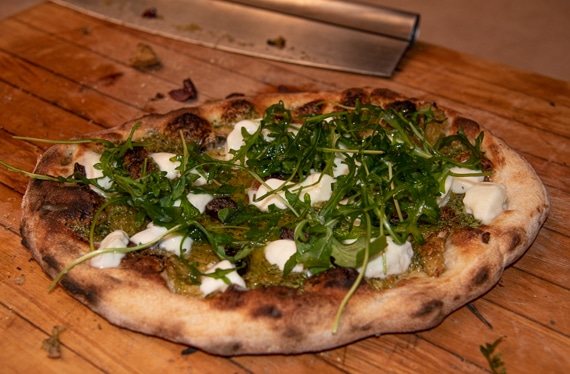 There is a single dial on the back that turns counter clockwise, which I find to be counterintuitive since most dial grills and ovens turn clockwise to light and to increase in heat. Also, one hast to reach over the oven and if there is a wall beside or behind it one cannot see the dial properly. And it doesn't always light on first attempt. If it doesn't light with the built-in spark generator there is a telescoping match holder that works fine when it is not windy. It has a built-in flame safety device that cuts off the gas should the flame blow out. My issues with the dial and ignition are is the ONLY reasons the Ooni Koda did not win a Platinum Medal.
The 10 mm thick stone on the oven floor is 13" wide, so in theory you can fit a 12" pie, but I have found 8 to 9" to be ideal for reaching in and rotating the pie easily. You want to do this often because it is much hotter in the rear near the burners. I would like to see them put a metal deflector in front of the flames to prevent burning the crust. As with all pizza stones, the cordierite material is designed to absorb, retain, and transmit heat to the dough. But it all stones are fragile, so you want to handle them carefully. You can remove it and wash it with water if it gets flour or cheese burned on, but because it is porous, you must dry it thoroughly before using it. The manufacturer recommends you not expose it to rain or snow, but I want to use it all year round, and I don't want to bring in a hot oven after I am done cooking. So I broke the rules this winter and it survived just fine.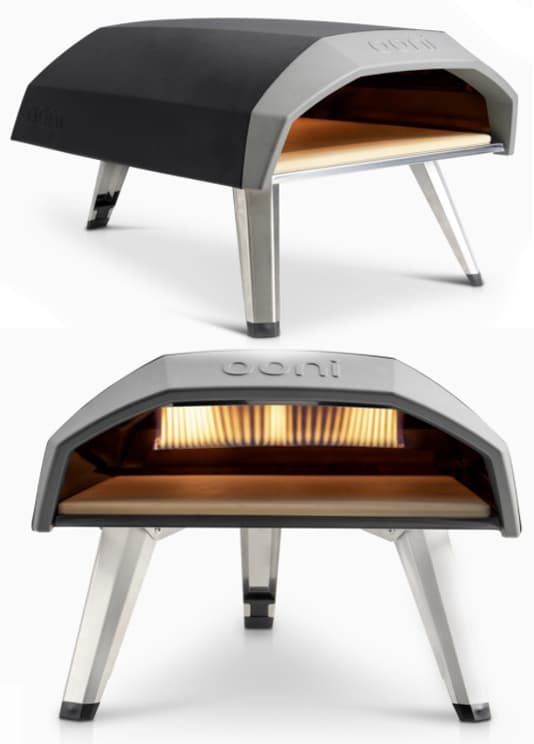 The Koda works pretty much like a big professional pizza oven. The secret to great pizza is getting the top and bottom done at the same time, a balancing act that I call simultaneous pizzagasm. The Koda heats the stone with flame tat starts at the rear and curls overhead. The hot stone cooks the dough from the bottom. Almost immediately after you slide the pie in, the bottom firms and begins to toast while CO2 within the dough forms bubbles. As it cooks, the bottom develops small black leopard spots, char that doesn't taste burned but adds complexity to the flavor of the crust. How quickly the crust cooks depends on how thick it is and whether you add oil and/or sugar to the dough. I find Koda works best with Neapolitan style doughs like my no-knead recipe, with only all purpose flour (you can use 00 if you wish), water, yeast, and a tiny pinch of sugar to give the yeast something to chow down on, not to make it sweet. A Neapolitan style Margherita pizza cooks in less than 2 minutes at 700°F, but I find that the risk of burning the crust near the flame is too great at that head and I like to dial it back to about 500 to 550°F. At that temp it can take 4 to 5 minutes to cook, especially because you MUST pull the pie out with the peel and rotate it. As with any pizza oven, you will need to cook a couple of pies to dial in the best setting for your dough recipe.
Because the flame above is so hot and well distributed, you do not need to precook onions or sausages. Believe it or not, bite-sized meats cook safely in just 4 minutes. I have even broiled a steak under the flame in a pre-heated cast iron pan and gotten a killer crust. Ooni sells several low profile cast iron pans for broiling steaks, shrimp, or whatever you like in them. They also offer brushes for the stone, an infrared gun thermometer (highly recommended), pizza cutters, peels (the device does not come with a peel, the flat tool used to insert the pie into the oven), insulated gloves, and a cookbook.
Koda works with large 20 pound propane tanks just like the ones used for gas grills as well as small 1 pound portable tanks, but you need an adapter to use the smaller tanks. They do not sell the adapter for small 1 pound propane tanks but you can buy one on Amazon. Koda sells a natural gas adapter kit. There is a 2 year warranty if you register it within 60 days of purchase.
The three stainless legs with non-slip tips fold up neatly for portability, but I wouldn't mind a fourth leg for added stability. There is an optional lightweight case that fits snugly and has carrying handles that you should order because you don't want rain getting inside this oven and ruining it. That's the price of portability.
If you want to up your pizza game, we have some excellent recipes and tips for making pizza here and in our Pitmaster Club forum on pizza here.