When we first saw the 2022 Traeger Timberlines we were struck by three things; the substantial construction, the rustic elegance, and the price tags. In our review of the original Timberline that came out in 2017 we described it as, "a technologically advanced wood pellet smoker with a sturdy design and a muscular look and feel unlike anything in their (Traeger's) extensive catalog." With the new models Traeger aimed to take their beefy Timberline designs into the realm of super beef. These babies are stuffed with both hardware and software to the point of being bloated. And any beef lover will tell you, that's not a bad thing.
At around $2,000, the first Timberlines became Traeger's Premium, high-end product line to complement their entry and mid-level Pro and Ironwood series. Traeger currently does not plan to discontinue the older models.
These new models cost almost twice the price of the originals and are outdoor kitchen ready, designed to work equally well on a freestanding cart or built-in to an outdoor kitchen installation. Does Traeger plan on delving further into the luxury outdoor kitchen game with matching drawers, refrigerators, and various earthtone modules to fit in seamlessly with their luxurious new Timberlines? That plan would make sense because all current outdoor kitchen ensembles are shiny stainless steel that matches the equally shiny drop-in grill and smoker heads. Timberline may look out of place plopped in the middle of that sea of shine and their woodsy look might find an audience. Just sayin….
The new Timberlines have many similarities to the original models. Both lines come in medium and XL sizes. For this review we tested the mid-size Timberline, measuring 59″W x 25"D x 51″H, weighing 238 pounds with a total cook surface of 880 square inches, MSRP $3,500. The large XL model is 71″W x 25″D x 51″H weighing 289 pounds with a total cook surface of 1320 square inches, MSRP $3,800.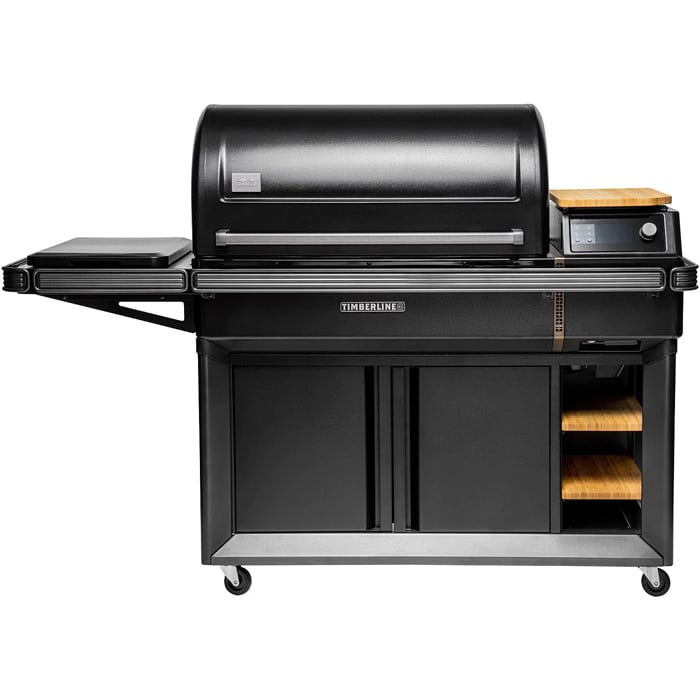 Like what you're reading? Click here to get Smoke Signals, our free monthly email that tells you about new articles, recipes, product reviews, science, myth-busting, and more. Be Amazing!
Instead of a barrel-shaped smokebox, all Timberlines have stadium or race track-shaped sides with a high-profile hood to accommodate main, middle, and high racks. The unique design is meant to create a steady, even flow of heat and smoke throughout the smoke box and across all three rack levels by traveling upward, hitting the curved hood, then being sucked downward out a vent that spans the back from left to right.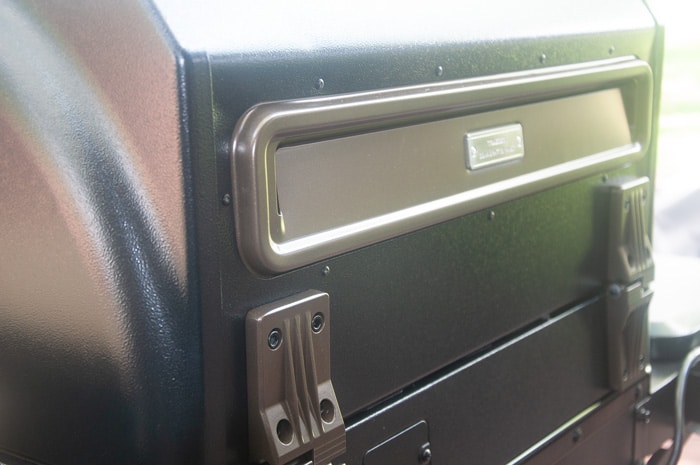 The wide vent prevents heat from being concentrated to one exhaust point as would be the case with a chimney.
Timberline's exterior is coated steel. The interior smoke box, including the cooking racks, is all heavy-duty stainless steel. The split racks on the main cook surface have 396 square inches of capacity while the two upper racks are 242 square inches each.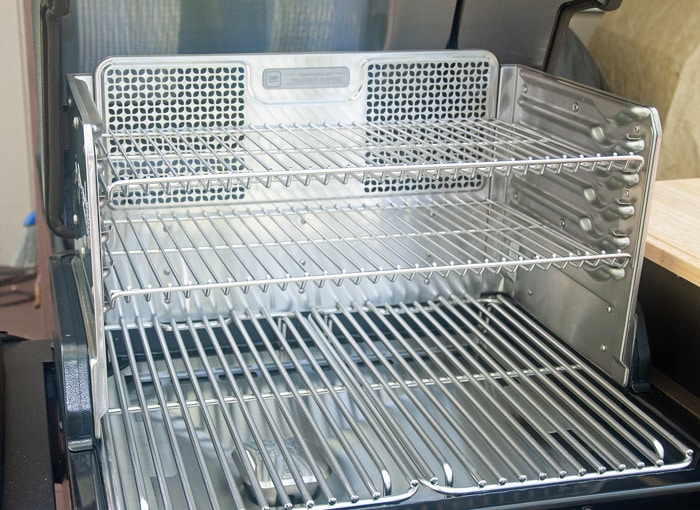 The upper racks slide in and out on five slots.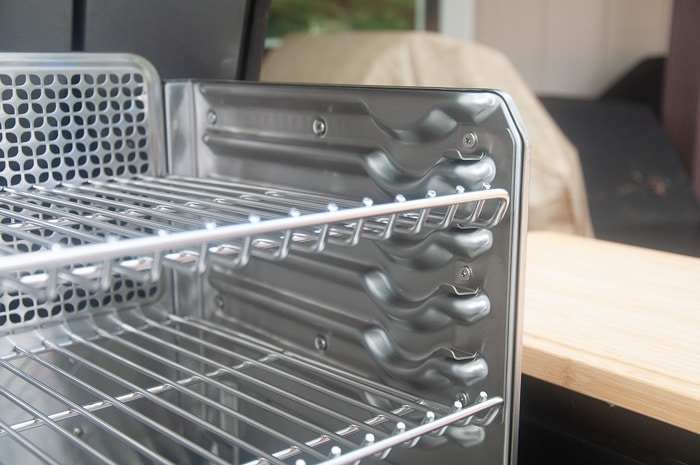 They can easily be positioned at various heights, or removed to accommodate big hunks like turkeys.
We like the double wall hood with a thick insulation strip for a tight seal.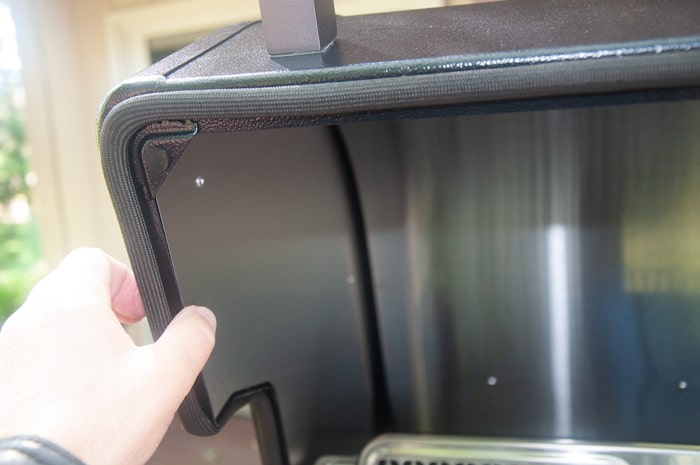 But were surprised to find the stainless steel sides tapered out toward the top and didn't easily support the rack in the top slots.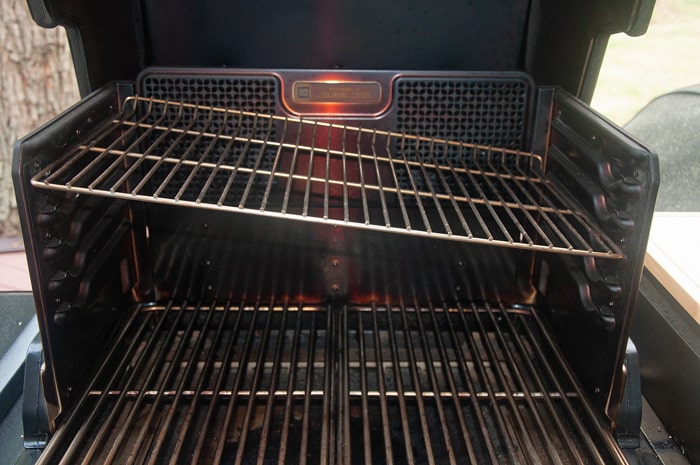 By pressing the slides in, we were able to hook the rack in place on the slot rails.
Up your game: Join our Pitmaster Club. Try it out for free for 30 days. No credit card is needed. No spam. Join now and Be Amazing!
Beneath the main racks is Timberline's unusual drip tray.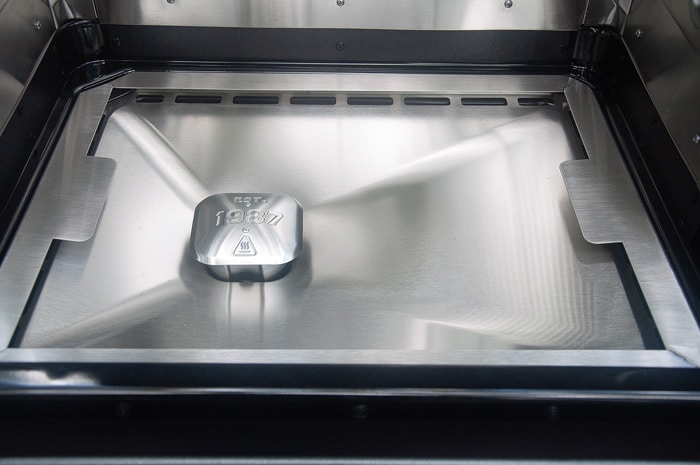 Many Traeger smokers have cleverly designed disposable aluminum drip pan liners that funnel grease to the grease trap. When they blacken and get dirty you replace them. But Traeger doesn't make them for the Timberline so after a few cooks you have to remove the pan and scrape and scrub it. If you let the grease coat the pan it smokes and grease smoke doesn't taste as good as wood smoke.
The inclined drip pan funnels grease toward the covered opening on the left, where it collects in a removable bucket in the enclosed cart below. Traeger does offer disposable foil liners for the bucket.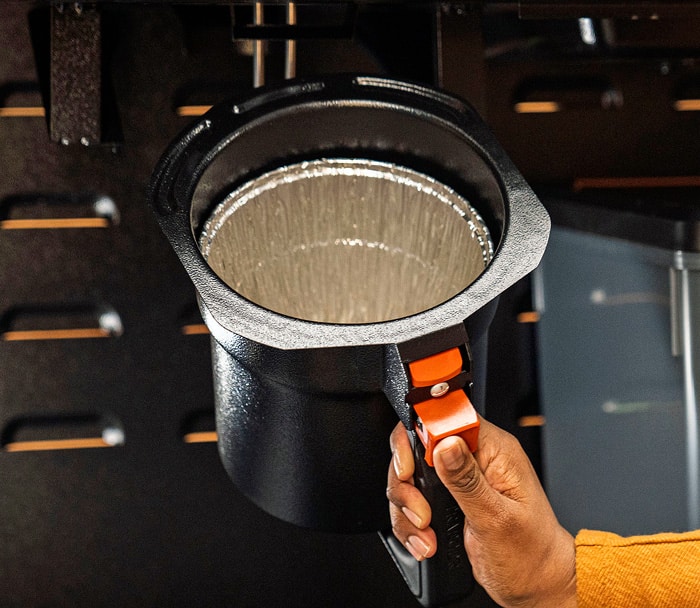 The bucket also collects ash. Fans guided by Timberline's control system effectively blow ash into the bucket. You should still periodically clean out the firepot, but after several cooks, ours remained surprisingly clean and clear.
Hungry for more ribs recipes, tips, and techniques? Click here to download our ebook "Amazing Ribs Made Easy" $3.99 on Amazon (free Kindle app runs on all computers and devices). Or, get this book and others FREE as a member of the AmazingRibs.com Pitmaster Club. Click here to join.
On the right side is a 22-pound pellet hopper with a sensor that warns when fuel levels are low.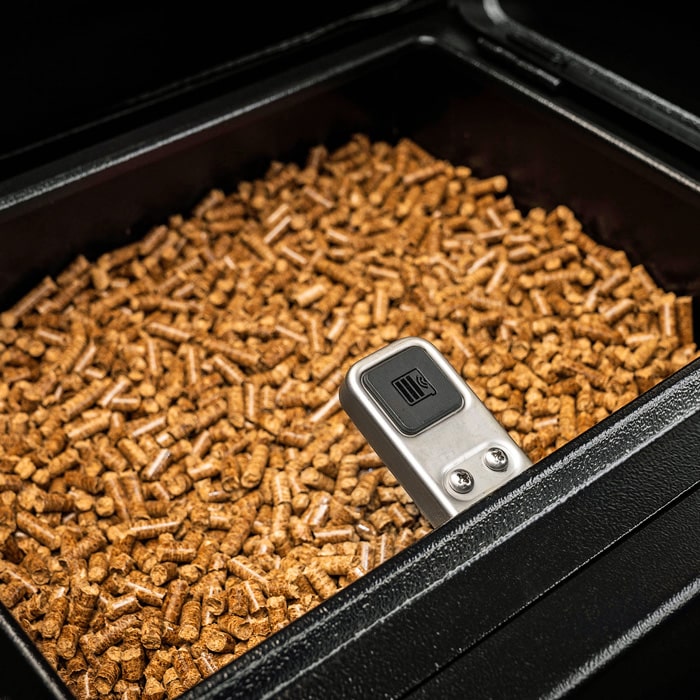 Place the included pellet bucket underneath and slide out the pellet chute to empty the hopper.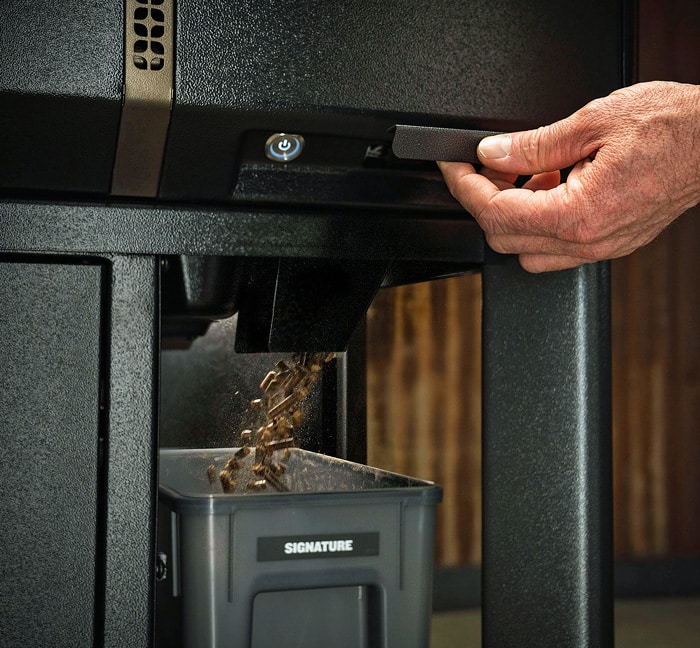 When the bucket is not in use, put it in the cart and replace it with two bamboo shelves – also included.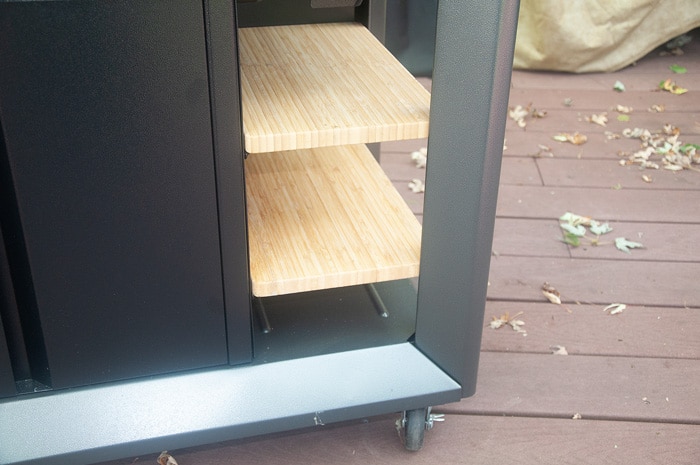 On the left side is a Timberline feature that captures everyone's attention — a built-in outdoor-rated, electric induction cooktop!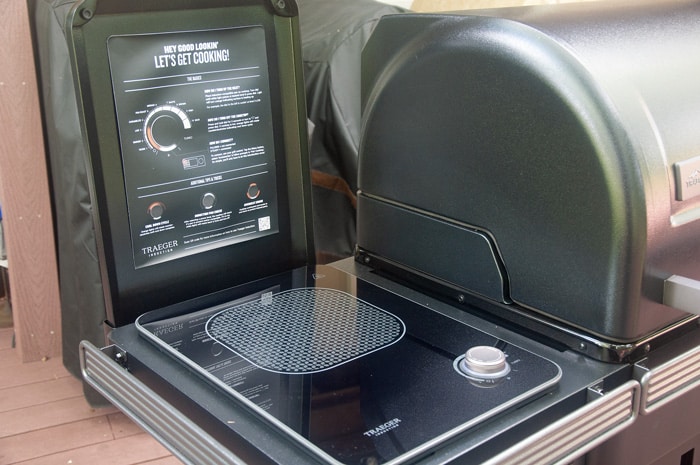 Bill McGrath, an electrical engineer who does our AmazingRibs.com thermometer reviews, explains induction this way:
"Induction heating occurs when free electrons in a conductor move under the influence of a changing magnetic field. The induction stovetop has a coil under the burner that is driven by a high-frequency signal. This creates a rapidly changing magnetic field that induces a current in the bottom of a pot, thereby heating it. You might think that any conductive material would work, but the coupling of energy requires a high magnetic permeability, so some materials won't heat effectively on an induction cooker. Iron has high permeability; aluminum doesn't. Cast iron and stainless steel will usually work fine, so your All-Clad and Le Creuset are good to go. If in doubt, see if a magnet will stick to the bottom of the pot or pan. If it does, you're in business. If shopping for cookware, look for the Induction-ready icon on the package."
Induction cooktops are nothing new, but we've never seen one built into a pellet smoker. Most pellet smokers are weak when it comes to searing foods and all of them require electricity so it makes sense. Timberline's electric induction plate and a cast-iron skillet remedy this common limitation.
Another new feature is Timberline's Pop-And-Lock rail that wraps around the entire unit and is used to hang various, optional accessories like the tool hooks and condiment storage bin in the photo. Place them wherever you like along the P.A.L. rail.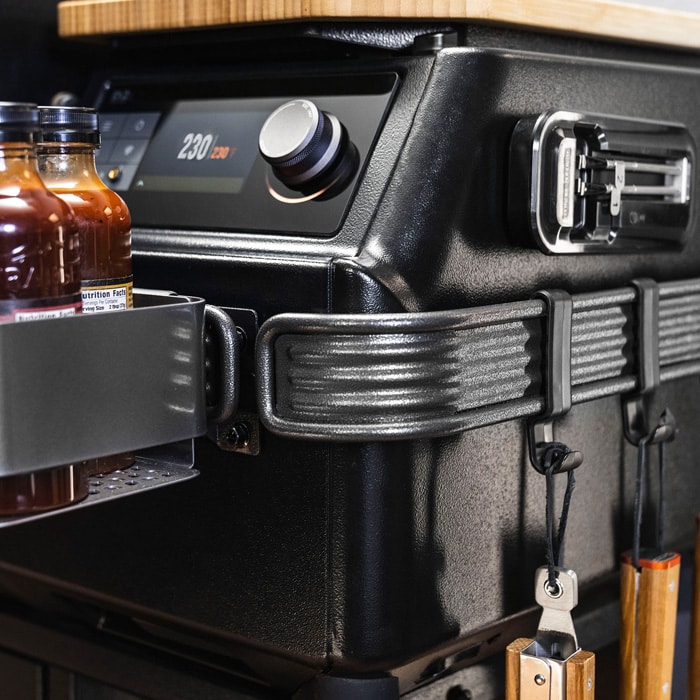 Timberline comes with two meat probes that plug into the bottom of the control panel and two wireless MEATER meat probes. Look ma, no wires!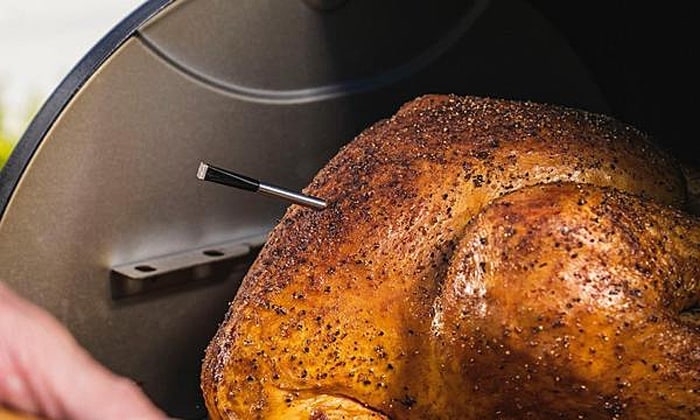 Click here to read our MEATER Review. Digital meat probes are essential to avoid overcooked or undercooked foods and those MEATER wireless probes are just plain cool. Click here to learn why digital thermometers are the most important tool in any cook's toolbox.
Timberline also has unusual lights mounted on the left side of the pellet hopper at the primary grate level.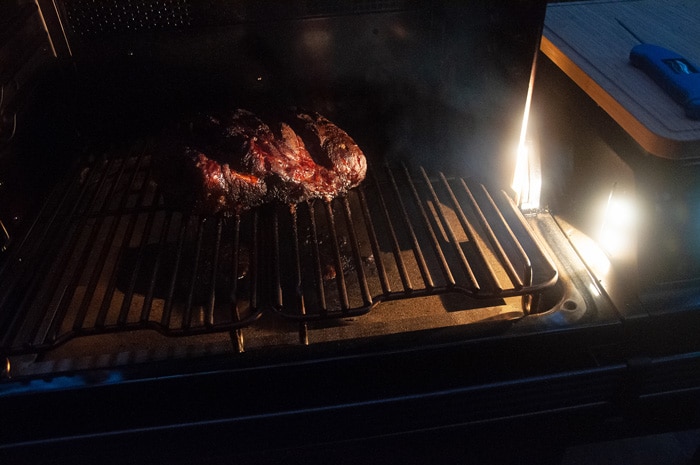 They're nice but have a limited range. Overhead placement would be more effective in most cases.
One new item built into Timberline that caused some head scratching is their kickstands that pop out from underneath in the back.
"Easy-to-use kickstands on the rear of the grill prevent the grill from tipping over if it's on a steep incline", reads the manual. How about not including kickstands and instead simply advising buyers not to position their grill on a steep incline?
Plus one of our kickstands came loose and started flopping down.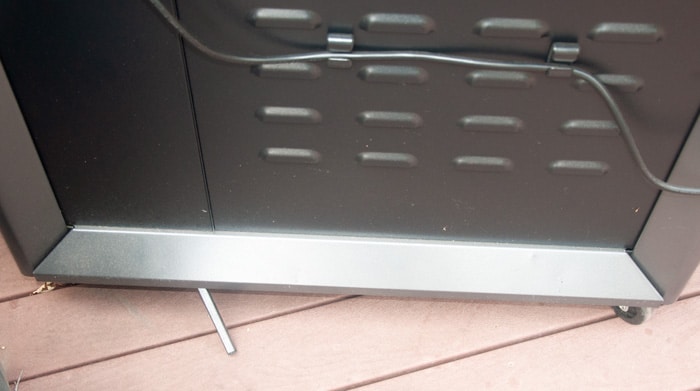 I am not flipping this 238-pound beast on its back to fix it so I added duct tape to keep it from dragging across the deck.
WiFIRE controller and app
When Timberline first appeared in 2017, the WiFIRE controller and app were among the more sophisticated pellet smoker systems we'd encountered. These days apps are everywhere and are becoming commonplace with backyard smokers and grills. The 2017 WiFIRE was just a starting point. Software never sleeps and neither do Traeger's programmers. The 2022 version has more of everything.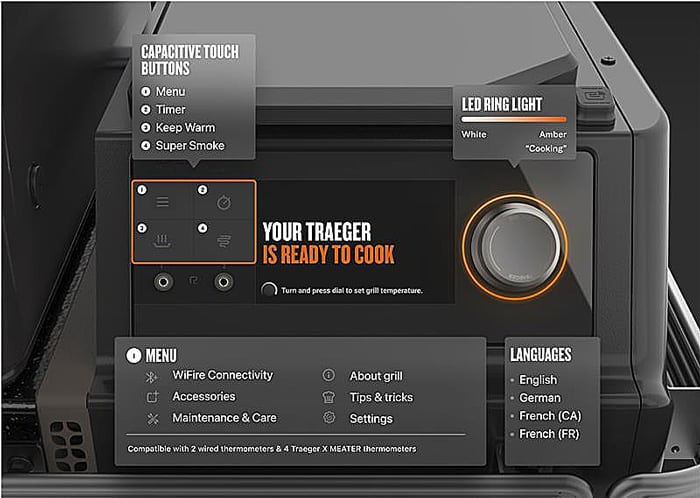 From the control panel on the pellet hopper, WiFIRE reports on the status of the entire smoker including set temp, actual temp, and fuel level. You can change settings, such as cooking temp or internal meat target temp. An alarm will notify you when your set cooking time or desired meat temperature is achieved. Everything is connected to WiFIRE, including all meat probes and the induction cooktop.
A typical problem with wireless technology is connectivity. We learned long ago that connecting a smartphone app to a wireless device on the deck is often frustrating. One shouldn't rush to blame the smoker. Connection problems can result from a variety of factors like an out-of-date modem or placement of the device outside a network's range. Maybe my network just doesn't like Traeger that much because I always have a little more trouble hooking up with WiFIRE than other wireless devices. I'm happy to report that Traeger's customer service is good and they're open seven days a week. With patience and perseverance, the connection was made.
The app gives you the same control and monitoring as the control panel, but right in the palm of your hand, from anywhere. Run an errand or head to the office while Timberline smokes low-and-slow back home. The WiFIRE App is your traveling control panel. If your brisket progresses faster than anticipated, just hit the "Keep Warm" button and WiFIRE will drop the cooking temp to 165°F to hold your goodies until you return. You can also access Traeger's Recipe Library from the app. I'll have more on this below.
Once up and running, I found WiFIRE somewhat overwhelming. It does an awful lot and the good folks with Traeger customer service, and even their high-level product managers, were baffled by some of my questions. It is and will continue to be a work in progress. I was griping to Meathead about some bumps in the WiFIRE road that were slowing me down and he commented, "Sounds like they sent you a BETA version." Then it occurred to me, that this is par for the course in the techy electronics world. For decades now, companies have shipped half-finished software and cell phones with the intent to fill in any blanks as they go. And the modern techy electronics world of barbecue and grilling has followed suit.
Super Smoke Mode
A common complaint about pellet smokers is that they don't create enough smoke, so most manufacturers include a smoke setting that drops the set temp and changes the fan settings to allow wood pellets to smolder a bit more and amp up the smoke level. These new Timberlines are already getting a reputation for generating lots of smoke. And they do so at all temp settings, from low to high. The hood is constantly emitting billowing clouds from start to finish. This may be because the controller temps constantly swing below and above the set temp in all ranges. Although all thermostatically controlled cookers, even indoor ovens, go up and down within a set threshold above and below the set temp, Timberline's temp swings are slightly wider and more pronounced. This seems to be intentional and not a malfunction. The downdraft airflow design may also come into play. Despite this constant cloud, we didn't notice any notable increase in smoke flavor, smoke aroma, or smoke ring.
Temperature tests
Checking buyer reviews online, we found a significant number of complaints that their Timberlines wouldn't get hot at all. Some claimed they couldn't get above 200°F! We had issues with cooking temp, but nothing nearly as bad as those poor folks. With our digital temperature probes on the low, middle, and high cooking grates, we ran Timberline at set temps of 225°F, 325°F and 500°F. Heat was even from bottom to top within the smoke box, but our probes registered lower than our set temps. Our set temp/actual temps were 225°F/215°F, 325°F/285°F, and 500°F/430°F. Cooking tests agreed with this discrepancy. Foods just plain took longer than was typical from our experience and we ended up goosing the set temps in order to finish faster. We don't believe this is related to the smoke inducing temp swings described above because WiFIRE consistently hovered over and under set points, but produced a steady, average temperature. We strongly recommend you use a high quality digital thermometer for actual temperature reading or your meat will take much longer to finish. Click here to search our thermometer reviews.
Guided Recipes
The WiFIRE app includes a large number of good recipes that provide step-by-step instructions on your smartphone, supported with photos and descriptions. These recipe won't replace great BBQ books like New York Times Best Seller, "Meathead: The Science of Great Barbecue and Grilling", but they may get you to try a few new dishes.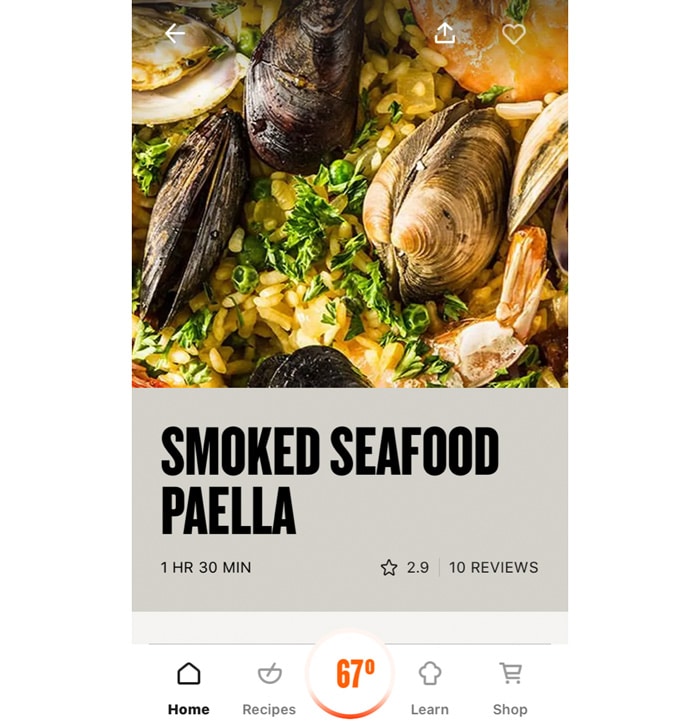 You can change recipe measurements from imperial to metric.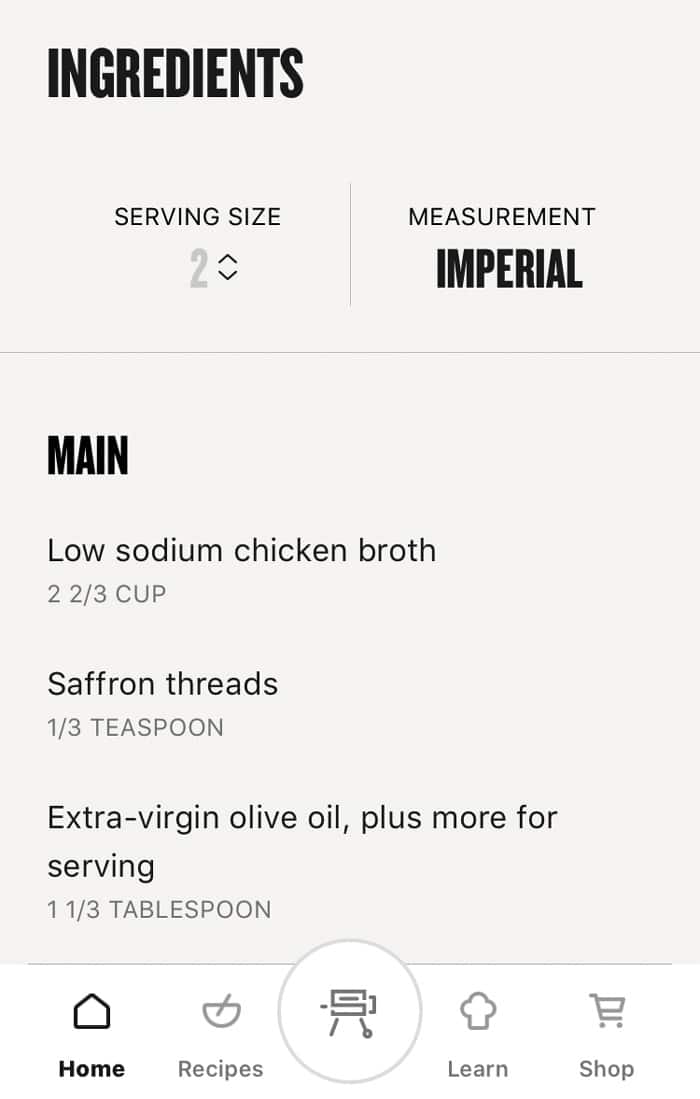 And scale the serving sizes.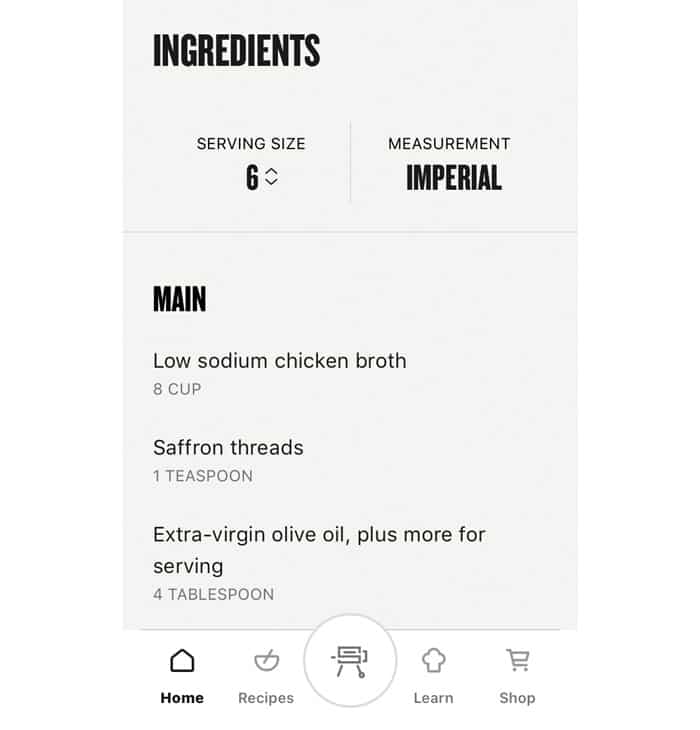 Of course, you'll find a wide variety of tested recipes right here! Click to check out our AmazingRibs.com Killer Tested Barbecue And Grilling Recipes. Ours are also scalable and you can switch measurements from imperial to metric with ease.
Get a sneak peak at Meathead's next book. He shares chapters with members of our Pitmaster Club as he finishes them. Click here for a free 30 day trial. No credit card needed. No spam. Click here to Be Amazing!
Wanting to test Timberline's highest temp setting of 500°F, we selected a Traeger recipe that calls for skirt steak. Thin skirt steaks need high direct heat to brown the meat surface quickly while leaving the interior pink and juicy. We chose Grilled Thai Beef Salad from the Traeger library.
We cranked Timberline to its top temp of 500°F and placed the meat on the lowest, main cooking grates. Fearing our temp test results would come true once again, we were pleasantly surprised our steaks came out OK.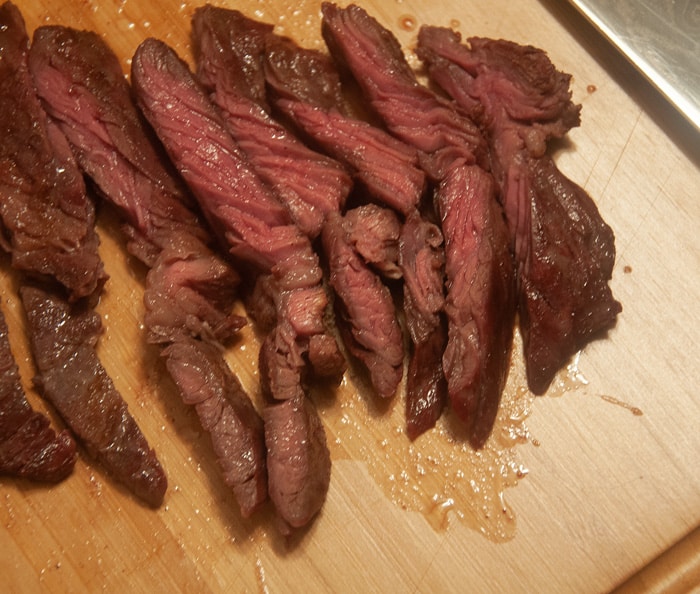 The interior was nice and pink and the exterior was nicely browned, though certainly not the deep, dark, sear that we would have loved to see. Even with their stated high-temperature range of 500°F, Traegers don't get hot as quite a few other pellet "grill" brands that hit 550° to 600°F or better.
Of course, we'd be idiots of elephantine proportions not to use the induction cooktop for serious searing on thicker cuts like these 1.5″ thick strip steaks.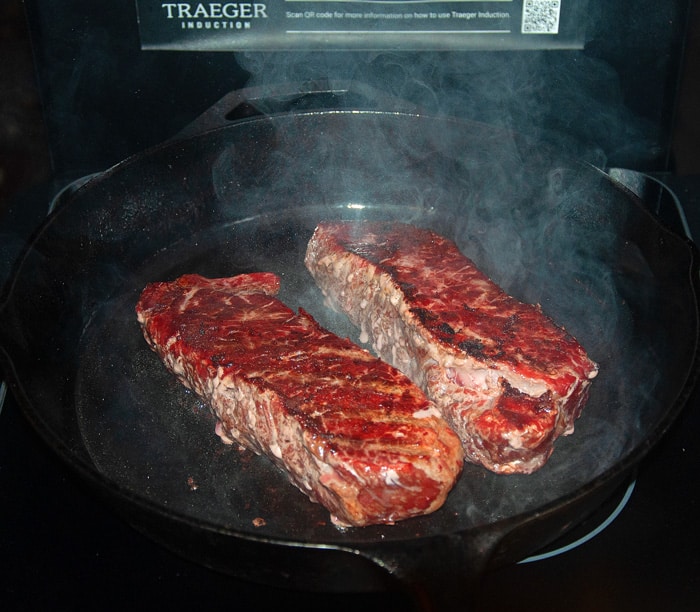 You gotta love that induction plate. The temperature range goes from low enough to simmer, to hot enough to boil, to way hotter than you'd probably want for most searing.
Packaging and Assembly
To say Timberline was packaged well is an understatement. Traeger wrapped it up with enough custom fitted, heavy cardboard to send to the moon. And after the smoky astronauts land, they could build a little base camp with the product box that converts to a wild west saloon.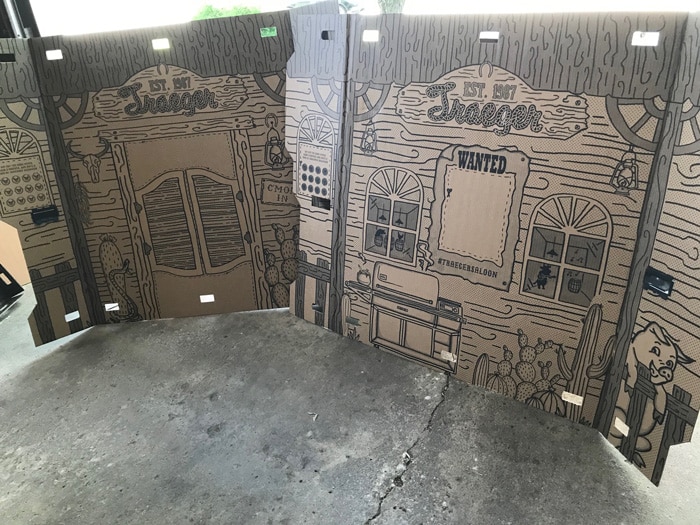 Knowing Timberline has a double-door cart and lots of extra goodies, we were prepared for some tedious assembly. To my delight, Timberline was shipped almost entirely assembled.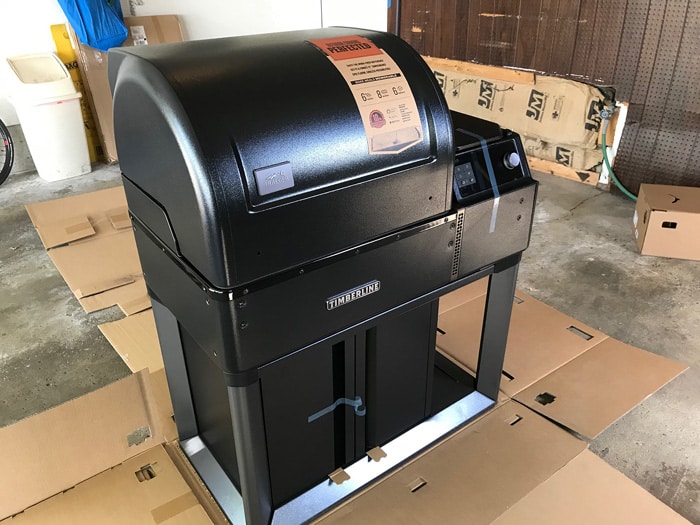 Conclusion
Testing Timberline has been a bumpy ride. WiFIRE is impressive but it is still a work in progress. That goes with the territory in this wireless, software-driven world and we expect it to get better with ongoing, updated benefits. The horror stories of temp malfunctions from some buyers are cause for concern even though we didn't experience the cataclysmic failures they described. In fact, most owners love their Timberlines. Additionally, unique features like the MEATER Wireless thermometers and induction cooktop sure are appealing.
Before new ownership took over in 2014, Traeger had coasted along with a hodge-podge catalog of disparate, antiquated models, oblivious to the innovations of a growing crowd of competitors. Introduction of WiFIRE signaled that the new Traeger regime was no longer content to sit back and watch the world go by. And all of those geezers who still refuse to use digital thermometers should be forewarned; the new, tech-heavy barbecue wave is coming fast and furious. The aim of all this technology is ultimately to make the cooking experience easier and better, even if getting there requires some patience and effort.
The 2022 Timberlines are not for everyone. Price narrows the demographic considerably right out of the gate. Prices are not out of line with the limited choices of stainless steel pellet smokers from the outdoor kitchen crowd. In fact, they're even lower than luxury models from Memphis and Twin Eagles. And even though they're loaded with high-quality stainless steel guts, the exterior cosmetics, though elegant, would stick out in a traditional, shiny stainless steel outdoor kitchen ensemble. Of course, some may find that contrast appealing. And time will tell if Traeger intends to address this with their own Timberline outdoor kitchen components.
I had a tough time rating this one. It does have some warts, but we're pretty sure some of those warts are already being removed. Ultimately I conclude Traeger just threw so much juicy, smoky beef at these models that they beefed them up into our Gold Medal territory. So be it. The 2022 Timberlines receive our AmazingRibs.com Best Value Gold Medals.
Warranty
The new Timberlines are covered under Traeger's 10 Year Limited Warranty.

We thank Traeger for providing a Timberline for our tests.
A NOTE FROM MEATHEAD. After Max finished his usually thorough review above, he gave the Timberline to me. It is an amazing design, easily the best pellet smoker on the market, but it has some of the flaws one might expect in version one of something complex like this.
The temperature inside the cooking chamber runs about 20°F below the setting on the front of the device as measured by two trusted thermometers. This really delayed the finish time of my first cook and almost got me in trouble with my wife.
The bamboo cutting board on top of the pellet hopper and the wooden shelves below it are all heavily impregnated with black mold/mildew. My wife, a PhD microbiologist, said I should not let food come in contact with it. I plan to clean the hopper cover with Comet and then a dilute bleach wash and paint it and it will be just a cover. I will discard the lower shelves. If I need a cutting board I will bring one from inside.
The super heavy-duty cover will no doubt last many years but it is so large and heavy with expansion sections with zippers that getting it positioned and on the smoker is quite a production. I spoke to Traeger engineers and told them I would like to leave it off but I fear that rain and snow will get into the electronics. especially the thermometer probe ports. They said it is OK to leave the cover off. Even if water gets into the ports it is designed to do no harm, but it might make them probes unreliable until they dry out. They said the controls and LED screen are safe. When I pressed them and asked if I could leave it uncovered all the time, they said "probably" but suggested that I cover it.