In 2017 Traeger introduced Timberline; a technologically advanced wood pellet smoker with a sturdy design and a muscular look and feel unlike anything in their extensive catalog. Instead of a barrel shaped smokebox, Timberline has stadium or race track shaped sides with a super high-profile hood to accommodate a low, middle and high rack.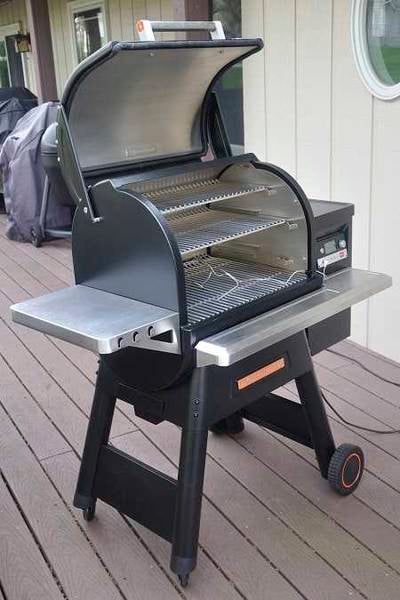 The unusual drip plate beneath the lower rack slants toward the front instead of off to one side, directing grease into a channel that runs right to left and empties into a slide out grease tray under the left side shelf. A large opening at the back of the drip tray is meant to allow heat and smoke to rise up along the back, hit the curved hood and create a downdraft for even heat top to bottom.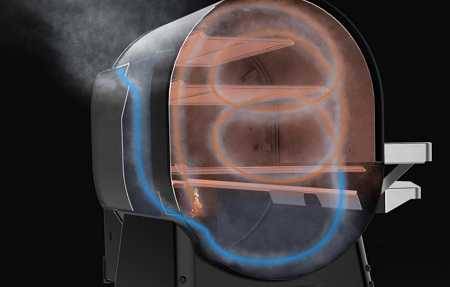 To avoid pulling heat toward a single chimney, Timberline has an exhaust vent that runs across the back, further mitigating temp fluctuations from left to right.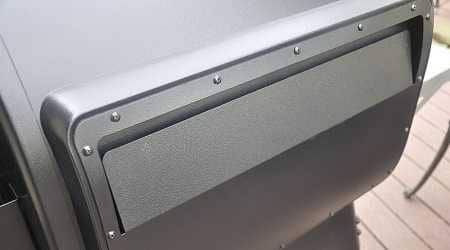 It runs hotter at the back and sides, but overall the downdraft design succeeds in providing uniform temp on all three racks. It excels at low and slow smoking in the 225°F range, but like most pellet smokers, Timberline is weak for high temperature searing.
The double-wall lid and smoke box are coated steel with a stainless steel interior. Massive side hinges support the lid which has a thick insulation strip around the edge for a tight seal. The three racks are made of heavy stainless steel rods. Dimensions are 22″ x 9″ top, 22″ x 14″ middle and 22″ x 16″ bottom for a total of about 850 square inches of cook surface. Hence the model name 850. A larger Timberline 1300 is also available. There is a smallish stainless front shelf and large stainless left shelf with tool hooks. The 24 lb. hopper provides plenty of fuel for long cooks. The hopper lid is water proof and accommodates a magnetic bamboo cutting board that is included. Around the back is a clean out door that enables you to easily empty the hopper into a bucket. A thumb screw prevents the door from opening accidentally. A handy power cord hook is adjacent to the door. Timberline rests on four large legs with two big wheels and two locking casters.
Pellet smokers use a temperature regulation system similar to a kitchen oven. A thermostat inside the oven senses the temperature and tells a controller when the temperature has dropped below your set point. The controller then feeds wood pellets into a hot firepot until the desired temp is regained. Click here to learn more about pellet smokers. Traeger pioneered and popularized pellet smokers. Although they dominate this growing market segment, competitors have managed to lure buyers away, often with advanced technology like digital touchpad controllers and WiFi remote monitoring and control that Traeger didn't have. Timberline is the first Traeger to change that.
WiFIRE Controller
The new Timberline WiFIRE Controller mounted on the front of the hopper can be operated at the smoker or remotely via an app that downloads to your smartphone. It has a small Status Display Screen with a selection dial that allows you to scroll through and select various options. Four buttons under the screen select Timer, Super Smoke, Keep Warm and Menu functions. The timer is for convenience only and does not control the smoker. It just beeps when the time is up. Super Smoke only operates in Timberline's low temp range of 165°F to 225°F. Wood pellets produce more smoke at low smoldering temps than hot fast-burning temps. Selecting Super Smoke also modulates the air flow inside the smoke box and allows smoke to intermittently linger before heading out the rear exhaust vent. If foods are done before you're ready to serve, hit Keep Warm to drop temp to 165°F. The menu button accesses various features from set up to choosing cooking methods. An integrated meat probe that plugs into the control panel is included and can be threaded through a small hole in the side of the smoke box. There is a small storage box for the probe under the hopper lid.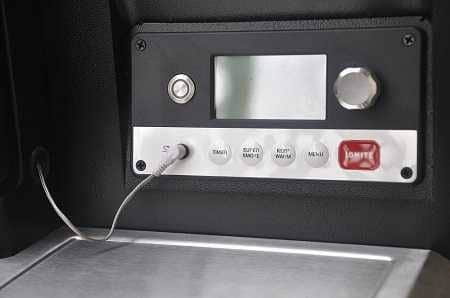 In 2019 Traeger added integration with Amazon Alexa for all WiFire models in the Pro, Ironwood and Timbeline series. Alexa integration let's users cook with voice control to change temperature, check status, set timers and shut down.
Traeger App
Available for IOS or Android smart phones, download the app, create an account, then pair your device to the grill. We had numerous problems getting started with the app as Traeger scrambled to iron out the bugs in their new systems. Once we got up and running, the clouds parted and it was smooth sailing. Traeger's app is very well thought out, useful and user friendly. Monitor progress from your bed, office, car or family room. Check the internal meat temp. Change cooking temp as needed or hit "Keep Warm" to hold foods at your leisure.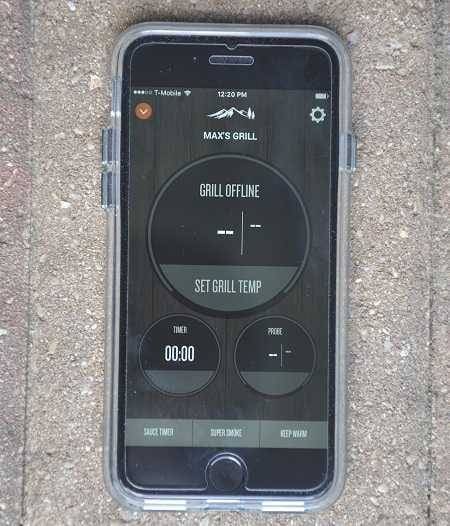 In 2020 Traeger updated the app for all their WiFire models. They report the new version has new recipes and video content, new tips and techniques, simplified controls with more real-time information, and Google and Alexa Smart Home Compatibility. In 2021 Traeger rolled out an Apple Watch App.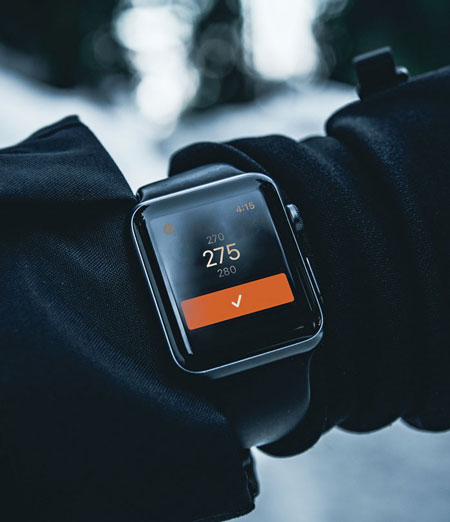 Smoking
Timberline performs flawlessly for all low and slow smoking and the even heat provided by the downdraft design allows you to use all three racks without the need to rotate foods as is necessary with smokers that have hot and warm zones. Furthermore, everything we cooked came out moist and juicy even without a water pan. The app is a great asset, especially for looooong BBQ smoking sessions. The remote monitoring and control frees you up to sleep, do errands, go to a show or watch a game without interruption.
Poultry – Crank the temp!
We had trouble getting good, brown, crisp chicken skin with wings, thighs and whole chickens cooking at 325°F and 350°F. Once again, the meat was remarkably juicy, but the skin came out pale and chewy. Not exactly rubbery, but not what we wanted. At this point we liked Timberline, but couldn't award it our AmazingRibs.com Gold Medal as we felt strongly that it should be able to produce better results with poultry. Just as we were about to conclude tests, Traeger advised us to Crank the Temp to 400°F for poultry. Problem solved! At 400°F we got our crisp skin without drying out the meat and losing the juiciness. So for Gold Medal Grade Golden Skin, goose Timberline to 400°F.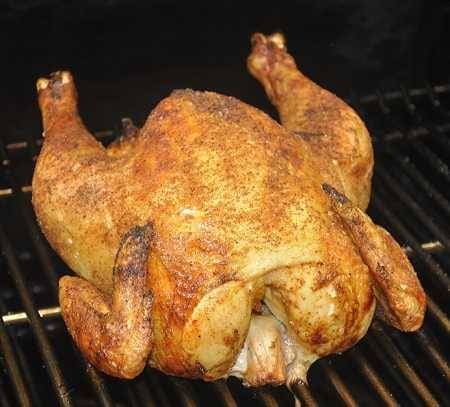 Searing
Timberline has a high temp setting of 500°F, but takes a long time to get into the upper 400°F range and struggles to stay there. Open the lid to flip burgers and the temp drops like a rock, then starts a slow climb back up. Pellet smokers typically don't do a good job of searing, although some have special designs that are meant to provide hot sear zones. Timberline has a dual position lower grate which can be set several inches above the drip plate for smoking, or dropped down low for higher temp cooking. In the low position the grate produced faint sear marks on steak, but the overall finish was grey and bland, (see below). When our test steaks hit 130°F internal temp, we flipped the one on the left, shed a few tears, then removed both and seared with a pan in the kitchen.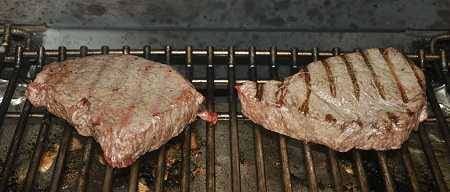 Traeger suggests placing a cast iron skillet on the lower rack to sear. An alternative sear surface that is gaining popularity with pellet smokers are extruded aluminum GrillGrates that can boost temp considerably. Click here to learn more about GrillGrates.
Packaging was excellent with heavy cardboard exterior and custom fitted foam inserts to protect parts from damage. The instruction manual could be better. Small pix coupled with minimal text slowed down assembly a bit. Timberline's outstanding WiFIRE controller is more complex than most and the Owner's Manual doesn't cover everything. For example, after firing up Timberline a few times, the Status Display Screen instructed us to clean the grill. This message didn't go away after cleaning. We called Traeger's customer service number in the Timberline manual, but the agents were not familiar with the new Timberline models and couldn't help. We called our Traeger contacts and discovered there is a dedicated Timberline customer support group at 844-9WIFIRE and learned the clean your grill notification is triggered after 20 hours of operation. One must then access the Clear Notification Screen to reset it. This feature does not shut the unit down or prevent start up, it is just a reminder to clean out the ash.
Timberline has a three year warranty against defects in material and workmanship under normal use. The warranty does not cover shipping or labor.
We thank Traeger for providing a test model.