Big Poppa BBQ Mats Are the Best Way to Smoke Small Things Like Nuts
By: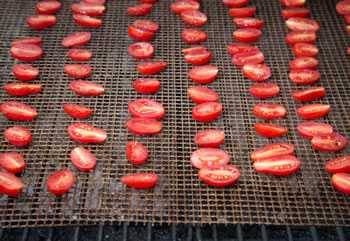 These Sturdy Screens Won't Sacrifice Food to the Fire
Have you ever tried to grill or smoke small things like cherry tomatoes or nuts and have them fall between the grill grate openings into the fire, or have you had a delicate piece of expensive Chilean Sea Bass stick to the grates and disintegrate when you try to lift it off?
Here's a great cheap solution. Big Poppa BBQ Mats are sturdy wire mesh screens with a non-stick coating capable of resisting grill temperatures, and they are easy to clean. I use mine for jalapeno poppers, onion rings, potato slices, mushrooms, bacon, and biscuits. They are great for smoking nuts and dehydrating tomatoes and peppers. They're flexible too. I've even used mine to wrap a meat loaf so I could crisp it on all sides.
Frogmats come in a variety of sizes, even large enough for a whole hog, and you can cut them to fit. When you are done, just roll them up. They cannot handle extremely high heat or direct flame, however. – Meathead
Click here to check prices and order from Big Poppa Smokers
Model:

Frogmats Non Stick Grill Mat

Where to buy (buying from this supplier supports this website):

Made in USA:

yes
Published On: 5/19/2018 Last Modified: 2/24/2021
Meathead - Founder and publisher of AmazingRibs.com, Meathead is known as the site's Hedonism Evangelist and BBQ Whisperer. He is also the author of the New York Times Best Seller "Meathead, The Science of Great Barbecue and Grilling", named one of the "100 Best Cookbooks of All Time" by Southern Living.

---