Gourmet Magazine, the beloved 68 year old grande dame of culinaria, died on October 5, 2009. And the obits say I killed her.
Jennie Yabroff's autopsy in Newsweek blamed Gourmet's elitism and people like me. To make her point, she quotes a story from the July issue of Gourmet by Alexander Lobrano: "[A]fter a stately pause, the graying waiter returned with a heavy copper casserole, which he set at my end of the table. Lifting the lid, he released a fleeting cloud of steam. The mingled aroma of wine, beef, and onions was so intoxicating it seemed an eternity before everyone had been served and I could dig in." Yabroff thinks this is a bit highfalutin, saying "Lobrano's story evokes life the way we want it to be; the way it is maybe once or twice in a lifetime," and she wonders if people like me, who write about food on the net, are to blame: "Perhaps the rise of food blogs means we're hungry for writing about food the way we actually prepare and eat it, crumpled paper napkins and all."
But Gourmet wasn't elitist even though it's name sounds snobby. It just took its subtitle, "The Magazine of Good Living", seriously. It told fascinating stories, used the best ingredients and proper cooking techniques to create memorable dishes, and photographed them lovingly. It also covered food politics intelligently, dining vividly, drink easily, culinary travel and culture thoughtfully. It covered street food and simple dishes as well as fantasy food. Subscribers kept every issue. It was not fussified. It just wasn't aimed at people who eat at McDonald's regularly or those who make macaroni and cheese from a box every week.
Chuck Townsend, CEO of Conde Nast, the owner of both Gourmet and Bon Appetit, is the one who took Gourmet to the slaughterhouse. He blamed the recession in his announcement to staff on October 5, 2009: "[I]n this economic climate it is important to narrow our focus to titles with the greatest prospects for long-term growth " Mediaweek magazine translated: "Gourmet was the more luxury-oriented than sibling Bon Appetit, which made it an ill fit for today's budget-crunched times. Instead, those titles thriving in the space are new, celebrity-focused entries with mass appeal, like Hearst's Food Network Magazine and Reader's Digest Association's Every Day with Rachael Ray."
To make matters worse, printing and postage are usually the biggest expense items on a magazine's income statement, usually bigger even than payroll, and they have been rising like bread dough for decades.
But Gourmet's goose was cooked when 2009 ad sales shrank 43%. Online advertising systems such as Google's AdWords had been draining Gourmet's blood. AdWords, and similar systems at Yahoo! and Microsoft Bing, allow advertisers to place their ads precisely where they need to be. No sense for mail-order steak catalogs to advertise on a page with a salad recipe. Plenty of sense for them to be on my beef recipe pages. Serving appropriate ads to people is the thing Google does best. Better even than search.
If you search Google for "steak recipes", you will probably see ads from the mail order steak companies in the right hand column. And maybe not. It changes from from day to day, and hour to hour. I just did the search and there was an ad from Dominick's, a Chicago-based grocery chain. Google knows where I live! It can tell by tracing the location of the company that supplies my internet access. AdWords buyers can get up-to-the-minute stats on exactly how many people saw their ad, clicked on it, and bought from it. No way a magazine or any other marketing medium can top that. Just another example of how the internet has ground up century old business models as if they were black pepper. Look at what it has done to newspapers, the US Postal Service, real estate sales, and travel agencies, to name a few.
Gourmet had other revenue streams and Conde Nast says it will keep the brand alive in them. It published cookbooks, and just this year put out Gourmet Today: More than 1000 All-New Recipes for the Contemporary Kitchen.
If you buy it the book says you will get a free subscription to Gourmet. Oops! Don't wait for the sequel.
Gourmet produced an excellent television series for PBS, Gourmet's Diary of a Foodie, and has another Gourmet's Adventures with Ruth debuting in October 17, but that's not going to feed many employees. Classes and festivals? Sounds like fun, but shouldn't all these spinoffs be under Bon Appetit's brand, the name they have to build?
If the internet played a role in Gourmet's demise, then some of the blame can be found in the mirror, Mr. Townsend. Gourmet's website was free and had many of the magazine articles as well as videos and user feedback. Not only that, most of Gourmet's recipes can be found alongside recipes from Bon Appetit in Epicurious.com, a wonderful free database run by Conde Nast. So why buy the cow when you can get the milk for free?
According to the publishing trade mag, Folio, print periodicals have been crumbling at a record pace in recent years, far outstripping startups. The score is 383 to 259 so far in 2009. Among the recently interred were the reincarnation of Life, PC Magazine, Vibe, Men's Vogue, Cosmo Girl, Town & Country Travel, Portfolio, and Modern Bride. Makes one wonder how long before Bon Appetit, Cook's Illustrated, Every Day with Rachael Ray, Food & Wine, Food Network Magazine, Saveur, and the other epicurean mags hit their expiration dates.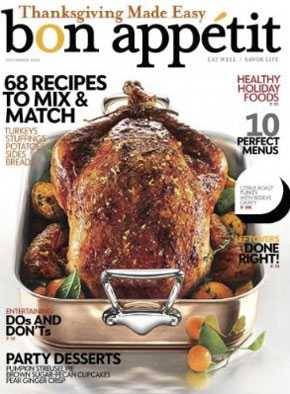 Some observers suspected that Conde Nast would try to blend their two food titles, but most expected Bon Appetit would get folded into the older, more stately Gourmet, whose Editor-in-Chief was the powerful and talented Ruth Reichl. But Bon Appetit, with the less prominent Barbara Fairchild at the helm, had the larger circulation (1.3 million vs. 950,000), its readers have slightly higher household income ($82,000 vs. $80,000), and more advertising, so it was a no-brainer from the financial standpoint.
Subscribers have been asking why Conde Nast did not sell the magazine. No doubt Townsend compared the two subscriber lists and saw minimal duplication. So they have automatically transferred all Gourmet subscribers to Bon Appetit. By merging them they found a way to significantly increase Bon Appetit's subscriber base with little expense.
Although it varies per magazine, new subscriber acquisition usually costs $20-40 per, making the first year of a subscription a wash. Renewal efforts can cost as little as $5 average, including efforts to retain dropouts. No doubt many Gourmet subscribers will dump Bon Appetit when their renewal bill comes, but many will stay on. Bon Appetit, which was founded in 1956, is a very good rag and I'm betting a majority will renew. Bon Appetit could come close to increasing its circulation by half, and get there at a much lower cost than the usual way of beating the bushes for new subs, which is buying mailing lists and sending expensive snail mailing sales pitches.
In his eulogy in the New York Times, a grieving Christopher Kimball of Cook's Illustrated magazine examines the body of his competitor and fingers another suspect: You. You and your 3×5″ cards and your keyboard and your desire to see your name online. "The shuttering of Gourmet reminds us that in a click-or-die advertising marketplace, one ruled by a million instant pundits, where an anonymous Twitter comment might be seen to pack more resonance and useful content than an article that reflects a lifetime of experience, experts are not created from the top down but from the bottom up." Kimball's excellent magazine, it must be noted, has no advertising, and is sustained solely by subscriptions. Ditto for its website.
He then spreads the blame to the advertising business model prevalent on the net and argues for the subscription model his site uses. "[We need to] define our brands, prove our worth, ask to be paid for what we do, and refuse to climb aboard this ship of fools, the one where everyone has an equal voice. Google 'broccoli casserole' and make the first recipe you find. I guarantee it will be disappointing. The world needs fewer opinions and more thoughtful expertise, the kind that comes from real experience, the hard-won blood-on-the-floor kind. I like my reporters, my pilots, my pundits, my doctors, my teachers and my cooking instructors to have graduated from the school of hard knocks."
So I Googled "broccoli casserole" and the very first recipe was in cooks.com (not related to Cook's Illustrated). Cooks.com is a humongous recipe database and it had 395 (!) broccoli casserole recipes contributed by, well, You. The very first recipe, by someone identified only as "CM" called for "sliced chicken" to be placed in the bottom of the casserole and the rest of the ingredients go on top. Then it said "brown on the top third shelf in a 350°F oven for about 15 minutes or until nicely golden." It doesn't say if I'm to use bake or broil, but I'm here to tell you, if you use raw chicken, 15 minutes on either setting is not likely enough time to kill salmonella, rampant in raw chicken nowadays. You could be more than "disappointed" in the first recipe you find, as Kimball predicts. You could be serving everyone a nice case of food poisoning.
I randomly clicked on some of the other recipes. A few looked like they might be pretty good. But many had confusing ingredients lists, failing to specify what kind of cheese, and many others called for Velveeta or Cheez Whiz, officially classified as "pasteurized process cheese" that tastes more like plastic than real cheese. Other recipes had sketchy instructions. None appeared to be written by a pro, although a few did look to be cribbed from cookbooks and, perhaps, even Gourmet.
Looking closer at the search results for "broccoli casserole" from Google, I noticed that the 122nd listing was a link to a recipe in Conde Nast's Epicurious.com by someone named "hayesmd", an anonymous civilian, not even a recipe from Gourmet or Bon Appetit! I also checked out the recipe on CooksIllustrated.com. A polished recipe with precise instructions. Looks killer.
The latest thing is "crowd sourced" recipe sites like Foodista and the recipes section of Wikia.com. Anyone can edit any recipe they want. The theory is that the wisdom of the crowd will produce something better than any individual can. It works fairly well on Wikipedia.com, an online encyclopedia. So, if I hate cilantro, I can whip through the site removing cilantro willy nilly. If I like spicy food, I can add a splash of hot sauce to everything. It I work for Velveeta, well, you get the picture. These are new sites, so only time will tell if they produce anything useful, but I am skeptical.
Real recipe writing is hard work and it takes experience. It can take a dozen attempts to get it right. Adjust one ingredient and you probably have to adjust others. After you get it down you have to explain each step so there is no ambiguity. A serious food writer lives in fear of ruining somebody's meal with an imprecise instruction. I've been working on my recipe for the ultimate hamburger on and off for months and I still haven't published it.
I had to wonder, where in Google are the recipes from chefs or experienced foodies who slave over first rate websites for few returns? Where are the links to Brigit Binns (RoadFoodie.com), Michael Chu (CookingForEngineers.com), Steve Dublanica (WaiterRant.net), Ree Drummond (ThePioneerWoman.com), Clotilde Dusoulier (ChocolateAndZucchini.com), Robin Garr (WineLoversPage.com), Jaden Hair (SteamyKitchen.com), David Leite (LeitesCulinaria.com), Nancy Loseke and Tj Robinson (TheOliveOilSecret.com), Harold McGee (CuriousCook.com), Natalie MacLean (NatalieMacLean.com), Michael Ruhlman (Ruhlman.com), Maria Rodale (HuffingtonPost.com/Maria-Rodale), or David Rosengarten (DRosengarten.com)? Perhaps these sites don't have broccoli casserole recipes, and that's why they weren't on the Google list.
But all too often their work is buried waaaaaay down the results list of the big search engines. Trying to find the best websites on food is like going into the library for a cookbook and finding all the books are on the floor in a pile. Clearly Google and gang have a lot of work to do. At least when it comes to food, they are bringing us quantity, not quality.
Did websites like these contribute to Gourmet's passing, as Newsweek accuses? Perhaps, but considering how hard it is to find quality food info in Google, it is doubtful that we were major factors.
So who killed Gourmet? A thorough post-mortem shows that, like Juius Caesar, Gourmet was surrounded and knifed from all sides. Clearly Brutus was Conde Nast, but conspirators were numerous: The recession, advertisers, Google AdWords, Google Search, Bon Appetit, Epicurious.com, printers, the US Postal Service, perceived elitism, websites like min, and You.
What does the future hold? While I am mourning the passing of a great magazine, I will continue to devour Cook's Illustrated and Bon Appetit. But I won't be buying two-year subscriptions for Christmas gifts. I hope they make me eat my words.
Until Google Search gets its act together, here's my list of some of my favorite food and drink websites. Tell me about your faves.