Josh Ozersky died suddenly at age 47 Monday morning May 4, 2015 after attending events and parties surrounding the James Beard Foundation Awards in Chicago.
I lost a friend, a drinking buddy, a fellow meat devotee, and the world lost most erudite and most passionate food writer of this young century.
About 12 hours before his death he invited me to join him for dinner. Alas, I did not get the message until it was too late. Probably a good thing. He was out late that night eating drinking and carousing, last seen at a karaoke bar.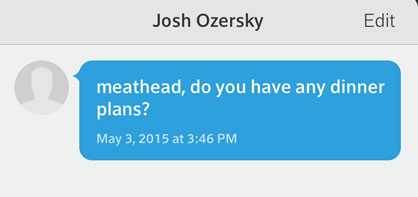 Yes, he was a hell-raiser, a partier, a hollow-legged bourbon devotee, a provocateur, and highly opinionated carnivore without peer. He even called himself a glutton in an article in Time reviling steakhouses. But he was also a wordsmith of high achievement, a turner of phrases, and a forged steel hammer when he had a point to nail. And he always had a point to nail. And he always nailed it. He was literate and his Notre Dame PhD in American history informed his prose.
His byline appeared in top drawer publications: Time, Wall Street Journal, Food & Wine, Esquire, Rachel Ray, and he wrote two books, love stories of a sort, The Hamburger: A History
(2008) and Meat Me in Manhattan: A Carnivore's Guide to New York
(2003 under the pseudonym, "Mr. Cutlets"). My favorites of his fertile brain were his short curmudgeonly videos, Ozersky TV, which I supported occasionally with funding. In them he was given to well reasoned rants, like this one called "The Best Hamburger and the Homerist Fallacy" in which he namechecks GK Chesterton to good effect.
His powerful personal writing style is on display in this article in Saveur about his father called "Solitary Man". And his meatphilia is evident in this article in Esquire called "The Violent Secret of Meat."
He was a founding editor of New York magazine's food blog, Grub Street, for which he and co-editor Daniel Maurer received a James Beard Award in 2008. But it's difficult making a living as a freelance food writer and blogger, so Josh launched a massive flesh fest called Meatopia about 10 years ago, with all the top chefs serving wondrous treats. Like a politician seeking funds, he was always looking for a way to keep up a Lucullan lifestyle on a grad student's budget. It got him in a little hot water in 2010 when Robert Sietsema, another food writer, attacked him for writing about his wedding in Time without disclosing that the food and cooking was donated by chef buddies. He had many chef friends and he plugged them whenever he could. I'm pretty sure that's what ended his gig at the magazine. Meatopia in NY was a financial success for a decade, and scions sprouted in San Francisco, London, and elsewhere. Full disclosure: He and I had undertaken preliminary talks to hold a Meatopia in Chicago.
I met Josh via email when he had a food safety question, and we had several lively exchanges. He even picked a fight with me about my theories of resting meat, and that turned into a round table email discussion with him, Dr. Blonder, J. Kenji Lopez-Alt of Serious Eats, and chef Adam Perry Lang. Eventually he agreed with me because he loved steak so much that he wanted to eat them sizzling hot. He even wrote about my "afterburner" method for cooking steaks.
We once spent a day together in NY that started out with brunch in Chinatown at one restaurant, moved to another for lunch, and another for snack and then we walked the few blocks into little Italy where he wanted me to taste the turkey breast a restaurant was serving it at only 150°F after many hours in the sous vide machine (it was molten), then to another place where we met Rachel Ray, and then a cheese shop, and a bar, until I could take it no longer. I went back to the hotel and he remained to hobnob. The picture above was taken that night.
When I last saw him it was in Chicago at a Bourbon bar that had all of the Pappy releases, and we tasted about 30 samples. We shared our admiration for AJ Liebling between sips. So it doesn't surprise me that he was seen singing karoke in a Chicago bar in the wee hours the morning of his death in his room at the Conrad Chicago Hotel.
In his essay on his father he remembers his mother's death "But when I got up in the morning, she was dead. We didn't talk about it." It was sudden. His father also died suddenly, four days after being diagnosed with cancer. He wrote that "When I got back from the hospital, on Father's Day, no less, there were still some leftover pork chops in the refrigerator from the Malaysian restaurant Penang on the Upper West Side, which, it turned out, had been his last meal. I finished them, of course; there was never any chance I wouldn't."
Josh lived like there was no tomorrow. And this time he was right. Tonight I will have a big juicy burger in your memory, my friend.
Cause of death
On May 27, 2015, the Cook County medical examiner's office released the cause of death. Josh had an epilectic siezure and drowned in the shower.
A great bio of Josh
Portland Monthly ran this great profile of Josh a year after his death.