I believe Anthony Bourdain was the most influential person in the culinary world since Julia Child. Both, through the medium of television, have reached and taught millions profoundly.
As a writer I admired his storytelling skills and his biting but usually on-target observations. His self-effacing thoughts went beyond the hackneyed and were deeply personal and reflective.
He was a rapscallion and he loved poking snobs in the eye. If you have read my work you know we have this in common.
He was a fine cook and a better eater. I like to say that more important than what is on the plate is who is in the chairs. I think he would agree with me.
He was a joyful traveler, far more interested in people than buildings. He understood food was culture and the soul of a nation.
Spotlight on our favorite products
The Undisputed Champion!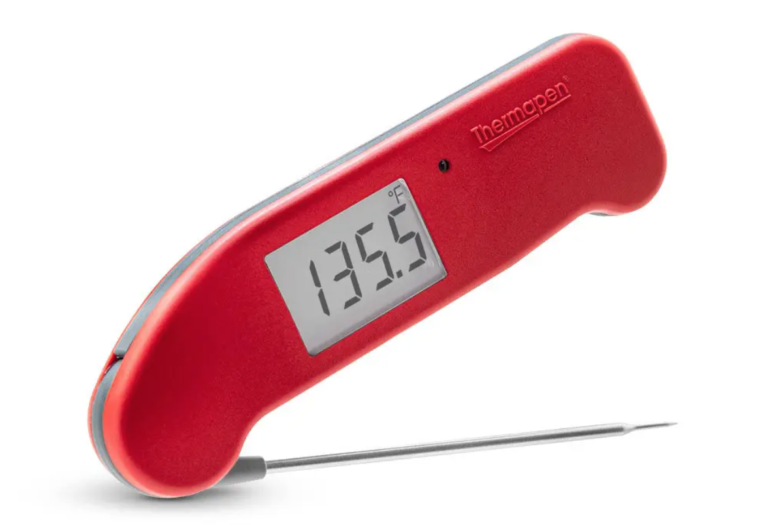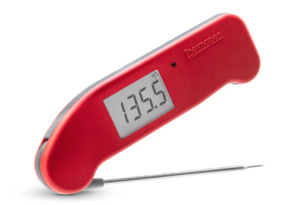 ThermoWorks' Thermapen ONE provides an accurate reading in one second or less. The ONE also includes features that are common on high-end instruments: automatic backlight, rotating display, and water resistant seals. Don't accept cheap substitutes.
Click here to read our comprehensive Platinum Medal review
– THIS IS NOT AN AD –
In summer 2016, I was at a trade show in Houston where he was a speaker and signing books (photo above). I stood in line, and when I got to him I gave him a copy of my book. He compared the picture on the cover with the face in front of him, smiled, and said, "I've heard of this book. Thanks!" It was as if I had arrived at the Pearly Gates, and my name was on the list!
That evening I dined at an up-and-coming restaurant when he walked in with his entourage and film crew. He stopped briefly by my table, and we exchanged pleasantries. Everyone in the dining room was wondering who I was. I felt touched by greatness.
Like so many in the culinary community, I am pained and puzzled by his final act. Darkness has always been his shadow, but always behind him. They must have caught up with him so unexpectedly to move him to leave his 11 year old daughter, who, by all accounts he was madly in love with, a girlfriend (Asia Argento) with whom he was said to be on good terms, a production company miles from home, and Eric Ripert, his best friend, to discover his body.
By most accounts he left his drug habit behind years ago so we can't blame drugs. For such a thoughtful man, for a writer who had a knack for a snappy ending, it just doesn't add up. I am sad and confused. At least now his demons have been driven away.
When I grow up, I want to be like Anthony Bourdain. With one notable exception.