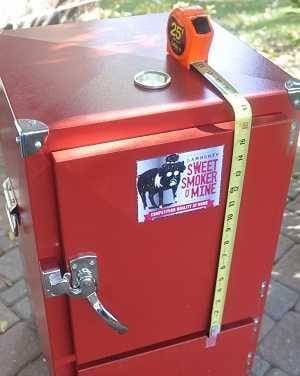 The Red Box Smoker is a portable, insulated reverse flow charcoal smoker meant for residential and competition use. The compact 16″ wide x 18″ deep x 28″ tall size, 68 pound weight and large 304 grade stainless steel handles on each side make it  manageable for one person to move. It comes with three 12.5″ x 11.5″ stainless steel cooking racks that slide in on L brackets that are 4.5″ apart. Picture the interior dimensions of 13″ deep x 12″ wide x 14″ tall and you'll get an idea of capacity. Ribs need to be cut in half and only modest hunks of brisket and butts will fit.
Red Box has an interesting history. A similar version of this portable charcoal smoker was previously offered by the venerable Backwoods Smokers as their Patio model. Since the 1980s Backwoods has made top quality smokers for home, catering and competition. They are revered for their reverse flow, double walled, insulated smoker designs and produce a wide variety of sizes. Red Box packs many of the features of these bigger, more expensive smokers into a small package.
In 2003, award winning competition pit boss Mark Lambert, began selling his Sweet Swine O'Mine brand of BBQ Sauces and Rubs and quickly expanded into distribution of other BBQ products, including Backwoods Smokers. In 2015 he redesigned Backwood's Patio Smoker with improvements like gaskets and clamp down handles to seal the two front doors, stainless steel corners and side handles and an attractive red powder coat finish. Lambert wanted to offer a Backwoods experience to the growing numbers of BBQ Smoker enthusiasts in an appealing retail package and price range. To control costs he sent manufacturing to China while striving to keep quality at a high level. Only time will testify as to the durability of this new product, but it sure appears solid and very well made.
Reverse flow charcoal cabinet smokers
This popular design, and variations thereof, is offered by several brands in addition to Sweet Swine O'Mine and Backwoods. Typically an insulated upright cabinet with a charcoal tray at the bottom and cooking racks in the upper smoke box. An air intake damper is located at the bottom front by the charcoal tray to feed oxygen to the fire, and an exhaust vent is placed in the lower back of the cabinet.  Air enters through the bottom damper, a water pan then channels hot smoky air toward duct openings in the lower left and right sides that run from bottom to top. Heat and smoke emerge through upper holes where the ducts terminate and enter the cabinet where they are drawn down to the exhaust vent by the lower rack, thus creating a circular or reverse flow air pattern. With this setup the top rack is first to receive the heat and temps can moderate as the air flows down and out the lower exhaust vents. The more food on the racks, the more the temps drop from top to bottom. To insure even cooking on all racks, one needs to rotate them occasionally.
High temperature smoking
Our first test was chicken wings. Only one, brief double sided page of instruction came with our Red Box so we checked in with Lambert for more detail on how to get started. The instructions say to fill the charcoal pan with briquets and ignite the back quarter. Furthermore cooking without the water pan is not recommended. Lambert immediately went off script and said he prefers to use a charcoal chimney, but provided the instruction for those who don't own one. For chicken which cooks at 325° F rather than low and slow temps of 225° F, he recommends not using the water pan. We followed his advice and ashed over 35 Kingsford Blue Bag briquettes in a Weber Chimney, (about half a chimney), dumped them into the charcoal tray, put on our grill mitts and placed the tray into the bottom of the cabinet. While plopping wings onto the two top racks we found them to be a bit unstable because they rest on flat L brackets rather than glide into U bracket which would prevent them from flopping while you're plopping. Even without the water pan we were struck by the moist cooking environment. Indeed the wings came out very juicy, but the skin was rubbery.
We made another attempt at chicken starting a spatchcocked bird on the upper rack then bringing it to the bottom to crisp. Again the moisture in the cook box was abundant even without the water pan, and again the skin was still not crisp. Lambert states this type of smoker isn't designed to produce crisp skin, but will excel at creating the "bite through" skin competition judges look for. Click here to learn more about that crazy Competition Chicken. In fact, Lambert reports that competitive teams are buying multiple Red Boxes because the relatively low cost and small size enables teams to have dedicated set ups for specific recipes. Scroll down to see a road map of The Champ's Red Box Strategy.
Low and slow
Next came Meathead's Close to Katz's Home Made Pastrami which calls for low and slow 225° F temps. This time Lambert advised us to use the water pan and try a half chimney of unlit charcoal in the tray topped off by a half chimney of lit charcoal. He also advised us to leave the lower intake damper wide open. In fact he says he rarely uses the damper and only added it while testing prototypes because people just plan wanted the ability to fiddle with it. Too lazy to make our own corned beef for the pastrami as Meathead recommends, we found a couple smallish corned beef brisket points and trimmed them down to about 2.5 lbs each. Seven hours in they hit the magic internal temp of 203° F. This time the moisture was all good and the pastrami was a hit and a half: moist and tender, but strangely, not much smoke flavor.
So when we smoked a couple small pork butts with the water pan, we added several wood chunks to increase smoke flavor. The half chimney unlit and half chimney lit charcoal once again ran well for about seven hours then began to die out. At that point most of the charcoal was consumed and what was left was being smothered with the accumulated ash. The little butts were almost done anyway, so we wrapped them in foil and finished in the kitchen oven. Again – moist – soft -but very mild smoke flavor. If you like smoke, don't be shy with the wood chunks in this little guy. Since our tests, Lambert redesigned the charcoal tray to elevate the grate and allow ash to fall down and be removed.
Grilling?
Finally we tried grilling burgers on the bottom rack with a full chimney of lit charcoal and no water pan. Getting a lot of steam and moisture but not much sizzle, we placed the charcoal tray on bricks to bring it closer to the cook surface. That helped and the burgers came out with a little bit of browning. However Lambert cautions this technique could be detrimental to the racks which are made for smoking and roasting, not high temperature grilling. Although one can cook just about anything in this charcoal oven from sausage to biscuits, it is not designed for grilling.
The champ's Red Box strategy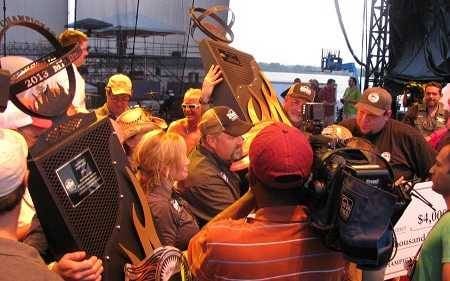 Here's Lambert's plan for a KCBS Competition BBQ on two Red Boxes:
Fire up a whole chimney of briquettes
When they are properly lit divide them equally between your two red box smokers
Fill remainder of the fire box with unlit coals
Remove the water pan
Close the damper half way and allow the cooker to reach 400 degrees
Add 2 competition trimmed boston butts to one cooker and one competition trimmed and separated brisket to the other  Place the flat fat side down on the top  rack and the point on the middle rack.
The temp should drop down to the 300 range
Rotate the racks for the butts and brisket after 30 minutes
After another 30 min add the water pan  and fill ¾ with water
The butts Should be separated and wrapped individually after 5 hours total
The brisket should be wrapped after five hours total
Dump ash and return remaining coals to fire box
Light another chimney of coal and divide it equally between the cookers  fill remainder of fire box with unlit coal
Brisket and butts should be done in 9 hours max
My butts and brisket usually go on at 10
Rotate at 10:30
Add water pan at 11
Wrap at 3
Remove and cambro  around 6
Remove the water pan on one red box for your chicken
Reset your coals and allow it to come up to 350 degrees
Cook your chicken in a disposable half steam pan on the top rack.
The temp on the gauge should fall down to around 300 degrees
My chicken legs or thighs take almost two hours from start to glazing time (Usually about 185 degrees internal)
Refill the water pan for ribs
Reset your coals and let it get up to 250 degrees
Add your 10 bone slabs two per rack (one on top and one on the middle rack)
Rotate top and middle rack after 1 hour
Smoke 2 hours total or until color is good
Wrap with your choice of fillers and return to smoker for up to 3 hours  (Check in two for tenderness)
Remove from foil glaze and return to smoker for up to 20 min to set glaze.
Conclusion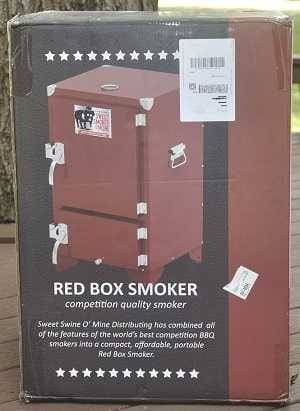 The retail packaging is attractive and effective, as is the smoker itself, and bound to catch the eyes in the aisles.  All parts were held in place by molded styro foam and cardboard inserts to prevent damage in transit. In fact with all the effort taken in packaging and cosmetics, one wonders why a manual with Lambert's prize winning recipes and techniques wasn't included.
Red Box excels at low and slow smoking although it burns charcoal so clean you may want to use a generous amount of wood chunks to get a pronounced smoke flavor. That's a good thing because some charcoal smokers are creosote machines that allow the fire to smolder, producing bitter, dirty smoke. Red Box lets you control the smoke flavor. Read The Zen of Wood. The design creates a very moist cooking environment even without a water pan which is great for melting tough foods like butts, brisket and ribs, but challenging for crisping poultry skin and forming bark. The one inch thick insulation retains heat making these cookers ideal for cold weather smoking. Small by design for those who don't need large capacity, have limited space and/or desire portability.
We thank Sweet Swine O' Mine for providing a Red Box for this review.