Burgers and steaks are easy. They are flat on top and bottom, solid in the center, and pretty uniform in thickness. This allows heat to enter it evenly and steadily. But whole birds are hollow inside, like fleshy tubes, and they they have thick parts (breasts), medium thick parts (thighs and drumsticks), and thin parts (wings). They also have all sorts of bones, some thick, like leg bones, and some very thin, like rib bones. Then there is the skin, whose chemistry is significantly different than the flesh, but it is all on one side.
The best solution is to take the animal apart so you can cook each part individually, both sides optimally, and remove it from the heat when it is at safe temp. It also allows you to get all sides brown, and brown is full of flavor.
But there are times when you want to serve a whole bird for its festive or traditional impact. In that case, the next best solution is to spatchcock or butterfly it. That's what I do on Thanksgiving, because everyone wants to see the presentation of the whole bird. And sticking a beer can up its butt is a terrible idea so don't even think of it. Click here to see why.
In addition to getting browning on both sides, when you spatchcock you can season all sides more evenly, it cooks faster with less loss of moisture, carving is easier, it looks impressive, and it is just plain fun to say "spatchcock".
It is really easy to do. You simply remove the spine with two cuts by a poultry shears or clean tin snips. Try OXO Good Grips Spring-Loaded Poultry Shears shown in the still photos below. They're my faves because they come apart for thorough cleaning.
Here's a short video of Harry Connick Jr. and me spatchcocking turkeys.
Here's a 1 minute video of a chicken getting the treatment, and below it is the same process step by step.
Here's how to cook a spatchcocked chicken on a Weber Kettle.
Here's a step by step tutorial:
1) Here the bird is breast side up. You can tell because the wing tips and drumsticks are pointing up.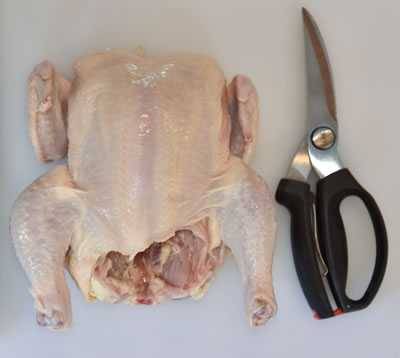 2) Here the bird is spine side up. The wing tips and drumsticks point down.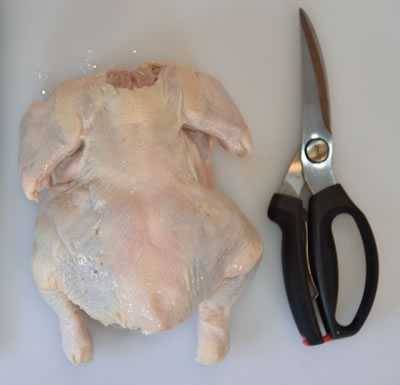 3) You can feel the spinal column, so cut alongside it, about 1/2″ to 1″ from the center.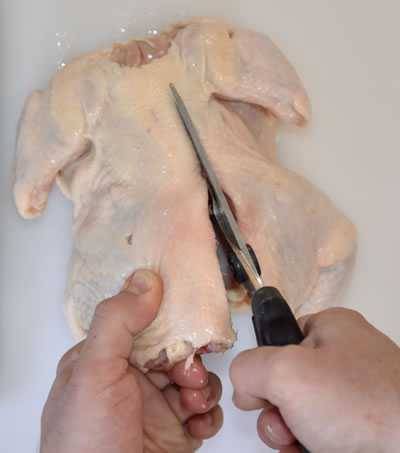 4) Then cut along the spine's other side.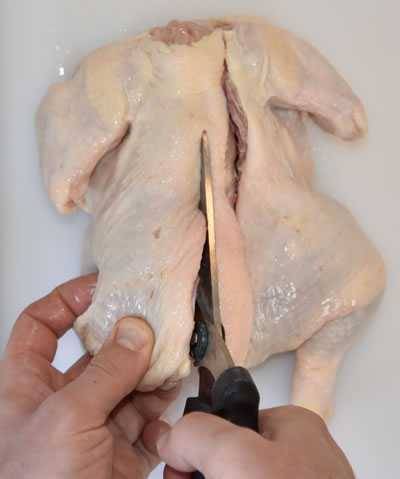 5) Remove the spine and spread open the cavity. Clean the brown goop off the spine and save it for making stock.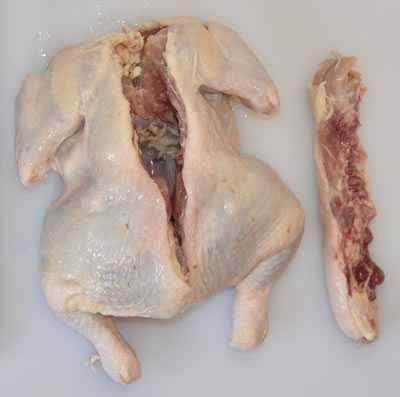 6) Flip it over breast side up.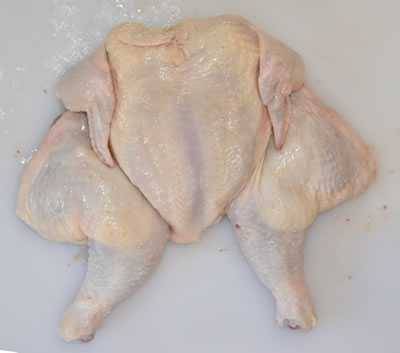 7) Press down on the breast bone between the wings. You'll hear it crack.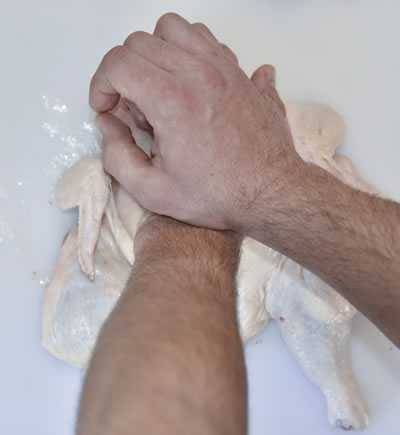 8) You now have a spatchcocked bird. I like to remove the wing tips because they are so thin they easily burn, and I toss them into the stock with the spine, neck, heart, and gizzard. The bird can now be prepared any way you wish: Dry brining (salting), flavored with a rub (I rcommend the Simon & Garfunkel Rub recipe), injected if you wish, marinated, and finally, cooked.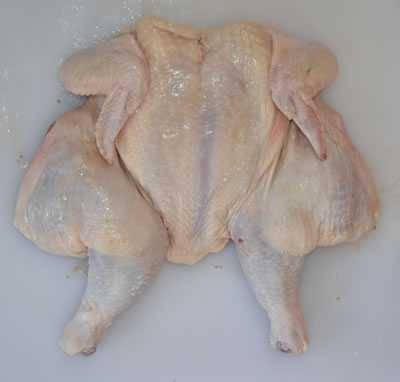 Origin of the word spatchcock
According to the Oxford English Dictionary, this funny word, sounding vaguely naughty, originates in the 1700s in England and is a mashup of "dispatch the cock", dispatch meaning to kill and cock a generic term for chicken or rooster. Apparently splitting open a bird was a common practice then and only recently being rediscovered as a superior way to cook poultry.