The Pro Series is the entry level line in Traeger's first wave of WiFi enabled pellet smokers which includes the mid-range Ironwood and premium Timberline models. The mid-size Pro 575 has a 425 square inch main cooking grate and a 150 square inch secondary grate that rests on brackets 4.5 inches above the main grate for a total capacity of 575 square inches. Both grates are porcelain-coated steel rods.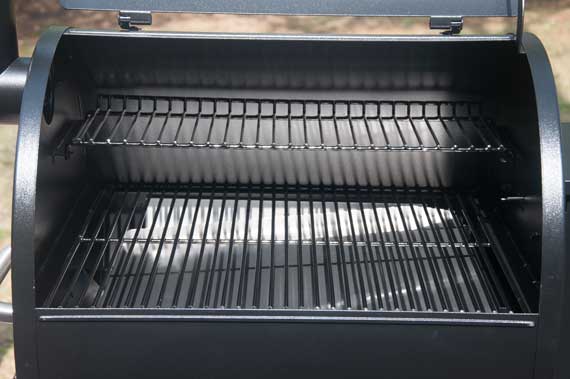 Pros are pretty stripped down and basic, but well made and Traeger's "WiFIRE" WiFi remote control has an excellent, user friendly app with many useful features. Traeger also claims their new D2 Direct Drive Control is more durable and reliable than their previous control systems.
Pellet smokers use a temperature regulation system similar to a kitchen oven. A thermostat inside the oven senses the temperature and tells a controller when the temperature has dropped below your set point. The controller then feeds wood pellets and blows air into a burning firepot until the desired temp is regained. Click here to learn more about pellet smokers. Traeger pioneered and popularized pellet smokers. Although they dominate this growing market segment, competitors have managed to lure buyers away, often with advanced technology like digital touchpad controllers and WiFi remote monitoring and control that Traeger didn't have until the introduction of their first WiFIRE model, Timberline, in 2017.
WiFIRE controller
The WiFIRE Controller mounted on the front of the pellet hopper can be operated at the smoker or remotely via an app that downloads to your smartphone. An integrated meat probe plugs into the control panel and threads through a small hole in the side of the smokebox. Set your desired cooking temp, pop the probe in your food and go on your merry way. A built in timer signals the app when projected cooking time is up, or better still, you can set the probe to notify you when the desired internal temperature of the food is reached. Click here to learn why cooking by temperature is far superior to cooking by time. If foods get done faster than anticipated just press the "Keep Warm" button on your app to drop the cooking temp and hold the feast until you return. Traeger also has an extensive library of guided recipes that can be downloaded to your app. Check out Traeger's WiFIRE Promo Video below.
In 2020 Traeger updated the app for all their WiFi models. They report the new version has new recipes and video content, new tips and techniques, simplified controls with more real-time information, and Google and Alexa Smart Home Compatibility. They also just introduced an Apple Watch App.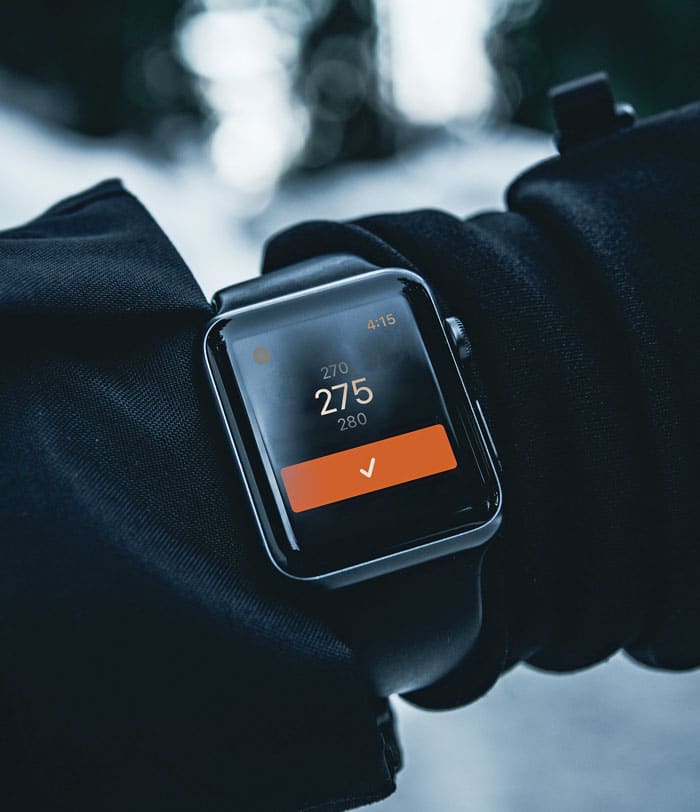 Of course, we highly recommend you explore AmazingRibs.com's vast database of detailed, tested recipes. In 2019 Traeger added integration with Amazon Alexa for all WiFire models in the Pro, Ironwood and Timbeline series. Alexa integration let's users cook with voice control to change temperature, check status, set timers and shut down.
Looks great, eh? But a word of caution. We had trouble connecting WiFIRE to our home network. Traeger says thousands of WiFIRE smokers are in the field with only a small number of complaints regarding connectivity problems. Our research corroborates this, so as of now, we view our situation as an isolated incident.
Be that as it may, if you are not WiFi savvy, you may have issues getting set up. Many home networks have outdated hardware and some routers are placed far from the outdoor cooking area with walls obstructing WiFi signals. If you are familiar with WiFi and your home network, you should not have insurmountable problems. If not, you may need to spend some time trouble shooting with Traeger's customer service and even your internet provider. The good news is, once you're up and running, you will love using the WiFire app, which allows you to easily monitor and control your smoker from anywhere.
Cooking temperature
Conversely, while we didn't find many connectivity complaints, there were numerous, very unhappy buyers claiming that the temperature control on their Pros was horrible. They noticed that the actual temperature was waaaaay off from the WiFIRE displayed temp. Some reported dramatic temperature swings going wildly up and down. Fortunately, we didn't experience any of this.
The Pro WiFire Controller has a temperature range of 165° to 450°F. Some fluctuation around a set temperature is normal. As with a kitchen oven, you can hear the controller click burners and heating elements on and off to keep the heat hovering around your desired cooking temp. We began our tests setting WiFIRE to the low temp of 165°F. It shot up to 200°F then settled down, bouncing plus and minus about 5°F around our set point. Temperature was hotter on the left side where smoke and heat escape out the chimney. Again, that is not unusual. In this low range, temp variance from hot left to moderate right was about 10°F with the display splitting the difference. This pattern continued as we raised temp up to 180°, 225°, 325°, 400° and max at 450°F, although variance from left to right increased exponentially as temps climbed. At max temp with the controller set at 450°F, the difference from the hot left to moderate right was about 30°F.
Smoking
Low and Slow smoking is where pellet smokers really shine. Many smokers require a certain level of skill and attentiveness to insure low temperature and quality smoke are maintained properly. With pellet smokers, you set cooking temp just like on an indoor kitchen oven. No babysitting required. And Pro's WiFIRE app is a great asset, especially for looooong BBQ smoking sessions. The remote monitoring and control frees you up to sleep, do errands, go to a show or watch a game without interruption. I threw a pork shoulder on Pro in the evening and instead of babysitting, I slept like a baby, then woke up to Our Meathead Method Pulled Pork.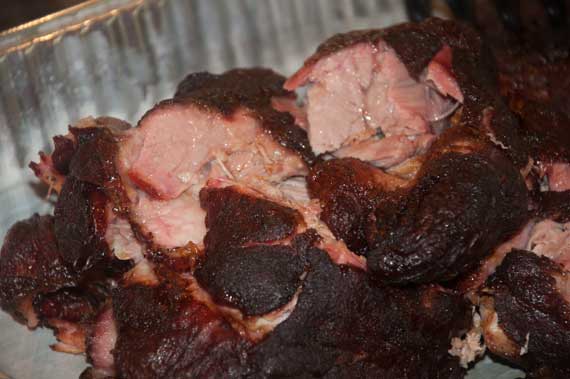 Well….I did get up in the middle of the night for a moment to check my smartphone, insure all was smoking swimmingly, then ZZZZZZZZZZZZZZZZZZZZ.
And how about – PASTRAMI!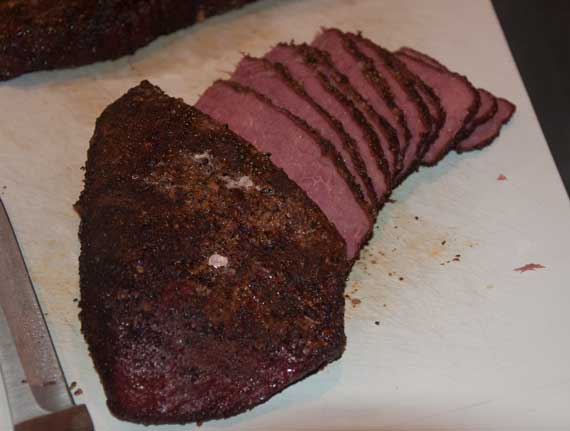 Make it once, you'll make it twice. I guarantee! Click here for the recipe.
Pellet smokers are known to have mild smoke. Traeger claims their D2 Direct Drive Control produces exceptional smoke flavor. We noticed the Pro seemed to generate more smoke than many pellet smokers and as the images above show, meats had a beautiful mahogany finish, but the smoke flavor did not strike us as remarkably intense.
The chicken challenge
We typically like to cook poultry in the 325° to 350°F range. At that temp, we get crispy brown skin without overcooking and drying out the meat. In that temp range, however, Pro produced pale, rubbery skin. Here are two sets of wings cooked at 350°F for about 30 minutes on the Pro (left) and a different pellet smoker (right).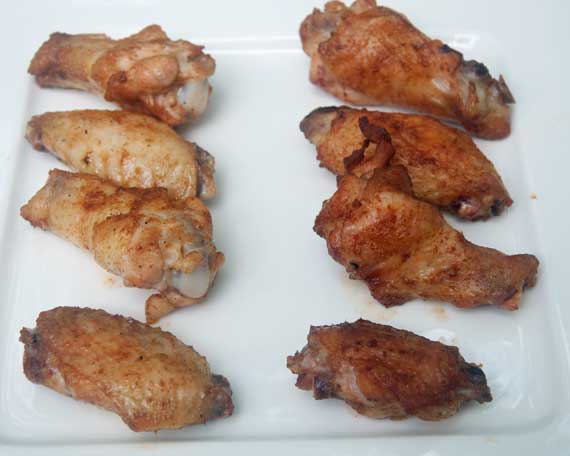 The solution was simple. Crank the temp to 400°F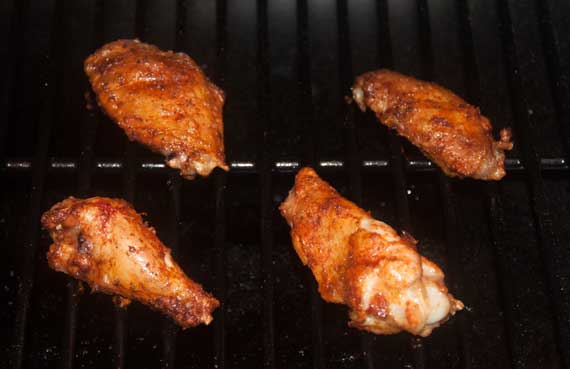 A searing issue
Pellet smokers typically don't do a good job of searing. Some pellet smokers have a high temp of 550°F or more. Pro's high setting is a relatively modest 450°. We cranked Pro to the highest setting and placed a steak on the hot, left side. After 5 minutes this is what we got.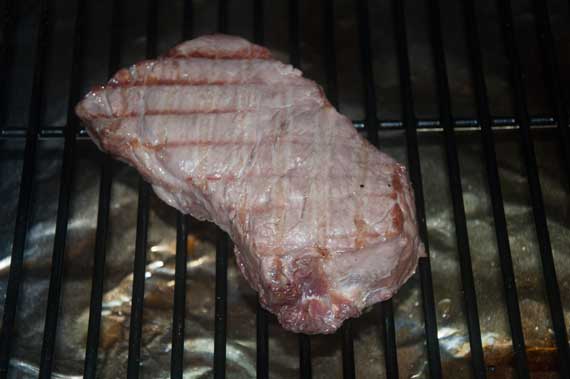 No surprise. The small wood pellet fire in the firepot just doesn't generate much intense radiant heat. A $30 hibachi charcoal grill will give a much better sear. For simplicity, we pulled out our trusty (not rusty 'cause we take good care of it) cast iron skillet and cranked it up indoors on our kitchen cooktop.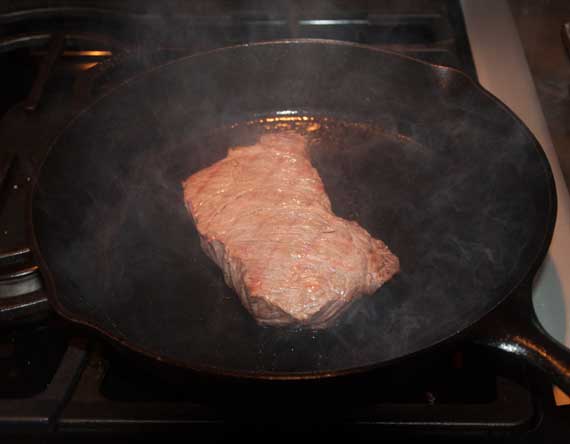 Turn that tepid brown upside down.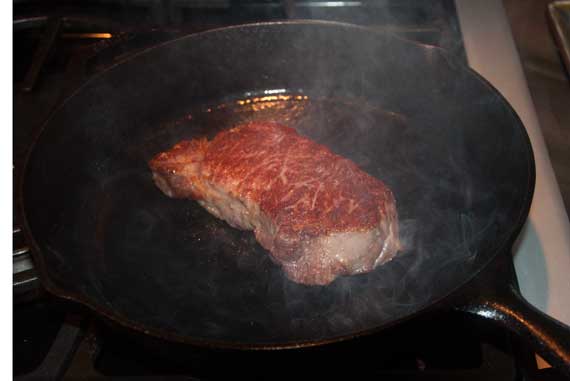 Click here to learn why a cast iron skillet is indispensable.
Pellet hopper
Pro's 18 pound pellet hopper includes a neat pellet clean out chute that allows you to easily empty the hopper for storage, or switch from one type of wood pellet to another. You can see the chute door below in the lower right corner next to the auger that transports the pellet fuel to the firepot.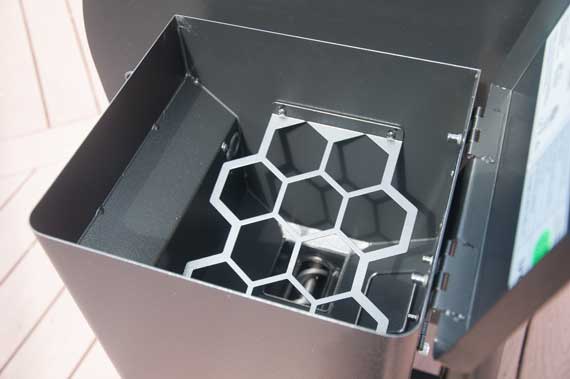 To avoid accidentally letting the pellet chute door open, spilling pellets all over your deck, Traeger includes a little thumb screw to lock it shut.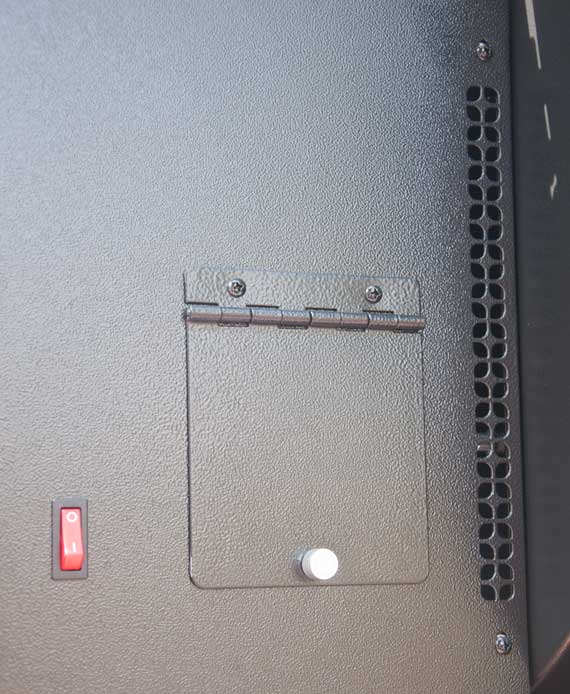 And when you want to open it and clear the hopper out, the magnetic screw holds the door up.
A nice touch!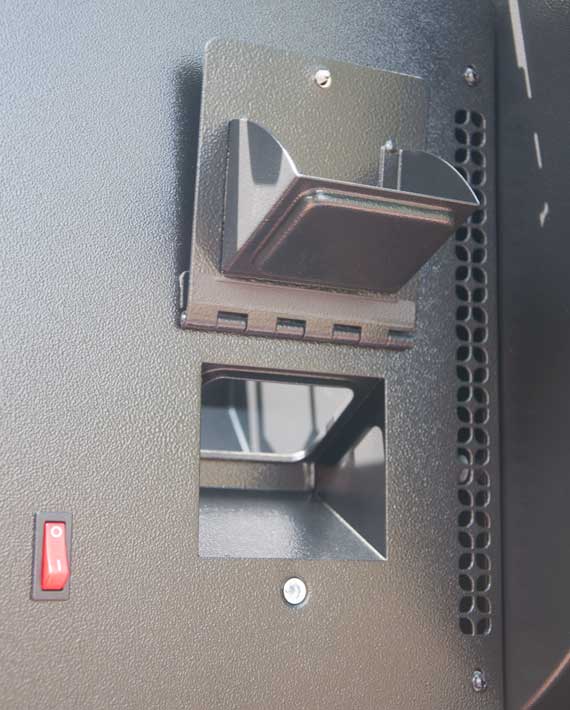 Pro rests on four legs with two wheels. A handle on the left side helps lift the unit up and roll it on the two wheels. Pro is rather heavy and could really use a set of casters on those two left legs.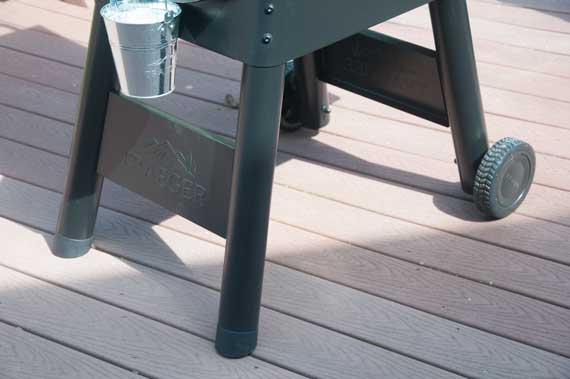 Traeger Pro 780 Pellet Grill
Pro is also offered in a larger, 780 square inch model. Click Here To Check Price.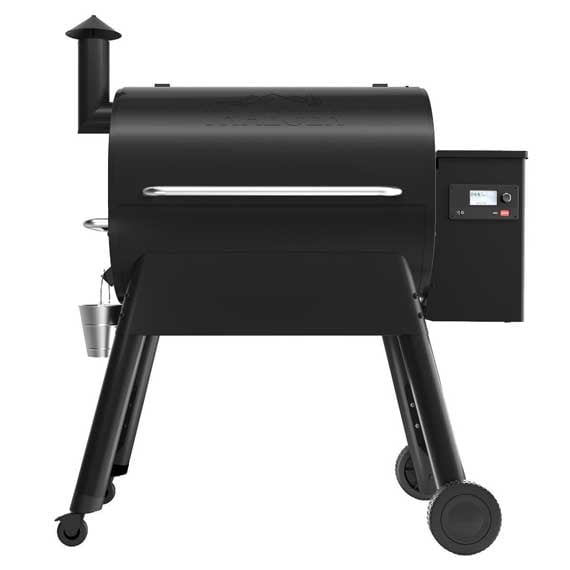 A useful, fold-down work shelf for the front is available as an option for both sizes.
Packing and assembly
Packaging was excellent with heavy cardboard exterior and custom fitted foam inserts to protect parts from damage. Parts were grouped in a logical manner that mirrored the simple assembly instructions. And for a bit of fun, Traeger printed the interior of the shipping box so it can be turned inside out to make a playhouse!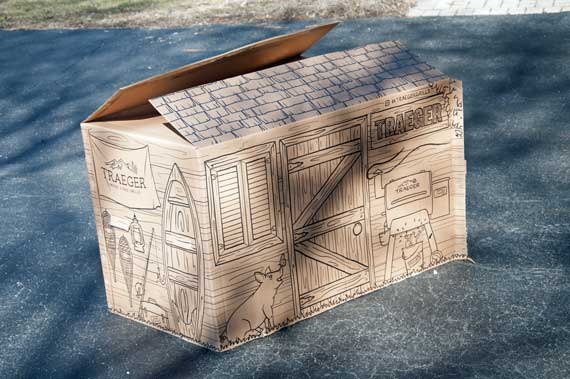 Conclusion
Pro is a good, solid pellet smoker from an industry leader. Time will tell if Traeger's D2 Direct Drive Control is as good as they claim. We love their WiFIRE app and believe it is a primary selling feature of the new Traeger lines. If you don't want the app, however, competition in the pellet smoker world is intense and you can find similar models with more features and/or lower price tags.
Warranty
Pro has a three year warranty against defects in material and workmanship under normal use. The warranty does not cover shipping or labor.
We thank Traeger for providing a test model.
Date Reviewed 07/30/2019