CanCooker Original Review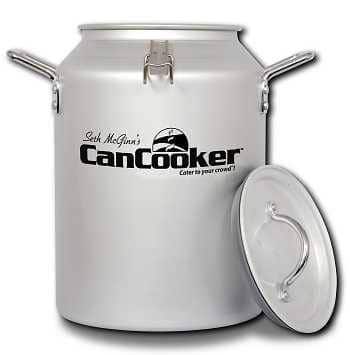 This upgraded riff on the old practice of slow cooking meat and veggies in a cream can over an open fire employs a high-temperature silicone gasket around the lid which seals tight with clamps while excess steam is released via a small hole in the lid. Built out of food grade anodized aluminum, the CanCooker Original has a four gallon capacity and is said to feed up to 20.
It can be used on any heat source both in or outdoors: kitchen stoves, camp stoves, grills, turkey fryers, camp fires and CanCooker's Muilti-Fuel Portable Cooktop. There is an optional stainless steel grate that holds food off the bottom of the can to prevent burning. When cooking over a wood fire, it's a good idea to set the can on a rack or circle of rocks rather than directly on the red hot embers.
Just spray the interior with oil, put in veggies, then meat or fish, then liquid and seasoning according to your recipe. Set CanCooker on your heat source. When steam starts shooting out of the lid vent, reduce heat and let it cook. The can gets mighty hot so be sure to have mitts handy. When done remove from heat and let sit five minutes before opening. Be mindful of the hot steam.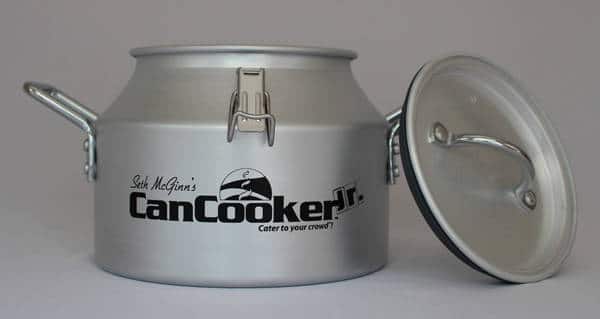 Simple, easy to understand, effective and affordable, CanCooker is gaining popularity among hunters, tailgaters and other outdoor enthusiasts. It's offered with a few cosmetic variations, such as hunter Michael Waddels's Bone Collector series, but the can is the same regardless of the graphics. A half size, two gallon CanCooker Junior is also available, pictured above left.
Includes a protective storage bag.
Model:

Original

Item Price:

$ 90.00

Where to buy (buying from this supplier supports this website):

Made in USA:

no

Review Method:

Looked Closely At It
We have seen this product up close and we have also gathered info from the manufacturer, owners, and other reliable sources.

Primary Function:

Tailgater, Fireplace Insert

Fuel:

Charcoal, Propane Gas, Natural Gas Capable, Logs, More Than One Fuel

Primary Capacity:

420 square inches
Published On: 2/9/2015 Last Modified: 3/12/2021
Max Good, Full time grill tester - Max Good, AmazingRibs.com's Vice President of Product Reviews & Keeper of the Flame, is the man in charge of finding the best products for the AmazingRibs.com Equipment Reviews section. Max bottles his own barbecue sauce recipes and now sells them around the country.

---