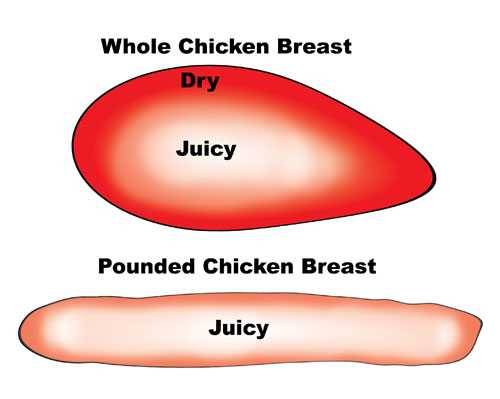 Here's the problem with chicken breasts. They don't like you. They are tear shaped for a reason. To make you cry. Take them much past 165°F in the center and they turn to cardboard. But if you cook the center of the bulge to 165°F, and you must in order to be safe, then the tapered edges with be dry, even burnt.
To add moisture, a little swim in brine helps, or perhaps an injection, or even a marinade. But the thick end is harder for the moisturizer to penetrate. They barely get past the surface anyhow. And with that big bulge, they just don't fit on a sandwich properly, leaving no room for lettuce and tomato. Then there's the skin. It only covers part of the meat and it shrinks when it gets hot. Brines and marinades have problems getting past the skin.
But there is an easy solution. Pound the meat flat. Now, if you brine or marinate, the liquid can enter the meat evenly on all sides. And when you cook, the heat can enter on all sides. This technique comes in handy for many chicken dishes, indoor or out: Chicken rollups, Chicken Cordon Bleu, Chicken Marsala, Chicken Paillard, Chicken Cutlets, and Chicken Scallopine.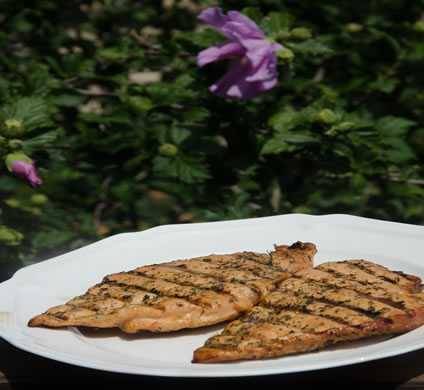 For really thin pieces of chicken, lay the palm of your hand on top of the breast and draw a sharp knife through the midsection producing two half breasts. Then pound away.
1) Take the bones out. Just run a sharp knife over the rib cage trying to get as much meat as you can off. Freeze the bones and trim for making stock.
2) Take the skins off. If you love skins, then set them aside. Sprinkle the skins with a little salt and pepper, cut them into 1/2″ squares, and render them slowly in a medium hot pan until they are crisp and golden, like bacon bits. Stir regularly so they don't burn. Sprinkle them on the finished meat.
3) You need to cover the meat before you beat it to keep the bodily fluids from flying around the room. Pull off a sheet of plastic wrap. Lay it flat on a solid counter or table. Lay the meat on the plastic wrap just off center and fold the other half over the meat. Don't use waxed paper or foil, it tears easily. You can use a zip top bag, especially if you are going to marinate or brine in a bag. They are nice and sturdy and rarely tear or bunch.
4) Now it is time to flatten the bulge. Leave the tenderizer mallet and the rolling pin in the drawer. They tend to tear the meat. Use a skillet or sauce pan. First look around to make sure nothing on the table will fall off when you start pounding. But don't haul off like you are pounding a nail. Thwack it gently and focus on the bulb end. Several whacks are better than a vicious spanking. Take it down to about 3/4″.
5) Remember, because it is so thin, it will cook faster.