There are few things as sinfully delicious and the rich, fatty marrow that only comes from slow roasting beef bones.
In recent years, chefs have brought back an ancient practice, serving roasted beef marrow as an appetizer.
The smooth, creamy, slightly nutty textures and flavors are hard to dislike, a sort of poor man's foie gras, unless you look into the calorie content. Marrow is mostly fat (to learn more about marrow and bones, read my article Mythbusting: Does The Bone Make The Meat Better?) so it helps to think of it like butter or bacon. Not diet food. But if you want a treat, ask your butcher for some beef marrow bones. You can ask for pieces cut from the middle of the femur about 4 to 8″ (10.2 to 30.3 cm) long, or just ask for the whole bone. Have your butcher use a bandsaw to cut them lengthwise, like cutting open a baguette or a baked potato.
For a really decadent treat, mix roasted bone marrow in with mashed potatoes. For more recipes, get this fun book: Bones: Recipes, History, and Lore by Jennifer McLagan.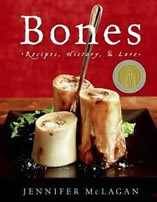 Maître d'Hôtel Butter. Lightly salt the marrow, but skip the breadcrumbs. Roast the marrow in the indirect zone of your grill or smoker at 325F. Let it cool and scoop it into a bowl. Mix it with an equal amount of butter, your favorite herbs, perhaps some lemon zest and a squeeze of lemon juice, squish it all together, lay it on waxed paper, roll it into a log and chill. You now have a variation on the classic Maître d'Hôtel Butter. Next time you serve a steak, a filet of fish, a pork chop, or whatever, place a slice on top.
Serve with: A hearty French red wine.
---
---
Makes:
---
Takes:
---
Ingredients
2

beef marrow bones

8 inches (20.3 cm) each

1/2

teaspoon

cooking oil

4

tablespoons

seasoned bread crumbs

1

fresh baguette

about 8" (20.3 cm) long
Notes:
About the bones. If you don't have easy access to marrow bones, simply place a call to your local butchers a few days in advance and they most certainly can help sort you out. Have the butcher cut the bone(s) in half lengthwise so it is easy to scoop out the marrow.
Metric conversion:
These recipes were created in US Customary measurements and the conversion to metric is being done by calculations. They should be accurate, but it is possible there could be an error. If you find one, please let us know in the comments at the bottom of the page
Method
Prep. Rinse the bones to get off any bone dust and splinters. There may be meat and fat on the outside of the bone. You can scrape it off if you wish, but I usually leave it on in case I want to gnaw on the bone afterwards. When you are ready to cook, paint the cut side with oil and sprinkle on some seasoned bread crumbs. If I have fresh herbs, I use them.

Fire up. Preheat the grill in a 2-zone configuration and get the indirect zone up to 325°F (162.8°C).

Roast. Place the bones in a baking pan or cookie sheet lined with foil so drippings don't make a mess of your grill or cause a major flare-up. Roast them in the indirect zone for about 30 minutes until the marrow is 150°F (65.6°C) and like jello.

Toast. Cut the baguette on the bias into 1/4-inch (6.4 mm) slices. While the bones are roasting, toast the baguette slices on the direct heat side of the grill. They'll brown quickly so keep a close eye on them and don't let them burn.

Serve. When the bones are done, give them a squeeze of lemon juice and spread the marrow on the toast. Now you know why Western settlers called marrow "prairie butter". An alternative: Try topping the marrow with chimichurri sauce. The brightness of the acidity is a perfect marriage.
---