Once you try this delicious steak sauce you'll say goodbye to store bought versions forever.
In the US steak sauce is a moderately thick brown sauce sold in grocery stores. It is very salty, slightly sweet, and savory. The contents vary from producer to producer. A-1, the most popular brand in the US is made with tomato puree, vinegar, corn syrup, salt, raisin paste, crushed orange puree, spices and herbs, dried onion and garlic, caramel color, potassium sorbate (preservative) and xanthan gum (emulsifier).
The problem is, I just can't bring myself to use the stuff on good steaks. But I do use it as an ingredient in barbecue sauces. For readers in Great Britain where apparently there is no "steak sauce" in bottles, HP sauce is a good substitute. According to Wikipedia it is made with malt vinegar, tomato, dates, tamarind extract, sweetener, and spices. Better still, make your own.
Brigit Binns was kind enough to share her recipe for homemade steak sauce that actually makes something good enough to put on a properly-cooked steak. It is far deeper, richer, more complex, and bright than A-1. Try it on burgers, meatloaf, and calves liver, too. Read more about Brigit below.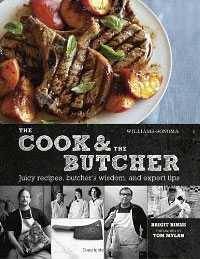 This steak sauce recipe comes from her wonderful book, The Cook & the Butcher
, Juicy recipes butcher's wisdom, and expert tips. Published by Williams-Sonoma, it is a compendium of her years of expertise with meats and the wisdom of the great butchers she has known. The photos are droolworthy. I highly recommend it.
Click here to read more about Brigit Binns
Say so long to the thick brown steak sauce found at your local grocer and hello to a more flavorful homemade version.
Serve with: steak and a cabernet.
---
---
Makes:
---
Takes:
---
Metric conversion:
These recipes were created in US Customary measurements and the conversion to metric is being done by calculations. They should be accurate, but it is possible there could be an error. If you find one, please let us know in the comments at the bottom of the page
Method
Prep. Finely chop enough onion to create 1/2 cup (57.6g). Mince the garlic.

Cook. In a saucepan, whisk together all the ingredients, bring to a boil, reduce the heat, partially cover, and gently simmer until the sauce is thick, chunky, and very aromatic, about 45 minutes.

In most recipes you soak dried mushrooms first, but much of their flavor is lost in the water (notice how it turns brown?). For this recipe, you do not need to soak the mushrooms first. They will soften and give up their flavor in the sauce while it simmers, and nothing will be lost in the soaking liquid.

Pass it through a fine-mesh sieve to remove the solids.

Serve. Chill then serve or refrigerate for up to 2 months.
---
About Brigit Binns
Brigit is my role model and my mentor. We met on Facebook when I was looking for a recipe tester and we got into a debate over who makes the best testers, professionals or amateurs. In the process we discovered how much we had in common (love of dogs and hot dogs among them).
One of the problems we both faced was isolation so we began taking our problems to each other for feedback, both culinary, commercial, and personal. We both work from home in our kitchens and back yards, and there is no such thing as walking down the hall to another office to bounce ideas off colleagues. So we became remote colleagues. We have met face to face only once, when she drove through Chicago on a cross country trip, and we went to Superdawg together and she stayed with my wife and me for a night.
Brigit has written more than 2 dozen cookbooks, many as the collaborator of famous chefs and many for Williams-Sonoma. In 2011 she collaborated with Ryan Farr, a classically trained chef, butcher, and butchery instructor on Whole Beast Butchery: The Complete Visual Guide to Beef, Lamb, and Pork by Ryan Farr with Brigit Binns. I use it often.
Binns lives in Paso Robles, in the heart of California's wine country, and and I can't wait until her book on Central Coast Wine Country Cooking is published, this time with her byline on top. Check out her website at BrigitBinns.com.