Outta time but in need of pimento cheese? Whip up this ultra-quick remix of the Southern staple.
Ok. I get it. Pimento cheese is a classic. And you don't mess with the classics. But I'm a devotee of delicious, and this recipe is downright delicious. We can debate all night whether it's "truly" the original pimento cheese. But it's got the creaminess, the bite, the heat, and it's ready lickety split. Try it!
Spotlight on our favorite products
Is This Superb Charcoal Grill A Kamado Killer?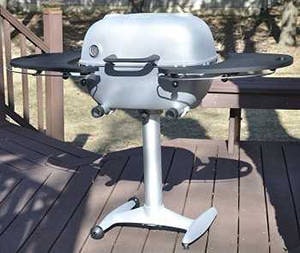 The PK-360, with 360 square inches of cooking space, this rust-free, cast aluminum charcoal grill is durable and easy to use. It is beautifully designed, completely portable, and much easier to set up for 2-zone cooking than any round kamado. Click here to read our detailed review of the PK 360 and get a special AmazingRibs.com price!
– THIS IS NOT AN AD –
Mix up a batch of my Louisiana Bayou Bite Sauce and keep it on hand. Lotsa stuff you can do with it. This take on pimento cheese is quick and dirty and delicious.
---
---
Makes:
---
Takes:
---
Notes:
About the Bayou Bite. This Louisiana BBQ sauce recipe is spicy and sweet with Chipotle Tabasco, roasted jalapeños, red peppers, and Steen's Cane Syrup. Referred to as Bayou Bite, this delicious sauce blends sweet and hot peppers for a mildly spicy finishing and dipping sauce for ribs, chicken, steaks, chops and so much more.
Metric conversion:
These recipes were created in US Customary measurements and the conversion to metric is being done by calculations. They should be accurate, but it is possible there could be an error. If you find one, please let us know in the comments at the bottom of the page
Method
Prep. Mix the two ingredients in a bowl with a fork. You can leave it lumpy, or blend it smooth. Your choice. I like it lumpy.

Serve. Serve on crusty bread or crackers.
---