Take beef ribs, brisket, steak, and other cuts over the top with this easy beef dry rub recipe.
In Texas many barbecue joints use just plain old salt and pepper, called Dalmatian rub. But beef brisket and BBQ beef ribs can handle, and benefit from, a more potent mix. Our beef dry rub recipe creates a rich, flavorful, crunchy crust, called the bark or Mrs. Brown.
Beef rub for brisket, beef ribs, steak, and other cuts is different than pork rub. Pork loves sweetness, but beef does not. The best pork rubs have of more sugar in them, like Meathead's Memphis Dust. Black pepper, on the other hand, works great when seasoning beef.
You can make this barbecue dry rub recipe days or weeks in advance. It makes more than you need even when used as a brisket dry rub, so you can just put any extra in to a clean jar or zipper bag for use at a later date.
"Where's the Beef"? It's right here with AmazingRibs.com's famous Big Bad Beef Rub recipe! (click here to share it on Twitter).
Big Bad Beef Rub Recipe
This is the perfect beef dry rub recipe, creating a rich, flavorful, crunchy crust, called the bark or Mrs. Brown on brisket, beef ribs, steak, and more.
Course. Sauces and Condiments.
Cuisine. American.
Makes. About half a cup
Preparation time. About 10 minutes
Ingredients
3 tablespoon coarsely ground black pepper
1 tablespoon granulated white sugar
1 tablespoon onion powder
2 teaspoons mustard powder
2 teaspoons garlic powder
2 teaspoons American chili or ancho powder
1 teaspoon chipotle or cayenne powder
About the black pepper. Lately I've been grinding my black pepper and then sifting it. I use the coarse stuff, and put the fine stuff in a pepper shaker.
About the chile powders. I'm looking for complexity with two different flavors and two different levels of heat. Most American chili powders and ancho powders do not have a lot of heat, but good flavor. In fact, ancho is usually in a lot of American chili powders. Go with ancho if you can find it. It has a nice raisiny character. With chipotle or cayenne I'm after a kiss of heat. Chipotle has better flavor though.
Method
1) Mix the ingredients together in a bowl. Store the rub in a tightly sealed bottle in a dark place. It will slowly start to decline in quality but should be fine up to a year later. Taste it first.
2) If your meat has not been pre-salted, shoot for about 1/2 teaspoon of kosher salt per pound of meat and apply it heavier on thick spots. When possible, apply the salt the day before, but even an hour or two is enough to get it moving inward, and the AmazingRibs.com science advisor Prof. Greg Blonder has shown that when the meat heats, the salt moves deeper and faster. Click here to read more about this process, called dry-brining.
3) You can apply the rub in advance, some people like to apply it the night before, but the fact is, most molecules in the rub are too large to penetrate more than a fraction of an inch, just like marinades. And they don't have the electrical properties that salt has. The rub is mostly a surface treatment for flavor and bark. So you can apply the rub just before cooking if you wish. Moisture and oils will mix with the spices and herbs, heat will work its magic on them, and all will be wonderful. I like to lightly wet the surface with water before the rub because many of the flavors in the rub are water soluble. Spread the rub generously on beef brisket, not so thick on other, thinner cuts.
Also, be aware that the drippings from a salted meat for use in a gravy or jus will probably not need salting, so be sure to taste before you add salt. Remember, you can always add salt, but you can't take it away.
A beef brisket flat with heavy rub, before cooking (below).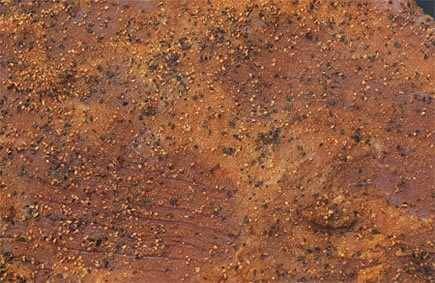 A beef brisket flat with heavy rub, after cooking (below).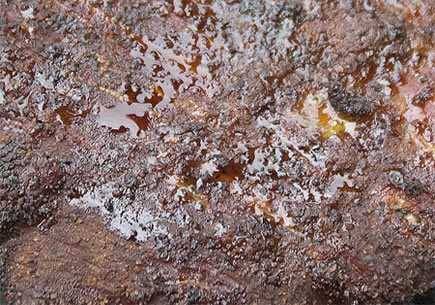 "I adapted your brisket rub recipe this summer and my customers love it (8,000 pounds served in the past 6 months)! My brisket even won 'best beef' in the Sonoma County Harvest Fair this year (2010)."Larry Vito of BBQ Smokehouse in Sebastapol, CA
Published On:
08/27/2012
Last Modified:
12/22/2020