Charmoula (a.k.a. chermoula) is an all-purpose North African herb paste used as a marinade, a sauce for meat, couscous or pasta, relish, dip, or as a spread on pita bread. There are many different ways to prepare charmoula. Some are raw, some cooked, some coarsely chopped, some pureed.
There are five components to charmoula: olive oil, greens (usually cilantro or flat leaf parsley), acid (lemon juice or vinegar), aromatics (garlic, onions, shallots, leeks), and spices (such as ras el hanout).
Spotlight on our favorite products
Grilla Proves That Good Things Come In Small Packages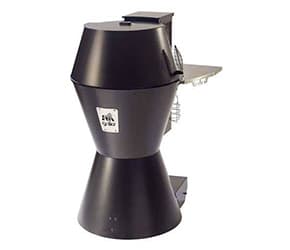 The small 31.5″ x 29.5″ footprint of the Grilla Pellet Smoker makes it ideal for use where BBQ space is limited, including on a condo patio. Click here for our review on this unique smoker.
– THIS IS NOT AN AD –
As background for this recipe, read these articles, The Zen of Herbs & Spices, The Zen of Chiles, the Zen of Garlic, and The Zen of Salt.
Charmoula is an all-purpose North African herb paste used as a marinade, sauce, relish, dip, and spread.
---
---
Makes:
---
Takes:
---
Ingredients
2

large lemons

¾

cup

olive oil

1

cup

cilantro leaves and flat leaf parsley, de-veined and lightly packed

6

cloves

crushed garlic

1

teaspoon

ras el hanout

¼

teaspoon

salt

¼

teaspoon

ground black pepper
Notes:
Note. If you can't find flat leaf parsley or cilantro, you can use basil, mint, other parsleys, and other mild herbs.
Metric conversion:
These recipes were created in US Customary measurements and the conversion to metric is being done by calculations. They should be accurate, but it is possible there could be an error. If you find one, please let us know in the comments at the bottom of the page
Method
Scrape off the zest of one of the lemons, just the thin yellow exterior, trying to not get the white pith, and add it to a bowl.

Cut the zested lemon and the intact lemon in half and squeeze out the juice into a separate bowl. Then strain it into the bowl with the zest.

Chop the greens finely and add to the bowl. Add the rest of the ingredients to the bowl and stir. If you wish, you can add the whole thing to a food processor and puree it until smooth.
---